In this dropmylink review post you're going to learn step by step how to use drop my link website to build backlinks easily and fast to your blog or website.
In fact;
I will show you not one way, but different ways to build lots of high quality links including guest posting, dofollow blog comment links, .edu and .gov backlinks, resource pages links etc.
As you already know; writing high quality posts alone won't guarantee you google page 1 rankings unless the keyword you're targeting is super easy to rank and even if you're targeting easy to rank keywords, you won't last long on google page one because as time goes on, other top authority websites would discover that keyword and push you down.
It's why you need to constantly build links to help you stay at the top of the serps (Search Engine Result Pages.
Building links is hard especially for beginners but with dropmylink you can build them easily.
What is DropMyLink?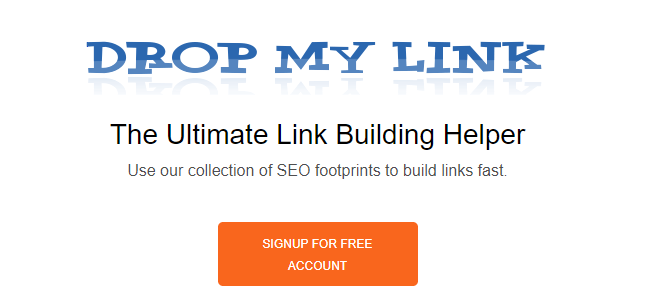 Dropmylink.com is a 100% free website that will help you find link building opportunities.
With drop my link you'll be able to:
1. Find Commentluv Blogs and build links
CommentLuv blogs are those blogs that have commentluv wordpress plugin installed as their commenting system; these type of blogs will give you dofollow backlinks when you comment on there.
Actually, when you make comment on a comment luv blog, it automatically leaves link to your most recent article and that link is dofollow.
As seen below;

Obviously dofollow backlinks is what you want to focus on when building links as they are the only ones that actually pass link juice and authority to your site thereby increasing your rankings.  Nofollow links don't.
It's hard finding these kind of blogs manually but with dropmylink it's pretty simple and easy.
Feel free to check this resource on dofollow comment backlink list
Don't worry, shortly I will show you how to use drop my link to get lots of good links.
2. Find .Edu and gov. websites to get backlinks
These backlinks are hard to find but they are very powerful for google ranking.
Dropmylink would help you find these websites and in fact, they'll help you find the ones that accept comments so you can submit comments there and get backlinks as soon as possible then watch your rankings soar.
3. Find guest post opportunities
It's not only for building comment backlinks, you can also use dropmylink to find websites that accept guest posts in any niche.
Guest posting is still one of the best ways to build high quality contextual backlinks to your site and also build relationship with other bloggers in your niche during the process.
Finding blogs that accept guest posts in your niche is not that easy as you'll have to make use of google search strings which takes a lot of time.
But dropmylink would get this done for you within few minutes, all you need to do is just enter a keyword and it will search google immediately and find you blogs that accept guest post.
It's now your choice to check through, contact those blogs and offer to write them guest posts.
4. Find Resource Pages Link Building
A resource page is simply a page on a blog or website that lists helpful resources and links on a particular topic.
For example: I have a post on this blog about "101 list of blogs that accept guest posts all time" 
That is a resource page.
Or a food blog could have one page like "food blogs to follow in 2022"
Or another blog could have a page where they list "top articles on keyword research" 
Your job is to find these kind of resource pages and have them add your own link in there as one of the resources.
and that's it, you just built yourself a quality and contextual backlink.
Resource pages link building is another great way to get quality links and dropmylink would help you find these easily and fast.
5. Find Link Round ups
Link roundups is a bit similar to resources page; as the name sounds, it's a link you get from roundups.
From time to time some blogs publish posts with the sole purpose of linking out to quality contents in their niche.
For example: You already have quality content about a particular topic in your niche, your blog could be picked and added as well.
Below image is an example of a link roundup, from backlinko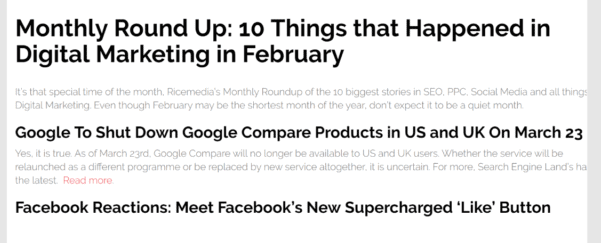 Dropmylink will help you find link roundup backlink opportunities.
other links you can get using drop my link include forum links and sponsored/donation links.
So you can just find these link building opportunities, and then use a tool like moz pa and da checker to check the websites/blogs' page authority and domain authority.
Finally build your links.
Its time to show you how to get started
How to Use Drop My Link
Dropmylink is very easy to use and all it takes is for you to signup and follow the steps below;
Step 1: Signup for an account
Visit the website www.dropmylink.com and signup (Its free to use and you don't have to pay for anything.
Step 2: Confirm your email and Login
When done signing up, you have to check your email for the verification link they sent and then your account should get verified and ready to use.
Now it's time to actually start link hunting. Lol
Step 3: Find Backlinks Opportunity
Now it's time to find link building opportunity and this depends on the type of links you want to build.
As said earlier on you can use dropmylink to build different kind of backlinks ranging from blog comments, guest posting, resources pages, forum backlinks etc.
Below is how to do it;
Make sure you're logged in.
1. Enter Your Keyword e.g. make money online
2. Select the category of links you want e.g. blog comment links, guest posting, resource pages, forum links etc..
3. Click Search
Below is a screenshot on how this is done.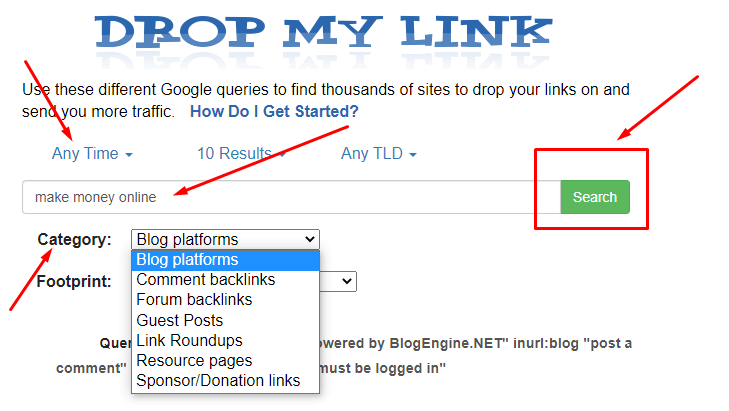 and boom that's it.
As soon as you click search, dropmylink would start it's magic.
It'll then take you to Google Serp providing you with the opportunities to build your links.
If you selected comment backlinks, you'll be shown sites that allow comments, same with other categories.
So all you just need is select the type of link you'd like to build and hit search.
Extra Features:
Where you have "TLD" you can click there to chose if you want only .edu and .gov websites
If you want to see most recent articles, you can click on the "Any Time"
Feel free to play around around the website, the more time you spend, the more you get to understand how to use dropmylink to find lots of quality links opportunities.
I've been using it personally to build links since 2018
and that's it for today.
I hope this dropmylink review helps you learn more about the drop my link website and how you can use it to build high quality links to your blog and website easily.
Let me know if you have questions and what methods you're currently using to build backlinks
Prosper Noah is the brain behind TipsonBlogging. A full-time blogger & SEO expert.  His tips has helped a lot of people start their own blogs, grow it and make money.