If you're running a dropshipping store and looking for the best products to sell online, you've probably heard of Peeksta. We've spent some time diving into what this product research tool offers and how it can help your business grow. In this Peeksta review, We're going to share our honest thoughts about this tool.
We know how challenging it can be to find products that really sell and stand out in the crowded online market. That's where Peeksta comes in. It's designed to make this part of your job a lot easier.
We've looked at how it works, what makes it unique, and whether it's worth your time and investment.
And, we're sure you'll be interested if you are reading this. So, let's explore together whether Peeksta is the key to your e-commerce success.
We're excited to share with you what we've found and how it might just be the game-changer you're looking for in your online business journey.
Peeksta Review 2023: Is it worth it?
Let's get started with a basic overview of Peeksta.
What is Peeksta? – a Quick Overview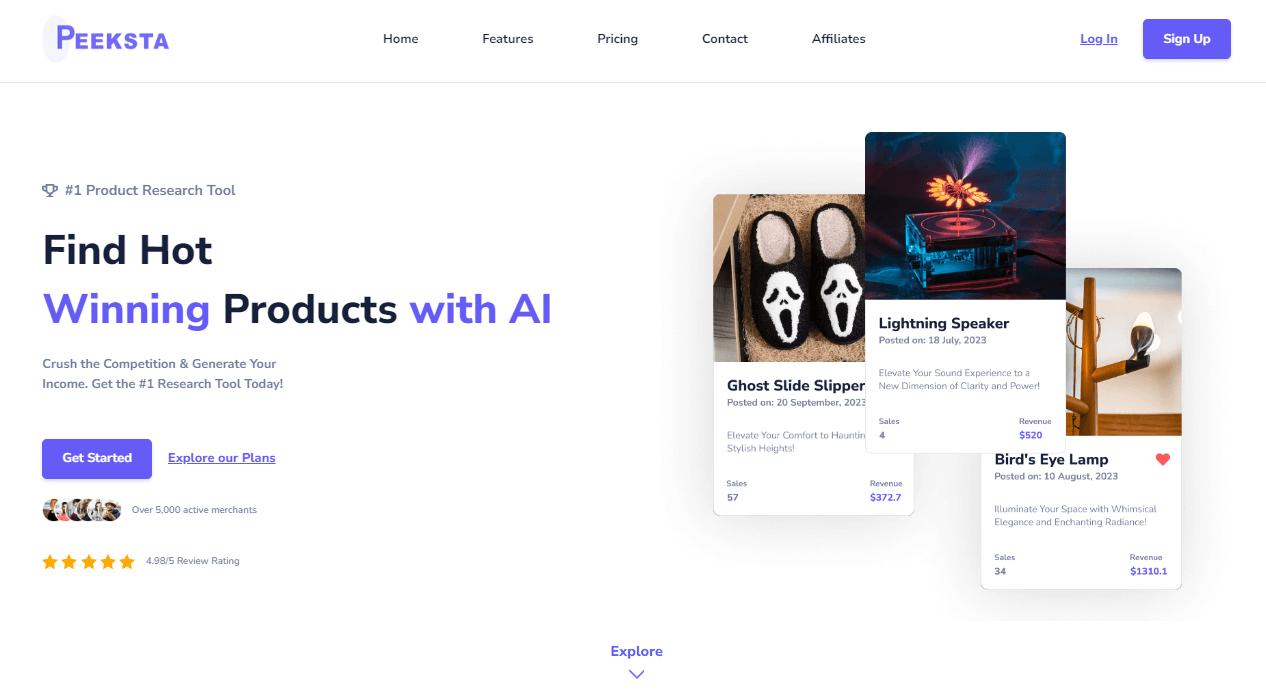 Peeksta is this cool tool that helps you find the best products to sell in your online store. You'll find it really interesting, especially if you're into e-commerce. Imagine having an online tool that knows all about what products are popular and which ones will make your store a hit. That's kind of what Peeksta does.
So, how does the Peeksta tool work?
It's pretty simple.
Peeksta uses some smart technology to look at tons of data and figures out which products are trending and likely to sell well. It's like having a super-smart assistant who does all the hard work of finding great products for you.
One of the best things about Peeksta we like is that it's really easy to use.
Whether you're just starting your online store or you've been doing this for a while, you'll find Peeksta helpful. It's designed to be user-friendly, so you won't get lost trying to figure it out.
Frankly speaking, it saves a lot of time because you don't have to guess which products will sell. Peeksta shows you what's hot and what's not. This means you can spend more time on other parts of your business, like making your store look nice or communicating with customers.
And here's a cool part – if you're looking to buy traffic online, Peeksta can help with that too. It's got features that help you make awesome video ads and find the right people to show them to. This way, more people visit your store, and you get a better chance of selling your products.
In short, Peeksta works like a secret weapon for your online store. It helps you pick winning dropshipping products, saves you time, and even helps with your ads.
They also have a free trial if you want to try the tool for free before committing to a paid plan. Use the following link to try Peeksta.
Now, let's look at the features that make it stand out.
Features of Peeksta: Why Choose Peeksta?
1. Find Winning Products
Are you tired of guessing which products will be a hit?
Then, Peeksta can be very useful.
Every day, their team adds hot, trending products to their list. This means you don't have to waste time and money on items that might not sell.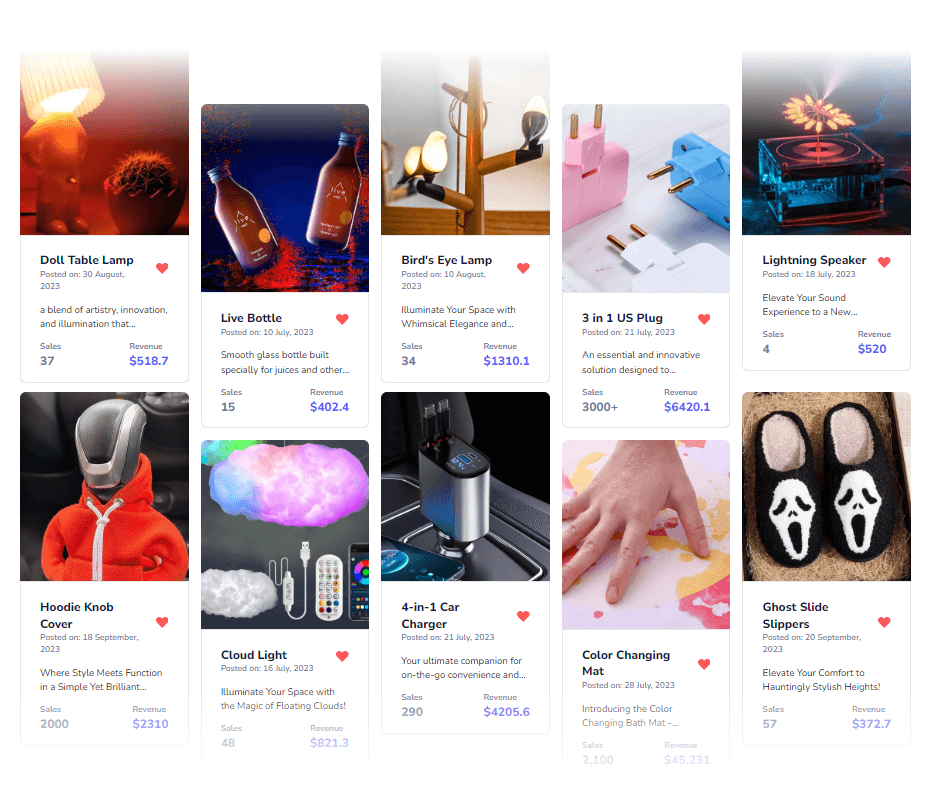 What we love about this tool is how it lets you filter by niche and selling price. Plus, you can sort by orders to see what's really popular. They even provide all the essential info like costs, margins, and the best target market for your ads.
And guess what?
They link you directly to top suppliers and show you data analytics from AliExpress.
2. Build Your Perfect Facebook Audience
Facebook Audience Builder in Peeksta helps you find the right people for your Facebook ads. This tool is a game-changer and let me tell you why.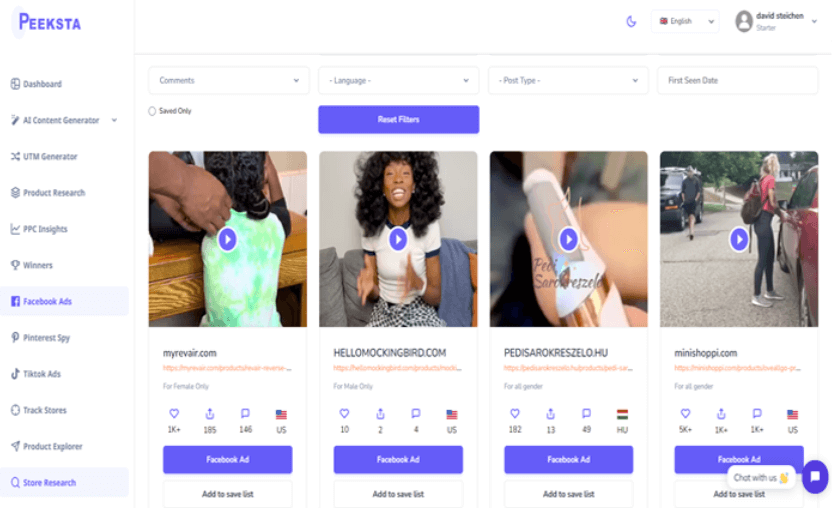 It covers a bunch of popular niches and helps you discover tons of interests within them. What makes it super cool is that it simplifies how you launch and examine products on Facebook. Since Facebook doesn't give data on interests, this tool fills a big gap. Just type in your product name, and you get the perfect audience for your ads.
3. Create Stunning Video Ads
The video ad generator tool inside Peeksta is something you'll love.
This AI-powered feature is incredibly user-friendly. You just need to provide some images, pick some music, and you're all set. The tool does the rest, giving you a professional video ad ready to impress on social media.
I've found this tool super helpful because it saves time and lets you focus on other parts of your business.
Honestly, creating eye-catching video ads has never been this easy!
4. Explore Great Products
Looking for inspiration for your next big product?
The Product Explorer shows you what's working for successful businesses, giving you insights into best-selling products. This tool is all about helping you follow in the footsteps of winners. You can see what strategies they're using and apply them to your own business. It's like having a mentor guiding you towards success.
5. Make Awesome Thumbnails
Peeksta's "Thumbnail Ad Generator" is great at creating beautiful thumbnails. It's super simple: upload your images, pick a style, and let their AI do the magic. You'll get thumbnails that look like they were made by a pro designer. This tool really helps your products shine and catch customers' eyes.
6. Find the Best Suppliers Fast
They focus on connecting you with the best suppliers for your products. Whether you're looking for fast shipping in the US or quality products from AliExpress, they've got you covered.
7. Discover Top Stores
Peeksta's "Store Explorer" lets you peek into popular stores to see their top-selling products. Just enter a store's domain, and you'll get all the juicy details. It's an amazing way to learn from the best and get ideas for your own store.
8. Spy on Products with Ease
You can use the "Product Spy" tool to spy on Facebook ads and see what products are hot. It's especially useful if you already have a product in mind and want to see how others are selling it.
9. Master TikTok Ads
If you're into TikTok ads, Peeksta can help you spy on Tiktok ads. It provides a specialized tool for spying on TikTok ads. You can sort ads to see what's trending or gather inspiration for your own campaigns. It's perfect for staying ahead.
10. Simplify Content Creation
Writing product descriptions and ad copy can be a drag. But not anymore! Its AI Content Generator does the heavy lifting for you. You can easily churn out compelling content whenever you need it.
11. PPC Insights for Smart Advertising
"PPC Insights" is like having a spy in your competitors' camp. You get to uncover secrets about their paid keywords and ad strategies. If you are into PPC, we are sure you'll like this tool a lot.
12. Unlock Pinterest Potential
Pinterest is a goldmine for marketers.
Have you ever wondered what makes some Pinterest campaigns so successful? The "Pinterest spy" feature demystifies that for you. It gives you an insider's look into successful Pinterest strategies, showing you what's working for others in your niche.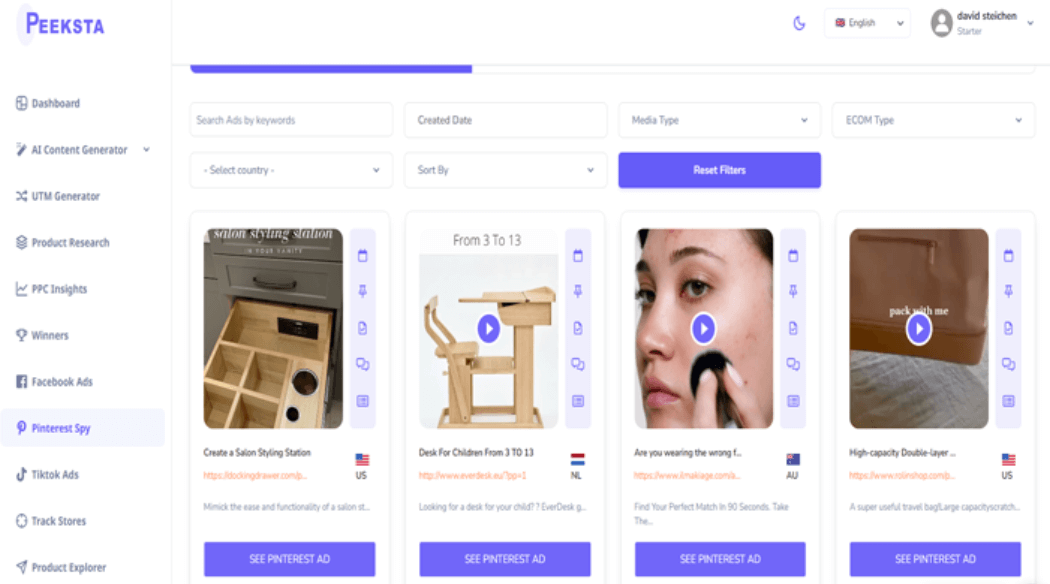 What we really appreciate about Pinterest Spy is how it empowers you to not just observe, but to learn and apply. You get to see what kinds of images, descriptions, and keywords top-performing pins are using. This insight is invaluable because it helps you craft your own Pinterest campaigns that resonate with your audience.
But it's not just about copying what works.
Pinterest Spy helps you understand the 'why' behind successful pins. By analyzing these successful campaigns, you can start to see patterns and strategies that you can adapt to fit your brand.
With the help of Pinterest Spy, you can refine your approach, ensuring that every pin you post has the potential to engage and attract your target audience. It's a tool that not only saves you time but also makes your Pinterest marketing efforts more effective.
Peeksta Pricing Details
Peeksta has different plans for everyone:
Free Plan: It is a great starting point for beginners! You get some basic tools like a UTM Generator, 30 AI Content Generator credits, and you can see a few winning products and ads. You can also track 2 Shopify stores.
Starter Plan ($19.99/month): You get 500 credits for AI content, track 10 Shopify stores, research 10 products and 30 stores each day. Plus, you get more tools like Pinterest Spy, Product Explorer, and Video Ad Generator.
Advanced Plan ($49.99/month): You get 1500 AI content credits, track 30 Shopify stores, and do unlimited product and store research. Plus, PPC Insights for 5 sites every day.
Premium Plan ($99.99/month): The best and the most expensive plan! You get 5000 AI content credits, track 100 Shopify stores, and do unlimited product and store research. Plus, PPC Insights for 10 sites every day.
You can pick any of the Peeksta subscription packages above and run with it.
And as you can see, the tool has a plan for everyone, from free to premium. Each plan offers more tools and features as you go up in price as usual.
You can also start with the free plan to test the tool before upgrading later.
So what are you waiting for?
If you want more details on this subscription packages then read our in-dept article on Peeksta pricing
Peeksta Pros and Cons
Pros of Peeksta:
Lots of useful tools to succeed with your dropshipping business
Free version available
User-Friendly Interface for beginners
Highly affordable starting at $20/month
Established presence in the market
Winning Products finder and Store explorer
Cons:
You cannot test premium version before a purchase
Slow Customer Support (reported by some users)
FAQS on Peeksta Review
Here are some frequently asked questions around the Peeksta tool and we've done our best to answer them in full details. Hope it helps if you have same questions in mind too.
How Effective is Peeksta at Identifying Winning Products?
Peeksta is really good at finding products that are likely to sell well. It helps you spot trending products every day, so you don't miss out on what's popular. They have a team that works hard to add new products regularly. This means you always get fresh ideas about what could be a big hit.
What's great is that Peeksta lets you filter these products.
You can choose based on what kind of stuff you're interested in, like beauty products or gadgets, and how much they cost. This makes it easier to find exactly what you're looking for. Plus, you can sort these products by how many orders they have, which helps you see what's really catching people's attention.
They also give you a lot of useful information about these products. You get to know how much they cost, how much you can sell them for, and who might want to buy them. This is super helpful for planning your ads and making sure you're targeting the right people.
What Makes Peeksta's Tools Unique Compared to Other E-commerce Tools?
Firstly, it's not just about finding products; it's about finding the right products. Peeksta's daily updates on trending products mean you get the latest info on what's hot, helping you stay ahead in the market.
They don't just tell you what's selling; they give you all the info like costs, selling prices, and the best target markets.
The Facebook Audience Builder, for example, helps you find the perfect audience for your ads. And if you're into TikTok, their TikTok Spy feature lets you see what's trending there. These tools are tailored to help you in specific areas of e-commerce, making your marketing efforts more focused and effective.
Is Peeksta User-Friendly and Suitable for Beginners?
Peeksta is definitely user-friendly and great for beginners. They've designed it in a way that makes it easy for anyone to use, even if you're just starting out in e-commerce. You don't need to be an expert to understand how to use the tools. Everything is laid out simply and clearly, so you can find your way around without any confusion.
Final Verdict on Peeksta
So far in this Peeksta review, I've given you the lowdown on what this tool offers. It's clear that Peeksta isn't just another dropshipping tool. From finding top-selling products to crafting the perfect Facebook audience and creating stunning video ads, it's got a lot covered. Plus, the simplicity of its interface makes it a breeze to use.
One thing we really like is how Peeksta saves you tons of time. You don't have to guess which products will fly off the shelves. It shows you what's trending and helps target your ads to the right crowd. And for those diving into e-commerce, Peeksta's range of plans, from free to premium, means there's something for every budget.
The cons, like slow customer support, are there but don't outweigh the benefits.
Overall, Peeksta seems like a solid choice, especially if you're keen on making your online store a hit without getting bogged down in the nitty-gritty of product research. We strongly recommend that you give it a shot today.
Prosper Noah is the Brain behind TipsonBlogging. A full-time Blogger & SEO Expert.  His tips has helped a lot of people Start and Manage their own Blogs.