Are you looking for a detailed Writecream review? Want to try this powerful AI writing tool and see if it can replace your human effort and save money and time? Or are you looking to replace the current AI tool you use with writecream?
You are definitely in the right place at the right time.
Before we get started with the review, here is why Writecream is perfect for your AI writing needs
5 Quick Reasons you must use Writecream
Lastly, out of about four popular AI writing tools we've recommended to our audience on this blog, we've seen a lot more people choose Writecream
These four reasons alone make Writecream a must use and worth every penny.
Give it a try and you won't regret your decision. We're sure of it.
Activate Writecream lifetime deal for only $59
We have written a lot of articles on AI writing tools such as Copy AI, Writesonic, Nichesss and much more.
No doubt, one of the best AI writing tools in the market right now is Writecream.
So is it a good fit for your writing needs? You'll find out in this in-dept Writecream review.
Without wasting time, let's jump to it right away.
Writecream Review 2023: Is it the best AI writing tool?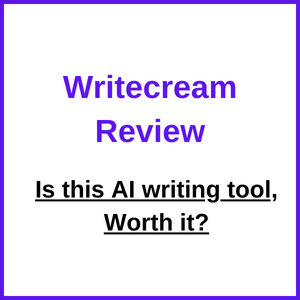 Let's start by introducing what writecream is all about and what you can use it to do.
What is WriteCream?
Writecream is an artificial intelligence SEO article writing tool that helps you generate over 1,000 words of an article within seconds.
It also helps you generate human-like voice overs which you can use for youtube and VSLs.
There are over 40+ tools available in the suite of writecream and it goes way beyond just writing articles.
So, if you are looking at reducing costs on AIs and also VAs, then writecream might just be the perfect tool you will need.
What makes Writecream worth the hype? Let's find out, shall we?
Writecream AI Features
Any plan of writecream comes with an exclusive feature and here you will learn more about them.
Tones
Writecream allows you to use this feature to select the kind of tone you will want your article to look like and this feature is only found in the long-form article use case.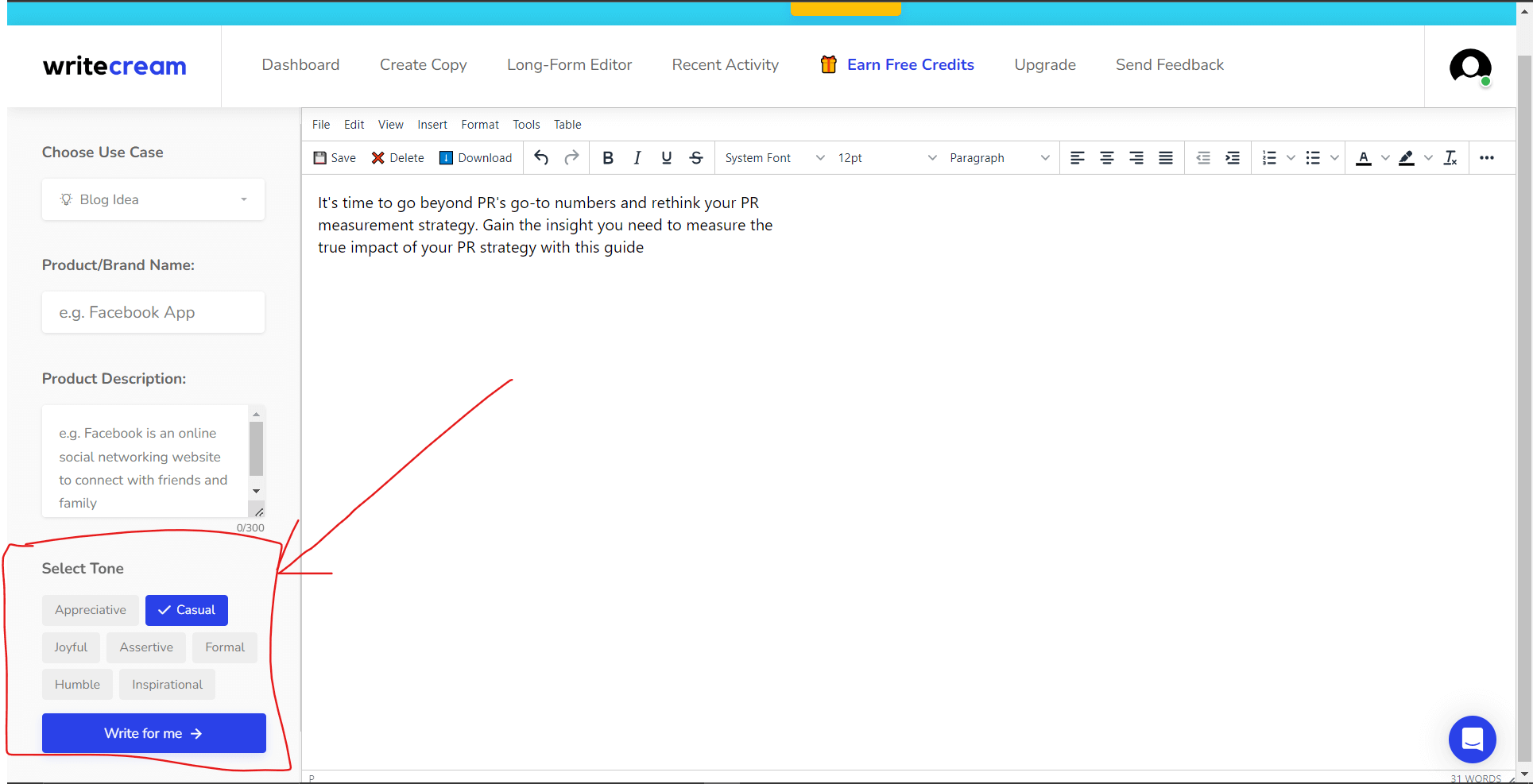 Some of the tones include:
Assertive
Appreciative
Joyful
Formal
Urgent
Passionate and more.
With this feature, you will be able to create content based on your perceived brand voice and stick to it whenever it's needed.
Use Cases
There wide range of use cases that writecream offers and some of the most popular use case includes the following;
Product Description Generator
Product Review
Feature to Benefits
Blog post idea generator
Instant Article Writer
Email copywriter
Email personalization
YouTube Video Topic Ideas
Audion Icebreaker
PAS Copywriting
BAB Copywriting
Social Media Post Captions
For what it is anybody in the below category can use writecream to fuel their business, they are;
Business owners
Copywriters
Bloggers
YouTubers
Social Media Managers
E-commerce Owners
Creative writers and more
Basically, if you are an online entrepreneur, you will need writecream as your personal assistant to get more done in less time.
Languages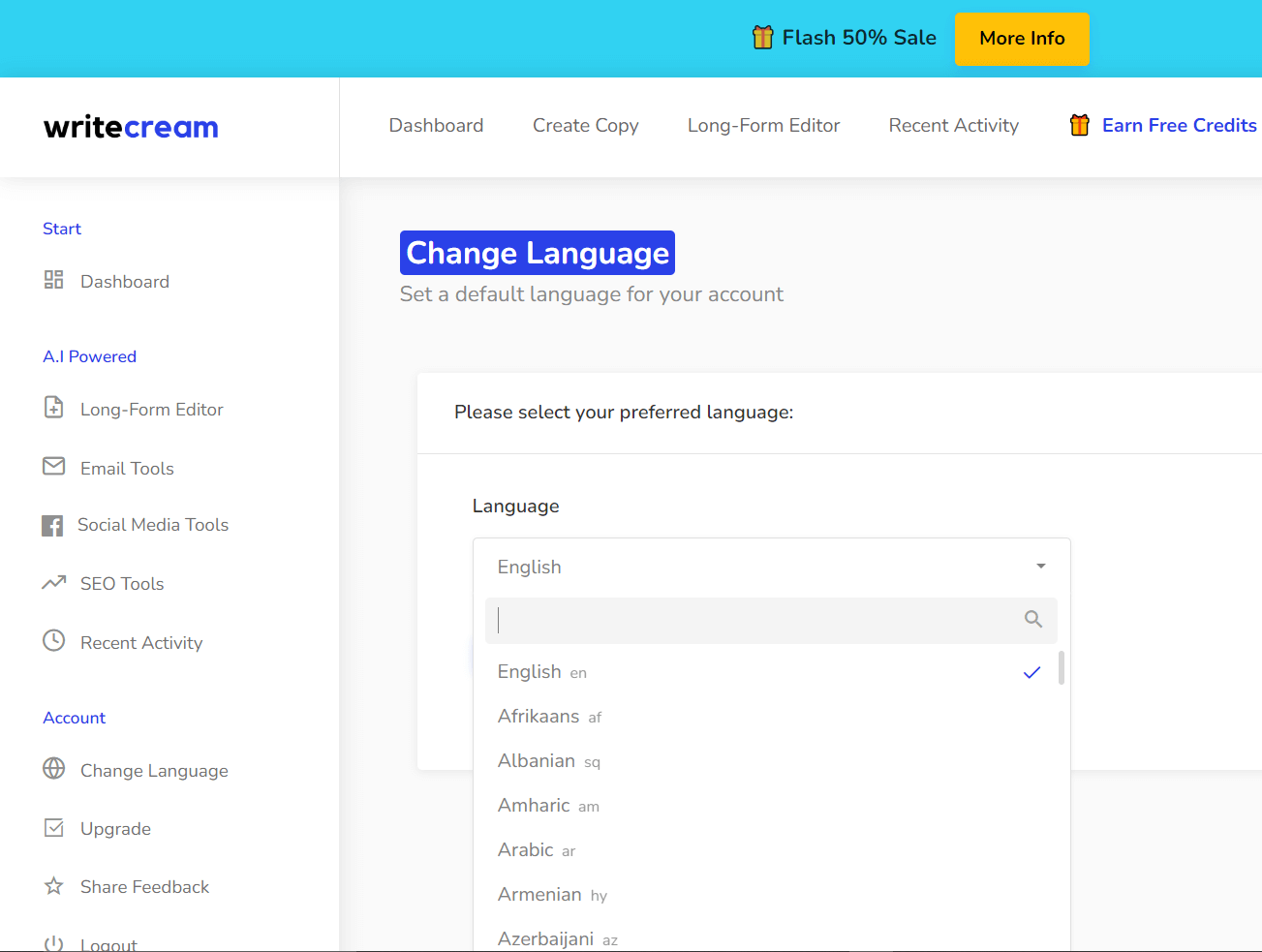 Write Cream currently supports over 70 languages across the world. So if you run a business where there is a need to translate or create content in non-English languages, this feature will let you do just that.
What are the Benefits (Use Case) of Write cream?
Write Long Form Articles:
With the writecream long-form article writing feature out of the 40 available, you'd be able to write high-quality content with just some simple already-built in the prompt.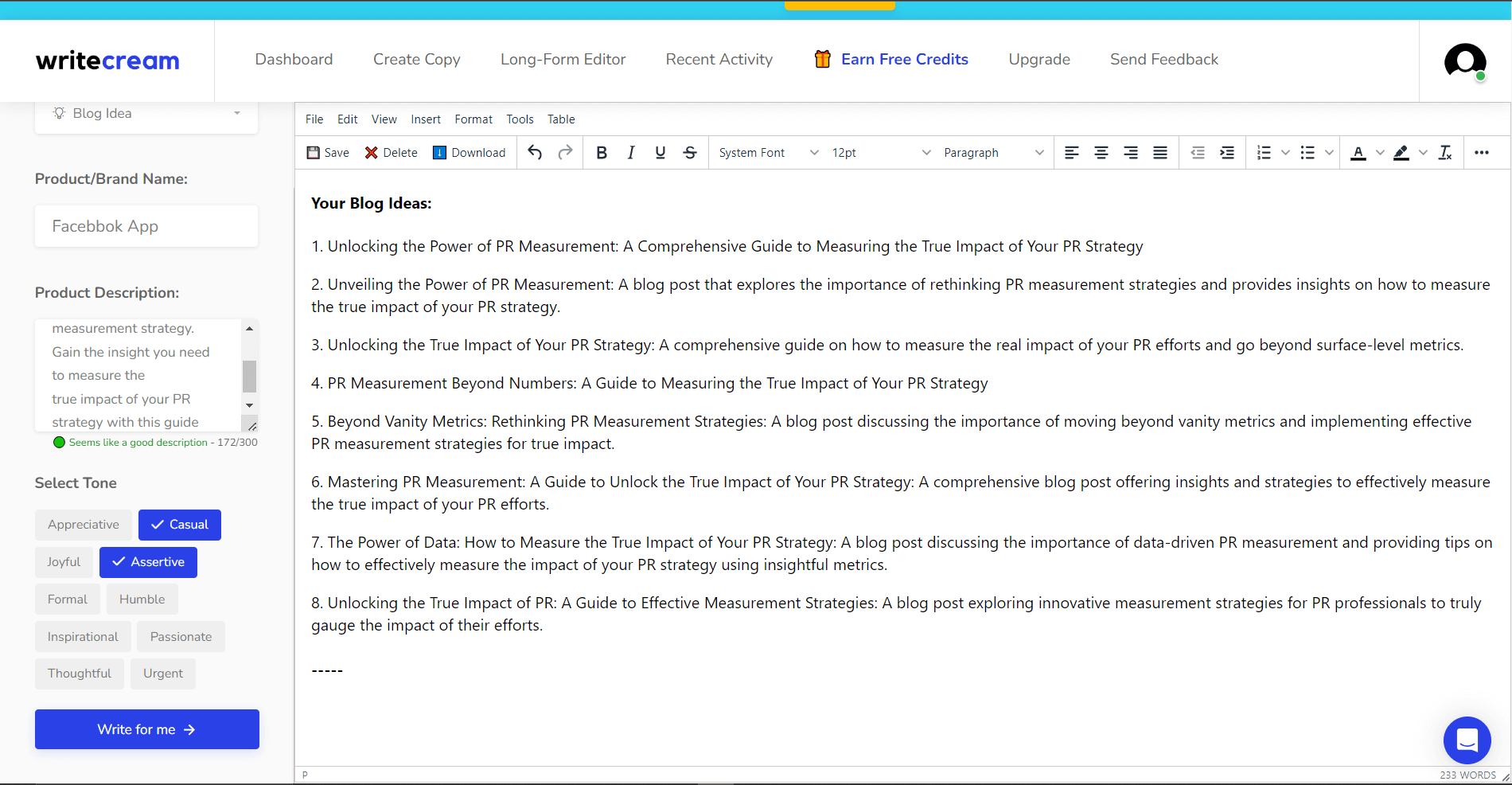 We know how time-consuming it can be to write a 3000-word article that will rank on Google. To save yourself from such struggle and writer's block, the long-form article writer will be much help and you get to do it yourself.
However, one bit of advice is always to fact-check the results generated with Ai because some information may not be factually correct. So, it is important to put some extra minutes into fact-checking so you can give the best solution out there.
Social Media Captions generator
If you are a social media manager and you are looking to hastily create captions for your banners, images, and posters.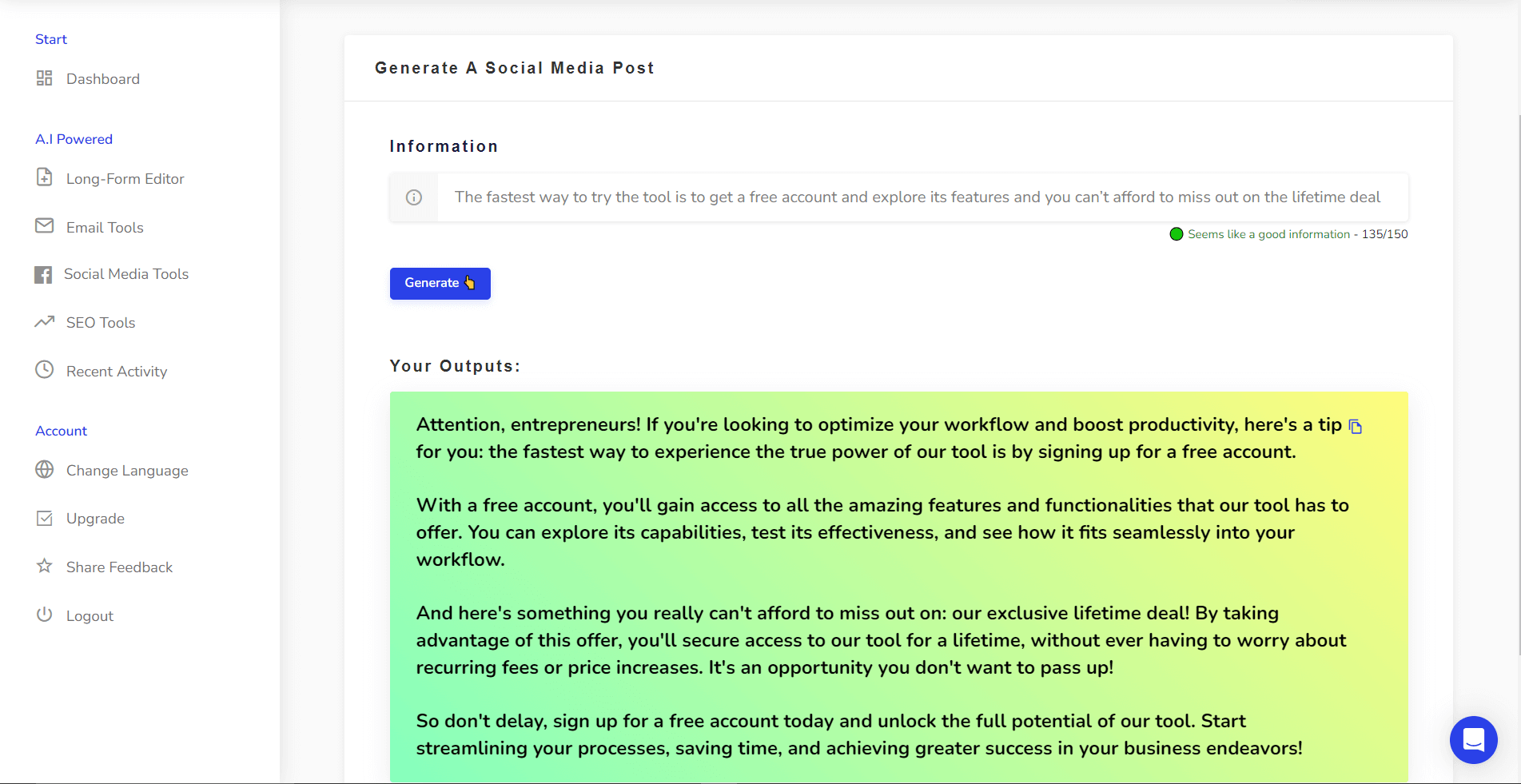 Writecream has this use case when you provide details about your image, it generates mind-blowing captions that are usable in a matter of 30 seconds. This can help if you are struggling with creative blocks to write anything.
Youtube Voice over and Podcasts
With over 40 voices available on writer cream, you can turn any text into a voice-over (that sounds like a human) for your YouTube videos or podcasts.
It also supports muti-lingual transcripts in various and popular languages.
Content Rewriter
Rewriting content words for words can be time-consuming at times. However, it gets easier with the writer team, you will be able to rewrite any text and keep its original message.
This feature is available under the long-form content writer use case.
To do this, you will need to highlight the text you want to rewrite and a floating bar with an option will appear, click on the rewrite option and experience the magic.
Summarizer
Do you have any long articles or texts you want to summarize?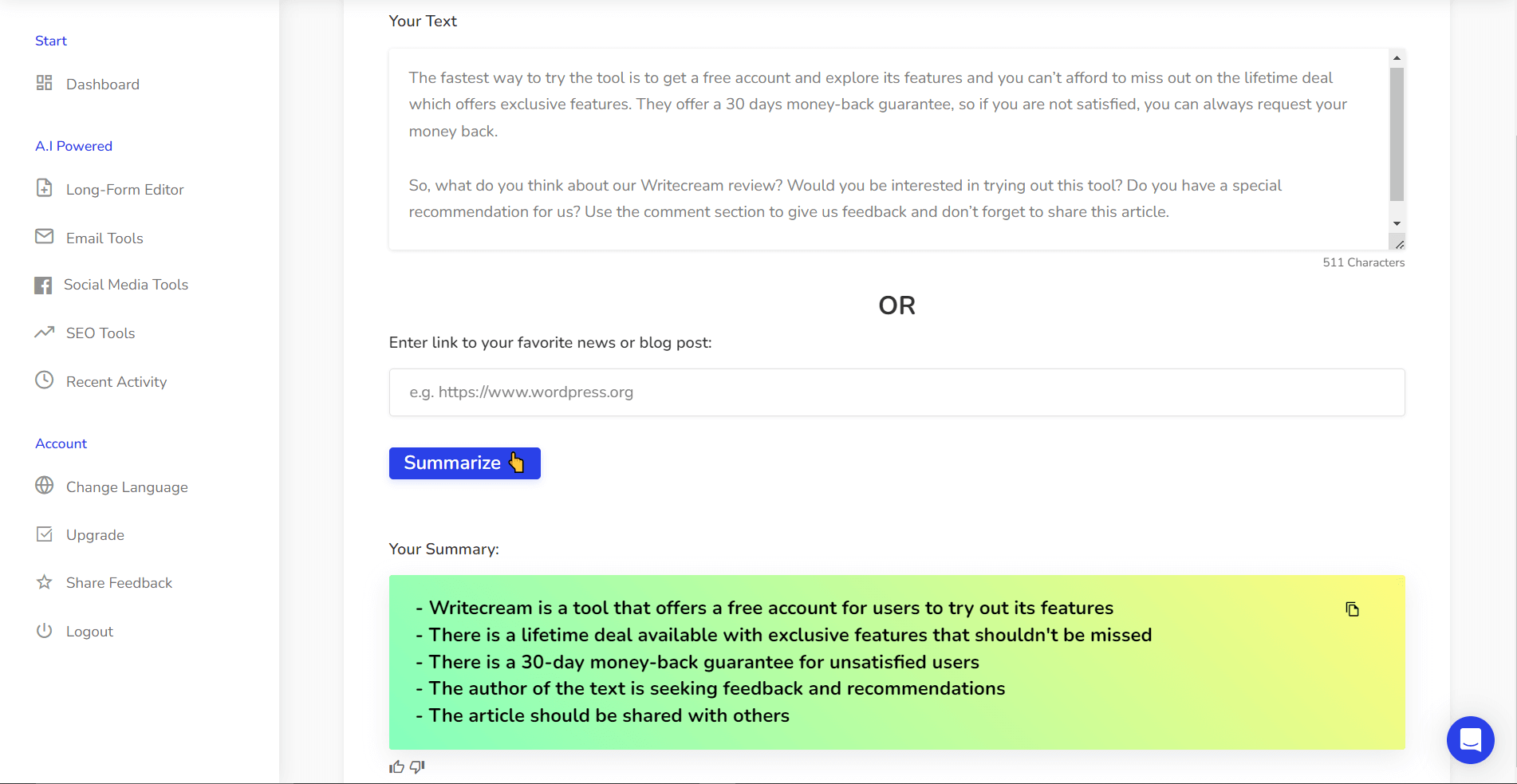 This writecream feature lets' summarize content for your blog post conclusion section. Also, the summarized text can serve as macro blog content on Twitter, Facebook, and even Instagram.
Paraphrasing tool
This tool or rather use case lets you rephrase text and keep its original form.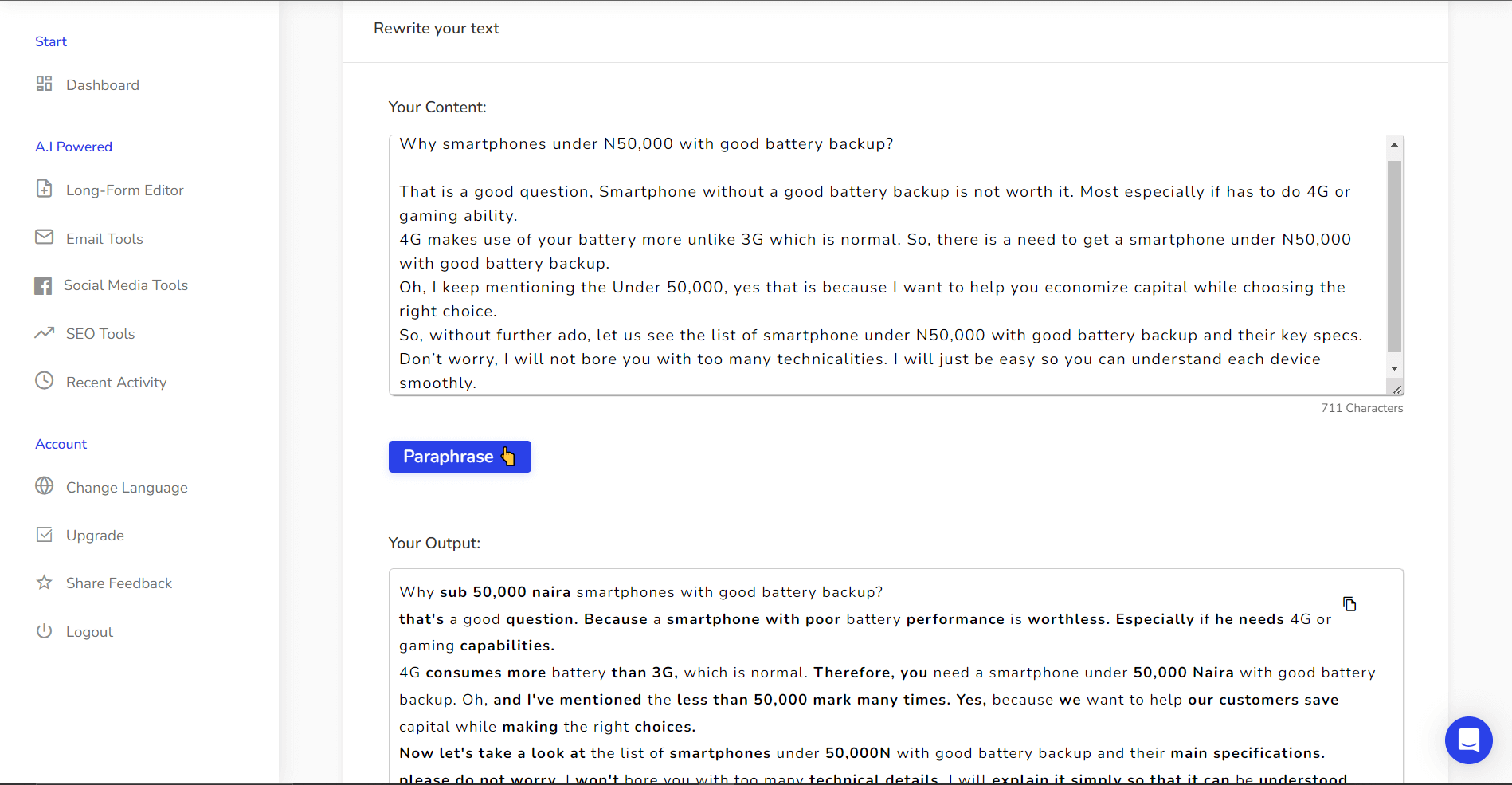 Text can be long or short and if you aim to get 100% original content, you can use their plagiarism tool to scan through paraphrased content and make corrections where necessary.
Chrome Extension
With the writecream Chrome extension, you create cold emails on websites you visit. This tool can come in handy for bloggers to do link-building outreach or throw a pitch for guest posting.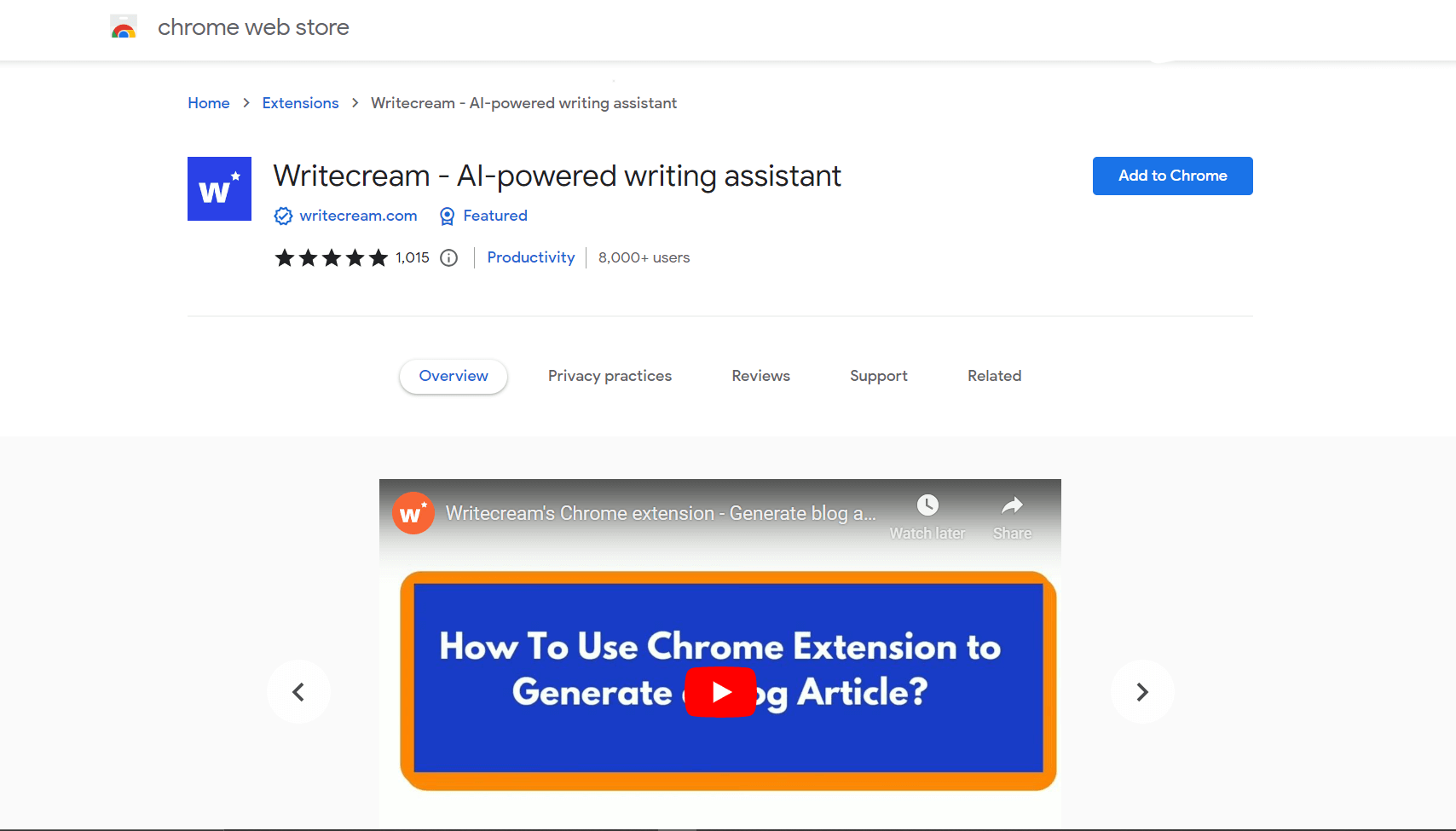 The generated text is instantly inserted into an editor for you to preview and make some edits if you wish. However, in the process of using this Chrome extension, you will experience some minor lags that are some normal downside of Chrome extensions.
Pros and Cons of Using Writecream
Writecream is an incredible and powerful AI copywriter, but does it have other downsides, or it's just that perfect tool? Let's find out.
Writecream Pros
Powerful Tools for Growth
This AI tool offers robust tools which can be used in almost any kind of internet business, you name it. Their powerful AI tools will help you reduce time spent creating and editing content either for social media marketing, cold emailing, and blog copywriting.
Lifetime Deal is Insane
Writcream offers a lifetime deal which is priced at 59$ on Appsumo. The deal comes with 4000,000 characters a month that can give 40 long articles per month, 200 credits, and access to over 40+ AI tools to run your business.
Powerful Chrome Extension
The Chrome extension allows you to work seamlessly.
Guided Writing with Long Form Article Tool
With the long-form article writer, you get guided steps before the main content is generated. From entering your blog post title, generating the outline, and generating each section in the article to writing the blog post conclusion.
Supports many Languages
Writecream supports over 75+ languages to enable you to create multilingual pages or content easily. As at the time of writing this article, they plan to support more languages. You can see their roadmap of new features and milestone writecream plans to achieve.
Writecream Cons
Old and Outdated Layout
The UI and overall layout are outdated and don't look really fancy, but fancy is not what you are looking for right? However, it can enhance how you work too.
Rewriter is limited
The rewriter is limited because you can only use it on selected text and not the entire content you are creating. It is not a use case on its own, you can only use it when writing long-form articles.
No Tone settings for other use cases
Tone settings are only limited to long-form content. You can't get this feature for other use cases like email generators or paraphrasing tools.
Limited Output
When you are using GPT-4, there is more tendency that you are getting updated data and ideas. While using Writecream, the output is limited to the year 2020/21 and that is like using GPT-3.
Writecream Plans and Pricing
All the writ-cream plans feature the same tools but have limited numbers with different prices. General features include the following:
Every content template
Chat & Email Support
Access to all of their tools
Access to their newest features
AI Copywriter's Community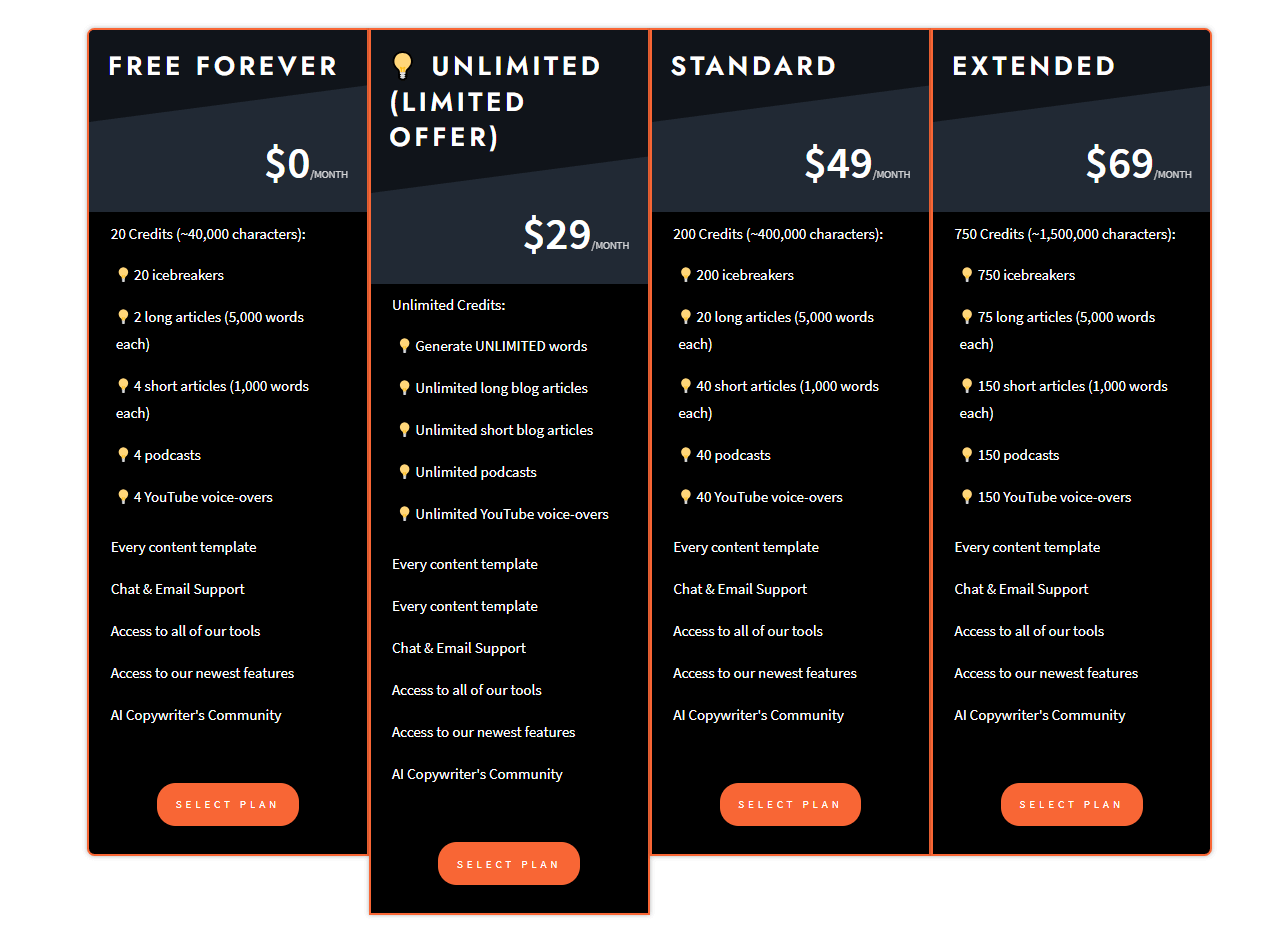 | | FREE FOREVER | Unlimited Plan (Limited time offer) | Standard | Extended |
| --- | --- | --- | --- | --- |
| Credits | 20 credits | Unlimited credits | 200 credits | 750 |
| Long Articles | 2 | Unlimited articles | 20 Long articles (5,000 words each) | 75 |
| Short Articles | 4 | Unlimited short articles | 40 short articles | 150 |
| Characters | 40,000 | Unlimited characters | 400,0000 | 1.5 Million |
| Podcasts | 2 | Unlimited Podcasts | 40 | 150 |
| Youtube Voicovers | 4 | Unlimited YouTube Videos | 40 | 150 |
| Icebreakers | 20 | Unlimited | 200 | 750 |
| Price | Free | 29$ | 49$ | 69$ |
Payment Methods
Currently, writecream offers only 3 payment gateways which are;
Credit cards
Debit cards and
PayPal
Check out our Writecream pricing article if you want more in-dept pricing details.
Writecream Free Trial
If you are looking to try writecream, they offer free accounts, and it's forever. With this account, you get 40,000 characters free per month which can create 2 long-form articles and 4 short articles of 1,000 words respectively.
This is a good way to see for yourself if the tool is the one you need for your business. However, these restrictions can be too limiting and some of the key features would be missing.
So what are you waiting for?
Writecream Lifetime Deal
Aside from the free version of writecream, you get a lifetime deal which is priced at 59$ on Appsumo. So, you get everything you need forever with just 59$
If you need more details, we've also written a post on Writecream lifetime deal for you to learn more.
Writecream Customer Support
Writecream customer support is good. They offer support via emails, support tickets, and live chats. However, due to the high volume of customer requests the feedback is delayed and can take up to hours before you can get a response. Not to say, you can use the live chat option which is where we usually get quick responses.
Final Verdict on Writecream Review
Writecream is an AI writing tool that can be used for many different purposes. It offers more than 40 tools to help online entrepreneurs, bloggers, copywriters, and social media managers.
Some of its most impressive features include Tone settings for customizing content, a Social Media Captions generator, YouTube voiceovers, and a Content Rewriter. All of these features make it easier and faster to create content.
The fastest way to try the tool is to get a free account and explore its features and you can't afford to miss out on the lifetime deal which offers exclusive features.
They offer a 30 days money-back guarantee, so if you are not satisfied, you can always request your money back.
So what do you think about our Writecream review? Would you be interested in trying out this AI writing software? Have any questions? Please let us know in the comments section.
Prosper Noah is the Brain behind TipsonBlogging. A full-time Blogger & SEO Expert.  His tips has helped a lot of people Start and Manage their own Blogs.