Are you looking for a list of what to do instead of blogging? Don't feel like it anymore or want better alternatives? Then you've just arrived at the right resource.
This article doesn't list every alternatives under the sun.
Instead I'm going to list only the best methods for you. I've been blogging for over 7 years and have tried every possible channel available to build a targeted audience aside blogging.
I used only one of these channels to build over 5,000+ subscribers in a short period that brings me six figures in revenue:

In other words, these alternatives are super effective.
Let's get to it right away.
Here are 10 effective things you can do instead of blogging:
1. Record Tutorial Videos and Post on YouTube
You ever heard of "Vlogging?"
Well, the V right there refers to Video.
So if you don't want to blog you might as well start video blogging or make tutorial videos to connect with your audience.
Video marketing is one of the best ways to reach a wide audience. Plus it helps you build instant trust.
Don't have time to write but you can record videos? Then what are you waiting for? Start vlogging right away.
Why Start a Vlogging?
Here are some of the benefits you get.
Build instant trust with your viewers
Multiple channels to build an audience
Promote own or other people's products (affiliate marketing) straight from your video
Communicate easier
YouTube is the second largest search engine (this calls for lots of traffic for you)
How to Start Vlogging
It's easy to do;
All you need to get started is simple;
First, decide on a niche
Create your YouTube channel
Get a good camera or video editing tool
Record videos
Post on YouTube.
Forgot to add that, with Vlogging you don't need a lot of authority to rank. YouTube already carries that power.
So if you do YouTube keyword research and publish high quality videos you can rank almost immediately and start getting traffic from both Google and YouTube.
YouTube is the biggest search engine after Google.
The amazing thing is you can rank on both and get good traffic and viewers to your videos.
You can sell products, promote affiliate products and much more with your channel.
So try Vlogging today instead of blogging.
2. Start a Podcast to engage Your Audience in a Personal and Unique way.
Podcasting is one of the best things you can do instead of blogging.
Let's face it.
To sell anything online, you need an audience that knows, likes and trust you. No one will empty their pockets for your product if they don't know you or do not trust you.
Blogging lets you build these kind of audience because you can post helpful content.
However, it's not the only way, there is also Podcasting.
Instead of blogging, how about starting a podcast?
With it, you can reach reach a wide audience and it also allows you engage with them in a personal and unique way.
Why Start a Podcasts?
Let's see some really good benefits you get when you start podcasting.
You'll be able to interact in real time with your audience; and this helps you build trust easily and fast. Since they can see you live, they'll come to like and trust you even more.
Podcasting also makes it super easy for your audience to listen to your content whenever they want to.
Your audience who are always on the move can listen to your podcasts. In other words, it is mobile
All-in-all, with podcast you can build a very strong relationship with your audience fast.
These are some of the reasons, it makes our #1 list of things you can do instead of blogging.
Give it a try and see how it goes for you.
How to Start Podcasting
Here's quick steps and tips on how you can start podcasting.
Choose a niche that you're passionate about. It has to be something your audience will also be interested in
Do content planning such as' what format you want your podcast, the length of the episodes, frequency of releases, etc.
Get a high quality microphone, headphones or other equipment that you will need in your journey
Decide on what hosting platform you want to use. There are excellent Podcast hosting platforms such as Buzzsprout and SoundCloud.
Use software like Audacity to record and edit your podcasts.
Publish and start distributing on channels like Spotify, iTunes, and Google Podcasts.
Finally, promote on social media and other platforms to build your audience.
With these few basic steps, anyone can start podcasting in 2023.
3. Post Short Updates on Social Media Platforms like Twitter and TikTok
This is called Micro-blogging
Not every audience is ready to read long blog posts which makes microblogging one of the best alternatives to blogging.
In fact, in a research by Contently;
75% of people prefer to read articles under 1,000 words.
Platforms such as Twitter makes this possible. You can share short updates with your audience whenever you want.
A lot of content creators are using these kind of platforms to reach a huge amount of audience.
You see this on TikTok every day.
It's another good example of a micro blogging platform.
You can educate your audience and get feedback in real time. A very good way to build instant trust and authority.
All it takes is consistency.
If you're consistent, you can build a large targeted following on one of these platforms. These are loyal audience who are ready to purchase your products and services anytime.
What's even amazing?
They are all very easy to use.
How do you start MicroBlogging?
Follow these tips and you should be up and running in no time.
First, decide on a niche just like you'd do on any platform
Select one microblogging platform. You can choose between Twitter, Instagram or TikTok. Definitely Twitter is what we recommend for beginners
Create your account and include all necessary stuff such as profile picture and bio
Share helpful relevant updates such as photos, videos, and anything you think is of benefit to your audience
Respond to comments/tweets, like others' posts, engage in conversations. This will help you build relationship fast
Analyze your results and double down on what's working for you.
As you can see, it's easy to start microblogging.
Again, the keyword is consistency. You need to show up.
4. Create and Distribute eBooks on Popular Platforms
Unlike a blog, an eBook is a comprehensive and in-depth guide that allows you to explain a specific topic in full detail and showcase your knowledge and expertise.
You can create eBooks on a particular topic and distribute in platforms so your audience can digest it.
Why Create eBooks?
Here are some of the top benefits.
It increases credibility and labels you expert in your niche
You get full control over the format and design of your content
Reach a global audience easily
Opportunity to monetize your content
Long-term value as a resource for your audience
How to get started with creating your eBook:
Creating eBooks is one of the easiest things to do, you can even use tools like Google Docs. Here are a few steps you can follow to get started.
Choose a topic that aligns with your goals and interests
Create Outline for your content. It is best for structuring
Write and edit your book, ensuring high-quality content
Design an eye-catching cover and format your book for easy reading
Publish your book on platforms such as Amazon Kindle Direct Publishing or Gumroad
With webinars you can interact with your audience in real-time
Unlike a blog post, a webinar allows you to engage with your audience through live Q & A sessions, visual aids, and real-time demonstrations.
Why Host Webinars?
See below some top benefits of hosting webinars
Increased engagement and interaction with your audience
Opportunity to build relationships and establish yourself as an expert in your field
Ability to reach a global audience with ease
Multiple monetization options such as paid webinars or through upsells of products and services
You can get immediate feedback. Plus it gives you the ability to address the questions and concerns of your live.
How to Get Started with Hosting Webinars
Follow these easy steps and you should be up and running in no time.
Choose a topic that aligns with your goals and interests
Plan the content and format of your webinar, including live demonstrations and Q&A sessions
Choose a webinar platform that fits your needs, such as Zoom or Google Meet
Promote your webinar through email marketing, social media, and other marketing channels
Host your webinar, engage with your audience, and follow up with a recording or summary of the webinar for future reference
6. Build an Email List
The money is in the list. You've probably heard of that many times.
Billions of emails are sent daily.
Email marketing contribute to a whooping 80% of my total earnings online.
With email, you can communicate with your subscribers on a regular basis.
An email newsletter allows you to reach your subscribers directly in their inbox, providing them with timely and relevant updates and content.
Why Send Email Newsletters?
There are a lot of benefits that come with sending email newsletters and they include some important ones below:
Increased engagement and interaction with your audience
You can build relationships and establish yourself as an expert with only a few engagement emails
Ability to reach a targeted audience with ease
You can monetize your through selling your own products, affiliate promotions and more.
Increased brand recognition and loyalty
Getting Started with Email Newsletters:
Choose an email Autoresponder such as Getresponse, Mailchimp or Convertkit
Build your email list. You can offer PDF eBooks, Training series, etc.
Plan and create content for your newsletter, including articles, updates, and promotions
From your email marketing platform, chose from over hundreds of newsletter templates that fits your brand.
Schedule and send your newsletter on a regular basis. Don't forget to track and analyze your performance
7. Create and Sell Online Courses
Platforms like Udemy and Teachable provide you with tools to host online courses.
Online courses are very scalable and profitable. It provides comprehensive and structured learning experiences for students, allowing them to learn at their own pace and on their own time.
Why Online Courses:
Here are some great benefits.
Reach and impact by sharing your expertise with a wide audience
Monetize your knowledge and skills
Ability to scale your income through digital delivery of your course
You can build a community of students and establish yourself as an expert in no time
Getting Started with Creating and Selling Online Courses:
Choose a platform. Two popular ones are Udemy and Teachable
Choose a course topic that offers value to your target audience
Plan and create a comprehensive course structure, including lessons, quizzes, and assignments
Record and edit high-quality video content for your course
Market and promote your course through email marketing, social media, and other marketing channels
8. Build a Community to Connect with Likeminded Individuals
Building a community is a connected and collaborative way to connect with your audience and create meaningful relationships.
It allows you to interact with your followers and receive feedback, as well as connect with like-minded individuals and groups.
With a community, you can:
Increase engagement and interaction with your audience
Build relationships and establish yourself as a leader in your niche
Gather feedback and insights from your audience
Create a supportive and inclusive environment for your followers
Increase brand recognition and loyalty
Promote any product, service or sponsorship
How to Build a Community
In few easy steps, you can build your own community.
Pick a community building platform like Facebook Groups or Discord
Identify your target audience and their needs and interests
Plan and create engaging content and activities for your community
Encourage members to participate and engageby asking questions and promoting discussion
What do you say to sharing content on social media and growing followers?
A hell yes! for me.
Social media platforms such as Facebook, Instagram, and Twitter provide a dynamic and flexible way to share content and connect with your audience.
You can share short valuable tips, interact with others and build a targeted following. When you've built a large followers base, promoting your products and services and making sales is easy.
Why Share Content on Social Media?
You get a lot of reach and exposure
Engage with your followers and receive feedback
Showcase your brand and personality in a more dynamic way
You can drive traffic to your website and other content online
How to get started
There are no two ways about it. All it takes is setup an account and post valuable content consistently.
Below are some steps you can take to get started.
Pick one platform for your target audience and brand e.g. Twitter
Create a content strategy that aligns with your goals and audience
Plan and create engaging and valuable content for your followers
Share your content regularly and consistently
Engage with your followers by responding to comments and messages. It helps you build trust relatively quickly
I'm not much of an Infographic person, but Hubspot takes infographics to the next level for content marketing.
Creating infographics is a visual and engaging method people share complex information in a simple and memorable way.
They are a powerful tool for visual storytelling, and they can help to make your message stand.
Here's an example from buffer: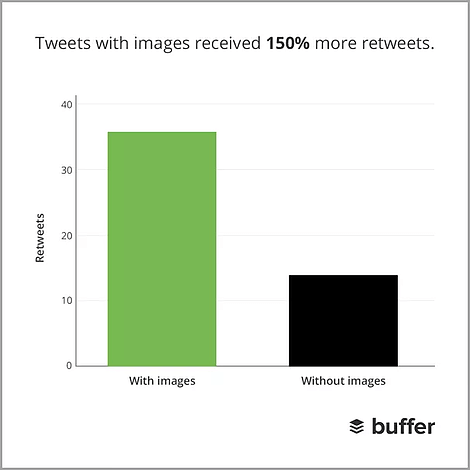 Tools like Canva is best for this.
Benefits of Creating Infographics:
You can pass complex information in a simple and memorable way
Showcase your brand and expertise in a unique and visually appealing way
Encourages social sharing and potential for viral exposure
Getting Started with Creating Infographics
Not down the topic and information you want to convey
Choose the right design style and format for your message and brand
Plan and organize your information in a logical and visually appealing way
Use engaging visuals and simple language to share your message
Share your infographics on your website, social media, and other channels
FAQs on What to Do Instead of Blogging
Here are frequently asked questions on things you can do instead of blogging. We've answered everything in detail and hope it helps you.
What has replaced blogging?
Blogging hasn't been replaced, but there are several alternative forms of content creation and distribution, such as video content, podcasts, social media, and visual content such as infographics and e-books.
What is better than a blog?
This depends on the individual's goals, audience, and content. Some alternative forms of content creation such as video content, podcasts, and visual content, can be more engaging and reach a wider audience.
Why do bloggers quit?
Bloggers may quit for a lot of reasons, including a lack of time, resources, and inspiration, difficulty in building a following or generating income, or simply losing interest.
Why do many bloggers fail?
Many bloggers fail because they lack a clear focus, target audience, and content strategy, or they don't put in the time and effort needed to grow their blog and engage with their audience. Such blogging mistakes can cost you in the long run.
Other common reasons for failure include a lack of consistency, poor writing quality, and an inability to monetize their blog effectively.
Final Thoughts
Let's be honest.
Blogging can be a lot of hard work.
You have to research on topics to write, do keyword research, promote that content to get traffic and much more.
Content writing in itself can be a pain in the arse. Most times you have to deal with writers' block unless you have a lot of cash to hire writers.
You're probably not that much of a content writer.
Regardless of the "BIG" why, you definitely came to the right place.
I've showed you a list of some other interesting methods and ways you can reach your target audience without blogging.
With these, you can also share your ideas with the world effectively.
Go through the list carefully so you can understand better and decide on which one suits your style, goals and interests.
Hopefully these list of what to do instead of blogging helps you figure other ways to build your audience aside blogging.
So which one of these methods are you going to try today? Have any questions? Please let us know in the comments section.
Prosper Noah is the brain behind TipsonBlogging. A full-time blogger & SEO expert.  His tips has helped a lot of people start their own blogs, grow it and make money.