If you're here then it means you are looking for a live copy.ai promo code that's working even in December 2022 to help you save some money on this awesome gpt-3 based ai copywriting assistant.
Who doesn't like saving money?
You're definitely in the right post.
I've been using copy ai for a while now to create unique articles for my blogs and for generating marketing copies generally and I can tell you, this tool is suuuuper awesome and you made the right choice if you decide to use it.
In this post am going to show you how to claim 40% off your first year annual subscription of copy.ai
If you don't have enough time to read right now, then claim the deal below using our special partner link along with coupon;
40% off will be applied to your purchase automatically if you upgrade to the paid plan within 4 days of creating your copy ai trial account.
Quick note: Create a brand new copy ai account with the special link.
I've been a partner of Copy.Ai for a long time and this is for TipsonBlogging readers so you're in luck for arriving at this post.
How to Activate the Copy.ai Promo Code
You can get this activated in few minutes and start using copy ai as soon as possible, just follow below step by step instruction
NOTE: In order for this 40% copy ai discount code to get activated, you need to create a new copyAI account with the link and upgrade within 4 days of creating your free account.
Now go ahead and follow below steps to activate copy ai so you can be up and running.
Step 1: Visit this special partner link and it will take you directly to copy ai website page where you can signup for a free account and activate your 40% off coupon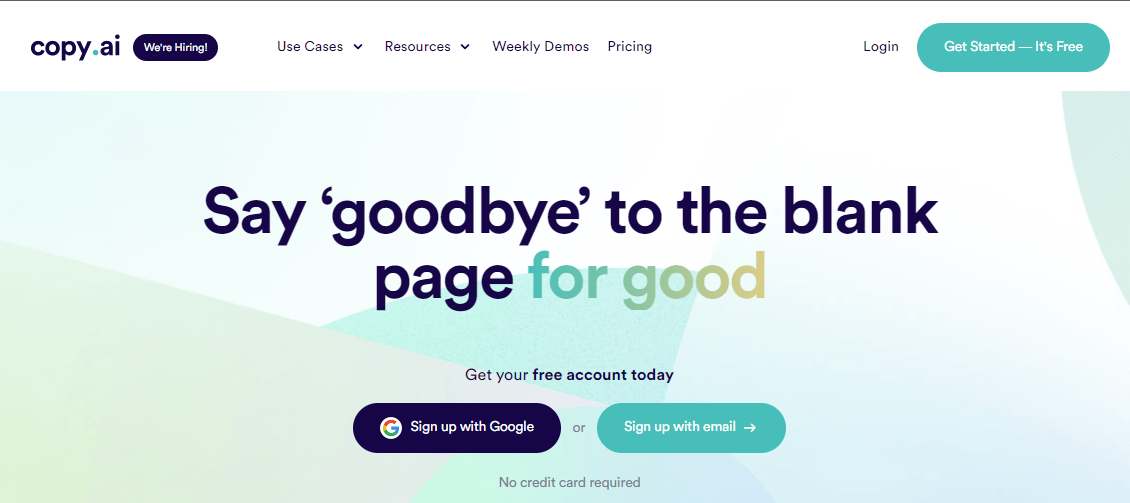 Step 2: Now all you have to do is click on any of the signup button on the page and you'll be able to create your copy.ai trial account
Step 3: Create an account with your correct details such as email address.
Copy ai's registration process is very easy and simple.
On the page that opens, just enter your email address and a code will be sent to complete your registration.
Yes, and you don't even need a password to signup and also login.
When you've signed up and you want to login anytime, a magic link is sent to your email and you can access your account with ease.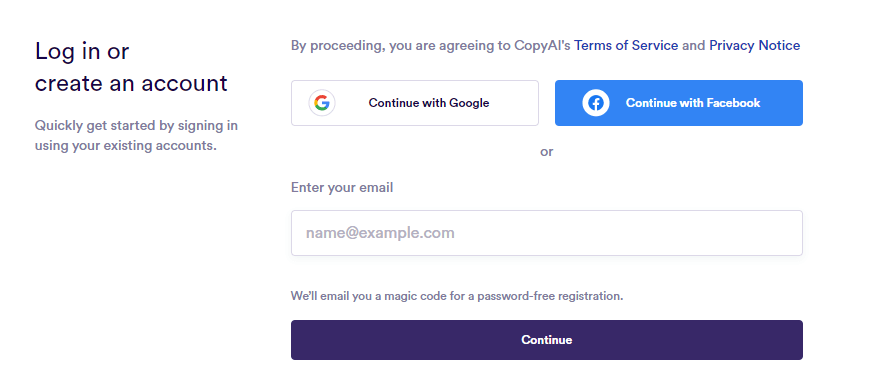 So enter your email as seen above and click continue.
A link/button will be sent to your email to complete your registration and login as seen below is exactly what you'll see.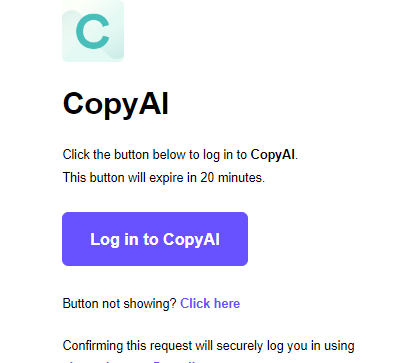 Click on that button and you should be in your CopyAI account dashboard.
Step 4: Then you will be asked a few welcome questions (you can skip or answer this)
It's optional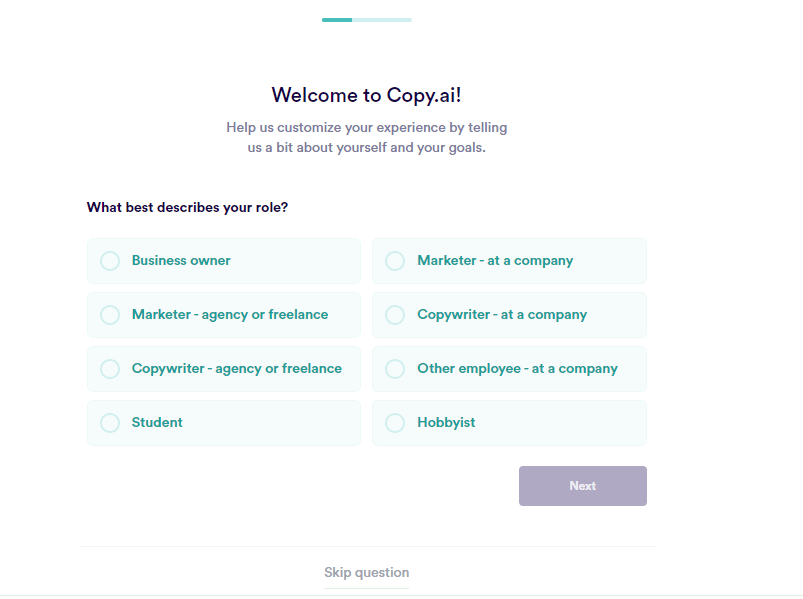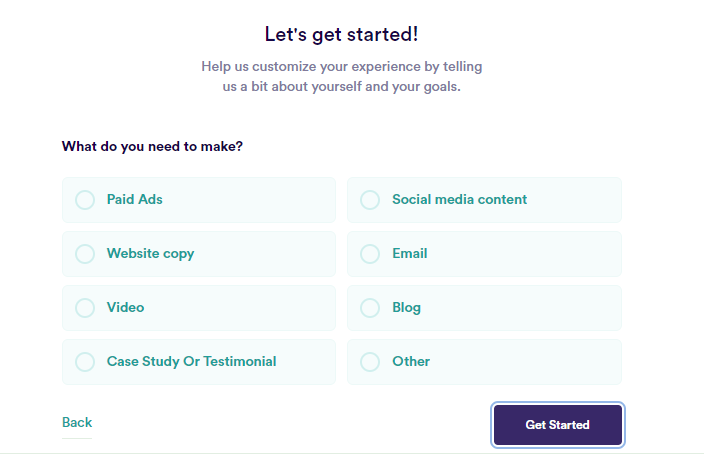 Step 5: Finally, it's time to upgrade your account with the 40% off copy ai promotion code deal.
At the top right, Click on Upgrade Pro and your 40% off will be applied automatically because you used the special partner link in this post, you don't even have to enter any code.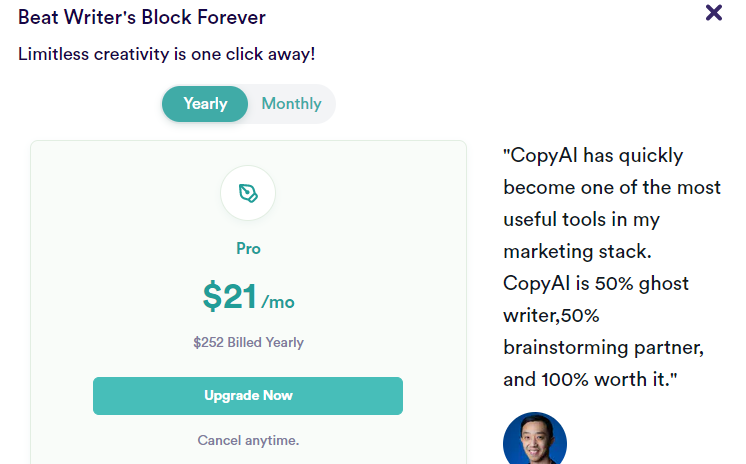 Hit Upgrade now
and boom, here's your 40% off applied right before your eyes.
Haha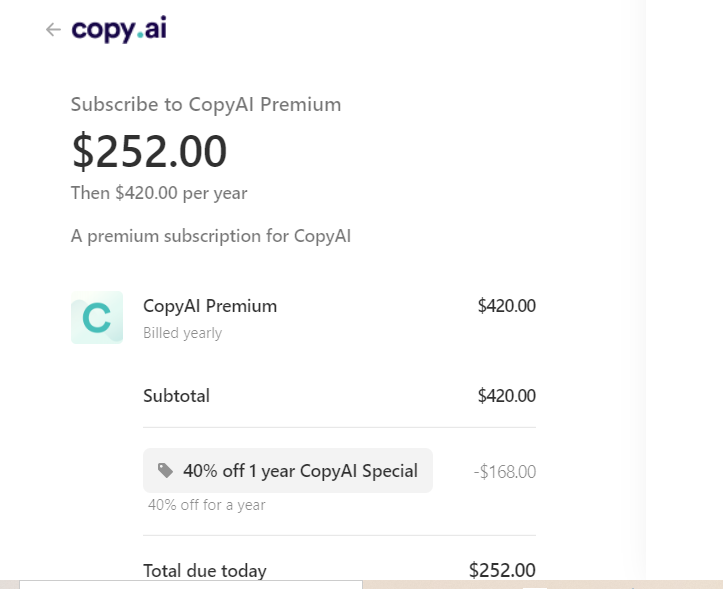 That's it.
As simple as that.
You don't need any code, just go through the special partner link and everything will be applied automatically for you.
However, you can enter the coupon STARTCOPY if your 40% off is not applied automatically.
Why Choose Copy.AI in 2022?
Below are the top benefits you are getting with Copyai for your content creation and these makes the tool a very powerful writing assistant.
1. Supports Over 25+ Languages
CopyAi is not limited to english alone, so if you plan to create content in other languages, it has you covered.
There's over 25+ languages that you can work with, CopyAi will translate them for you.
Just choose a language and type in that, then select the language that copy.ai will use to write your copy.
2. Writers Block "No More"
With CopyAi you no longer need to spend hours writing content and if you've been struggling to come up with what tow write, it's finally come to an end.
You can now create unlimited copies, get ideas, etc… using copyai
3. Over 90+ tools & templates included
Already made templates and tools are available for you to chose from and use to create your copies easily and fast
Some of them include:
Blogging Tool
CopyAi makes blogging very easy, you can create articles with the blogging tool which helps you generate blog intros, titles, outlines, ideas, bullet points to full blog post.
Using these tools, creating a 1000-3000 words article can be done in minutes even in a niche you have no knowledge about.
This is what most niche site bloggers use for their blogs.
Social Media Tools
At CopyAI you'll get access to different tools for creating compelling social media posts such as captions, instagram posts, brainstorming topics etc.
eCommerce Tools
If you're into ecommerce, this tool will make your work 10x easier/faster as it will help you write better product descriptions that's guaranteed to increase sales for your store.
Others:
Digital Ad Copy (for writing compelling Facebook Ad copies, Google Ads Copies, Linkedin ads)
Etc..
4. Write Quality & Unique Content Easily and Faster
No spending hours anymore, you can now create highly optimized content in a matter of minutes. Copyai makes these possible for you.
With all of these, generating high converting copy shouldn't be a problem anymore.
Want to get started with Copy.AI right away? Take advantage of the 40% off Offer
So how much does it cost?
Copy.ai Pricing 2022: How Much Does it Cost?
On Copyai there is mainly the Pro Plan which is used by 99% of the customers unlike other ai writers like jasper which offers different pricing plans.
Copyai offers just the Pro plan and you can get access to everything you need.
However there is also the custom plan, which is designed only for agencies.
If you are an agency and or a team, it makes sense to go with that instead.
As seen below: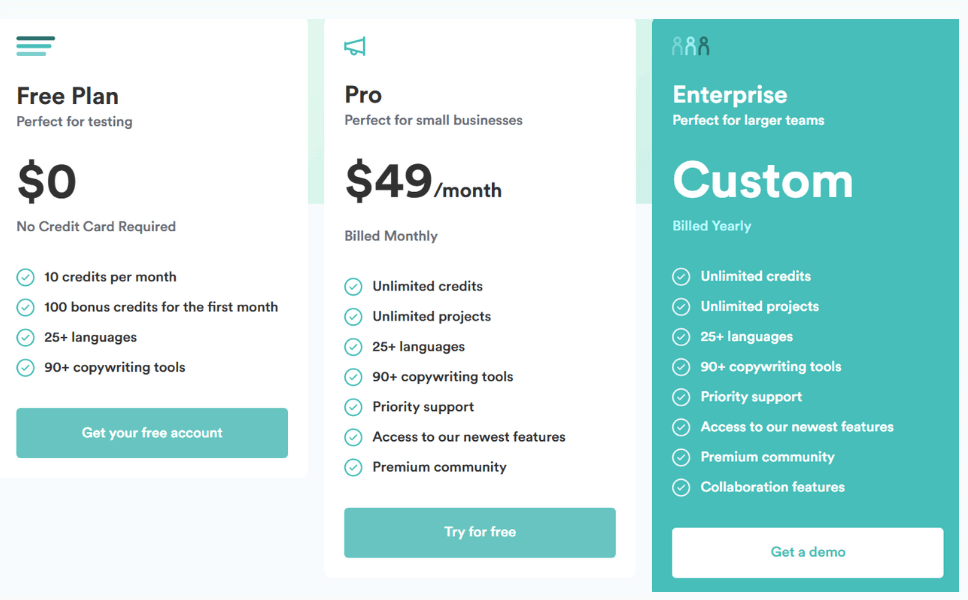 Pro plan costs $49 per month but you'll pay only $35 per month if you pay annually and gives you access to;
Unlimited credits
Unlimited projects
25+ languages
90+ copywriting tools
Blog Wizard Tools
Access to newest features
Priority Support
and lots more
This is all you need.
The custom plan for agencies start from $98 per month.
Looking for discount and or a copy.ai promotion code to save money on CopyAi? You're covered.
Just use the special partner link in this post and you'll get 40% off discount automatically on Pro or Custom, no need to apply any code.
NOTE: You must upgrade within 4 days of creating your free account for this to be applied to your checkout.
Also Read:
FAQS
Here are questions other readers are asking about the copy.ai promo code that you may have in mind too. Fortunately, we've answered everything and hope it helps.
Is there any live Copy ai coupon code available?
Yes, there is a special coupon code STARTCOPY to get 40% off, however you don't need to enter it. You just need to signup through a copy.ai partner's link and it will be applied automatically on checkout.
Does Copy ai offer any lifetime deal?
No, Copy ai does not offer any lifetime deal at the moment. I will let you know when there is any copy.ai lifetime deal available or you can keep an eye for their black friday offers.
Conclusion on Copy.ai Promo Code
That's it for this tutorial on getting and activating the huge 40% discount on copy ai writing tool.
Am sure by now you're well on your way to writing high quality and sales pulling content with Copy ai.
I mean; why waste a lot of time creating content when a highly advanced tool like CopyAi will make the work 10x or even 100x easier and faster?
Just signup for a copyai free trial account using the special link in this post and upgrade your account within 4 days and automatically you get 40% off.
Then take content creation to the next level.
Hopefully this copy.ai promo code helps you save some money.
Let me know if you have questions in the comment section I'll be here to reply as soon as possible.
Prosper Noah is the brain behind TipsonBlogging. A full-time blogger & SEO expert.  His tips has helped a lot of people
start their own blogs
, grow it and make money.