Are you on the hunt for a Minea review? Want to know if this dropshipping tool is worth it or not?
Then you've just arrived at the right place.
In this blog post, you are going to read my in-depth review of the Minea dropshipping tool so you can decide if it can help you to easily source dropshipping products for your business.
When you want to run an ad campaign for a dropshipping product, It is important to perform research and analysis. Minea helps you to do exactly that.
Even more so, you can use it to check e-commerce websites, Facebook, Pinterest, and tiktok campaigns.
Minea is an ads spy tool for dropshipping businesses.
It helps spy on competitors' ad campaigns and find winning products.
Provides insights on marketing strategies, keywords, audience types, and ad campaigns.
Helps with product research, niche research, and creating a database of information.
Allows collaboration with influencers and offers features for Facebook, Pinterest, Instagram, and TikTok ad spying.
Assists in competitor analysis, ad campaign inspirations, market research, and ad performance tracking.
Want to get started? you can quickly setup a free minea account. Use the following button below.
Minea Review Review: Is Minea Worth it?
We'll walk you through everything you need to know ranging from what minea is all about, the benefits and much more. This should help you decide fast if it's a good buy or not.
Without wasting much time, let's jump to it.
What is Minea?
Minea is an ads spy tool that helps you spy on your competitor's ad campaigns and help you easily find winning products. They help you gain valuable insights that will help you to optimize your own ad campaigns and avoid pitfalls that would have made your campaign a total failure.
Also, it lets you spy on important aspects of your competitor's marketing that are trackable such as;
Marketing strategies
Keywords they are targeting
The types of audience they trying to reach
Their ad campaigns.
All of this information when used right can help you to drive more sales and give your dropshipping business a better head start.
Top 4 Uses and Benefits of Minea
The Minea product research tool comes with a lot of uses and benefits. Lets take a look at some of them and what they are used for.
Product Research
Before you promote any product, the first thing you do is conduct research on what is working. With Minea's Ads Spy tool, you can check trending products and filter by engagement thereby giving the very insight that you need for a product.
And Minea has made it even easier by showing the top 10 products of the day which saves you time and money.
What's more, is that you can even see and copy the exact strategies from successful campaigns and use them for the products that you want to dropship. Who fails with such a tool in possession?
A more interesting feature is that you can study the placements of influencers to see where a product is performing better and use it for your own.
You can do this for;
Facebook
Snapchat
Instagram
To get this information visit the placement section of your dashboard (Must be logged in, sign up here) and there you will see all the influencers that Minea has kept track of for finding winning products.
You can use these sets of search filters to get the results you want tailored to you.
Categories → Health-wellness, cooking, pets, etc.
Technologies → Shopify, Woocommerce, PrestaShop, etc.
Country
Number of Followers of the influencer
Platform → Either the placements on Instagram or the ones on Snapchat.
I bet nobody keeps you 3x a step ahead of other thousands of competitors who are doing their research off the books or manually than Minea does.
Niche Research
Minea's Ads Spy tool comes with a lot of benefits with more than just product research as a feature.
You can also use Minea's Ads Spy tool to do Niche Research and know exactly what Kind of product to promote or the kind of market to venture into. Failure to do niche research before even doing product research might lead you into failing woefully.
Creating a Database of Everything You Need
There is no importance of research when you can not store or export data you get during the research.
Minea has made it super easy for you to be able to keep the data you get such as a list of performing products into a spreadsheet so you can analyze later on.
Find and Collaborate with Influencers in your niche
With Minea, you will be able to get in direct contact with influencers who are open to collaborate and help promote your products.
And with this influencer marketing strategy, you can always be sure to organically reach new audiences who have higher purchasing value. Because the product you will be showcasing via the influencer already correlates with one another.
Influencer marketing builds credibility, increases sales, and helps you to reach a specific audience.
So what are you still waiting for? Try Minea for free now.
Click here try minea absolutely free.
Minea Features List
These are the features you should be expecting to get when you start to use Minea as a research tool for your dropshipping business.
Facebook Ads Spy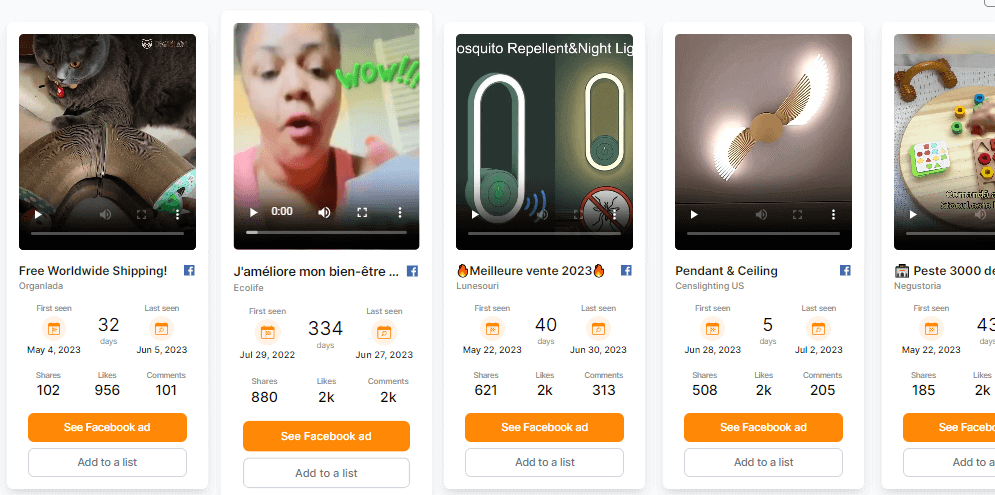 This powerful feature by Minea provides you with a whole variety of Facebook Ads databases that you can use to see what others are selling and learn from their footprint.
Also, you can use this tool to download and save videos from past campaigns. They are not deleted from the platform after being pulled from Facebook.
The original files are available even if the advertisers later delete the videos. This can be a great leverage to create highly converting VSLs or Video ads for your dropshipping products.
The minea Facebook ads spy tool has a search filter that you can use to get specific data you are looking to get, you can search by:
Date
Media type
Gender
Country
Language
Also for dropshipping ads, you can filter by the kind of CTA and Platforms used.
Pinterest Ads Spy Tool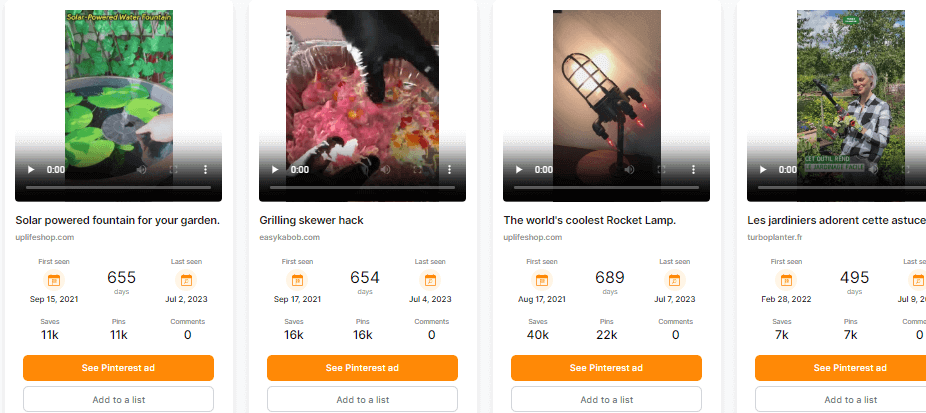 When it comes down to dropshipping, Pinterest doesn't come close to Facebook ads but can be a great way to discover underserved niches and winning products for your next project.
This powerful tool works just like the Facebook ads spy tool does. You can search by filter to get the data you want by using the search filter.
With the Pinterest ads spy tool, you can stay ahead of your competition and help your product get extra sales.
Instagram Ads Spy Tool
Instagram is the most sought-after platform dropshipping business use most of the time because of the rate of conversion it brings to certain products like fitness and lifestyle products.
Instagram as a platform is a place where you can feed your customers the exact quality of your materials/products to catch the eye of your ideal leads and drive sales.
The minea Instagram ads spy tool will help you gain valuable insights so that you can create converting campaigns for your business.
TikTok Ads Spy Tool
With the Minea Adspy tool, you can find winning products that will increase your revenue.
Also, it allows you to see the most viral TikTok ads or posts and engagement charts so that you can easily replicate them for your own campaign.
As powerful as this tool can be, you can use it to analyze an entire shop to find a winning product that is currently performing well.
Pros and Cons of Minea
Minea is used by a lot of happy dropshippers, this means it works but are there setbacks? What are the pros and cons?
Let's take a look at some of them below.
Minea Pros:
Competitor Analysis: You can use Minea to spy on your competitors and gain valuable insights to use for your own campaign Such as;
Ad Placements
Creative approaches
Advertising Strategies
These can help your business stay ahead in a competitive world of dropshipping.
Ad Campaign inspirations: You can gain inspiration and ideas for your own ad campaign by analyzing other successful ads from different niches and industries.
Market Research: With the help of minea, you will be able to gain access to information that is currently working even faster to help users understand the
Current trends
Customer preferences
Effective marketing strategies.
Performance Tracking: The tool allows you to track the performance of your campaigns, most especially Facebook and Instagram ads. These data can help you to optimize adverts and increase ROI.
Ads Insight Targeting: The tool allows you to analyze :
Target Audience
Keywords
Demographics
That is used in other successful ads so you can gain valuable insights for improving your own ad targeting strategies.
Cons of Minea:
Incomplete Data: As you already know, the tool collects and updates data across several platforms so it could sometimes fail to give you accurate data or information
Which will limit the amount of information you can access.
Too Much Dependency on Competitors Strategies: Using this tool might get you addicted to always copying your comps while limiting your own creative ideas. The best thing to do is to be able to create your own ads and strategies entirely from that of your comps and not copy and paste.
Pricing and Plans
Minea has both free and paid plans and on the free plan, the data you get will be limited, and access to pro features limited unless you upgrade. Below are the features you get based on the plan you choose to use.
Free Plan Features:
500 Research credits
Facebook Ads
Influencer placements
Snapchat Ads (soon)
Details of ads and placements
Advanced Filters
Chrome extension
Plan: Starter
Price: 49€/month
Starter Plan Features include:
10,000 Research credits
Facebook Ads
Influencer placements
Snapchat Ads (soon)
Details of ads and placements
Advanced Filters
Chrome extension
Features Not Included in the starter plan
Shop Analysis
Pinterest Ads
Tiktok ads
Plan: Premium
Pricing: 99€/month
Features included in Premium Plan
100,000 Research credits
Facebook Ads
Influencer placements
Snapchat Ads (soon)
Details of ads and placements
Advanced Filters
Chrome extension
Shop Analysis
Pinterest Ads
Tiktok ads
Want to save huge discount? Check out article on Minea Pricing 2023: How Much Does Minea Cost? (Save Huge)
How to Use Minea Tool
First step, sign up for a free account.
Minea allows you to gain access to premium tools for you to experience their platform. This free trial allows you to use the tool and know if it's worth your time and investment.
Signing up is pretty easy, you can click the button below or follow this link to sign up. You don't need to pay to access the free trial. It is free without any commitment fee to pay.
We've also written a detailed post on the minea free trial and how to activate it.
When your account is setup, you can login to your dashboard and start using the tool.
All you need to do is pick a particular feature and walk with it.
Top 2 Minea Alternatives
Looking for a minea alternative? Here are two perfect options.
1. PipiAds
We recommend pipiads as the best Minea alternative in the market.
PipiAds is the #1 ad spy tool for TikTok dropshippers. So if you are into dropshipping this is the best in the market right now.
The only downside is it does not spy on other social networks, only TikTok.
But when it comes to value for money, it's the best.
You can read our PipiAds vs Minea comparison to check out the differences.
Also check out PiPiAds review.
If you want the best alternative to minea, definitely check out PiPiads
2. Bigspy
Bigspy is one of the best and cheapest ad spy tools currently. This tool was even recommended by Neil Patel.
It lets you spy and finding winning products in more than 9 platforms. They include the following:
Facebook
TikTok
Snapschat
Instagram
YouTube, etc.
It comes with a free trial as well to let you test the platform before deciding to upgrade to a paid plan.
Final Verdict on Minea Review
No doubt, Minea is one of the best Dropshipping ad spy tools in the market.
It helps dropshippers spy on competitors'
ad campaigns,
find winning products, and
gain valuable marketing insights.
You can also use it for;
product research,
niche research, and
collaboration with influencers.
With features for Facebook, Pinterest, Instagram, and TikTok ad spying, Minea enables competitor analysis, ad campaign inspiration, market research, and performance tracking.
And the amazing thing is you can try it for free before committing to a paid plan. This will help you decide easily if it's a good fit or not.
So what do you think about this minea review? Are you going to try the minea tool for your dropshipping business? Have any questions? Please let us know in the comments section.
Prosper Noah is the Brain behind TipsonBlogging. A full-time Blogger & SEO Expert.  His tips has helped a lot of people Start and Manage their own Blogs.