Are you looking for an in-depth Writesonic review? Want an AI tool that can improve your content writing skills and yield results? You are at the right place at the right time.
Artificial intelligence has been helpful in terms of creating content in the shortest amount of time possible and still maintaining quality.
You will find out that so many AI tools have been popping up since the launch of ChatGPT and most of them don't deliver as Writesonic does.
In this article, we are going to review Writesonic and help you understand how the tool works and why it might just be the personal assistant you have been craving.
We will also look into its output using basic prompts as we write.
Sounds good?
Writesonic is an all-in-one AI content creation tool, perfect for various needs.
Features include article writing, paraphrasing, summarization, and more.
Chatsonic and Botsonic enhance productivity with personal assistance and chatbot creation.
Photosonic generates copyright-free images, while Audiosonic provides quality voiceovers.
Different pricing plans, including a free option.
Generated content may need to be reviewed for accuracy
However, Writesonic still remains a highly recommended AI copywriting tool for better content generation or output.
They offer a free trial if you are looking to try the AI writing tool for completely free before committing to a paid plan.
Use the button link below to try it absolutely free.
Without wasting time let's get to the review.
Writesonic Review 2023: Is It Worth Your Money?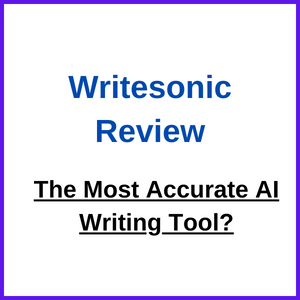 We'll start with an overview of what exactly the tool is and what it does.
What is Writesonic?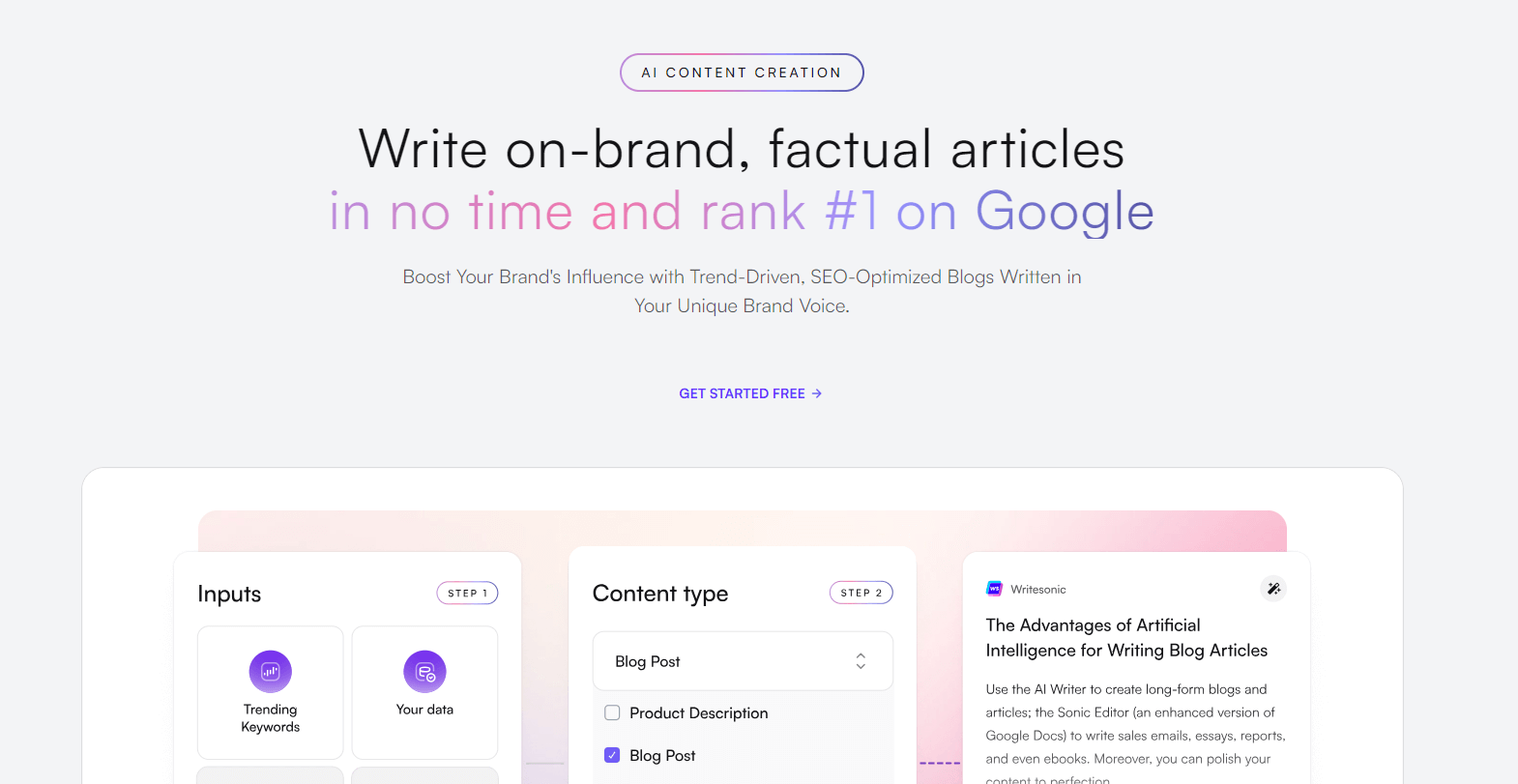 Writesonic is an AI powered tool that helps you write articles, generate images, create audio, and create chatbots. It can also serve as an AI personal assistant to achieve complex and minor tasks.
The tool was created by Samanyou Garg in the year 2020 according to wikipedia and since then the tool has grown to over 200,000 users and many features introduced.
The aim was to create an AI tool that can generate authentic outputs and to help business owners save money and time spent in writing articles manually.
Use Cases of writesonic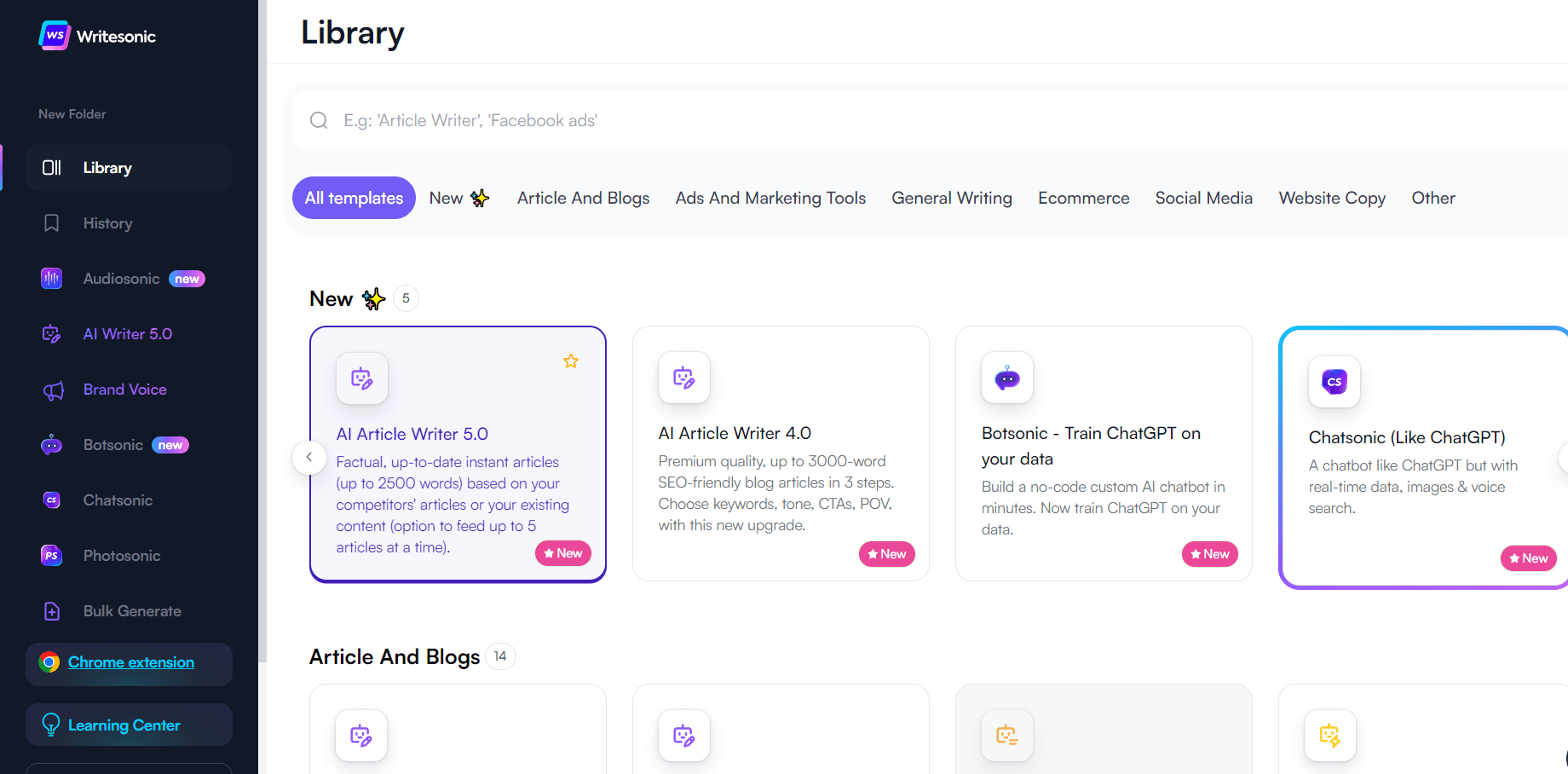 AI Article writer
This use case lets you write articles in either short or long form. If you are using the paid version of writesonic, you'd be able to use the article writer to generate long form articles.
Under this use case, we have two other versions which are
AI Article writer 3.0
The article writer 3.0 lets you create articles of 1,500 words. All you need to do is enter your title, introduction and outline. With this, it will generate your article instantly.
Article Writer 4.0
writer 4.0 lets you generate 3,000 words long form and SEO optimized articles. Provided that you give accurate information to use.
This version makes it easier to get long and easily editable content for your blog.
To generate SEO optimized long form articles, these are information needed:
Choose keywords to write on
Writing tone
Clear Call to Actions (CTA)
POV
Article writer 5.0
This use case might be the superior of fall article writers we've talked about here.
It uses articles that are already available on the serps to write factually correct articles.
All you need to do is provide the links to the article or enter the keyword to show the first 5 Ranking articles.
You'd also need to choose your brand voice as well the keywords you are targeting for the articles.
All of these modes play different roles. One does SEO writing better while another writes factual content better.
How you use any of these modes depends on the outcome you are looking to achieve. In our opinion the SEO writer which is Article Writer 4.0 is better in terms of creating user friendly articles with SEO in mind. You can always edit the output based on what you want.
Paraphrasing tool or Article rewriter
The writesonic paraphrasing tool lets you paraphrase already existing text in a manner that seems readable.
However, since it's written by AI you'd need to edit the content so humans can read and understand your message better.
Using this tool is simple, all you need to do is copy and paste the already existing content into the editor.
Text Summarizer
Summarize your text in bit and readable content with the writesonic article summarizer.
This use case works as simply as copying and pasting your long text into the editor and it will churn out the important points into small sized and readable text.
With this, you won't need to be stressing your head about writing highly converting and SEO optimized blog post summaries.
Story Generator
The story generator can write a full blown story that can be used for Amazon Kindle publishing or just to write storybooks.
All you need to do is to write the first few paragraphs of your story or a detailed description of your story and set the tone of voice you want to use. Once done, hit the generate button to get highly engaging stories.
This would be great for writing fictional and fantasy stories only.
Text Expander
Do you have a text you want to expand or you are experiencing writer's block? Say no more.
The writesonic text expander helps you to expand your text into longer and descriptive texts.
All you need to do is enter your short text or write a brief description of the text you want to expand and then hit the generate button.
You should get your text expanded and ready for you to edit to your preferred content.
Landing page generator
As a website designer, you may be experiencing creative blocks and this limits how creative you can be with creating websites for your client.
The writesonic landing page generator helps you to generate a good example of what your page should have. This is possible with the help of information you provide, the more detailed your information is, the better your landing page.
To generate landing pages, you'd need to provide:
Product or service name
Description of your product or service
Features of your product or benefits of your services
With this information you will be able to use writesonic to write 3 landing page copies and decide which to use for your project.
The use is most suitable to use for tech tools and products.
We have only touched a handful of tools available on the front page of the dashboard. Other use case of writesonic we thing might be interesting to mention to you includes the following:
Features and Benefits of Writesonic
What we have covered so far are just the use cases of writesonic, we want to show more aspects of writesonic.
Writesonic is mainly broken down into four main tools and each of them carry its own purpose and they are:
ChatSonic
Botsonic
Photosonic
Audiosonic
Writesonic Chrome Extension
This is just a list right? Lets go ahead to find out the features and benefits of writesonic in a bit. Hang in tight.
Chatsonic: ChatGPT-like tool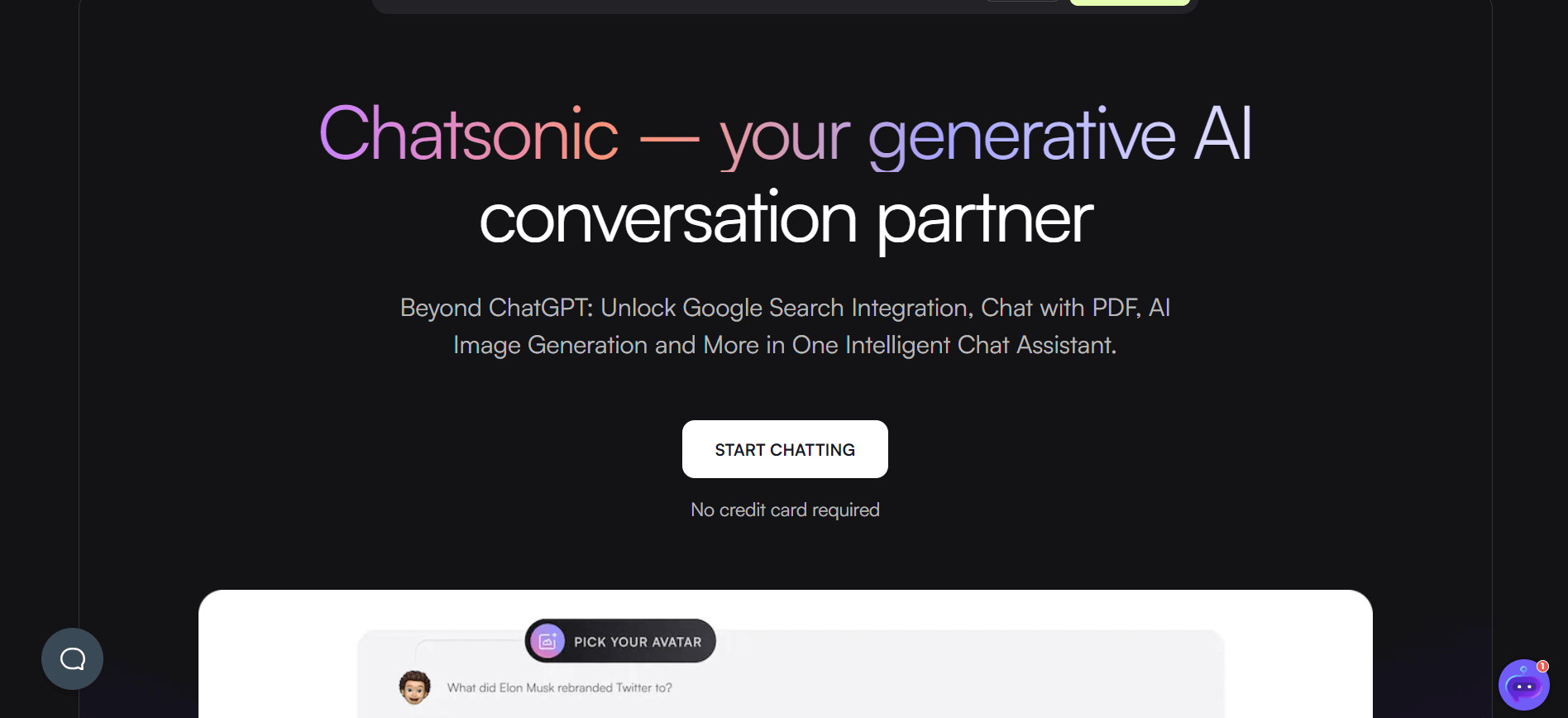 Chatsonic is a chatGPT-like tool in writesonic that lets you ask questions and get answers almost instantly.
It connects to the internet to help you with information and give you accurate answers. You can use Chatsonic AI powers as your personal assistant to do almost any complex or minor tasks.
You can use chatsonic for the following;
Content Calendar
Social Media Strategy ideas
Generating content ideas
Keywords Research
Backlink strategy ideas
And so on. Anything chatGPT can do, chatsonic does it in a more refined and better way. You can read our Writesonic VS ChatGPT article to learn how they both compare to one another.
Chatsonic can also translate over 25 languages if you are operating mult-lingaul websites or blogs.
Their extensive prompt library will help you to harness the power of chatsonic even better. Chatsonic has thousands of powerful prompts thanks to their 1,000+ experts who are helping you to get the most out of chatsonic.
Features of Chatsonic includes;
Real-time data
File-chat support
AI Image generations
Voice-assistant
Chrome Extension
Mobile App
In-built Avatars
So if you are looking for something that could easily replace ChatGPT and perform better, then Chatsonic is for you.
It is available in all the plans of writesonic just that the free version comes with a 10,000 words limitation.
If you are looking to generate over 10,000 words, you'd have to upgrade to the freelancer plan which gives an unlimited amount of words per month to use.
However, a free trial is great if you just want to take a look around the tool before you invest.
Botsonic: Build a Chatbot for your Website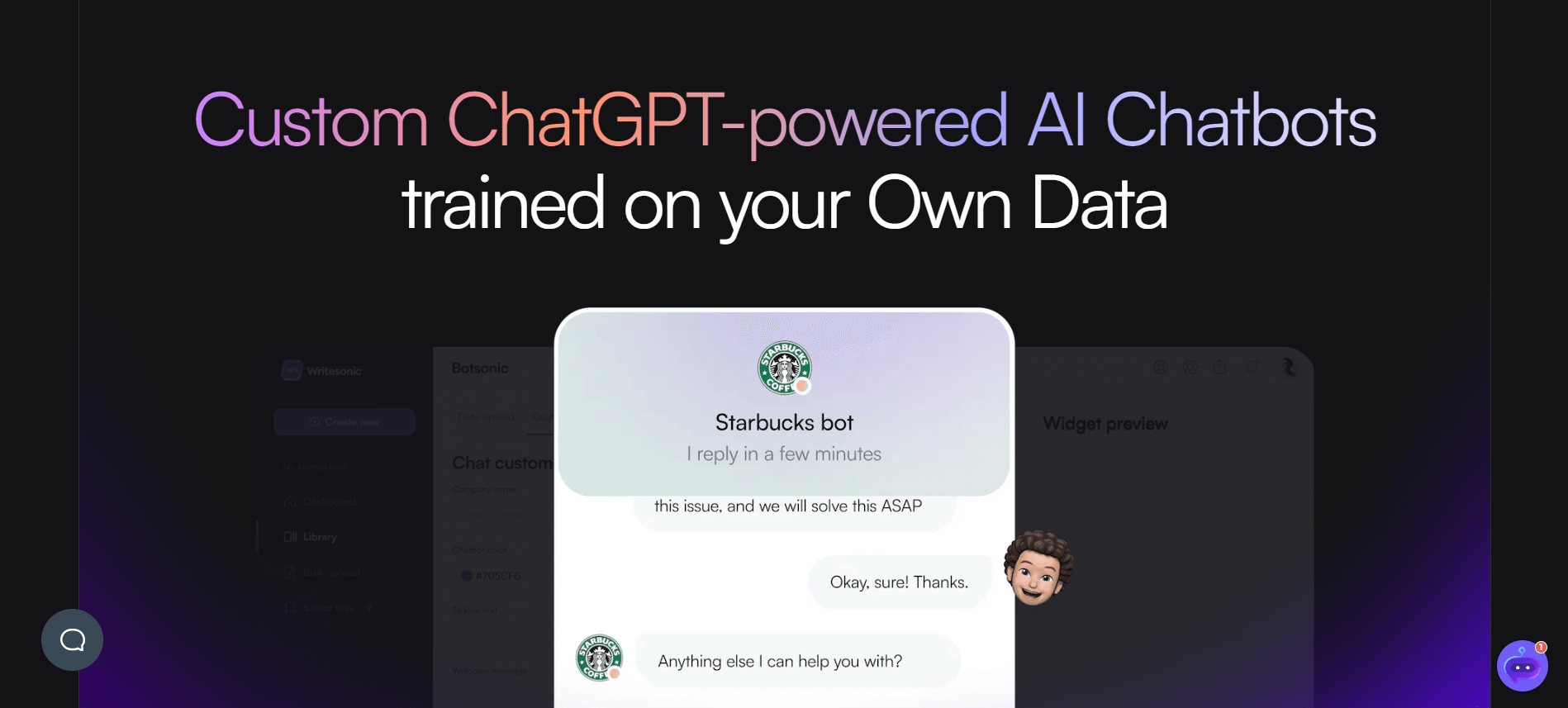 Lets you build a chatbot for your website and respond to your customers like humans would. Botsonic is a custom chatGPT AI powered tool trained based on your own data to respond to customer complaints.
Botsonic uses generative AI models from GTP-4 to provide secure and precise responses to help you resolve inquiries.
If you are experiencing high volume ticketing with botsonic, you can drastically reduce the number of tickets raised.
Botsonic works extensively with other embeddable widgets such as Whatsapp, Telegram and Messenger to provide seamless responses to your customers.
In order for Botsonic to provide safe and secured responses to your customers, it uses the content you provided which prevents it from going off topic with its responses.
Training your Botsonic Chatbot is simple, you just need to provide any of the following information:
Your website link or any public link like zendesk support center
Document containing information about your product or service
With this, your customers will experience 80% of help rendered to them even before needing human interventions.
Features of Botsonic
Can Handle 1000+ chats simultaneously
24/7 customer service with immediate responses
Saves time for human agents to tackle complex issues.
Personalized Human-like conversations
Personalized product recommendations
Reduce cart abandonments
Easy checkouts and shipment tracking
Personalized offers and promotions
Inventory Queries
Collect contact information
Engage with potential customers
Easy upselling and cross-selling
Nurture leads with immediate follow-ups
Whatever you need Botsonic to do for your business is listed right above in this list. From handling chats independently to generating leads for your email list.
Botsonic Pricing:
Botsonic has three main prices and it comes independently, you don't get botsonic when you subscribe to writesonic.
The plans include:
This plan is mainly there to help you explore the tool even better before you consider upgrading. It comes with
100 messages per month
1 chatbot
1 user seat
500K uploaded characters
Embed on unlimited websites
Upload limit of 3 files
Historical Insight with Chatbot Inbox
Lead Capture Forms Built-in
This plan is suitable for small businesses and with this plan you can get everything that is available in the free plan plus other benefits.
You can customize your chatbot however you want with 10 million characters text upload. This plan costs 49$ per month.
This plan will allow you to integrate your chatbot with whatsapp, telegram and messenger in the future as seen in the below image.
The enterprise plan lets you do everything in both free and starter plans. This plan is more suitable for enterprises or agencies with a large customer base.
It allows you to integrate with more third party softwares with no limits placed on monthly chats or characters upload limits.
To get pricing for Botsonic, you'd have to contact the sales team.
Try Botsonic today for Free
Photosonic: Create 2D and 3D images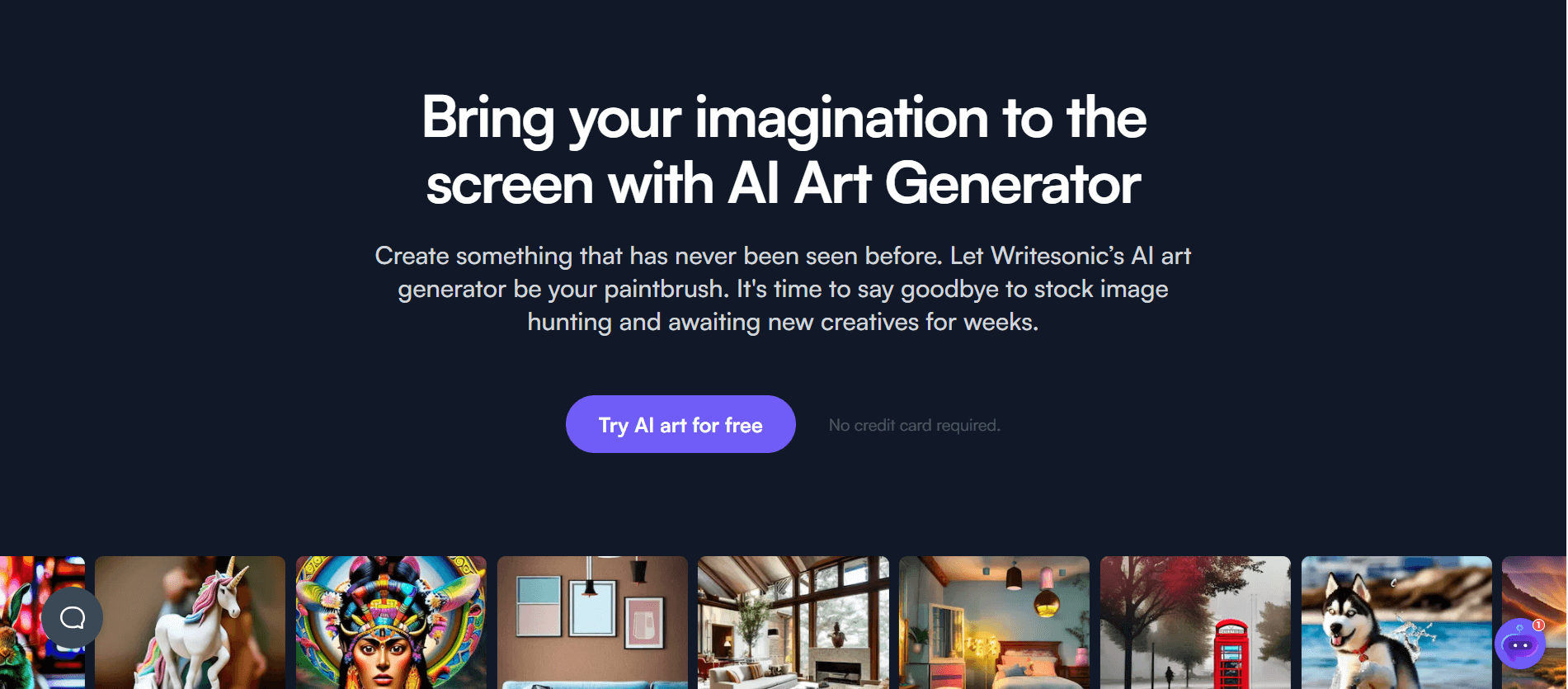 Yeah, really photosonic. This tool helps you to create DMCA or copyright free 2D and 3D images.
Just imagine the image and have it written down in a notepad then paste into photosonic as prompt lastly hit generate. That is how you get stock free AI generated images for your blogs, YouTube or marketing campaign.
This tool can also be used for drawing realistic paintings that are printable in less than minutes. All you have to do is enter the prompt to draw your desired imagination.
Audiosonic: Generate high quality voice overs
Lets you generate high quality voice over for either your youtube or marketing videos. It uses provided text which is then converted into human-like voices.
There are over 10 voices available with different accents in English, so there is diversity to test different voices.
Audiosonic costs 10$ for 40 Minutes of voice and it is valid through 6 months from the date of purchase. You can purchase up to 400 minutes costing $100.
If you are looking at Audiosonic, there is a free version which gives you 0.33 seconds.
This tool is suitable for:
Podcasters
Course creators
YouTubers
Product/Affiliate marketers
Educators
Possible downside of this tool is that you may not always get the desired voice as you think. However, you get to try the voices first before using the tool so you have the chance to choose the voice that you like.
Plans and Pricing of Writesonic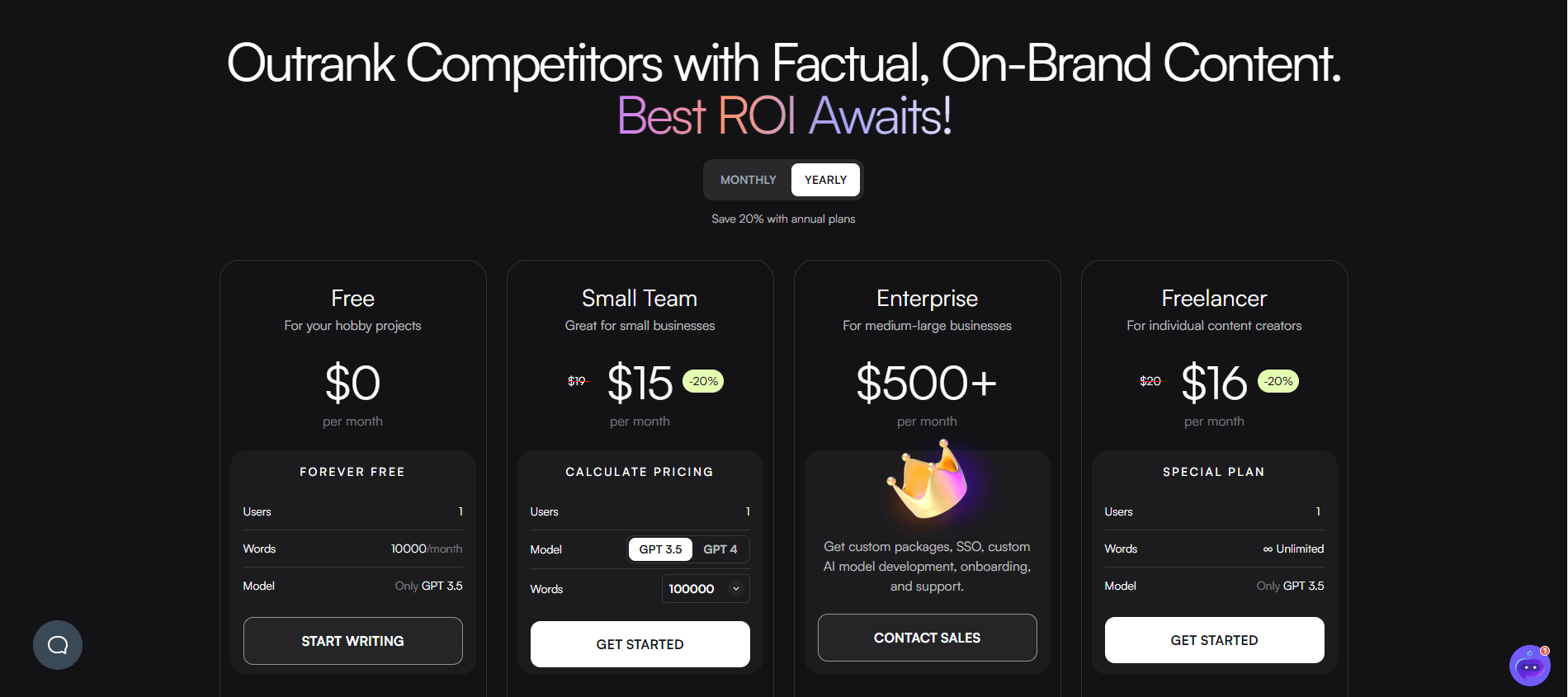 Writesonic features four plans and pricing which starts from as low as paying nothing to paying over 400$ per month. Each plan comes with unique features so you can decide which one you want to purchase.
Let's expand on each of these plans so you can pick what's the best one for you and your business.
Writesonic Free Plan: Free Trial
The writesonic free is there for anyone looking to try the AI writing features for free before ever deciding to upgrade to any premium plan. It is most suitable for hobbyists and newbies in using AI tools.
You get 10,000 words to try all available tools in the writing suite of writesonic and this free account is free forever. You never have to upgrade if you feel there is no need at the moment of signing up.
The free plan runs in ChatGPT 3.5 which means you will get less factual content compared to paid plans on writesonic.
If you need more details, we have an in-depth article on the Writesonic free trial account and how to activate it step by step.
Small Team Plan
Small team plan is for anyone looking to generate a significant amount of content monthly. With this plan you'd get all the features in the free and Freelance plan with the option to choose whether to use GPT 3.5 or GPT 4 33k. The small team lets you generate up to 400,000 words per month.
The small team plan starts from 15$ to 400$ per month. It all depends on how many words you choose to generate using writesonic.You also get to save 20% when paying for the annual plan and save huge money.
You can worry less about low quality content because this plan gives you factual outputs that require no or less editing before put into use.
This plan is suitable for small businesses, professors and students looking for AI that can generate high quality content for their work.
Freelancer Plan
As the name implies, if you are into freelancing or blogging as a business, you can use this plan to generate an unlimited amount of words per month.
One thing you need to know is that this plan operates only with GPT 3.5 which can be somewhat less factual like the Small team plan.
Content generated with this plan requires you to double check and edit to your test.
Aside from that, the plan is just the best to stick with if you are working on a tight budget but need to generate a huge number of blog posts or content per month.
The plan costs 16$ for annual subscriptions and 20$ for monthly subscriptions. The best thing here is to save 20% and get an annual plan.
The 48$ saved can buy you another tool to use or just save for something else.
Enterprise Plan
Enterprise is the largest of all the plans. This plan requires that you contact the writesonic sales team to get full pricing because it is a plan that requires customizing.
Also read our article on Writesonic pricing to find out more details about the different packages. We have also written a detailed article on how to save 33% huge discount on Writesonic.
Are There Problems with Writesonic?
So what are the pros and cons of Writesonic?
Yes, it is one of the best AI copywriting tools in the market right now but are there any drawbacks?
Well, we experienced few drawbacks while using writesonic to generate content and some of these drawbacks are:
Learning circle:
Writesonic most especially the article writer 5.0 requires that you upload some information in order for it to learn your writing styles or tonalities.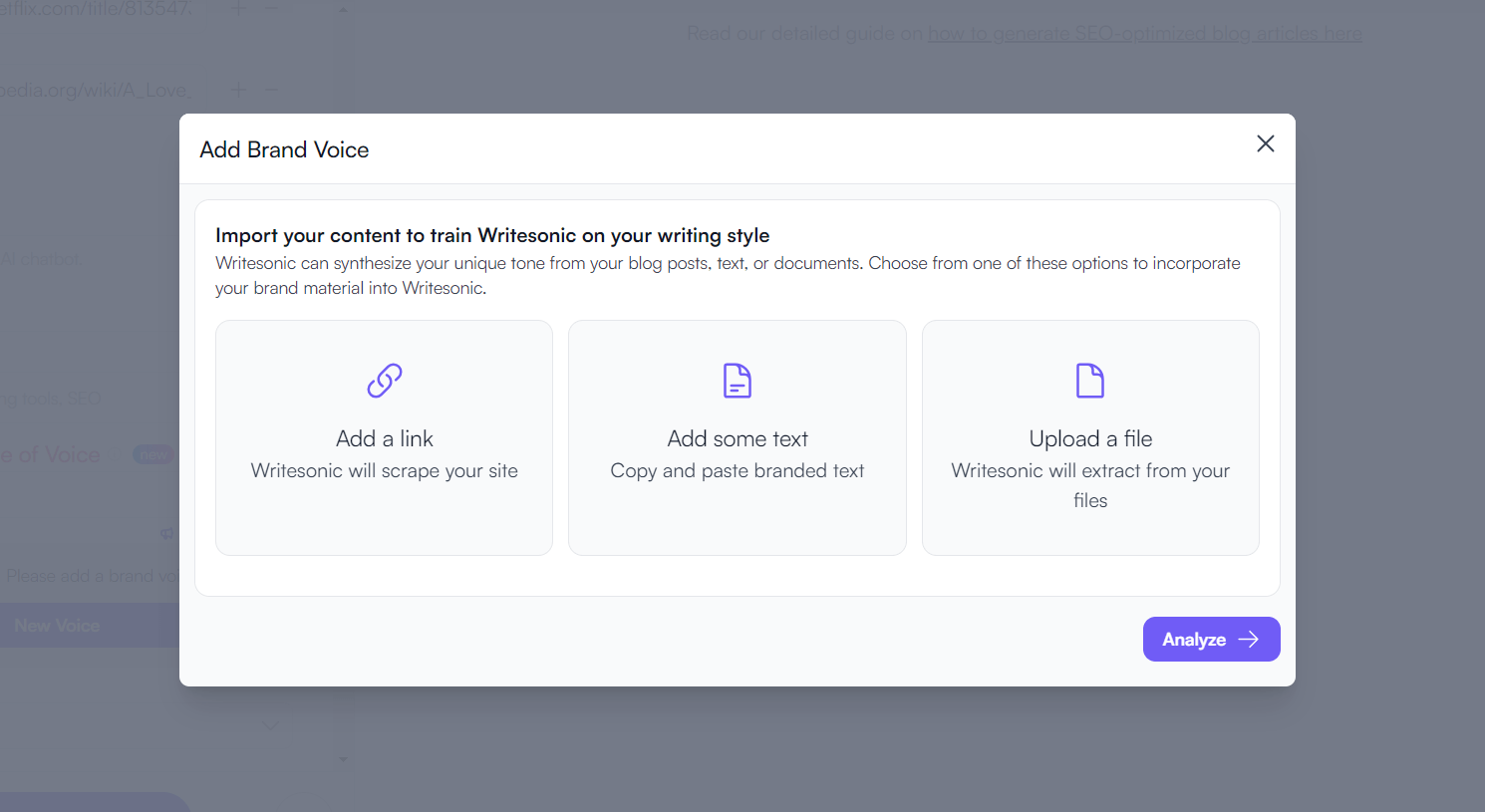 This gave us a bit of a tough time because we had to start feeding it several content to get our desired output.
But in the end, it was still worth it because we had content generated like our writers do.
AI VS Human Content:
The battle to produce highly presentable and readable content was an issue with writesonic, because AI content detectors we used to analyze this tool only gave us 48% to 60% results that a large part of the content is partly written by AI.
To make this right, it was necessary to manually review each content continually before publishing them.
So the case might be the same for you and maybe not if you pay for the enterprise or small team plan. That is the only way to tackle the issue with less factual generated content.
Aside from these two points we have pointed out, writesonic seems to be the perfect AI tool for content generation of any type.
And of course, the issue with inaccurate content being generated goes with Chatsonic as well. We think with time, the writesonic team will devise means to make their tool deliver better outputs.
Is Writesonic Recommendable to you?
Yes, if your aim is to generate AI content for your business, writesonic is the perfect tool that you need. We have seen how the AI powered tool works and how you can benefit from using it.
FAQs on Writesonic Review 2023
Here are frequently asked questions around the writesonic AI writing tool. We've made sure to answer them in full details and hope it helps you too.
Is Writesonic trustworthy?
Yes, Writesonic is one of the easiest and most accurate to use AI writing tools out there. We've found out that compared to other AI writers like Jasper and Copy.ai, not only does Writesonic come with more features but it offers the most satisfying user experience. If you are looking for the best experience and content quality we recommend Writesonic
Is Writesonic better than ChatGPT?
We compared Writesonic and ChatGPT and writesonic won by a far margin. According to popular review platforms like G2, writesonic also ranks far better. Writesonic has more ratings of 4.7/5 from over 1,843 user reviews while ChatGPT has a 4.7/5 rating from around 300 users.
Writesonic offers more.
Which is better Jasper or Writesonic?
Writesonic is an overall better tool for anyone including those who are just getting started with AI content writing. Jasper is more advanced best for those who are on a very good budget. Both offer very good writing experience but overall, we recommend Writesonic.
Is Writesonic completely free?
No, you have to pay if you want more words. Writesonic offers free 10,000 words to try their tool for completely free, if you need to create more content you have to subscribed to a paid pricing package
Final Verdict on Writesonic AI writing tool
Writesonic is a highly recommended AI tool for content generation and various other purposes. It offers a wide range of use cases, including
AI article writer
Paraphrasing
text summarization
story generation
text expansion
landing page generation and more.
Writesonic's ease of use makes it a valuable asset for content creators, marketers, and businesses.
The tool's Chatsonic feature also serves as a personal assistant, offering real-time data, file-chat support, AI image generation, and voice assistance. It is a powerful alternative to ChatGPT, providing refined and improved capabilities.
Botsonic is ideal for automating customer interactions and resolving inquiries efficiently. It offers personalized responses, helps reduce ticket piling up, and integrates seamlessly with various messaging platforms.
Photosonic enables the creation of copyright-free 2D and 3D images, while Audiosonic offers high-quality voice-over generation. Both tools are valuable for content creators, YouTubers, and marketers.
Writesonic comes with different pricing plans to suit various needs, including a free plan with a generous word limit.
However, users should be aware of potential drawbacks, such as the learning curve and the need to review content for accuracy.
All in all, Writesonic is a recommendable AI tool that can improve content creation, ease customer interactions, and provide valuable assistance for creative projects.
So what do you think about our Writesonic Review? Want to give this AI writing tool a try? Have any questions? Then let us know in the comments section.
Prosper Noah is the Brain behind TipsonBlogging. A full-time Blogger & SEO Expert.  His tips has helped a lot of people Start and Manage their own Blogs.