Are you looking to try out the pipi ads Tiktok ads spy tool or want to know exactly how it works? Want a detailed pipiads review? Then you're definitely in the right place at the right time.
Is pipiads worth it?
In shorty summary, hell yeaaah! we have been using PipiAds since 2022 (close to a year now) and from our research so far, no other TikTok Ads spy tool comes close. It's simply and unarguably the best Tiktok ad spy tool for dropshippers, eCommerce marketers and advertisers.
You can even try it for free yourself to decide.
If you are into the business of dropshipping, advertising or eCommerce in general, you know that there are many channels and platforms to run ads such as Facebook and Instagram however, Tiktok is booming right now for driving lots of traffic and sales.
In fact, It's the trend RIGHT NOW.
You can pretty much launch an ad campaign on tiktok and start getting traffic and sales as soon as possible if you know what you're doing.
Truth is if you don't do it the right way, you'll end up wasting thousands of dollars.
If you don't want to waste a lot of money on advertising you have to see what is working for others, what product is trending and going viral, what kind of ads advertisers are running, their winning strategy, etc.
How do you do this?
It's where a tool such as pipiads come in.
In a matter of minutes you can spy on your competitors' winning products, ads, audience and much more so you can replicate and get good results.
Want to give it a try?
In this review we are going to show you:
Pipi Ads Review 2023: Is this TikTok Ad Spy Tool the Best? Worth it?
You're in the right place, if what you are looking for is an in-dept. review and tutorial.
No doubt, there are a lot of spy tools currently in the market for spying on your competitors' winning strategies and pipi ads is just one of those many tools. And because there is huge spike in using Tiktok for eCommerce advertising a lot of marketers are going all in for it.
It's a better alternative to Minea and BigSpy.
What is PipiAds?
Pipi ads is a Tik Tok ads spy tool that helps advertisers and eCommerce marketers discover their competitors' ads and the best viral and winning products on the tiktok platform.
Pipiads analyzes hundreds, thousands of tiktok ads daily automatically to get you what works so you don't have to go through the stress of wasting precious time researching to try and come up with ads, creatives, and winning products.
Using Pipi Ads you can instantly be the first to find trending and viral products, get access to: winning products, advertisers' ads, creatives, tiktok ad examples and much more all from one dashboard.
The BIG reason most people (Over 50,000+ dropshippers and advertisers) use pipi ads is this: features and benefits offered by Pipi ads is better than all other tiktok ads spy tools combined.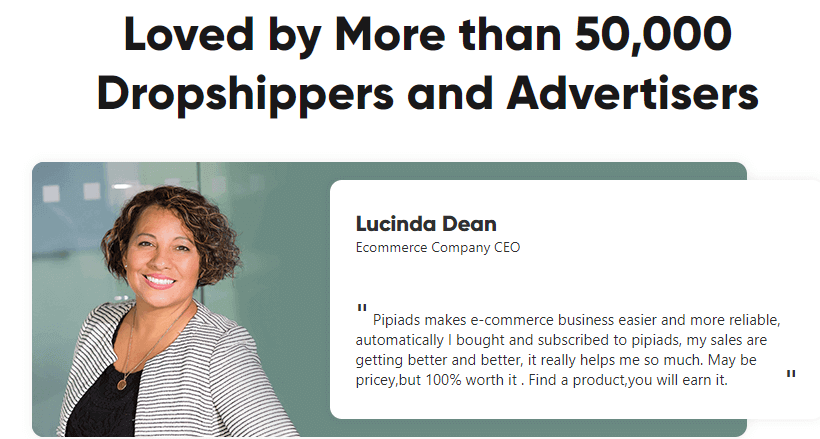 So if you're looking to find viral and trending winning products on tiktok, proven ad creatives and more, you should try Pipiads. Pipi ads also offer a free plan to test their tool before committing to a paid subscription.
Pipi Ads Features List
Here are some of the wonderful features offered by the Pipi ads ad spy tool;
Provides dropshipping winning products
Finds viral and trending products
Offers "Ad Library" to choose from plenty of tiktok ads examples
Analysis Tool to find advertisers details such as ads, creatives, audience and more.
Etsy spy tool to research Etsy products and stores
E-com platform (Find ads for different ecommerce platforms such as shopify, bigCommerce,etc)
Who should use Pipi Ads?
So who should be using Pipi ads' spying tool?
Dropshippers who are looking to find winning products
Advertisers who want to try Tik Tok for traffic and looking for what is working in terms of ads, creatives and more
eCommerce marketers who are looking for high converting traffic
Anyone who wants to spy on high performing ads and products on Tiktok
In a nutshell, If you are looking to run high converting tiktok ads for your eCommerce business and do not want to waste time on research and trial & error, you must try Pipi ads.
Top 4 Benefits of Using Pipi ads
What are the benefits of using a tiktok ads spy tool like pipiads? Here are 4 major reasons to use pipi ads in 2023.
1. Pipi ads shows you winning products in seconds
One of the headaches in dropshipping business is finding what product is the right one – one that is proven to sell easily. You have to do a lot of research manually which is really time wasting.
Thanks to pipi ads – now you can find these winning products at the click of a button and in seconds.
Once you've hit a few filters, enter a word and click search, and you'll be able to find the best tiktok ads dropshipping winning products right there in your pipiads dashboard.
Have a look;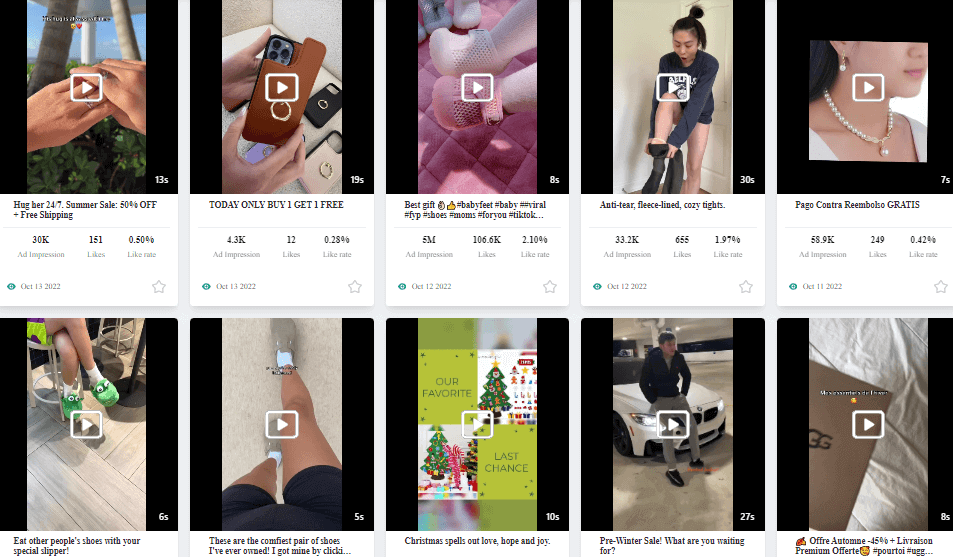 You can filter these products by release date, ad impressions, comments and likes etc.
2. Pipi ads makes the entire process of tiktok advertising much easier
We all know it; advertising on the tiktok platform comes with a lot of hassles ranging from knowing what ad creative to use, audience to target, location as well as what strategy is giving advertisers the best ROI.
You need to have all it takes to run a successful tiktok ad campaign so you don't end up wasting money
That is why you need something like pipi ads as it takes care of all of this for you automatically, it obviously makes everything easier and faster for you to start running tiktok ads that convert.
Click of a button is all you need.
Take a look;

If you are looking to get better at tiktok advertising, try Pipi ads
3. Pipiads helps in effective eCommerce marketing
Making sales in eCommerce business is not easy. Take it or leave it, Tiktok is currently the best advertising platform for ecommerce marketers.
eCom marketers are utilizing Tiktok as a channel for making huge sales on a daily basis. If you want to sell more of your products easily and fast, you have to go with the flow, use Tiktok.
If it's getting others tremendous results, it will work for you too.
PiPi ads will show you in real time, the performance of eCommerce ads that are currently running with details such as number of likes, popularity, the ecom platform, and more.
Here's what ecommerce ads on Pipiads looks like;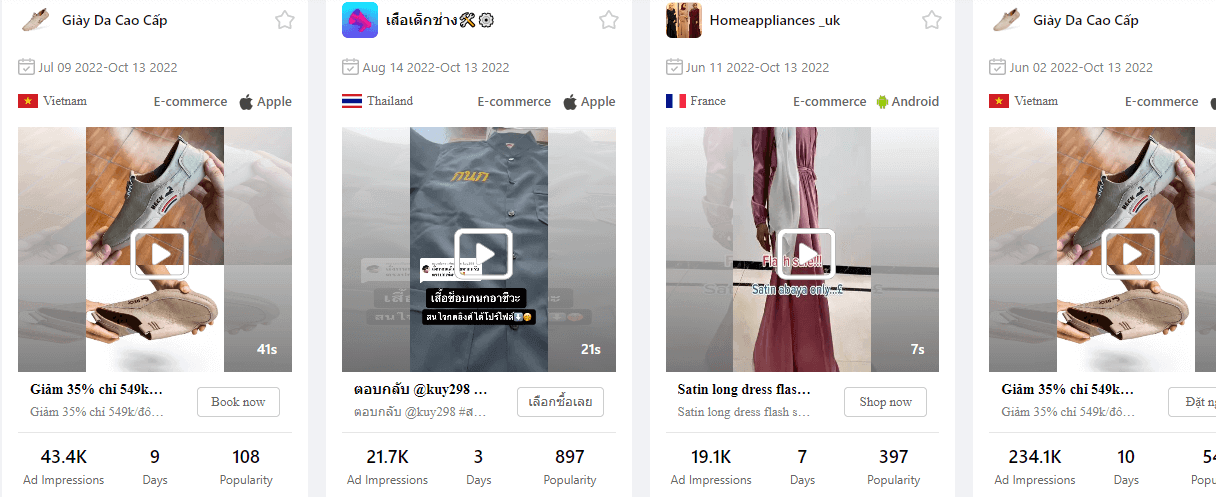 4. All-in-one Simple Dashboard
Pipi ads has a simple and neatly organized easy-to-use dashboard where you get access to all of the tools needed to spy on winning products, ads, and much.
Want to see how it looks like? check out the interface below:

TT Ad Search: This is where you search for high performing tiktok ads with filtering options such as country, ad impressions/likes/comments, ecom platform, etc.
Product Search: Search for products
Winning Products: Obviously, you get all of the currently winning products on tiktok here
The other includes advertiser analysis for checking out what strategy advertisers are using, strategies, etc.
As you spend more time, you'll get to understand better what each tool does. The dashboard is beginner-friendly.
How to Use PipiAds Tool to Spy and Find Winning Products on TikTok
Pipi ads offer a wide range of tools to help you spy on competitors and find the best products to send traffic ranging from ad and product search, advertiser analysis and much more.
Want to see, take a look at some of the spy options offered by Pipi ads;

As seen above, Pipi ads gives you access to spying options including:
Ad search
Product search
Winning products

Advertiser

Etsy product and store research

etc.
They all come with very helpful filters to give you exactly what you want.
Here's a quick tutorial on using Pipiads
Before we get started, you need access to the tool.
Click here to try PipiAds for FREE
When you've signed up and inside your dashboard, open the "TT Ad Search"
1. TT Ad Search
This option gives you access to see all of the ads on tiktok that are popular and you can filter by popularity, region, eCommerce platform and much more.
You can also see what categories these ads are running, be it eCommerce, Games, Brand and Dropship.
All you need to get started is enter a keyword and filter as much as you want. Pipiads will go ahead and display all of the top performing ads based on your search and filters.
2. Product Search
This is the second spy option and it's a great alternative to the first one.
Quick Tip: It's best to use if you have a few products to work with already. Simply enter the keyword and it will display all similar products that are performing really well.
It's the same procedure with winning products.
When the search results have been returned, you'll be able to see products that are proven to make you sales.
You can then go ahead to run your ads.
If you want to learn more, here's a quick video that shows how to find winning products using Pipi ads
Pipi Ads Pricing Plans
Pipi ads offers three pricing plans as seen below:
The starter plan (useful for beginners to start getting opportunities)
The Vip plan (useful for professionals)
The Pro plan (multiple users for scaling big)
Let's talk about each of these plans and their pricing along with what comes with them so you can pick one that suits you best.
1. The Starter plan
The starter plan is great for complete beginners who are new to tiktok ad spying tools. If you're just getting started and need an affordable tool to find the best opportunities for your eCommerce business, the starter plan from pipi ads is a great choice.
Cost: The starter plan costs $77 per month ($54 per month if paid annually)
Features of Starter Plan:
Access to 200 ads per day
View 50 ad details per day
50 advertisers query results
50 product details per day
50 advertiser details per day
Unlimited winning products
1 user
2. The Vip plan
The vip plan gives you access to the same features from starter but increase in the numbers of ads, product details, and more and is most suitable for professionals.
If you are an advertiser, dropshipper or eCommerce marketer looking, this is the perfect plan for you. You can also try this at $1 for 3-day trial.
Cost: The vip plan costs $155 per month ($128 per month if paid annually)
Features of Vip Plan:
Access to 2000 ads
200 ad details
200 product details
1000 advertisers
200 advertiser details
Unlimited winning products
1 user
3. The Pro plan
This is the last plan from pipiads which is a perfect choice for advertisers, agencies, business owners and marketers who are looking to scale their eCommerce business.
If you are looking to take tiktok advertising to the next level while getting access to all of the available spy tools without limits, go for the pro plan.
Cost: The pro plan costs $263 per month ($181 per month if paid annually)
Features of Pro Plan:
5,000 ads
1,000 ad details per day
1,000 product details per day
3,000 advertisers
1,000 advertiser details per day
Unlimited winning products
5 users
So, the starter plan gets you started with spying on tiktok ads using pipi ads as a beginner while Vip and Pro plan is for professionals who are looking to do even more plus scale their business.
Quick Note: If you want to save more on Pipiads, pick their annual package as you can get flat 30% discount.

The following is the pricing for annual package on Pipi Ads;
The Starter plan costs $54/mo instead of $77/mo (billed yearly)
The Vip plan costs $128/mo instead of $155/mo (billed yearly)
The Pro plan costs $181/mo instead of $263/mo (billed yearly)
Want to get started right away?
Pipi Ads 3-day $1 Trial
If you want to try pipi ads full features without limits, they offer a 3-day trial for only $1 to all users. This means you can enjoy all of the pipiads features in any of the plans you pick for only $1 for 3 days.
If you're happy with the tool you can commit to it.
You can visit the following link to get the trial.
If you want to try it for absolutely free then activate your Pipiads free trial account
Pipi Ads Refund Policy
Pipi ads does not offer a refund but you can try the vip plan for 3 days and see how it goes for you. You can cancel at any time during the 3-day period.
Pipi Ads Spy Tool Pros & Cons
No doubt, pipiads is a great tiktok ad spy too. Are there any setbacks? let's see this in the pros and cons
Pipi Ads Pros:
Best Tiktok ads spy tool to find winning products and competitors' analysis
Helps you find trending, viral products
Track competitor's Tiktok ads winning strategies
Offers easy-to-use dashboard interface
Helps you become a better advertiser
Spy on ads, ad creatives, etc
Generous free plan
Find Dropshipping products in seconds
Pipi Ads Cons:
Expensive pricing (but definitely worth it)
Save Up to 50% on PiPiAds Subscription
Looking for a Pipiads discount?
Yes, there is a coupon code we got from PiPiAds because we are their partner and when you apply it you get 20% off discount immediately. This works for any plan
Apply this coupon code "TIPSONBLOGGING" without the quotes and you get 20% off automatically.
Wait, there is even a better deal.
You can also get extra 30% off which makes everything 50%.
All you have to do is select to pay annually and booooom, extra 30% will be applied to your cart.
Many people don't know about this extra discount, so you are lucky to have arrived at this page. And you have to be fast as no one knows when this offer will be pulled off.
So what are you still waiting for? Use the link below to signup for free and claim your discount.
If you more details about this huge discount, you can check out our detailed article on PiPiAds Coupon
Also Read: Pipiads Pricing 2023: Plans, Cost, Features and Discount
Top 2 Pipi Ads Alternatives
Looking for Pipiads alternatives? Here are two options you can give a try.
1. BigSpy
BigSpy is a very good alternative to pipi ads and one of the best tiktok ad spy tools in the market presently. It offers spying on 6 other platforms including Facebook, Instagram and Pinterest.
BigSpy costs around $300 per month to get access to it's tiktok spy option where you'll be provided with;
Unlimited ad searches per day
Search filtering
Unlimited daily queries
Charts
Trending tiktok products
Audience analysis
Unlimited ad ideas
Unlimited downloads
Special team support
2. Minea
Minea is another ad spy tool for tiktok advertisers and eCommerce marketers/dropshippers. It is a very affordable alternative to pipi ads as it costs only 99€ per month and gives you access to the following: 
You can only get Tiktok Ad Spy in their premium pricing plan.
Instant access to 10,000 research credits
Search analysis
Chrome extension for ease of use
Ad and placement details
Influencer placements
Shop analysis
Minea has a free trial to test the tool with 300 research credits
If you need more details, we have also written a Minea vs PiPiAds comparison to help you decide which one is best for your business.
FAQs | PipiAds Review 2023
Here are some of the frequently asked questions by readers about the pipi ads tiktok spy tool
How do I spy on Tiktok ads?
Use a tiktok ad spy tool like pipi ads. Enter a keyword in the search button and hit search, the tool will go ahead and display all the ads along with it's likes, comments, landing pages, etc.
What Pipiads can do for you?
Pipiads can help you spy on competitors' winning tiktok products such as the ads, ad creatives, stores and advertising details in order to create a winning ad campaign for your eCommerce business.
Can I see Tiktok ads?
Yes, you can see all tiktok high performing ads in the official Top Ads library or with the help of ad spy tools.
Final Verdict on Pipi Ads TikTok Spy Tool
So is the pipi ads spy tool worth it for spying on competitors' tiktok ads and finding winning products? The answer is a BIG YES.
In a matter of minutes you can find viral and trending products on tiktok as well as the ad details and so much more.
If you're looking for a tool that will get you tremendous results in your eCommerce/dropshipping business or advertising at a whole, give pipi ads a try.
What do you think about our pipiads review? Will you give it a try? Did you find the post helpful? Have any questions? Please let us know in the comments section.
Prosper Noah is the brain behind TipsonBlogging. A full-time blogger & SEO expert.  His tips has helped a lot of people start their own blogs, grow it and make money.