Are you a dropshipper/advertiser and on a hunt for the best Tiktok ad spy tools to help spy on your competitors' winning ads and products? Then you've come to the right place.
Fact is if you want to make sales, you need something that has worked and is proven so you can model or replicate it and get same or even better results.
If you want to discover winning viral products in your niche, your best bet is to spy on your competitors and see exactly what is working for them, in order to do this you need ads spy tools.
These tools can help you see:
What product is trending and hot selling
The kind of ads advertisers are running to make sales
Their winning strategy
and much more
So you can copy and use for your own business.
No doubt, there are a lot of ads spy tools in the market but the question is "which one works for Tiktok advertising? Which is the best?
In this post we are going to list the best 5 as well as their features/pros & cons as well as pricing to get you started as soon as possible.
Let's get to it.
5 Best Tiktok Ad Spy Tools 2023
PipiAds
BigSpy
Minea
SocialPeta
TikTok Ad Library
Let's now go ahead and explain each of these spy tools along along with pricing and much more for you to decide which to go for and get started as soon as possible.
1 – Pipiads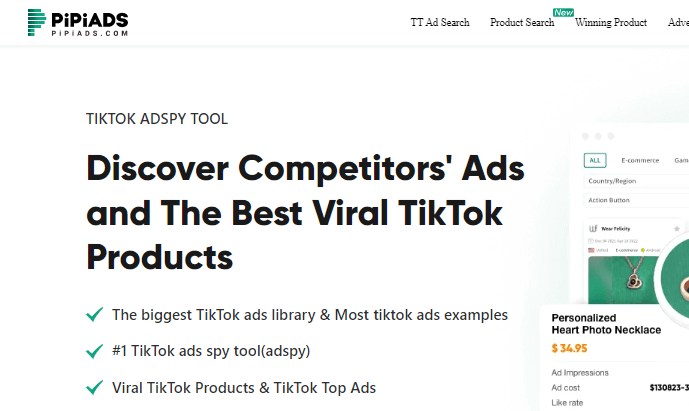 Pipiads takes the No. 1 spot as it's currently the best tiktok ads spy tool used by over 50,000+ advertisers and dropshippers for tiktok ads competitor analysis.
You can use it to find winning products, see what products are trending and getting lots of traffic, what profitable ads are currently running as well as their details/performance, viral products and lots more.
If you're looking for an excellent tiktok ad spy tool your best bet is pipiads.
One of the major reasons to use Pipi ads over other tikto ads spy tools is that it offers a wide range of tools to help you succeed with running ads on the Tik Tok platform.
Want to learn more about Pipi ads? Read our detailed Pipi Ads review to find more about this awesome TikTok ad spy tool.
Pros of Pipiads:
Instant access to winning products
Find Tiktok dropshipping products in a matter of minutes
TikTok ad library to choose from millions of tiktok ads examples
Find viral products
Be the first to find trending products
Tiktok Advertiser analysis
Access to ad creatives
Access Shopify spy tool
Etsy Store
Offers free plan to test the tool
Cons of Pipiads:
Pipiads is an expensive tiktok ad spy tool as it's best pricing package to enjoy full benefits starts from $181 per month
Pipiads Pricing: Pipi Ads offers the following three pricing packages.
1. Pipiads Starter: This is the starter plan from pipiads which costs you $77 per month ($54/mo if paid annually) which is suitable for complete beginners and dropshippers with low traffic where you'll get the following limits.
Use on 1 computer
200 ads monthly
View 50 ad details per day
Unlimited winning products
Unlimited TT ad search per day
50 advertiser query results (see competitors' strategy such as ads, location, target audience and more)
50 product details daily
2. Pipiads Vip: This plan costs you $155 per month ($128/mo if paid annually) which is suitable for professionals, advertisers, and eCom marketers where you'll get the following limits.
Use on 1 computer
2000 ads monthly
1000 advertiser search query
view 200 ad details per day
200 advertise details per day
200 product details per day
Unlimited winning products
Unlimited ad searches
3. Pipiads Pro: This plan costs you $263 per month ($181/mo if paid annually) which is suitable for agencies where you'll get the following limits.
Use on 5 computers
5000 ads every month
1000 ad details per day
1000 product details per day
3000 advertisers seach query
1000 advertisers detail per day
Unlimited winning products
Unlimited ad searches
If you want to save more on Pipiads, go with their annual package as you can save 30% instantly on all their plans. Here are the pricing plans (if you go with their annual package)
Starter Account for 12 months: Pay $54/mo
Vip Account for 12 months: Pay $128/mo
Pro Account for 12 months: Pay $181/mo
Click here to Save 30% on Pipiads Annual Plans
You can also use pipiads free trial to test the tool and see if it meets your needs
2 – BigSpy

BigSpy is one of the best tiktok ads spy tools in the market. Aside tiktok you can also use it for other platforms including Facebook, Twitter, Youtube and more.
It gives you all the resources that you need to spy on your competitors' Tiktok ads to know what is and not working.
Use it to know what ad strategy is winning, get ideas of new and hot products from TikTok Ads, know if an ad is worth running, what trend is worth trying, etc.
One of the major reasons to choose Big Spy over other ad spy tools for tiktok is that it offers truly unlimited data and is very affordable + it provides service in 80 countries and over 23+ languages.
Pros of BigSpy:
Spy on tiktok ads in 80 countries and 25+ languages
Spy ads in over 7+ platforms
Track best performing TikTok ads and winning products
Analyze every aspect of your competitors' TikTok Ads strategy.
Searching, filtering, sorting, and analyzing is available
Timely update
Massive Data
Cons of BigSpy:
Doesn't offer much features compared to other tools such as Pipiads
Pricing is very expensive as you can only get Tiktok spy on the Vip enterprise pricing plan which starts at around $300+ per month
BigSpy Pricing: BigSpy offers three pricing plans 1ever you can only get Tiktok ad spy in the vip enterprise plan 
BigSpy VIP Enterprise: This plan costs $300 per month where you'll get the following things.
Multi-Account Seats
Unlimited daily queries
Unlimited Data Usage
Search filtering
Analysis audience
Track unlimited ads
Unlimited downloads
Unlimited featured Ads
Unlimited Ad Ideas
High priority online support
Playable Ads Analysis
Charts
New Trending
Unlimited Equipment
Special Team Support
What are you still waiting for?
3 – Minea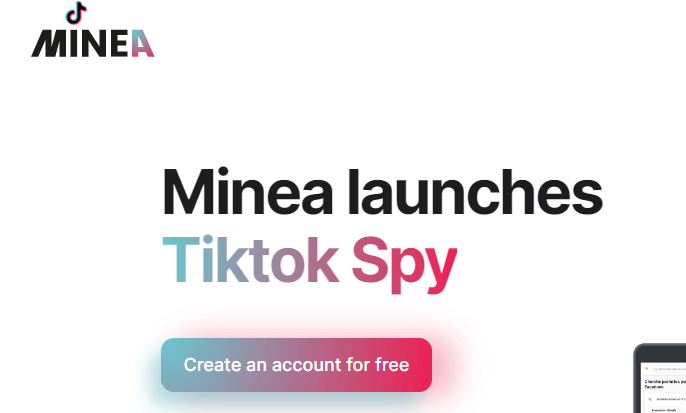 Minea is your go-to resource for hunting winning tiktok products. You can easily analyze your competitors' ads to find the ones that are winning in order to replicate it.
You'll be able to see Ads, number of shares and likes, plays, the landing pages and option to download, etc.
One unique feature of Minea is that you also get access to chrome extension to make your work easier and faster.
Pros of Minea:
Very affordable ad spy tool
Chrome extension
Timely access to latest winning products
Access to newest products
Effective filter system
Can use on all devices
Access to all tiktok ads, ad details and placements
Shop analysis
Generous free version
Cons of Minea:
Can be used by only one person
Minea Pricing: Minea offers 3 pricing packages however the tiktok ad spy can only be found in their premium plan.
Minea Premium plan: This is the best plan from Minea that costs 99€ per month and you'll get access to the following features:
100,000 research credits
Spy on Facebook Ads
Influencer placements
Advanced filters
Access to chrome extension
Shop analysis
Pinterest Ads
Ad and placement details
So what are you waiting for? Minea has a free trial to test it's tool.
Minea is a very good alternative to pipiads so we've written a minea vs pipiads comparison just incase you're confused. With the detailed comparison you can find out which is the best best tiktok spy tool for you.
4 – SocialPeta

SocialPeta is an Ad analytics platform that also gives you access to spy on tiktok ads to find what is working and not working.
It focuses heavily on Advertisers and eCom advertisers + you can use it to spy on your competitors' creatives in real time to find out their advertising strategies.
If you're looking for an affordable ad spy tool for your tiktok advertising, SocialPeta is a great choice for you.
You can see this tool in action below;
Pros of SocialPeta:
Generous free 3-day trial
Real time data
Spy on ads in over 60+ countries in one go
Get Insights into winning products
You can view ad costs
Track advertising placements
Find trending products and advertising trends/strategy
Cons of Social Peta:
You can't see pricing plans to chose from on their website
SocialPeta Pricing: Social Peta does not display their pricing plans publicly.
5 – TikTok Ad Library

Tikok ad library tiktok's own tool where you can find all of the top ads on the platform. You can filter them based on countries to get ideas and insights on how to structure your own ads.
A completely free tiktok adspy tool.
It gives you option to search based on Click through rates, dates, industries and more.
If you are just getting started, the tiktok creative center may be your best bet as it's completely free to use however there are limited features.
Tiktok Ad Library Pros:
It's 100% free
Unlimited daily search
Sort based on region, CTRs, etc.
Get Ads insights/ideas
Find performing ads
Tiktok Ad Library Cons:
Very limited features
You can only get ideas and insights here, not really spy.
Pricing: It is completely free to use.
Why not try this tiktok ads spy tool free of charge?
Use the following link.
FAQs | Tiktok Ad Spy Tools
Here are some of the frequently asked questions around tiktok ads spy tools. We've answered everything in detail for you.
What is the spy tool for TikTok?
The best Spy Tool for Tiktok is PipiAds. You can use it to spy on competitors ads and find winning and trending dropshipping products. There are a lot of tools to spy on TikTok but PipiAds stand tall.
How do I find competitors on TikTok ads?
To find competitors ads on Tiktok you need tiktok ads spy tools such as Pipiads, Minea, BigSpy and more. You can see the top Tiktok spy tools in this article.
How do I spy on TikTok ads?
To spy on tiktok ads, you need tools such as pipiads, minea and Bigspy. Just enter a word and you will be able to find what ads are currently running, the products, and more. 
Can you geo target TikTok ads?
Yes, Tiktok allows advertisers to target any country or region they want for their ads. You can also target cities, states, districts, etc. 
How do I find a TikTok ad I saw?
You can use ad spy tools to find a popular and winning tiktok ads. You can also utilize your discover tab on tiktok to see ads videos you've watched. 
Do TikTok ads really work?
Yes, TikTok ads can be effective in reaching and engaging with a wide audience. With over a billion active users worldwide, TikTok offers various ad formats and detailed targeting options. Brands have reported success in generating brand awareness, driving traffic, and increasing sales
What is ads spy?
Ads spy, also known as ad spying or ad intelligence, refers to the practice of monitoring and gathering information about advertising campaigns run by competitors or other businesses. It involves analyzing and studying the advertisements, strategies, and tactics used by others in order to gain insights and inspiration for one's own advertising efforts.
How do ad spy tools work?
Ad spy tools work by continuously monitoring and tracking advertisements across various advertising networks, social media platforms, and websites. They use algorithms and data scraping techniques to collect information on ad creatives, ad copy, targeting strategies, and other relevant details.
Final Thoughts
There are a lot of ad spy tools out there for Tik tok advertisers and especially, eCommerce marketers.
Why waste precious time trying each of them? It's the reason we came up with this carefully selected short list of the best tiktok ad spy tools for 2023 along with their pros and cons, features and pricing so you can pick the one that suit your needs.
Which of these tools are you going to pick? Do you have questions? please leave them in the comments section.
Prosper Noah is the Brain behind TipsonBlogging. A full-time Blogger & SEO Expert.  His tips has helped a lot of people Start and Manage their own Blogs.