Looking to purchase the Writecream lifetime deal to save huge discount on one of the best AI writing tools in the market right now?
Want to know if it's worth it or not as well as the benefits and features that come with it?
Then you're in the right place at the right time.
We're going to review this deal in full detail. We'll cover it's pros and cons, limits plus how much you actually save compared to regular pricing.
We'll also go a bit into the features and how to activate it step-by-step.
Sounds interesting? Then please stick with us.
First, let's clear the air.
Yes, truly, Writecream is currently offering a lifetime deal for only $59 on Appsumo. You don't have to pay monthly fees anymore.
But this is only for a limited time. If you want to quickly grab the lifetime deal right away, use the following link.
Grab Writecream Lifetime Deal for $59
You don't even need to apply any appsumo discount code to claim this deal
About Writecream and It's Lifetime Deal
Writecream ltd is undoubtedly the most affordable ai writer lifetime deal out there with awesome features that will help you generate unlimited and high quality original content in a matter of minutes.
We are talking;
SEO optimized blog posts
Voice overs
Emails copy
Social media
Landing page copies
Ad copies for Facebook and Google
YouTube
and much more.
They are currently offering a lifetime deal on Appsumo but no one knows when the deal will be closed. It could be today or tomorrow, so grab as soon as possible.
If you don't want to waste time reading our review of the deal, you can quickly claim the writecream appsumo huge deal using the button link below:
Want more details about it and how to activate step-by-step as well as the features and benefits? then keep reading.
If you prefer video, below is a short video review we recorded on the writecream deal on Appsumo
In this post we are going to show you how to activate this lifetime deal from writecream along with everything you need to know such as it's benefits and limits, pros and cons, and much more.
Some of the key advantages of this Writecream Lifetime Deal are:
One-time payment of $59 only
Lifetime access to all 40+ copywriting tools and templates
Tool is trusted by over 100,000+ companies + over 500 reviews on Appsumo
60 day 100% money-back guarantee
Access to all future plan updates
Powerful and unique features compared to other ai copywriting tools, yet cheaper
Many more
Let's jump into it right away.
But before then, here's a brief info about writecream
Introducing Writecream
Writecream is an artificial intelligence tool that generates marketing content automatically. Other than using it to write blog articles, social media posts, ads copies, emails and much more you can also use it to build backlinks to increase your rankings.
This is what makes it unique compared to other ai writing assistants. It is an ai writer that focuses heavily on SEO to help you drive traffic and sales.
What's more? There's an ongoing lifetime deal where you can grab this powerful tool at a one-time price.
How to Activate the Writecream Lifetime Deal 2022
This should not take your time. If you follow the step-by-step instructions below, you should be up and running in minutes.
(You don't need to enter any discount code to claim the deal)
Step 1: Visit this exclusive link and you will be taken directly to the lifetime deal landing page on Appsumo where you can claim the offer as seen below: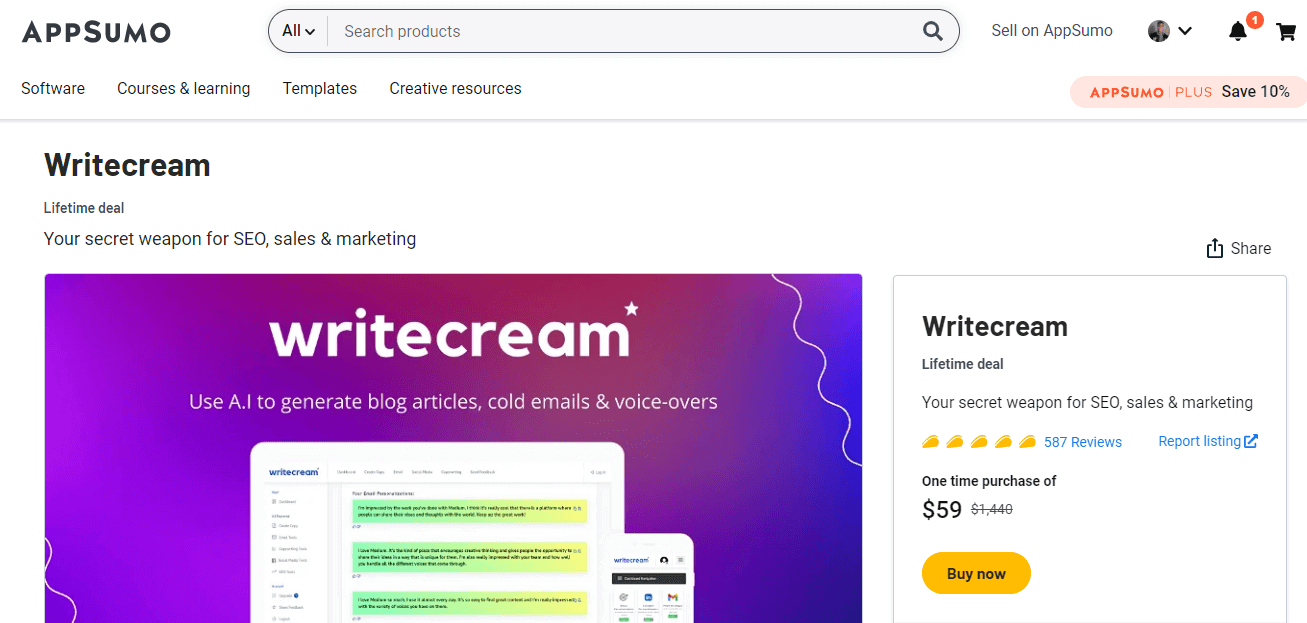 Step 2: The next step is pretty obvious. What you need to do is click on the "Buy now" button at your right and you'll immediately be taken to the sign up page.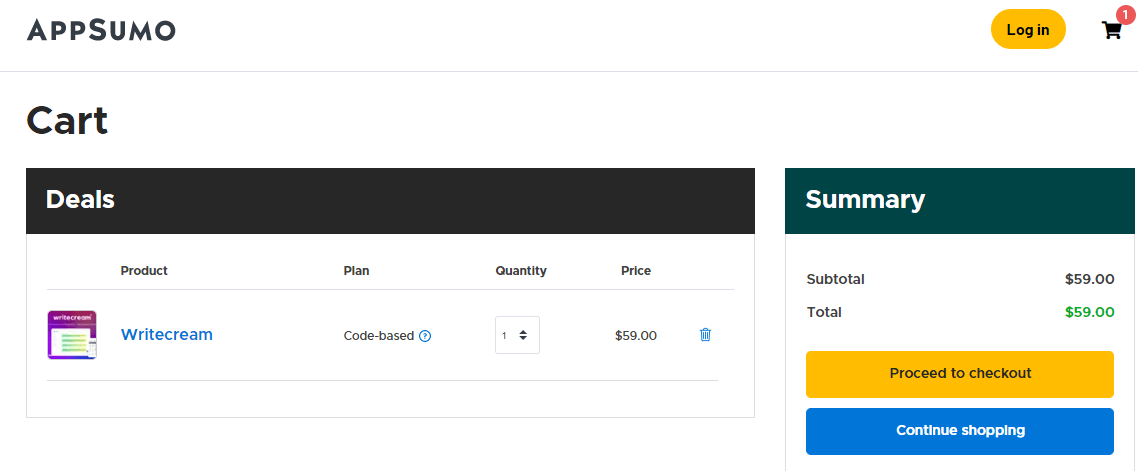 Quick Note: Appsumo is a legitimate website where you can claim lifetime deals of your favorite tools and software.
Simply click proceed to checkout and create an account in order to complete your payment.
Step 3: Now go ahead and sign up for an appsumo account, fill in your correct details such as email address and password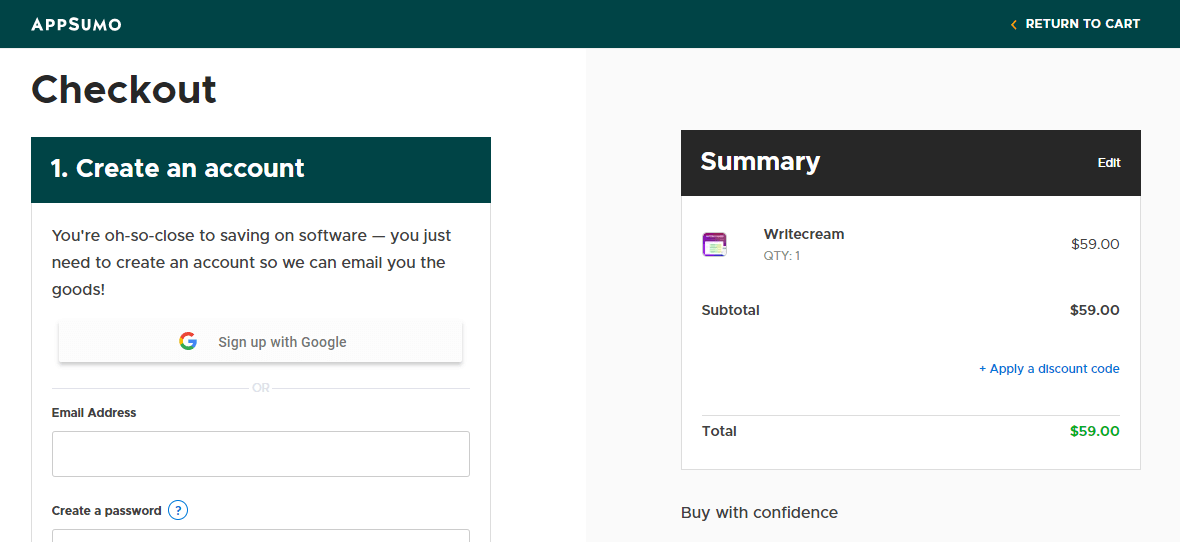 Step 4: Finally, select a payment method and complete your purchase.
When that's all done, you've successfully claimed the appsumo lifetime deal for writecream at $59.
It's that simple and fast.
What are you still waiting for?
Writecream Features
Writecream offers amazing and unique features for creating high quality marketing copies which makes it one of the best ai content generators and they include the following.
Creates 100% original content
Create content in over 75+ languages
Over 40 writing tools + access to future tools
Access to mobile app and Chrome extension to create content with ease
Plagiarism checker
Paraphraser
AI Article Writer to generate blog articles fast
Option to create your own Ai writing assistant
Generate blog blog posts, Google and Faebook ads copies, cold emails, product descriptions for Amazon, eBay and Shopify, etc.
Provides Longform editor for creating longer blog articles
Create posts for social media
Writecream creates voice overs and podcasts
As you see above, Writecream offers a wide range of features to help you create any type of marketing copy. It doesn't matter what niche you are in + it's not only limited to English, you can create content in 75 different languages.
If you're looking for a complete ai writer to take care of your content creation, writecream is a perfect fit.
Take advantage of the lifetime deal now to claim huge discount, no coupon codes needed.
So what are you still waiting for?
How much does writecream cost? Just how much are you saving by claiming it's lifetime deal instead of regular price?
Let's take a look at the plans and packages offered by writecream ai content writer
Writecream Pricing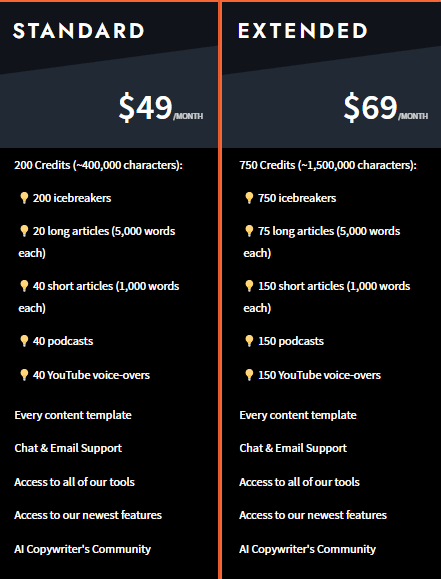 As seen above, aside the writecream free trial, it offers the following two paid plans
Let's go into more details about the plans, cost and what features come with them
Standard Plan
This is the first plan from writecream that costs $49 per month and gives you access to the following things:
200 credits to generate up to 400,000 characters worth of content every month
200 icebreakers
20 long articles of 5000 words each
40 short articles of 1000 words each
40 Youtube voice overs
40 podcasts
Access all templates and tools
Access to new features
Premium community
Email and chat support
Extended Plan
This plan costs $69 per month and gives you access to everything in standard plan such as access to newest features, priority support, as well as the following things:
750 credits to generate up to 1,500,000 characters worth of content every month
750 icebreakers
75 long articles of 5000 words each
150 short articles of 1000 words each
150 podcasts
150 Youtube voice overs
With the extended plan, you get more numbers to generate lots of content.
Check out our detailed writecream pricing post to further help you understand better.
Writcream Pricing vs Lifetime Deal
With the lifetime deal from writecream you can save up to $7,200 and you use the tool forever without paying monthly fees.
Here's what we mean;
The highest regular pricing plan on writecream is $69 per month and it gives you 750 credits while Lifetime deal gives you 1000 credits for $295 one time.
You just saved huge discount.
If you were to use the monthly extended plan for 1 year that is approximately $3500+ but you can get it on the lifetime deal for only $295 for a lifetime.
Plus it gives you even more credits (1,000 instead of 750 per month).
Writecream Lifetime Deal Pros and Cons
No doubt, at a one-time low price of only $59 you're getting lifetime access to this amazing ai content writer that would normally cost you $49 monthly.
Amazing deal, but what's the catch?
Let's take a look at the pros and limits.
Pros
Pay once, use forever
Access to future updates
60-day money back guarantee to see if this works well for you
Instant access to all tools and templates needed for content creation
Priority customer support
Cons
Unlimited credits is not available in lifetime deal
Limits
It's great to know the limits of this deal.
Actually Writecream lifetime deal pricing starts at $59, but it doesn't stop there. It goes as high as $295
Let's see the pricing plans of the lifetime deal and their limits
Plan 1: $59 – (200 credits per month limit)
Plan 2: $118 – (400 credits per month
Up to plan 5: $295 (1,000 credits per month)
The plan you chose depends on how much content you are producing.
We'll recommend starting with $59 plan and stack up more codes if you need to produce more content in the future
Writecream Ltd Comparison with other AI writers Ltds
Writecream has proven to be the most affordable, yet offers mouth watering features when compared with other lifetime deals of ai copywriting tools.
Here's a short list of other ai content writers currently offering lifetime deals and their pricing;
WordHero – $89 (See our writecream vs wordhero comparison article)
TextaAi – $69
Closerscopy – from $397
Nichesss – $59
Read: Writecream Review 2023: Is This AI Writing Tool Worth it?
FAQs | Writecream ltd
Here are the frequently asked questions around writecream and it's lifetime deal which may be useful to you.
When does the lifetime deal of Writecream expire?
It could expire today or even tomorrow as most lifetime deals on appsumo get sold out in a week or two. You should grab it as soon as possible to not miss out.
Is the Writecream one-time price offer available to already existing customers?
No, the Writecream discounted lifetime deal is for new customers only.
What are other alternatives to Writecream lifetime offer?
Other ai writers offering lifetime deals are wordhero, textai and nichesss.
Does Writecream offer a free trial?
Yes! there is a free plan from writecream that gives you access to the features along with 40,000 characters per month to generate content.
Final Thoughts
Is the Writecream ltd Worth Buying?
If you take a look at all of the features offered by writecream for such low price, it's definitely worth it. The 60-day money back guarantee is huge relief too as you can test the tool to see if it meets your content demands.
It's trusted by 100,000+ companies and you can see really good reviews from existing customers. So considering all of these, it's a huge steal.
Get this right away before it's sold out and start creating high quality marketing copies easily and fast.
Are you going to grab the writecream lifetime deal right away? Have questions? Please leave them in the comments section.
Prosper Noah is the brain behind TipsonBlogging. A full-time blogger & SEO expert.  His tips has helped a lot of people start their own blogs, grow it and make money.