Are you on the hunt for a linkcollider review for 2023?
May be you just stumbled on the link collider website and you want to know if they are legit or just one of these scams to help you decide whether to use their seo tool and social media advertising to increase your website traffic?
Then you're in the right post.
No doubt, traffic is the lifeblood of any business online, if you can get lots of traffic this means more sales for you.
And fact is that there are a lot of tools to help you get traffic and make sales.
Most of these tools don't work while some work really well
Linkcollider is one of those tools
It's really affordable but does it work?
I'll do two things in this post;
I'm going to do a full and honest review of link collider for you including how it works, pros and cons, pricing, etc.
I'll also show you a strategy I used to rank my website No. 1 on Google in 30 days for a keyword with the help of link collider
Linkcollider Review 2023: Is it a Good Cheap SEO & SMM Tool?
If you're looking a for an in-dept review and tutorial from someone who has actually tested & used this tool and gotten results, you have definitely come to the right place.
Read on.
I've been using link collider for quite some time (since 2018) especially the social signals, I must say it's a great tool and am still looking for a good alternative
Though there are many seo and website traffic generation tools out there, I recommend linkcollider for anyone who needs something really affordable to increase their small business website traffic.
You not only get social signals, but free backlinks as well to increase your rankings on google and other search engines.
Also Read: Seoclerks Review: Can you rank Number 1 with their SEO Services?
What is Link Collider?


LinkCollider is a free social media advertising tool that leverage the power of social media to improve SEO and increase website traffic of small businesses.
With Link collider, websites and blogs can increase backlinks free for their websites or get social signals on autopilot i.e. with little or no effort on their part.
If you're looking for a simple, cheap and affordable seo tool to help you increase your website rankings by building backlinks, getting you social signals and bookmarks, then Linkcollider is the perfect choice for you.
It will get you Facebook Page likes, youtube subscribers, tweeter followers, tweets, tiktok followers, shares, etc..
The best part? you can start for free.
Create a Free Linkcollider Account
Below are Top seo tools on Linkcolider:
Backlink Generator
Article Rewriter also known as content generator (Use these to generate content for your website)
Plagiarism Checker
Dropmylink Tool: For building Edu and Gov backlinks
Social Bookmarking: You can submit your contents to bookmarking sites like digg, pligg, etc… for higher indexing rate
Search Engine Submission
Linkshortener
and more.
This is a good tool if you're looking to get some quick traffic, backlinks, signals etc. to your website and increase your social media presence.
It's free but the free member plan is very limited and you have to do a lot of work to collect tokens which you will use.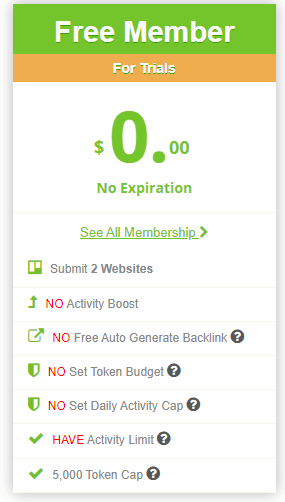 Do you have a lot of time on your hands to perform activities such as liking, tweeting, and sharing posts?
If yes, fine.
If no, then then you can upgrade your account.
They have upgrade plans that automates everything for you so you literally don't need to do much work.
Just submit your website and have the tool do it's work automatically
If you upgrade; you can submit more websites, get activities much faster, get lots of free tokens, unlock premium features, etc.
So how is the pricing like and what are the features? Let's see.
Linkcollider Pricing
Linkcollider offers the following four upgrades pricing plans.
1. Premium for Beginners
The first and most affordable plan is the premium for beginners upgrade plan at $19.99 for 1 Month and this is best for complete beginners who are just starting out looking to get some amount of traffic. It comes with the following features:
Submit maximum of 20 websites
5000 tokens upon purchase or renewal
Receive activities 20% faster
Collect up to 500,000 tokens
No activity limits
Set the maximum amount of token you want to spend per day
Cancel subscription whenever you want
2. Premium
This is designed for small businesses and costs only $79.99 for 6 months. You'll get the following benefits:
Submit up to 20 websites
30,000 tokens instantly upon purchase or renewal
Receive activities 20% much faster
Set the maximum amount of token you want to spend per day
Collect up to 500,000 tokens
Cancel your subscription anytime
3. Gold for Medium-sized Business
If you're a medium-sized business this is the one that suits you as you can submit a lot of websites here. It costs $39.99 for 1 month + you enjoy the following features:
Up to 50 websites submission
10,000 tokens upon purchase or renewal
40% much faster activities
800,000 token cap
All premium features
Cancel Anytime
4. Gold
Now this one is the last on the list and it's designed for professionals and companies looking to use linkcollider service. It costs $139.99 for 6 months and you will get the following benefits:
You can submit 50 websites
+60,000 tokens
Activities 40% much faster
800,000 token cap
All premium features
Cancel Anytime
Linkcollider has made it's pricing structure very simple and really affordable, so what are you waiting for?
Pros and Cons of Linkcollider
Pros:
You can start gaining backlinks, website traffic, etc. easily and fast
Real visitors (No bots)
It's safe and no footprints
Lots of free seo tools all in one place
Cons:
Free members can't do much
Backlinks not so high quality but can help you get some really good visibility and social prensence for your website
With that being said; you can click here to create your lincollider account.
Meanwhile;
Here's how to use link collider to rank your website or blog on the first page of google with the help of their social shares
In search engine optimization and marketing we call this social signals.
I combined linkcollider's social signals with few backlinks to rank this page you're reading right now for the keyword "linkcollider review" on google in 30 days.
Continue reading for full strategy
How to use Linkcollider Social Signals to Rank on Google FAST.
This strategy works mainly for keywords with low competition
If you are really ready to rank your page Number 1 on google for low competition keywords you need social signals or shares.
Social signals make your backlinks building look as natural as possible as it proves your article's gone viral already and ready to get enough backlinks.
This way, if you build backlinks, google sees it natural and won't get you in their sandbox for building backlinks too early to your articles.
I would show you exactly how you can get more social signals; even without readers fast.
There are different ways to use this awesome seo tool however, I want to show you how to effectively use linkcollider social signals to skyrocket your rankings.
But just before then; here is good explanation on social signals
Social Signals are the likes, shares, votes, pins, or views people place on Facebook, Twitter, LinkedIn or other social media sites that filter out to the various search engines.
Social Signals proves to be very important in the Google's 200 Ranking Factors. The more social shares, likes, etc.. the more google ranks a page.
Now that you know the importance of Social Signals, how do you get and or boost them?
How to Get Social Signals with Zero Readers on your Website/Blog
You've shared quality posts, you've shared to social media networks a lot.
It's unfortunate you can't like your own posts, that's why am going to share with your how to get social signals with little or no Readers.
Should in case you have enough readers already, keep reading to learn how you can boost your social signals.
We are going to be using the Ultimate Link Building Tool called Linkcollider.
How to get Social Signals using Linkcollider
Step 1. The First Step you are going to take is Signup with Linkcollider.
Step 2: Add your website URL
Add your url by clicking on the Add Website Tab >> Include the Title, URL and Description
Step 3. In the field for Reward; Set how much tokens you will give to the other users of LinkCollider every time they gave you activity. (e.g. like, tweet, followers, subscribers, web traffic, etc.) you can start with 17 tokens for a start.
Step 4. Click on Submit and you are almost done.
Now that you have submitted the url, its time for you to to relax only if you opted in for premium plan while you get shares, likes, tweets, traffic etc…
but in case you are still using the free plan and have not upgraded, you need to collect more tokens.
You can get more tokens by clicking on the Collect Tokens Tab, from there, select what activity you would like to carryout e.g. Share, Likes, tweet etc. to get tokens.
You can also see the amount of tokens you have presently and as well buy tokens. You can as well buy tokens
As time goes on, linkcollider informs you the activities i.e. shares, likes, tweets, etc.. you have gotten so far as seen below
The more tokens you collect, the more social signals you are likely to get.
How to Get #1 Rankings with Linkcollider
Now I would show you exactly how to rank #1 with linkcollider.
Am going to rank this Page for the keyword Linkcollider Review
This is what am going to do in order to rank this Page for my selected keyword.
1. Find Low Competition Keywords
If you need to make your ranking a success on Page #1 on Google you need to find easy to rank keywords.
The keyword I have selected for this Article has a keyword difficulty of 21 using Kwfinder.com
It has a search volume of just 70, though it's still worth the time if I rank First Page (Top 10) google.com
Also all the Top 10 websites for this keyword have almost 0 backlinks, 0 shares for the keyword.
Am definitely going to rank this keyword easily.
2. Write an In dept Content
The next step I took here is write an in-dept content of about 1500-2000 words.
The best way to beat your competitor is to make your own article more better and trust worthy.
Google gives more light and trust to articles that explain well in details and if your article tend to have more relevant words, then you gain that trust fast.
So I have written a 1500+ words blog post right here.
3. Perfect your onpage seo
This step is very simple and a must if you really want to rank.
Some times, just onpage seo can get you #1 rankings. so how do you do this?
Insert:
Your keyword close to beginning of your article
In Permalink
First and Last 100 Words
In a Heading
In atleast Alt tag of one of your images.
Don't do keyword stuffing, keep your keyword density around 0.5-1%. The keyword density for this post is 0.4%
I have made sure my keyword linkcollider review follows the above instructions.
4. Get Social Signals from Linkcollider
Now that you've published your post you need to get these social signals immediately.
So follow above steps to submit your article for signals.
When you get enough or some social signals already, start building backlinks.
5. Get Quality Backlinks
Now that you have some social signals, you need to build backlinks.
The best way to actually build backlinks is to do it yourself and there are many ways to do it.
Backlinking Strategy
For this Article:
I will build 10 high PA web 2.0 backlinks including weebly, tumblr.
10 High PR Profile Backlinks
10 Social Bookmarking Backlinks
Step 1: 10 High PA web 2.0 Backlinks
Web 2.0 backlinks are very effective in rankings. They are backlinks you get from DA 80+ Authority domains, you are going to create web 2.0 backlinks from below websites.
WordPress.com DA 99
tumblr.com DA 99
weebly.com DA 93
Blogspot.com DA 89
For this article am going to use just 5 weebly and 5 tumblr to build backlinks.
This web 2.0s will have a Page Authority (PA) of 27+. This is the best because they already have a good PA too which will pass link juice to this article.
I would have created brand new blogs on this web 2.0s but it will take a lot of time to build their Page Authority.
Although you can scrape expired tumblr and weebly with softwares like Gscraper or Scrapebox but it takes loads of time. I would teach you how in the upcoming posts.
Here is a video just in case you want to scrape these expired domains yourself.
But the best thing to do right now is to buy expired tumblr and weebly that have good PA already.
For this Post, I got 5 high PA tumblr and Weebly from this guy on seoclerks here for just $10.
Now after ordering, they are registered for you and login details will be provided too.
Each having atleast PA of 27+ ready to send link juice.
I will write unique articles for these web 2.0s around 300 words is ok for this and link to my original post here.
I want to make sure I don't use my exact keyword as anchor in all the articles
You want to make sure these articles are unique to get picked up quickly by google.
If you don't have enough time to write these articles like me most of the time. I use spinbot, to make some few spins. Don't forget to modify and make it readable.
So I use keyword variations like:
My Keyword
Random word like: "Check out"
Brand Name: "Tipsonblogging"
Naked URL: "https://tipsonblogging.com"
This is to make things appear natural and mixed.
Make sure the articles are well optimized for search engine considering the onpage seo.
After writing these articles, make sure to index them at least two daily.
2. 10 High PR Profile Backlinks
High Pr Profile Links are those high quality links you get from sites like Mozilla, Java, TEd etc…
For this article am going to build 10 of it.
So basically, what you want to do is create a profile on these sites below; when done go to profile settings and you will be provided a field for your homepage url.
Some times it can be labelled homepage only.
Input your article URL there and write a few words in the Bio.
High PR Profile Backlinks List
Sony
TED
Amazon
Java
Adobe
Dell
kickstarter.com
cat.com
So I will register on the 10 high PR profile backlinks sites above and pop in my article url.
If there's a field for bio, make sure to write a brief info about your keyword. Let the keyword appear once or twice.
3. 10 Social Bookmarking Sites Backlinks.
My third backlink strategy to rank this page top 10 in Google serps is through social bookmarking sites.
What you need to do right here is submit the articles to the below social bookmarking sites.
Am going to submit this article to top 10 social bookmarking sites for backlinks.
These are the social bookmarking sites I will use.
pinterest.de
ttlink.com
plurk.com
facebook.com
twitter.com
redd.it
stumbleupon.com
myspace.com
bagtheweb.com
pearltrees.com
So I will submit this article to the top 10 social bookmarking sites above.
Lastly; you want to Index these Backlinks.
If you don't index your backlinks, google may never get to know about it, if they don't then all these effort become useless.
If they index the backlinks and crawl those web 2.0 articles, high pr backlinks and your social bookmarking then link juice will be passed to your money site.
My Money site in this case is this article on linkcollider review.
How to Index these Backlinks
One of my all time favorite indexing service is Google webmaster and Pingbomb.
So how do you index your backlinks?
Firstly make sure you don't index or build all these backlinks in the same day. I suggest you do build just 2 backlinks a day and index it. This is to make things as natural as possible and won't get you into google sandbox.
Now head in to www.google.com/webmasters/tools/submit-url and submit the article where you built your backlink.
Go to pingbomb and ping your article too, this will make google index it faster in their database
Update: Pingbomb and Webmaster tool is now closed, your best option would be to use a service like omega indexer to index your links.
Read: Omega Indexer Review 2023: Does this Indexing Tool Work?
How do you know your backlinks are indexed?
Go to google.com and pop in your full article url, if you see it there, then it's indexed.
If it refuses to index, then give it some time and check regularly.
This is exactly what am going to do for this post to rank it Page one of Google.
Day 1:
I get social signals from Linkcollider
Day 2:
1 Tumblr and 1 Weebly Backlink (Articles around 300 Words +)
Day 3.
2 Weebly 1 Tumblr
Day 4:
2 Tumblr 2 Weebly
Day 5:
2 Tumblrs [My Web 2.0s will be finished)
Day 6:
2 High Pr Backlinks
Day 8 (I jump a day to keep things natural)
4 High Pr Backlinks
Day 10:
2 High PR Backlinks
Day 15:
2 High PR Backlinks (My 10 High PR backlinks will be complete)
Day 18:
5 Top 10 Social Bookmark Submission
Day 20:
5 Top Social Bookmark Submission
While doing all these, make sure to index the backlinks gradually.
I advice you to keep record of all the backlinks that are indexed or not indexed yet, in an excel spreadsheet.
Results
As at the time of publishing this Post I discovered for my target keyword linkcollider review am already ranking 16th Position immediately after publish.
Which is the second Page of Google.com United States.

I use sheerseo rank tracker to track the position of the keyword linkcollider review on google.com
It's free for 2 months.
Here is how to Track your Keywords on Sheerseo
Visit sheerseo.com and
Signup for 2 Months free trial on single domain
Click Rank Tracking and Add your keyword
Submit changes and lastly
Check your current rankings
Over time while I build backlinks, I'd share you more results too.
UPDATE: April 2018 Results
In just 30 days, this article had gone from the 16th position to 3rd Position as at April 2018 and began pulling great traffic.
Results:
Google.com US = 3rd Position [First Page Made]
Isn't this awesome?
In summary:
This is the ranking strategy with Linkcollider
Find Low Competition Keywords in this article
Write a Perfect Onpage SEO article
Get Linkcollider Social Signals
10 Web 2.0 Backlinks (5 weebly, 5 tumblrs) from this guy on seoclerks
10 High PR Backlinks
Top 10 Social Bookmark Sites Links
Index Gradually
Rank
FAQS
Is LinkCollider.com Legit?
I have been using linkcollider personally since 2018 to build links and get social signals and other stuff. They are legit and result oriented + a lot of customers are satisfied with their purchase according to reviews.
What is Link Collider?
Link Collider is a great seo tool for increasing social signals and website traffic easily and fast.​
Conclusion on Linkcollider Review
Increasing your website traffic is something you don't want to joke with but as a complete beginner this may not be easy to do.
This is why there is a tool like linkcollider to take care of all of that hard work of building backlinks, creating social signals, etc.
So click on this link to create your account on Link collider and give them a try.
That's all and I hope this linkcollider review 2023 helps you get a lot of links and traffic to your website or blog.
If you have questions, don't hesitate to drop in the comment section and I will reply you almost immediately.
Prosper Noah is the brain behind TipsonBlogging. A full-time blogger & SEO expert.  His tips has helped a lot of people start their own blogs, grow it and make money.