Ever come across a blog or website whose' page is being worked on and you get the unprofessional site not available? or you would not want to show Readers a site that is on maintenance right?
It would be kind of annoying or unprofessional to have your visitors shown this message while your blog is under construction, maintenance mode or adding new features.
The Big Deal?
You can create an Under Construction Page to easily tell your visitors that your blog's being worked on.
But hey;
As a beginner to html or css/Javascript, creating an under construction page could be a Pain in the Neck and may take you a whole lot of time.
But here's a Solution
What about you get a Plugin that could help you easily setup this Under construction Page fast even when you are the Non tech savvy type? great Isn't it?
With the help of Under Construction Page Plugin, it takes only few seconds to install and get your Under Construction Page, Coming Soon etc setup.
Under Construction Page Plugin for WordPress
With 100,000+ Active Installs already, Under Construction Page is one of the best plugins out there that helps blog owners, webmasters, web designers etc.. keep visitors warm when their go-to site is being worked on, coming soon, or under maintenance.  This shows visitors they are most welcomed and important.
Just in case you are new, below are how Under Construction Pages look like: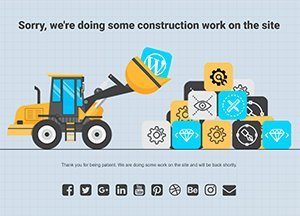 Anyone Can use the UCP Plugin
All you need do is
Select your desired design
Edit Content
Set the time and date you would want your Under Construction Page Active
Check Status to On
All Done as seen in below screenshot
Google Analytics Support
Good Looking Designs
You are not limited to only one Design for your Under Construction Page as there are lot of beautiful designs you can select from, they can all be
found here
Settings to Make the UCP (Under Construction Page) Plugin work
From your Plugins Dashboard, Click Settings
Click the Design Tab and select your desired Design
On the Content tab, you can edit to your taste, what text you want to show Readers when they visit your Blog. Leave Blank to use Default
In Access tab, you can select who sees the Original Site. Its recommended you leave at default if you are the only one working on the site. That way you can see the effect on your end
Always Click Save Changes when done.
Final Step
Check the Status to On as seen below and you are Done.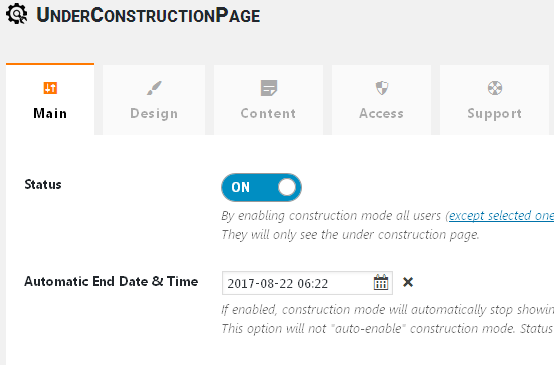 Now visitors to your Blog would be automatically shown the Under Construction Page.
Wrapping Up
Setting up an Under Construction Page on your blog would help a lot in UI (User Interface/Experience). You really don't want to give them the annoying Default Site Isn't available message. Plus this Plugin is totally free.
Having read this Under Construction Page Plugin Review you may want to set it up on your WordPress Blog. I'm giving you a go right away!
I would love to know what you think about this Plugin. Do share with friends and have a nice day.
Prosper Noah is the brain behind TipsonBlogging. A full-time blogger & SEO expert.  His tips has helped a lot of people
start their own blogs
, grow it and make money.