When Prosper asked me to write this guest post I thought about writing the ultimate guide to driving your blog traffic.
The old me? That guy would have written a 5,000 word post with 20 plus tips.
The new me? This guy has learned over the past 9 years that driving a steadily increasing volume of blog traffic is not dependent on following a complex matrix of multiple strategies.
I drive more traffic to blogging From Paradise weekly by doing a few simple things persistently.
The beginner blogger's mind desperately says, "I gotta do 1,000 different things today to drive traffic to my blog!"
The veteran blogger's mind calmly and clearly says, "I will do a few simple things today multiple times to drive traffic to my blog."
It's not the number of things you do. It's not the volume of things you do. It's the effectiveness, the leveraging of each act and the energy behind your actions that determine how much traffic you drive to your blog.
Let's dive into this simple but incredibly powerful blog traffic boosting guide to help you succeed with your blog.
1: Blog Your Passion
This is the most important tip on this list. By far.
All the practical tips on earth aren't worth a hill of beans if you lack the passion to write, to blog and to practice diligently to develop your blogging skill set.
At 9:48 on a Saturday night I am writing these words. Because I love to write.
If I did not love writing or blogging I would be out on the town, enjoying New York City tonight. But since I love writing I am posting while other folks are out partying.
Don't get me wrong; I am not a workaholic. I enjoy my offline life, circling the globe, having fun while I travel. But I put in the time to hone my craft to build my blog and to increase my blog traffic.
Most bloggers build traffic guides but totally forget this passion tip. If you don't have fun blogging, you won't follow proven, practical tips to build your traffic. You will quit when times get tough. You will throw in the towel after not making a dime over 6 months.
Blog your passion! What can you talk about all day long? Blog about it. Fall in love with blogging by covering a topic you love talking and blogging about.
This is the prime secret to my blogging success. I love what I do. I blog predominantly for fun. So I keep blogging, persist like heck and follow the below tips to increase my blog traffic steadily.
2: Stay on Topic
Stay on topic every single post to patiently grow traffic over time.
A few folks refer to me as "The Blogging From Paradise Guy." This is smart branding at work but also the result of me choosing to blog about blogging tips every single post on my blog.
This is a major league traffic builder. Readers who observe you blogging about the same topic week in and week out see you as an authority or expert in that niche. Authorities or experts drive the most traffic to their sites because folks see them as the Go To Guy or Gal in their niche.
Resist the urge to go off topic. Stay on point. Be a specialist, not a generalist, and you will drive more traffic to your blog over the long haul.
3: Solve a Problem
I used to post whatever came to mind, related to my niche.
Now I solve a specific reader problem through each post.
I ask my readers about their blogging problems. Or I observe emails, social media questions and comments on my blog to tune into blogging problems. I post to solve blogging problems. Simple as that.
Solving specific problems related to your niche is about the most effective traffic builder I know of.
4: Post Consistently
Post at least 2-4 times monthly to drive a steady amount of traffic to your blog.
No need to post daily unless you have something thoughtful, in-depth and valuable to say daily. Few folks have this level of insight.
I post 2-3 times weekly on Blogging From Paradise to increase my blog traffic week over week.
I'd rather publish 2-3 posts weekly on my blog and and write 2-5 guest posts daily to drive traffic from new sources through the principle of leveraging.
Consistent posters grow on their readerships.
5: Build Your List
Email list traffic is traffic on demand.
I publish my new blog post. 10 minutes later I email the post to my list. Instant traffic.
Building your list is an easy way to drive a hefty amount of traffic to your blog quickly.
I use a pop up form, PUSH opt in button, sidebar opt in form and a slide in form as you scroll halfway down my blog to grow my email list.
Don't be bashful guys. If you give people ample chances to opt in you will grow your list pronto. Be bold! Have posture.
6: Guest Post
Guest posting on blogs within my blogging tips niche helped me double my email list subscriber base in a few months.
I seek out all types of blogs; from super popular to lesser known gems, I enjoy building friendships with fellow blogger and driving traffic through the medium of guest posting.
This is a powerful form of leveraging.
I may have 60,000 community members but when I guest post on Pro Blogger I expose myself, my blog and my brand to 300,000 community members.
Follow a few top blogs in your niche. Get a feel for the writing voice used on the blog. Build friendships with these blog owners through blog commenting and by promoting these blogging big dawgs.
I am usually invited to guest post by my blogging buddies but if I do pitch a fellow established blogger, the friendships I built and my ability to mimic the blog voice helps me land guest posts on rocking blogs regularly
7: Comment Effectively on Blogs
I enjoy posting 1-4 paragraph long comments on blogs, both to make friends and to drive traffic.
Effective blog commenting is a traffic building tool for newbie and veteran bloggers alike. Anybody can share a helpful, authentic thought on virtually any blog. No barriers to entry as long as you stay out of the spam folder.
Personalize all comments. Address your fellow blogger by name. Be polite. Note a point made in the post. Expand on that point.
Your Turn
How are you building your blog traffic? What tips can you add to this list?
About the Author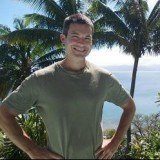 Ryan Biddulph is a blogger, author and world traveler who's been featured on Richard Branson's Virgin Blog, Forbes, Fox News, Entrepreneur, Positively Positive, Life Hack, John Chow Dot Com and Neil Patel Dot Com. He has written and self-published 126 bite-sized eBooks on Amazon. Ryan can help you build a successful blog at Blogging From Paradise.
Prosper Noah is the brain behind TipsonBlogging. A full-time blogger & SEO expert.  His tips has helped a lot of people
start their own blogs
, grow it and make money.