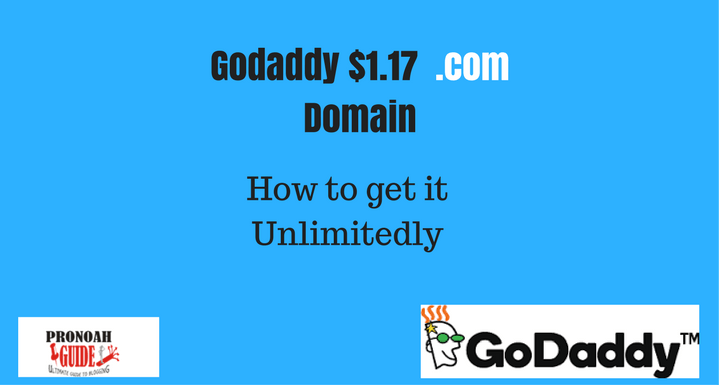 Howdy, welcome to today's tutorials on Blogging Tips. Normally Top Level Domains like .com, .net etc are costly for those with low funds.
But there is a hit;
Right on this post am going to teach you steps by step on how you can get unlimited $1.17 .com domains from Godaddy without having to insert a Coupon Code.
At the end of the post you should able to get unlimited domains for yourself and clients from Godaddy Domain Registrar.
Follow the below Guide carefully to learn How you can actually do this on Godaddy.  This is not some kind of tricks but a hidden way many people knew not about.
But before I start the tutoring let's take a quick look of what Godaddy actually is below.
About Godaddy

Godaddy is one of the most popular domain registrar in the world. It is popularly know for its registration of domain names. You can actually get any Domain name of your choice from Godaddy.

About Godaddy Coupon Codes.

Godaddy coupon codes let you buy Domains name and or hosting worth about $8.99 for less than $2 at times. The Coupon Codes are updated monthly. This means that there is a particular period of expiry for this Coupon Codes. After that period you won't be able to use them anymore.
But there's a catch;
With the steps am going to highlight on this post, there's no expiry if you follow carefully considering the step by step guide.
How to Get Godaddy $1.17 Domain Unlimitedly
In this first step, go to google .com and in the search box type "Godaddy 99cents Domain" with or without Quotes (your choice).
Step 2: Click on the first Result showing Ad
Now from the results you get, you need to click on the one showing Ad (Advert). The screenshot should get you going.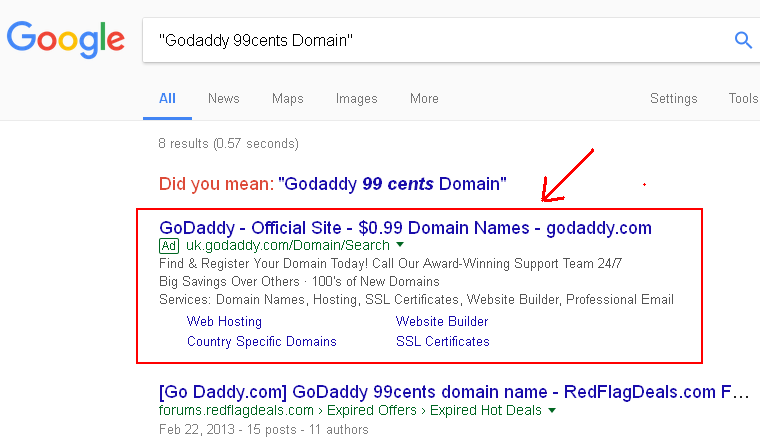 Step 3: Input your desired domain name and Hit Search
In this step all you need do is type in the domain you want to register and click on search as seen in the screenshot below;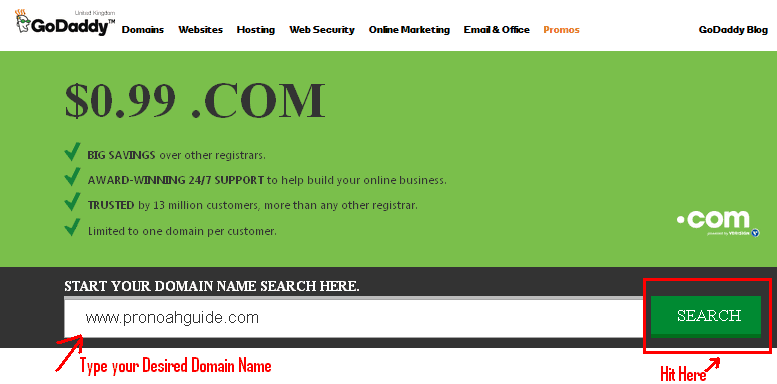 Step 4: Ignore all the Options
Now if your domain is available for registration, Ignore where it says you should Add Privacy or other similar ones because you don't really need them. It will only add to the fee.
Step 5: Select One year from the drop down as seen in below screenshot.

Holla! You should see your total payment reduce to $1.17.
Finally! following the screenshot above, Click on Proceed to Checkout and pay with your MasterCard, Visa etc.
Wait and see below;
There are somethings you should take into consideration when doing this
What to take Note of when getting Godaddy $1.17 Domain
1. Godaddy Does not allow you use thesame Card for this Offer.
Whatever card you used at first for purchasing Godaddy $1.17 Domain is stored in Godaddy's Data. This actually means that you cannot use thesame card for this offer. So you need different Cards for smooth Running.
2. No Paypal as Payment Method for Godaddy $1.17 Domain
When you actually use this offer, you won't be provided Paypal as a payment method for checkout. You only use your Visa, Mastercard etc. for payment.
The Good Part below;
3. There is no expiry Date for Godaddy $1.17 Domain
You can use this unlimitedly as time goes on.
Recommendation/Conclusion:
All you need to get this going are:Different Cards and Different Accounts (Maybe for clients). You can as well use a friend's Card for this; but note he won't be able to use that card later on for Godaddy $1.17 Domain.
Enjoy and also make sure you share with friends.
Are you facing difficulties with any of the above steps? Kindly leave them using the comment box below. Feel free to leave contributions as well.
Prosper Noah is the brain behind TipsonBlogging. A full-time blogger & SEO expert.  His tips has helped a lot of people
start their own blogs
, grow it and make money.