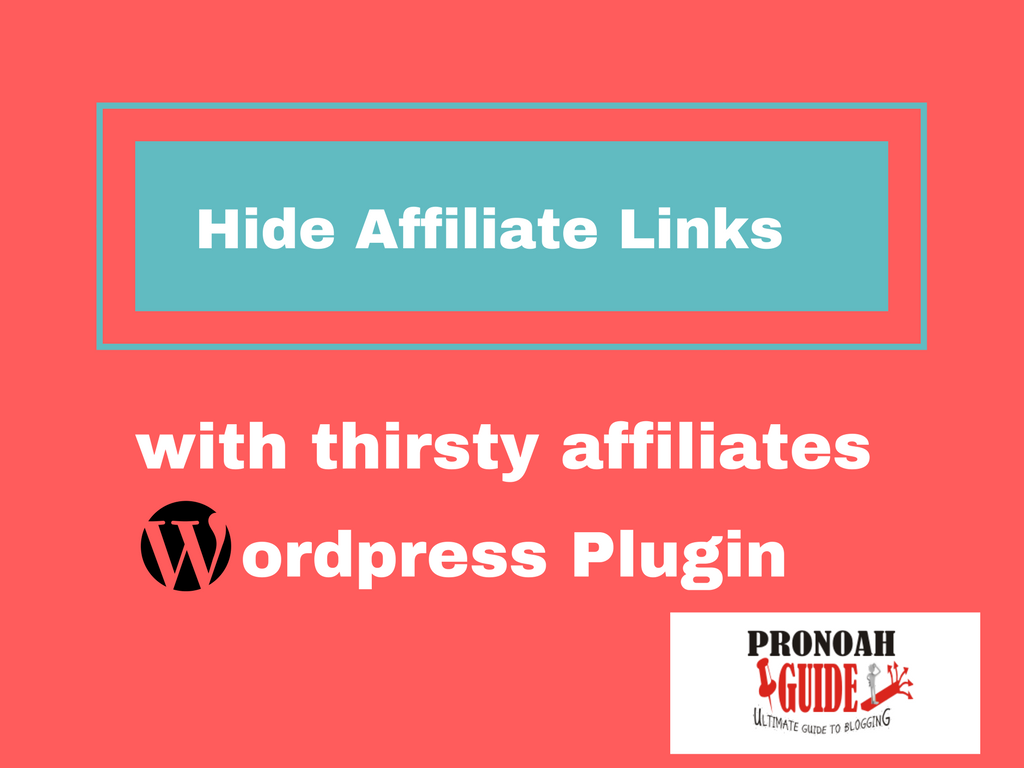 You'd agree with me that Affiliate Links sometimes can be very ugly. This is as a result of the way it appears in the url and its non-professionalism . Readers can be very strict when it comes to clicking on affiliate and or referral links.
But Take a Look:
Are you new to Affiliate Marketing? Let me give you a hint on what affiliate marketing/links are.
Affiliate Links are a great way to make money from your blog. You simply sign up with the Affiiliate Programme and are given links to promote.  Example of affiliate websites are Bluehost, Amazon, Whogohost. Infact almost all host providers have an affiliate program. When a reader visits that link he or she is taken to the product page of the affiliate website. If he eventually purchase any of your promoted product, you get commission.
Also Read: A few Ways to Make money with Affiliate Programs
But readers do not like clicking on  affiliate links. Why? because they look more like like spamming links or deceit links.
But below is a quick catch and solution:
On this post am going to show you how I managed to cloak or hide affiliate links with a wordpress plugin and also show you how you can do thesame.
Thirsty Affiliates WordPress plugin helped me display my affiliate links in a more professional way than usual. This is a sample of what thirsty affiliates  helped me achieve.
For example if I have an affiliate link like http://affiliateprogram.com/aff=124, with thirsty affiliates I would get something like https://tipsonblogging.com/go/affiliate.
Check out what amazed me the most;
Normally, Affiliate links are displayed in this form  http://affiliateprogram.com/aff=124 . So when visitors hover over the links it shows them they are actually being referred to another site.  But thirsty affiliates wordpress plugin hides and or cloaks it entirely and makes it look more professional. Adding the word recommends. e.g. https://tipsonblogging.com/go/affiliate thereby giving them the impression that you are actually recommending that particular link. Which is one wonderful feature about this Plugin.
You Know what?
Enough of the explanation. Right now am going to show you step by step how you can also cloak or Hide Affiliate Links with this free Plugin.
How to Hide Affiliate Links with thirsty Affiliates WordPress Plugin
1. First you need to Install thirsty affiliates WordPress Plugin and Activate it
2. Now from your Side Bar you should see the Plugin labeled "Affiliate Links" Click on it. As seen below
3. Now you have everything to control right from there. Simply Click on Add New to add a new affiliate link you would like to hide or cloak .
4. Enter it following below guide
Link Name: In this field enter the word you would like people to see when they hover over the link e.g. in my case I entered bluehost because am promoting bluehost hosting. So it should look like this : https://tipsonblogging.com/go/bluehost.
Destination URL: In this field, you are to input the Affiliate Link itself and finally check No follow so search engine don't pass link juice to that website.
Finally Click on Save Link. This is illustrated in the below image.
Once you Click on Save, you'd be given a link similar to https://tipsonblogging.com/go/bluehost. So you can copy that link and start using in your Posts.
But wait;
What if they give you link like this: http://pronohguide.com/recommends/1424?. In this case, all you need do is just click on Edit slug and replace that number (1424) with your desired word. e.g. Bluehost and click Save. 
Thats it.
What you Need to Know;
You can also find the Affiliate Plugin when  composing your posts. So its not necessary you go to to the plugin dashboard before you add or edit your Affiliate Links. Just like below.
As seen in the above screenshot, you can manage your Affiliate Links while creating your Posts.
This is how to Hide Affiliate Links on your WordPress Blog.
Take some minutes to drop your comments and also share so it can reach others.
Prosper Noah is the brain behind TipsonBlogging. A full-time blogger & SEO expert.  His tips has helped a lot of people
start their own blogs
, grow it and make money.