Godaddy Affiliate Program 2018 Review: Bloggers can Make Money even for Domain Sales
Affiliate Program still remains one of the best ways to make money from a blog with low traffic but targeted traffic. Looking for more ways to monetize your blog? then try Godaddy Affiliate Program.
This is one of the best domain name affiliate program right now.
FREE!!!: Take the #1 Affiliate Marketing training
FREE!!!: Clickbank in nigeria affiliate network Procedures
Right on this Post, you are going to be  learning how to signup with godaddy affiliate program and make some decent money promoting its webhosting, domains, SSL Certificates, etc.
About Godaddy

Godaddy is the world's most popular domain registrar and one of the cheapest but quality webhosting company founded 1997.
Almost everyone heard about this company in a good or a bad way, but in general GoDaddy reviews are pretty positive. "
How to Make Money with Godaddy?
Godaddy has an affiliate program  that promises publishers 15% per sale.  When you signup with the program and refers anyone  to purchase any of it's products you are paid 15% as commission.
Products you can promote are:
Domain Names
Webhosting/Wordpress Hosting
SSL Certificates
Lots more
The Amazing Part;
Many of the Popular Webhosting Affiliate Programs only pay you when a user purchase their webhosting package through your affiliate  but its not thesame with Godaddy. Godaddy pays you even for referring customers to purchase its domain names.
Who Can Promote Godaddy Affiliate Program?
There's no niche that would not be allowed to promote Godaddy's Affiliate Program but there's always a Niche that would do better, have more sales than the other which is those blogs who are solely into blogging, Website Design, etc.
Why would those on the Blogging Niche do better?  This is because they talk more on how to start a blog and make it successful which definitely requires readers purchasing a Domain Name and as well Webhosting Packages to start their own blogs.
Also see: How to Make Money with Namecheap Affiliate Program
Other Niche can as well succeed in Promoting Godaddy Affiliate Program by creating a guide to starting a blog on their blog. This could be a page or post on the blog, but should be kept where readers can get to see it easily!
How Can you Promote Godaddy Products and Make Money?
Every Affiliate Program requires a Platform for promotion and Godaddy Affiliate Program is not an exemption. Godaddy Products would be promoted through your blog with the help of Commission Junction.
What is Commission Junction?

Ever heard of Commission Junction? Commission Junction popularly known as CJ is an Affiliate Marketing Company that serves as a middleman for Publishers and Advertisers. This would bring us down to what it really is;
An Advertiser has a product it wants to promote >> It looks for a channel through which that product can be promoted which is Commission Junction >> Publishers promote the products (YOU are the Publisher)
Commission Junction's job is to ensure a sale was made through your affiliate link with the help of its tracking tools and you get paid commission for the sale.
As a godaddy affiliate you can actually promote either with commission junction or zanox.
In the upcoming post I'd be making a commission junction vs zanox review.
Checkout: Top Paying Affiliate Programs for Bloggers no
How Can you Signup with Commission Junction?
Before you can signup with Commission Junction, you'd need a blog that target what you want to be promoting as an affiliate of CJ (Commission Junction). That is what advertisers would check before you are approved to their affiliate network.
You need a well designed blog with cool and professional look to impress an advertiser.
When you know well that your blog fulfils the requirements of a professional blog you can follow the below steps to signup for Commission Junction.
Step 1:
Visit the Commission Junction Website and hit Signup today as seen in the below screenshot.
Fill in your correct and necessary details into each field available and hit signup. Verify your email by clicking on the link that would be sent to it.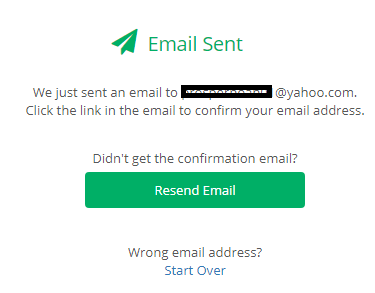 Click on Create my Account with CJ link in the email sent to you and you should be redirected immediately to where you fill your full account details. Make sure you fill all necessary fields with the correct details and agree to all the terms and agreements.
Finally click on Accept Terms. You'd be taken directly to your login page and to Dashboard if you login.
The Dashboard looks similar to below screenshot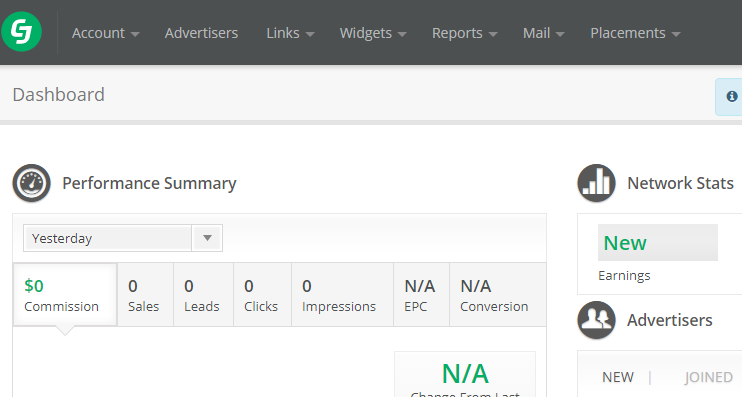 Finally, you need to setup how you can receive your godaddy affiliate earnings. Godaddy Affiliate Program lets you withdraw your earnings when it reaches a threshold of $100 via Paypal or Payoneer.
How to Get Paid your Earnings from Commission Junction
Now that you've setup an account on Commission Junction, its time you add your Bank or Paypal Details generally known as payment details.
In order to be eligible for Payments on Commission Junction, you need to edit your Tax Information which can be done by going to the settings tab >> Administrative Settings
For Non US Residents 
Click on Edit beside Tax Information. You will be prompted to Enter your Password, Do so and select the first option for Non US Persons as seen in the below screenshot.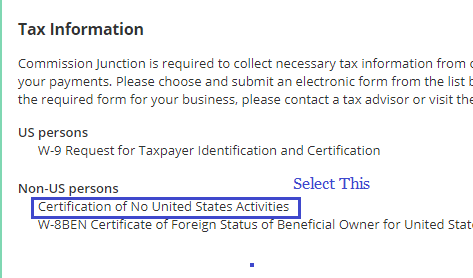 Now all you need do is fill in your Payee Name and Signature and hit Submit Form.
Now you Can Edit your Payment Details.
How to Apply for Godaddy Affiliate Program via Commission Junction
Now that all is set, you need to apply for Godaddy Affiliate Program from your Commission Junction Dashboard. Follow the Below steps.
Click on Advertisers, in the field for Keywords Input Godaddy and hit Search
From the Search Results, checkout for Godaddy and when you see it Click on the Plus Button to apply for it.
That's all. Now you need wait for Approval within few days.
There's More;
Don't Miss: Take the #1 Affiliate Marketing Training
Tricks to get Approved Faster for Godaddy Affiliate Program
Most times you may not get attention on time. So you need to send a mail to the Affiliate Program's contact mail stating your Email Address and Website you would like to promote their Products. You can  get advertiser's email when you click on the details.
They May Likely reply you within 24hours stating if you are approved or not into their program.
When approved, you'd be provided with a range of godaddy referral codes also known as Banners and Links you can promote on your blog to earn money.
So this is all about Making Money with Godaddy Affiliate Program.
Also Read: Affiliate Marketing Tips and Tricks for Beginners
Over to you;
Would you give the Affiliate Program a try? Have you been promoting Godaddy Products and earning extra money with your blog? Let me Know in your comments.