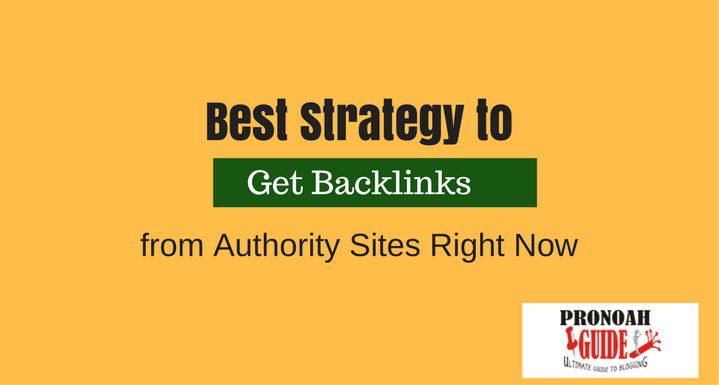 Need quick tips on how to get Backlinks from Authority sites then you are on the right post.
One best way to get lot of search engine traffic is to get  backlinks to your blog. Not just backlinks but good and quality backlinks.
But the BIG question here is this: How do you get backlinks to your blog or website? 
No worries:
On this post am going to share a strategy with you!
This strategy would help you build backlinks from Authority Sites (quality ones) . This strategy according to my analysis can be given 90% of what it can achieve.
How to Get Backlinks from Authority Sites (The easy way)
Follow the below steps carefully  in order to achieve this.
Lets take for example you run a blog about Technology and you want to get a backlink from computerhope.com. It is always recommended you get to know the  niche of the website you are plann to get backlinks from. You both should be on thesame niche. You can not run a technology blog and expect to get backlinks from a health blog. It just wont go.
So after you've made the decision on which website you are going to get backlink from. The next step is to follow the below. Note that you should plan on getting backlinks from Authority Sites and not just any site or blog.
Just as stated above, am going to use computerhope.com as an example to show you how to get backlink to your blog.
1. First of all go to ahrefs.com/site-explorer
2. Type the url computerhope.com and click on search as seen in the below
Now this would display the full data of the website. What you should focus on here are the links which computerhope.com website is linking to that does not exist anymore. So all you need do is locate this link by clicking on the broken links report as seen below.
Here you would be able to see the links and sites computerhope website is linking to that no longer exists. Of course this deadlinks are bad for SEO .
You can see there are 14,468 broken links but your main focus should be on dofollow backlinks because they link to quality links of contents. You can click on that as seen above.
Now you should see all the broken links with a dofollow backlink which no longer exist.
How can you actually use this?
What you need to do in this step is to confirm the page on computerhope website where this broken link is, from the report.
Then you click on the link next to 404-not found above. Now you need to bring that article back to existence.
Am going to teach you step by step on how to bring a lost article years back to existence.
Also Read: How to get your next blog post on google front page using keyword optimization strategies
First of all click on the link that leads to the article with a 404-not found error
Copy the url
Go to archive.org and paste that url. Archive.org is a known webpage directory that helps to take the snapshots of webpages of a website. In that even if the website no longer exists, the data as it appeared in a specific date and year can still be shown live from archive.org website
Paste the url into the search box and click search
Navigate using the calendar to like 2 years back to when the article was still live. Now that article would be shown to you live; how it appeared in that year.
Here is the quick strategy;
Now that the content is displayed to you live its time for you to re-write that article with much similarity. It would be good too if the title as it appeared then can be same with the new one you are going to create. But it is not advisable you copy the article to your own blog. Try to add more quality and improvement to it.
The best part;
Now that you've created this article. It is time to reach computerhope website to inform them of a broken link in one of their pages or that a page they are linking to is no longer there or is outdated. whatever and how they can replace it with a similar link (link to your own article).
There is more to this;
Computerhope.com might not be the only site linking to that particular cute piece of article. So there are chances that you can get more backlinks. I will show you step by step
Copy that same broken link
Go again to http://ahreffs.com/site-explorer and paste the link there. This time, select URL from the drop down instead of root domain. This is because we are only going to analyze the url and not the domain
Click on search as usual now from the analysis, you would see how many sites are linking to that  broken link
Finally, inform them of the broken link their site is pointing to and give your link as a replacement.
That's it. Imagine how many sites would be linking to that particular broken link. This means more backlinks to your Blog.
How can you reach them?
Via their Contact Page
You can notify them through email
So you are giving them a heads up about the outdated resource and offering something similar or better on your own website for replacement.
As simple as that. As you can see from the post. This is one of the best strategies you can use to get backlinks (quality ones) from authority sites. I call this the Brokenlinks Strategy. 
Go give it a try and let me know.
I've learnt how to get backlinks from authority sites, so what next?
If you need results you need to take action and start building backlinks immediately.
Have you been using this strategy to get backlinks to your site? let me know in your comments. You can also share other strategies you use in getting backlinks to your site.
Prosper Noah is the brain behind TipsonBlogging. A full-time blogger & SEO expert.  His tips has helped a lot of people
start their own blogs
, grow it and make money.