Are you looking to activate the Writesonic free trial? Do you want to test one of the best AI writing tools out there for free before upgrading to a paid plan? You've arrived at the right place at the right time.
Without wasting time, you can grab your free trial account using the button link below:
Let's face it.
AI writing tools are making life easier day after day since the start of 2022. With the help of these tools you can generate quality content for your business.
They can help you create blog articles, ad copies, stories, product descriptions, landing pages, etc.
It doesn't matter if you're a blogger, freelancer, or marketer.
There are a lot of AI writing assistants and one of the best is Writesonic. Over 1,000,000+ marketing teams, freelancers and agencies use it to create content.
If you're looking to try the Writesonic AI writer for free before deciding if it's a good fit or not, then keep reading.
Is writesonic free?
Yes, Writesonic is free to use. It offers a free plan that gives you 2,500 words to test the tool for content creation.
In this article we are going to show you;
Step-by-step how to activate the writesonic free account
Features and things that come with this trial plan
Writesonic pricing plans plus promo code to claim a 33% off and much more.
Looks like something you're interested in? Want to claim this trial right way?
Lets get to it.
How to Activate Writesonic Free Trial 2023: Step by Step
If you have been looking for how to use writesonic for free then activating a free account is your first BIG step.
Plus it's as simple as ABC.
To activate this free account all you have to do is follow the below tutorial step by step. In a matter of minutes your free account should be ready so you can start creating content.
Follow the below steps now;
Step 1: Visit this special link and it will take you to the Writesonic sign up page where you can sign up for a free account.
This is what it looks like;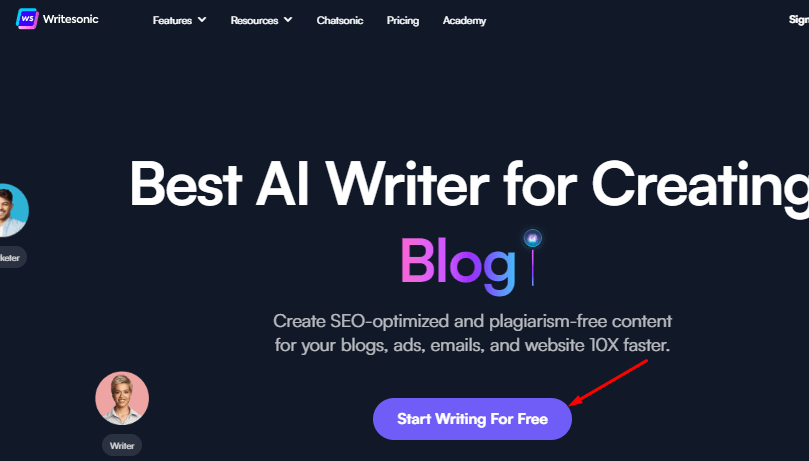 Click on the button that says "Start Writing for Free" to get started with your trial account activate.
Step 2: In the next page that opens as seen below, you need to fill in your necessary information. This includes your full name, email address and password.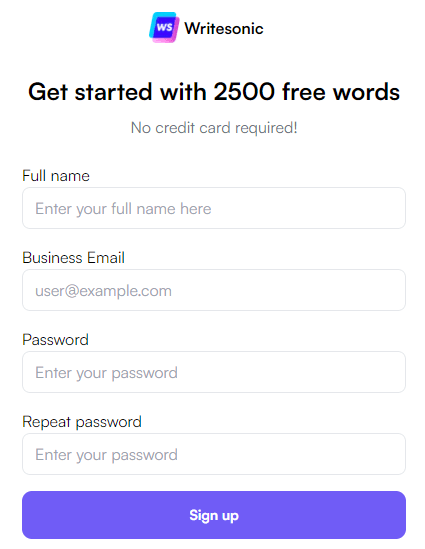 Ensure you enter a password you can remember.
Hit the Sign up button and you should be half done.
Step 3: Immediately you hit signup, Writesonic will ask you to confirm your account.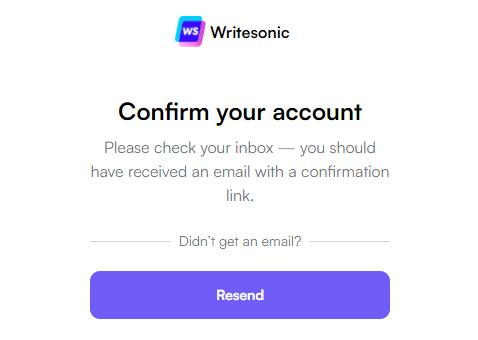 Now login to your email inbox and click on the verification link. It looks some thing like this;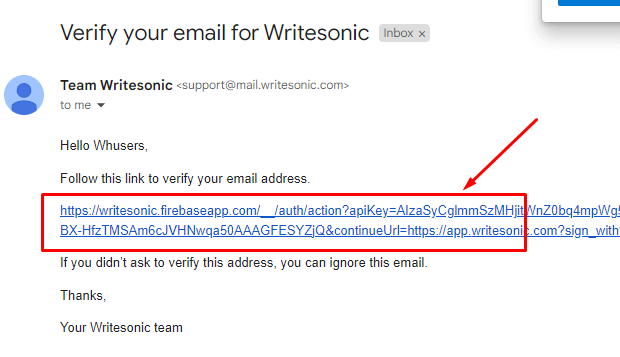 All you have to do is click on the blue link.
When this is done, your email is now verified and you can login to your brand new free Writesonic trial account.
Finally, welcome to your dashboard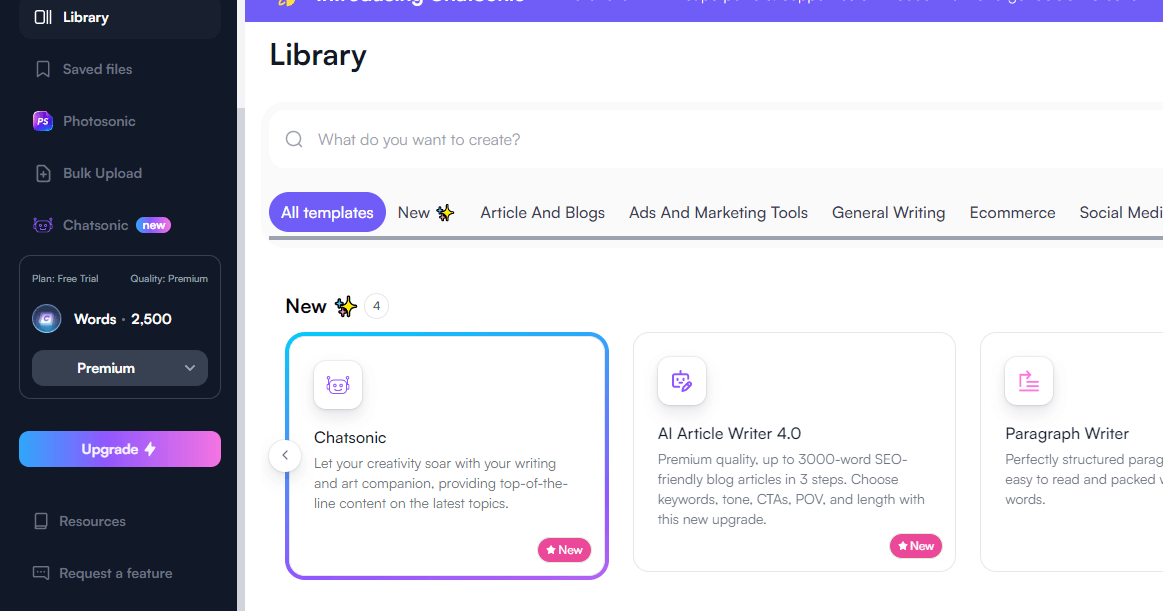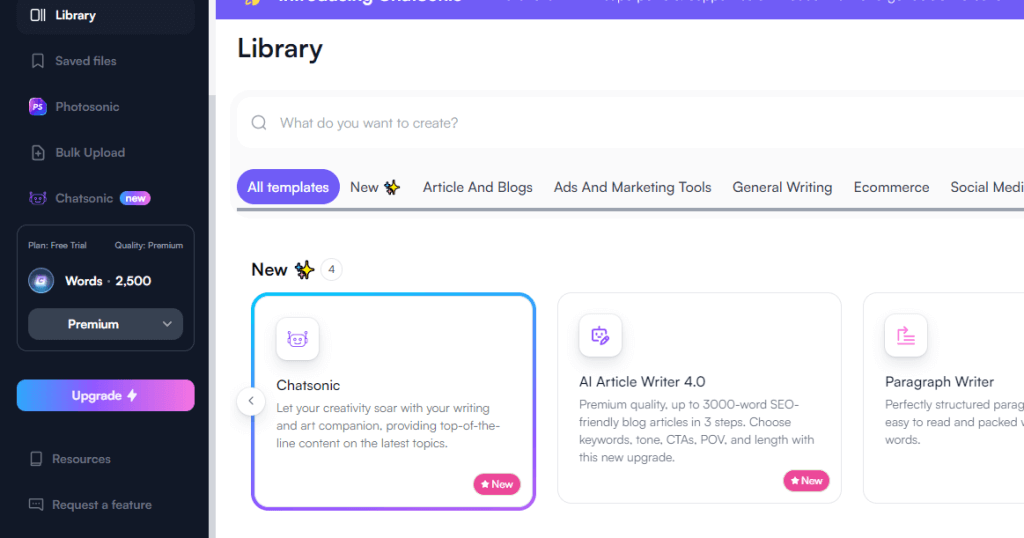 Yep! This is how to get writesonic for free. As you can see, your writesonic free trial along with 2,500 words is activated successfully.
And the best thing? you don't need to enter your credit card details to signup for free trial.
Now that your account is active you may be wondering how to use Writesonic to start creating content.
Its easy to do. Lets walk you through in 3 easy steps.
From your dashboard there are lots of tools and templates to choose from.
Select one of the templates such as Article and Blogs if you want to write blog posts or Ads and Marketing tools, e.t.c
Give it a topic, product name and description (depending on the copy you want it to write for you)
Click on Generate
Writesonic will go ahead and generate original human-like copy for you in seconds.
Free Trial of Writesonic Features and Limits
The following benefits and features as well as limitations come with this free plan.
Generate up to 2,500 words of premium content (Premium content is the most high quality text output). You are literally trying the writesonic premium for free
Create content in 25+ languages
70+ AI copywriting tools and templates to use for content creation
Landing page generator
1-click WordPress export (Use this to export your content straight to WordPress for publishing)
Zapier Integration
AI Article Writer (for creating long blog posts)
Google Docs Like Editor
Browser extensions
Why Writesonic is a good Choice for AI Content Creation in 2023
So why should you choose Writesonic AI content writer for your writing needs? Let's take a look at the key features and benefits that make it one one of the best AI copywriting tools.
1. Create Long-form content with ease
One of the drawbacks of most artificial intelligence writing tools is that you can only use them to create short-form content. This includes ad copies and social captions, and more.
If you're a blogger looking to create long blog posts you need a long form ai writer and Writesonic is a perfect fit.
It comes with two unique long form features "AI Article Writer 3.0 and 4.0" that can generate a 1,500 or 3,000 words content.
With this you can create a lot of content in a short time.
2. Write in over 24 different languages
Want to create content in other languages? Writesonic software offers more than English. You can create content and translate in 24+ languages of your choice.
3. Out of Ideas? No More
Creating content is never easy. Many people struggle with coming up with ideas for blog posts or social media and this is where Writesonic comes in.
You can generate ideas at the click of a button. Whether you need to brainstorm blog topics or markting copies, it's got you covered.
You can finally overcome writers' block.
One of the top benefits of using an AI writer like Writesonic is that it gives you an original content. It rarely makes spelling mistakes and grammatical errors.
This will definitely save you time while you work on other important aspect of your business.
5. More than 70 Copywriting Tools & Templates included
Included in Writesonic is more than 70 templates and tools that let you create any type of content. Choose from any of these templates, enter a few description and let the AI tool do the rest.
For example: There is a a blogging tool called AI Writer 4.0 Tool
You can watch it create a 1,500-3,000 words article in less than 30 minutes.
Is Ad copies what you want? or Social media content? or eCommerce?
Just select the right template and let it do it it's work.
Let's take a look at some of the popular templates and tools offered by the writesonic AI writing tool
Article And Blogs
Writesonic offers two powerful tools that let you create long blog articles and they include the following
AI Article Writer 4.0: Use to create a 3,000 words article in three steps
AI Article Writer 3.0: Create a 1,500 words blog article in just four steps
These articles will be SEO-optimized and include keywords for you to rank on search engine.
Other sub-writing tools are:
Instant article writer to generate blog posts in one go
Paragraph writer
Article rewriter
Blog ideas
Intros
Outlines
Conclusion writer
If you're looking to create the perfect blog post, these blogging tools are all you need.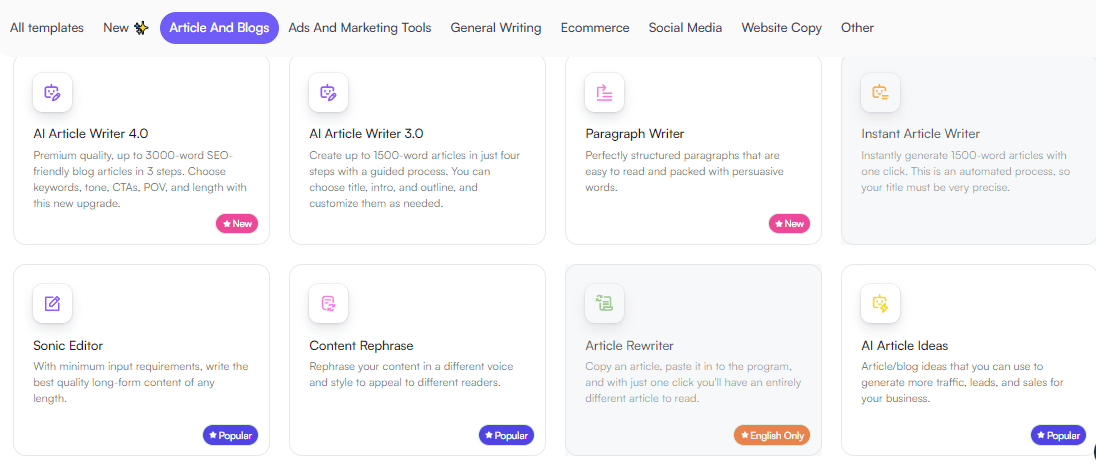 Ad Copies & Marketing Tools
Want to generate engaging ad copies for your products? Ads and marketing section will take care of everything for you.
You don't need to spend too much time on research anymore.
Here you can create headlines, ad copies for Google Ads, Facebook, LinkedIn and much more.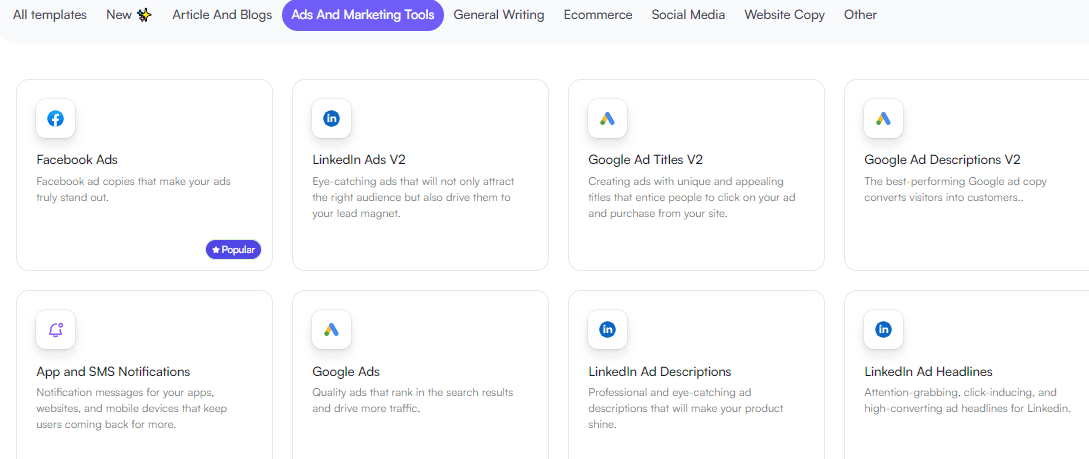 Social Media Content
Struggling with what to post on your social media channels?
This section can write;
Instagram captions
Tweets and Twitter threads
LinkedIn posts
YouTube ideas, intros and descriptions
TikTok video hooks and scripts etc.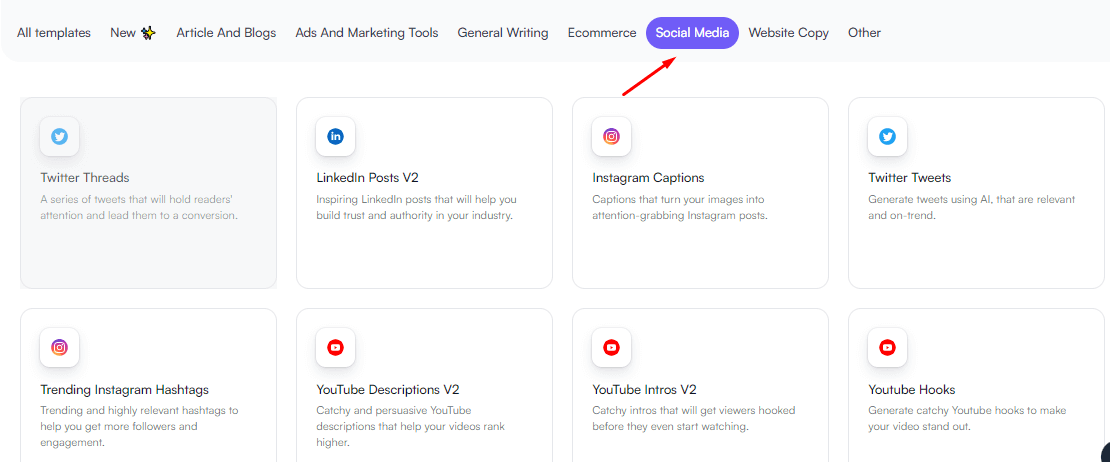 Website Copy
As the name sounds, you can use this to create copies for your website such as landing pages, call-to-actions, SEO meta tags and much more.
You can also create feature to benefit content to help you sell your products and services.
Ecommerce
Last on the list of the most popular tools on Writesonic.
eCommerce marketers can use this section to generate compelling product titles and descriptions. The descriptions will be search engine friendly to ensure it ranks and get traffic.
Other Tools
These are writing tools for creating general content.
This includes:
What are you still waiting for? Want to get started with creating content using Writesonic? Click the button link below.
Read: Writesonic Review 2023: The Most Accurate AI Writing Tool?
So how much is it going to cost when you upgrade to a premium plan from Writesonic?  Let's take a look at the different pricing plans and packages. 
Writesonic Pricing Plans 2023 Review: Which Plan Should You Pick?
You have access to 2 paid packages to choose from to start creating content. The plan you pick depends on what type of content you need.
Both plans have everything you need for long form content creation. The second plan is best for agencies and teams
Let's see the pricing plans along with their features.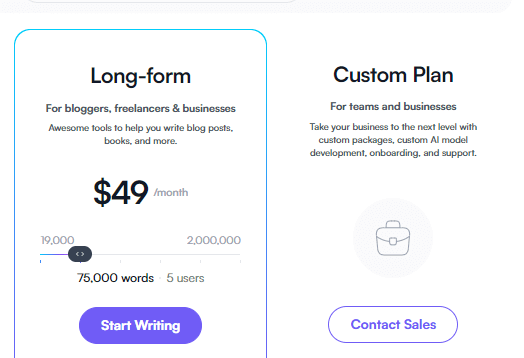 1. Long-Form Plan: This is the most popular plan from Writesonic that costs from $19 per month ($12.67/m if you pay yearly) for 1 user seat. If you need 5 seats and more it costs from $49 per month ($32.67/mo if you pay yearly).
It gives you access to all the features in the free trial plan along with the following things;
75,000 words of premium content plus option to buy more
Complete article rewriter
Priority support
Access to newest features
Bulk processing
Surfer SEO integration
Workflows (Soon)
Research mode (Soon)
This plan is perfect for bloggers, freelancers and businesses.
2. Custom Plan: As said earlier on, this is the best plan if you are looking to generate unlimited content. It's only suitable for agencies an teams.
You need to contact the Writesonic support for this.
It gives you access to everything in long-form plan plus the below;
Number of words: Unlimited
Users: Unlimited
Support: Premium
Dedicated account manager
Access to develop custom AI
Invoice options
Training sessions
Do you need a discount to save on Writesonic? Its simple. All you need to do is select annual billing and you get 33% off.
If you apply this, pricing starts at $12.67 per month instead of $19 per month. You can find more details in our Writesonic Save up to 33% off article.
FAQs On Writesonic Free Trial
These frequently asked questions revolve around writesonic and it's free trial plan. We've answered everything in detail and hope it helps you too.
Is Writesonic completely free?
Yes, Writesonic offers a free plan that gives you access to 2,500 words of premium content. Read this post to claim your free account from Writesonic and details about everything.
How much does write Sonic cost?
Writesonic pricing plans start from $19 per month and $12.67 per month when you pay yearly. It goes as high as $666 per month depending on how much content you want to create. 
Is Writesonic any good? 
Writesonic is one the best AI Writing tools in the market with excellent ratings and reviews and it is easy to use. It comes with a lot of templates and tools you need to create any type of content for your business. 
What is the best free AI writer?
Some of the best AI writing tools that offer free trial are Writesonic, Jasper.ai and Copy.ai. There are even more but these three stand out. If you want to try Writesonic for free, follow the link in this article.  
How long is the free trial of Writesonic?
The trial period from writesonic is free forever. Upon sign up you will be given 10000 free words and then 2500 free words every month for life.
How do I use Writesonic for free?
All you have to do is follow the instruction in this article to sign up for a free account. Verify your account and you can login to Writesonic and start creating content
Do you have to pay for Writesonic?
No, you don't have to pay unless you want access to more words for content creation. It's entirely free to use and the free trial lets you test it before deciding if to pay or not.
Which is better Jasper or Writesonic?
Jasper is no doubt one of the best AI writing tools and Writesonic is a strong competitor. Jasper is more expensive than Writesonic which makes writesonic good value for money and an awesome alternative.
Is Writesonic better than ChatGPT?
Yes, Writesonic is clear of ChatGPT AI chatbot in terms of content creation. ChatGPT is still a raw AI tool but there's lots of potential to be one of the best in the future. In fact, Writesonic also has a similar tool to ChatGPT called Chatsonic. Here is a detailed comparison on Writesonic vs Chatgpt
Is Writesonic free forever?
Definitely yes. You can enjoy the free words for life if you don't have need for plenty of content.
Final Thoughts on Writesonic Trial Plan 2023
So that's it, the complete details on Writesonic trial plan and how to activate it step by step.
No doubt, Writesonic is an industry leader when it comes to AI copywriting. It can create any type of content.
Name it;
SEO friendly Blog articles
Cold emails
Stories
Social media content and much more.
Go ahead and grab your free account to test the tool and see how it works for you and if you like it upgrade to a premium plan.
Don't forget, you don't even need to enter your credit card details. You can do that later when you're ready to upgrade.
So are you going to activate your Writesonic free trial account today? Have any questions? Let us know in the comments section.
Prosper Noah is the Brain behind TipsonBlogging. A full-time Blogger & SEO Expert.  His tips has helped a lot of people Start and Manage their own Blogs.