Are you looking for the best Ai writer lifetime deal to save money on content creation?
Want to know what AI writing assistants are currently offering a one time payment for their tool? You're definitely in the right place at the right time.
We've listed 5 of them here along with features and pricing.
Here's a quick overview
You can see and grab one of our top 2 picks below if you're confused and do not know which one to choose from.
and don't worry you don't need to click through everything one after the other.
Why?
Because we've done all the hard work for you, we love our readers and there is nothing they can do about it, haha.
Yes, we've selected this top 2 based on the following:
They make it very simple and easy to generate content for your blog, website or social media
The content generated is original, high quality and human-like
Excellent customer reviews on popular rating platforms like Trustpilot
It's no news that AI writing tools have definitely come to stay for content creation.
They help copywriters craft high quality original content in a matter of minutes.
Name it:
Articles/blog posts,
Ad copies,
Stories,
Social captions,
Engaging emails and much more.
There are a lot of AI writing tools but only a few of them are offering lifetime deals.
If you are looking for a good ai content writer lifetime deal then keep reading.
In this post we are going to list and show you the top 5 ai writing assistants that are offering a lifetime deal.
Along with their price and features to help you decide which to go for.
If you don't want to waste a lot of time reading then you can see a few details of our top 2 picks below.
Writecream: This platform is unique for using AI to generate high quality cold emails. It also helps you write marketing copies such as blog posts, ad copies, social media captions, etc.
Writecream wins against Jasper AI as the best AI copywriting tool
WordHero: An AI copywriting tool to use for creating high quality SEO-optimized blog posts, sales copy, emails, ads copies, etc… in a few clicks.
We've also written a comparison on writecream vs wordhero if you want more details on what's best for you.
Which is the Best Ai Writer Lifetime Deal 2022? (Top 5)
Closerscopy
Now you've seen the top 5, let's now go ahead and explain each of this for you along with features as well as pricing.
1. Wordhero

Wordhero is a very powerful ai content writer and one of the best in the market right now offering a lifetime deal. It costs a one time affordable price of $89 and gives you access to all of the tools needed to start creating content seamlessly.
The wonderful features that come along with this tool makes it one of the best best copywriting ai lifetime deal available right now.
Below is WordHero demo video
If you want to save money on an ai tool that will help you generate original blog posts, ads copies, sales copy, highly converting and engaging email copies, Wordhero ltd is a perfect fit for you.
It also comes with a 60-day money back guarantee.
Wordhero Lifetime Deal Reviews
Curious to know what others are saying about this deal?
Below are reviews from existing customers who have bought the lifetime deal of wordhero ai content writer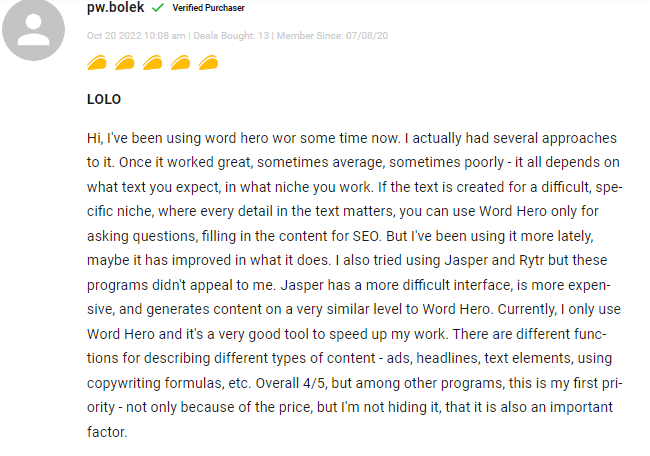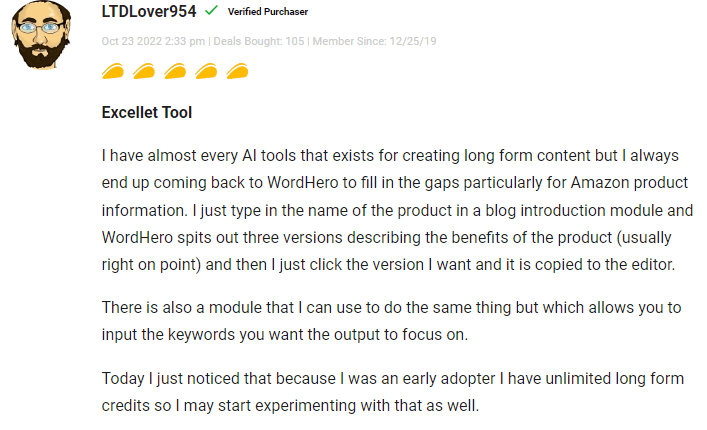 Wordhero Features & Benefits
Below are the features and benefits that come with Wordhero ai content writer's lifetime deal:
Write content in over 100+ languages
Access to over 50+ tools and templates
Long-form content creation and editor
Use it to write articles and blog posts, social media copies, emails, eCommerce product descriptions and titles, etc.
Create unlimited copy
Access to all future updates
High priority support
60-day money back guarantee
What are you still waiting for?
How to get Wordhero Lifetime deal?
Get WordHero Lifetime Deal at $89
2. Writecream

Writecream is another ai writing tool that takes artificial intelligence blog writing to the next level and gets you high quality content in different categories. It also has a lifetime deal on Appsumo right now that costs only $59 one time + 60 day money back guarantee.
You can use it to generate search engine optimized blog articles, emails,Social media content, Linkedin ads and lots more.
You'll love the plenty extra features Writecream offer such as plagiarism checker, chrome extension, android app + step-by-step tutorials for learning to use each of these features
Writecream Features
Here's some of the features and benefits offered by Writecream
Access to 200 credits per month
40+ tools (future tools included)
Create content in over 70 languages
Option to create your own AI copywriting tool
Mobile App and Chrome extension
Plagiarism checker
Paraphraser
Longform editor
Generate blog posts, social media copies, Google and Facebook ad copy, YouTube ideas, Linkedin, Amazon, eBay and Shopify product descriptions etc.
Unlimited custom use cases
60-day money back guarantee
How to get Writecream Lifetime deal?
Get Writecream Lifetime Deal for $59 Only
3. Texta Ai

TextaAi is a very good alternative to Copy.ai and Jasper that lets you easily create long form content for your business to increase traffic and sales. Texta ai lifetime deal costs $69 one time.
Use it to generate Blog posts, eCommerce product titles and descriptions, Social media copies, etc.
If what you want is an affordable copywriting ai lifetime deal to solve your content needs, Texta ai is definitely a great option.
Texta Ai Features
Texta offers the following features and benefits:
Unlimited credits for content creation
Write content in 25+ languages
Access to over 50+ copywriting tools
Ready-to-post blog posts with images
Access to Grammarly
Zapier integration (soon)
Auto-save content
Keyword research
Generate blog posts, eCommerce product descriptions and titles, social media copies and more
Multiple writing styles
Project folders
Pro writing assistant
60 day money back guarantee
How to get Texta Ai Lifetime deal?
Get Texta AI Lifetime Deal for $69
4. Nichesss

Nichesss is that unique ai content tool that focuses mainly on helping you get profitable niche ideas + marketing copies and social media posts to generate traffic and sales for your business. It costs $59 one time price.
You can use it to create everything that has to do with generating profit for your business ranging from ads, emails, etc.
Nichesss Features
Nichesss offers the following features and benefits
100% original content generator
Unlimited tokens for content generation
Ai idea generation
Generate marketing copy in any niche
Generate Ads copies
Emails and subject lines
Instagram posts and tweets
YouTube ideas for any niche
Reddit posts
Landing page copies and much more
How to get Nichesss Lifetime deal?
Grab Nichesss Lifetime Deal at $59
5. Closerscopy

Closerscopy is getting a lot of buzz right now as it's offering one of the best lifetime deals with along with irresistible number of features. Closerscopy lifetime deal costs from $397/one-time to $697 (depending on the plan)
The unique thing about Closerscopy is the fact that it utilizes its own algorithm for content creation unlike other ai writing tools that use GPT-3.
You can use it to generate SEO optimized blog articles, sales letters, email copies, social media, Google and Facebook ads etc.
Closerscopy Features
The following features and benefits come with Closerscopy
Content creation in 127 languages
Access to over 50+ templates and tools
Built-in Insights and analytics tool
Longform editor (for creating long blog posts, sales letters, copies, etc)
Facebook Community
Writing Wizard
High priority support
How to get Closerscopy Lifetime deal?
Grab Closerscopy Lifetime Deal
Honourable Mention
The below ai copywriting tools offered lifetime deals on appsumo, unfortunately they are now closed. If you want, you can keep any eye out should in case they are re-opened.
They include
Rytr Ai – (One of the best appsumo lifetime deals ever). We also wrote a post on rytr lifetime deal
WordPlay Ai – Longform Ai Writer
Typli Ai
Bramework – Create highly converting and engaging, SEO friendly, short form & long form content and articles
AISEO (over 388+ reviews on Appsumo)
Also checkout other deals:
FAQs | Best Ai Content Writer Lifetime deal
Content marketers who are looking for ai writing tools with ltds have asked these questions, here's detailed answers to them just in case you have same question in mind.
Is AI going to replace writers?
No. Ai writing tools only serve as a process and way to get content ideas and make content generation easier and faster. It'll never be able to replace the CREATIVITY of humans.
Is AI writer legit?
Yes, you are definitely allowed to use ai writers to create content for your business however it's important that you check facts generated before publishing as it's not 100% correct most of the time.
Which is the best AI content writer?
There are a lot of ai copywriting tools out there and the best according to lots of reviews from users is Jasper AI but they do not offer a lifetime deal right now. The best ai writers with lifetime deal are WordHero Writecream and Texta Ai.
Is AI a threat to writers?
Ai writers should be seen as a helping hand to writers and not a threat no matter how good the content generated is.
Conclusion on Ai Writer Lifetime Deal
No doubt, if you want to create content easily and faster for your business in 2022, your best bet would be to employ artificial intelligence.
There are a good number of ai writers out there offering lifetime deals that will let you generate original content in large quantity and super fast.
Fortunately we've listed the best and top 5 for you as well as our top 2 picks. All you have to do right now is go through carefully and pick any of these tools' lifetime deal to get started.
and that concludes our post.
What ai writer lifetime deal among this list would you pick and say is the best? Do you have questions? please leave them in the comments section.
Prosper Noah is the brain behind TipsonBlogging. A full-time blogger & SEO expert.  His tips has helped a lot of people
start their own blogs
, grow it and make money.