Want to try the Copy.ai writing tool for absolutely free? The Copy ai free trial plan is all you need to get started.
So, let's quickly clear the air.
Does copy AI have a free trial?
Yes, copy AI has a free forever plan that gives you access to 2,000 words per month to create content.
When you sign up for the free trial, you also automatically get instant access to use its Pro version for 7 days.
It gives you access to all the features and unlimited content creation.
And you don't even need to enter your credit card details.
If you are in a hurry, quickly use the button link below to try CopyAI for free
Quick note: We get a small commission when you buy CopyAI subscription through our affiliate link at no additional cost to you. Thank you for your support!
Want more details about this free plan along with its limit and features? Then keep reading.
In this article today we are going to cover;
Step-by-Step how to activate the Copy.ai free trial account
The limits and features that come with free account
Pricing and much more.
Let's jump to it right away.
Copy AI Free Trial 2023: How to Grab Copy.ai Free Account?
If you are looking for a step by step tutorial to activate your account, then follow the below carefully.
In no time, your account should be up and running so you can start creating unlimited content.
Step 1: Visit this special link and it will take you directly to the copy.ai sign up homepage where you can sign up for free.
It looks something like the image below;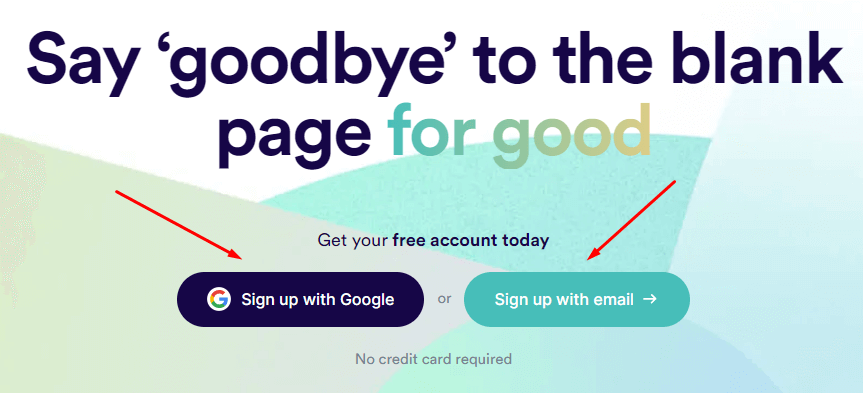 As you can see, all you need to do is click any of the sign up buttons above.
Simply click on the "sign up with email" button and fill in your details.
Step 2: you will be taken to another page where you're asked to enter necessary details such as email address.
This is what you need to get your copy ai trial account set up.
It looks like this;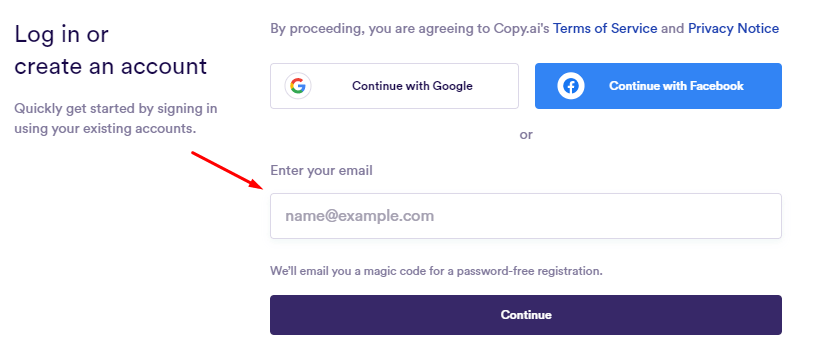 Enter your email address and hit the "Continue" button.
Step 3: After entering your email, you will get a popup asking for a code.
CopyAI would have already sent a login code to your email address. All you need to do is go to your inbox and copy that code.
Here's how it looks in your inbox.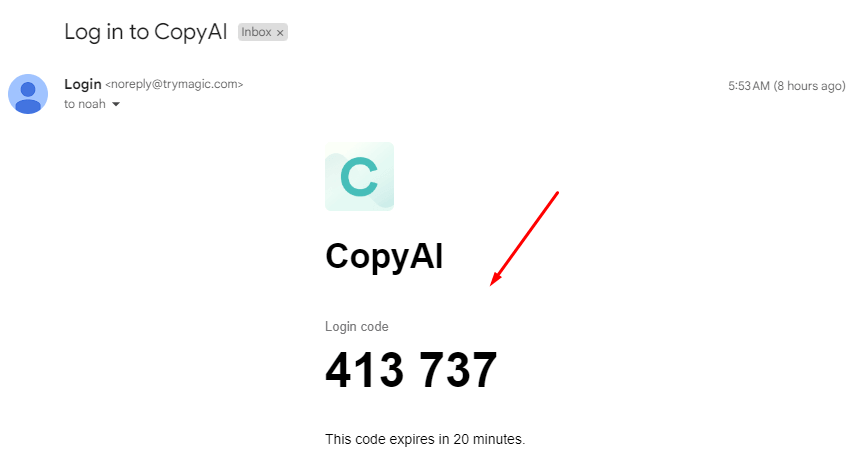 Paste it in the box.
And it should be successful as seen below;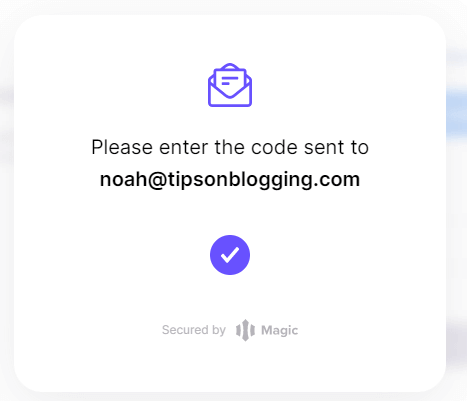 Now you'll be welcomed to CopyAI.
Step 4: Before you're taken to your dashboard to start creating content, you'll be asked a few questions.
Like this one;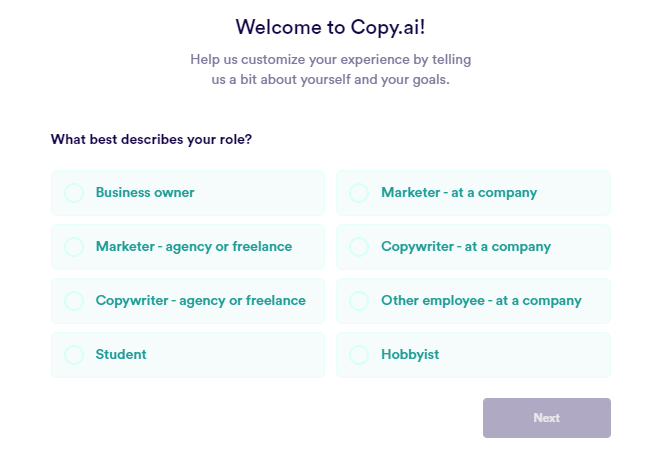 You can answer or skip it.
When you've skipped everything, click on "get started" and that's it.
Congrats.
You've just activated your copy.ai free trial account.
Easy-peasy! This is exactly how to get copy ai for free.
So what are you still waiting for?
How to Use Copy.ai to Create Content
Now that your copyai free trial account has been created successfully how exactly can you use it to create content?
Here are three short steps you can follow to start writing with Copy.ai
Click on templates and choose any of the templates from the over 70+ available. For example; blog post outline
Select "Write blog outline" and start a new project.
Enter a blog title. For example; How to Lose Weight in 7 Easy Steps
Enter what the post is about
Hit "Create Content"
And BOOOM, in just a few seconds CopyAI will generate outlines for you.
Here's the input for an outline on How to Lose Weight in 7 Easy Steps.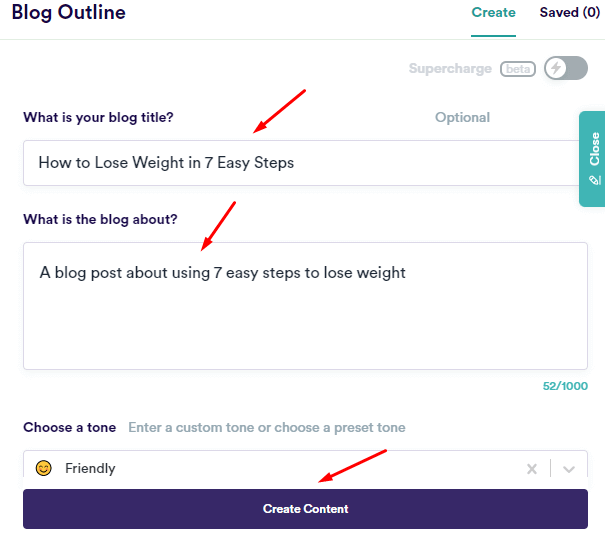 And here's the output (outlines) Copy.AI generated for us.
It generated 4 outlines as seen below;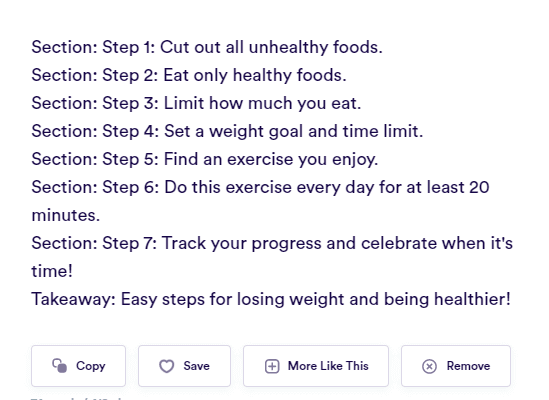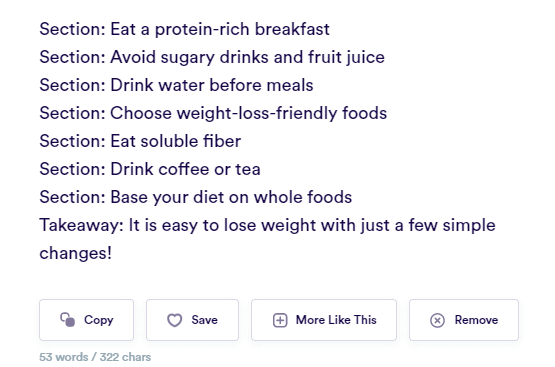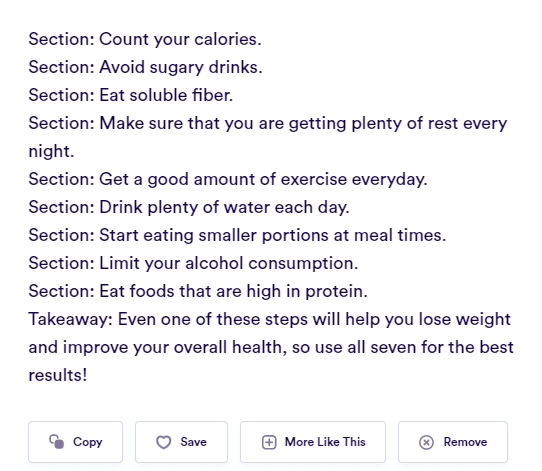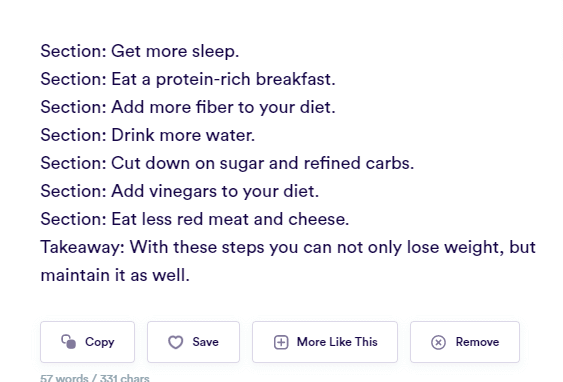 So you can choose any outline that makes more sense to you.
It's the same with creating any other type of content using Copy.ai
Just select a particular template of your choice and enter an input.
Copy AI will go ahead and generate the content for you.
Let's see some of the popular templates Copyai offers for content creation
Top 5 Popular Copy AI Tools & Templates and their Uses
Here are some tools a lot of copy ai users use to create high quality content on a daily basis.
If many people are using this, it means they are very easy and effective.
Lets see what they are and how you can use them to write high-quality content.
You can also see these tools in the "popular tools" section from your CopyAI dashboard.
1. Blog Ideas
This is one of the most used tools on CopyAI.
It's a must use if you are struggling to come up with blog post topics
For example; Say you have in mind an article about weight loss but do not know what titles or topics to use.
All you have to do is feed CopyAI's blog ideas generator what you want to write about.
It will then go ahead and generate a lot of topics for you (about 12 different topics)
This is great for coming up with the best article topics for your blog post.
You can then choose and copy any of the outputs you like.
You can copy and start creating an article yourself or paste it into the CopyAI's outline generator to create an outline for you.
Awesome tool, no doubt
2. Bullet Point to Blog Section
The bullet point to blog section tool is very powerful and we can say it is the second most popular tool on CopyAI.
This is perfect for those who are creating a list post for example.
You can take a particular section and paste into the CopyAI bullet point to blog section tool and it will go ahead and generate sections of an article for you.
For example:
If you are creating an article on the topic "Top 5 Ways to Make Money" and one of the ways is through freelancing on Fiverr.
Then simply copy "Through Freelancing on Fiverr" and paste into this tool.
And there you have it.
The tool will create that particular section for you.
Repeat for other sections as well and in no time you'll end up with a high quality long blog article.
The bullet point to blog section is excellent for creating contents for your bullet points.
3. Product Descriptions
Yo! Obviously, no need for plenty of explanation here.
Just as the name sounds, this one's best if you want to write product descriptions.
So if you own a store, you are a dropshipper or eCommerce marketer, etc. you can generate product descriptions for your products.
Simply enter the name of your product and describe what it is about.
Then hit "Create content"
CopyAI will take care of the rest.
4. Instagram Captions
Another powerful tool for Instagram.
A lot of copyAI customers use this to generate instagram captions for pretty much anything.
Let's say your post is about "Drinks for a beautiful summar day"
You can enter that into the Instagram captions box.
Once you hit create content, you'll end up with lots of captions to choose from.
Here's what we got from CopyAI after entering that.
"

It's been a long week, but it's finally here! The day to celebrate all your beauty.

Have a great summar day, you are worthy!

Today is the day to indulge in all your favourite things. Cheers to a beautiful summah!

A beautiful summary of a day that was filled with great memories, wonderful people and yummy drinks 😋

Because it's always best to start the day with a beautiful cup of coffee, right? ☕🍵

"
As you can see, they have really good captions along with emojis too.
Pick any one and use it for your Instagram post.
5. Freestyle
Freestyle also means anything.
It is actually the third most popular writing tool on Copy.ai
You can use the tool to create any type of content.
As the name sounds, it's a "FreeStYlE"
Just input what you want to create e.g. Personal bio, sales email, etc.
Then add the main points you want to cover.
CopyAI will create the content for you.
Yes, you can write pretty much anything with the Freestyle tool.
Other very good tools include;
Ads copy generator: Generate ad copies for Facebook Ads, Google Ads and more.
Social Media: For generating social media content
Sales copy: Create emails, website and landing page copies, etc.
Personal tools: Best for bios and lots more.
Copy AI Free Account Limits and Features
Don't get confused when you don't see a particular feature. There are limits and things you can't do with the free account.
First let's see the features that come with free.
Access to over 90+ copywriting tools and templates
Access to 7-day free trial of the Pro Plan (which normally costs $49 per month)
2,000 words per month
Create unlimited projects
Blog Wizard Tool (for creating full blog articles from draft to finish)
Limits of the free trial
No access to create content in over 25+ different languages
No access to newest features.
Don't forget, immediately you activate your copy ai trial account for free you enjoy 7 days of the Pro Plan.
This means you get access to all the features (including unlimited content).
When it's past the 7 days, CopyAI will roll you back to the free trial benefits which includes 2,000 words per month along with unlimited projects and blog wizard tool.
If you like the Pro plan, then you can go ahead to upgrade to paid subscription. There's no two ways about it.
We've also written a post on copy.ai promo code if you're looking to save 40% off your subscription.
So what are you still waiting for? Why not give CopyAI a try? Use the following link.
Why You Should Choose CopyAI for Content Creation in 2023
Why should you choose CopyAI? What are the benefits you stand to enjoy when you use it for content creation.
Let's take a look at some of them
Eliminate Writer's block
We all struggle with writers' block at one point in time in our writing career. If you are finding it difficult coming up with ideas, CopyAI is to the rescue.
It boosts your creativity and helps you enjoy writing in the long run.
Write in Different Languages
Copy.ai does not only create content in English. It let's write content in more than 25 languages.
This is perfect if you are going to need content written in languages other than english.
Write Content on a Large Scale
Have need for a lot of content? Maybe you have a lot of niche sites? It doesn't matter.
With Artificial intelligence which CopyAI provides, you can create quality content in large quantity in a short period of time.
Create Long-form Content.
CopyAI is one of the best long form ai writer tools in the market for creating long blog articles. If you are a blogger, this is a must have.
It comes with a blog wizard tool that can help you write a full blog article in a matter of minutes.
Create any Type of Content with over 90+ Copywriting Tools and Templates
Copy.ai can act as your content creation Arsenal. It comes with more than 90 AI copy writing tools that you can use.
You are covered with any kind of content ranging from blog articles, Marketing copies, eCommerce product description and titles, social media captions, stories, and many more.
All you have to do is pick any of the templates and you should be up and running in no time.
Copy AI Pricing Plans 2023: The Solo Beast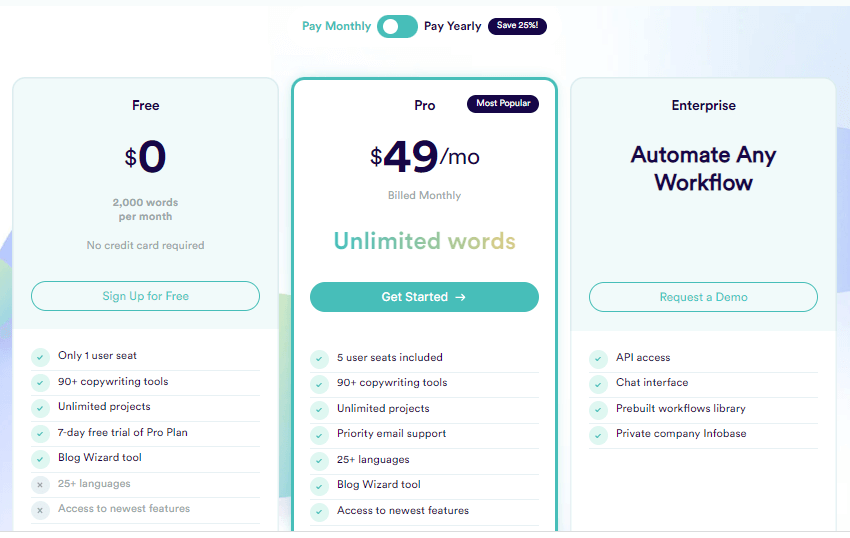 CopyAI offers a free plan and two paid pricing packages. They include Pro and Enterprise.
All you need for content creation is only the pro plan. The enterprise is best for companies.
Let's take a look at what features come with these plans along with pricing.
Pro Plan: The CopyAI pro plan costs $49 per month ($36 per month if you opt for annual payment) and gives you access to the following things.
Generate unlimited words
5 users
Access to over 90+ writing tools and templates
Create unlimited projects
Write content in over 25+ languages
Blog Wizard tool
Access to newest features
Copy.ai free forever vs Pro
What differentiates Pro from the Copy AI free plan is that you can create unlimited content.
You will also get access to write in 24 different languages and newest features.
Enterprise Plan: This plan from CopyAI comes with a custom pricing. You will need to contact the Copyai team. A perfect fit for developers.
It comes with API access, chat interface, prebuilt workflows and private company infobase.
Our Copy AI premium article expands more on these pricing plans.
FAQs | Copyai Free Trial 2023
Here are some frequently asked questions around CopyAI and it's free version. We've made sure to answer everything to your taste and hope it helps.
Is there a free version of copy AI?
Copy.ai offers a free trial that allows users to access the platform's features for a limited time. With the free plan you get access to 2,000 words every month for content creation. You will also avail 7-days trial of the pro version.
If you are satisfied, you can upgrade to the paid subscription or continue enjoying the free forever trial plan
How do I cancel my copy AI trial?
To cancel your copy ai trial just send an email to cancel@copy.ai. Your account will be canceled. We have also written a post on how to cancel copy.ai subscription just in case you need it.
What is better than copy AI?
There are a lot of AI copywriting tools in the market, each with its own strengths and weaknesses. After a very in-depth research, JasperAI has come out as the best alternative to CopyAI for content creation.
Don't forget, the best AI copywriting generator choice totally depends on your needs, preferences and budget. Other good AI copywriters include Writesonic, Closerscopy and Writecream.
Which is better Copy AI or Jasper AI?
Copy.ai and Jasper AI are both powerful AI copywriting tools that will help you generate content easily and fast. JasperAI is an industry leader when it comes to long-form content. CopyAI is best for short form content. CopyAI is now getting better with long form content plus it's cheaper.
All-in-all, choosing the better AI copywriter depends on your budget and specific needs as well as features.
Final Thoughts on Copy.ai Free Trial
It's no longer news that Copy AI is one of the best AI writing tools currently. As of 2023, over 6,000,000+ professionals and teams use it for content creation.
This tells how much people are loving the tool and what's even more amazing?
It comes with a generous free trial to test the full features before deciding if it's a good fit for you.
You can try its Pro plan for 7 days to get access to everything needed for creating any type of content.
If you are not ready to pay, the copy.ai free forever plan covers you
Definitely one of best AI writer free trial available.
So what are you waiting for? Give it a try right away.
Are you going to activate the Copy AI free trial today? Have any questions? Please let us know in your comments below.
Prosper Noah is the brain behind TipsonBlogging. A full-time blogger & SEO expert.  His tips has helped a lot of people start their own blogs, grow it and make money.