So how much does Writecream cost? Looking for Writecream pricing plans for 2023? Want to know which plan or package to pick and what's best for you?
Cool stuff, you've landed in the right place at the right time.
We decided to come up with this post for our readers who are looking to test or even buy the writecream ai writing tool.
If you're here, chances are you are either looking to know more about the pricing plans as well as ways to save money.
No worries, we're going to share everything with you shortly.
In fact, we'll also show you how to avoid paying monthly fees for Writecream.
Wohoo! sounds like something you're interested in too? Would you love to save huge on writecream?
Then keep reading.
It's no news, AI writing tools are the go-to right now for easy and super-fast content creation. They save marketers a lot of time and help conquer writers' block.
Writecream is one of these AI writing assistants. It helps you create better content.
In a matter of minutes you can can generate marketing copies, blog posts, emails, stories, and much more.
What is Writecream and what can you do with it?
Writecream is an artificial intelligence writing tool that helps you generate content.
It's a very unique kind of AI writer that focuses on personalized cold emails.
Not only that.
Aside emails you can use it to generate;
Blog articles
Ad copies for Facebook and Google Ads
Social media content
Youtube Voice-over and podcast
Backlinks outreach
Meta descriptions and titles
Icebreakers and much more
Writecream is one of the best AI writing software in the market. Used by over 100,000+ companies who generate content on a daily basis.
It offers lots of tools and templates for content creation. You can write in 75 different languages and much more.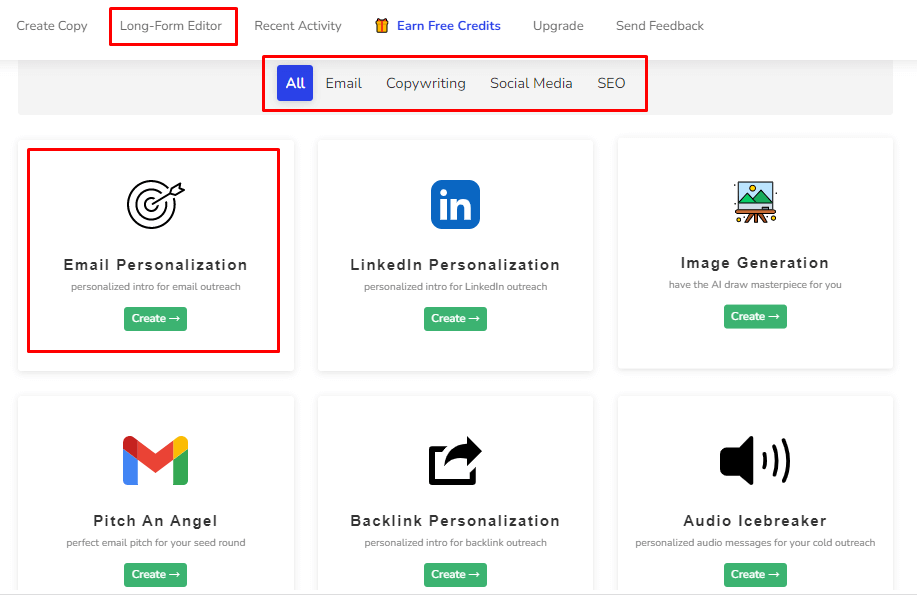 If you are looking for a good AI writing tool to help with your content generation, Writecream is a perfect fit.
Want to learn more about Writecream? Read our detailed Writecream review to find out more about this powerful AI writing tool.
Is Writecream free to use?
Yes! you can use Writecream AI writing tool for absolutely free of charge. There is the Writecream free trial which gives you access to 20 credits to test it's tool.
The only problem with the free account is that features are limited.
So, back to the main question.
How much does Writecream cost?
Let's take a look at the paid pricing plans available with writecream along with full details.
Don't forget, we promised to share how you can get huge discount.
You'll see everything few minutes from now.
Let's jump to it right away.
All Writecream Pricing Plans [Reviewed]

Writecream currently offers 3 paid pricing plans and they include:
Unlimited
Standard
Extended
What are the features and cost of these plans? Let's explain each of them in detail so you can decide which is best for you.
Huge Discount Offer: If you want to avoid monthly payment, go grab writecream lifetime deal (Limited time offer)
1. Unlimited Plan Review
This is a new and very good plan introduced by writecream. It let's you get unlimited access to all of the features.
If you want to create unlimited content on a daily basis, definitely go for this plan.
It costs only $29 per month (this is a limited time discount offer that can be pulled down anytime).
So it's recommended you pick this plan if what you are looking for is unlimited content creation.
Who Should go for the Unlimited Plan?
The writecream unlimited plan is great for;
Bloggers and small website owners who are looking to create a good number of articles
Affiliate niche site builders who run multiple websites
eCommerce marketers who want to write good product reviews, descriptions etc.
Social media marketers and managers
Anyone looking to create lots of content for their business or personal use
Pros and Cons of the Unlimited Plan
Pros:
Create unlimited blog articles daily
Unlimited words
Unlimited voice overs
Unlimited podcasts
Cons:
There is no unlimited option for email and LinkedIn icebreakers (you are limited to 1,000 per month)
2. Standard Plan Review
The standard plan from writecream is the first paid pricing package it offers. This plan costs $49 per month where you can get access to some good number of features to use.
If you're just starting and need a tool to help you generate content, this is a great fit. It also helps you test writecream premium.
It is suitable for writing blog articles, generating marketing content, personalized emails, etc.
If you're fine with it and want to create more content, you can upgrade later.
Who Should go for the Standard Plan?
Writecream standard plan is suitable for;
Beginners who want to write short content
Content creators looking for an extra hand to speed their writing
Bloggers who are just getting started with artificial intelligence blog writing
Pros and Cons of the Standard Plan
Pros:
Very Affordable as it starts at only $49 per month
You can write in over 75+ languages
Generate up to 400,000 characters per month
Access to all tools and templates
Access to copywriting community
You get access to all newest features and updates
Chat and email support
Cons:
The standard plan doesn't offer unlimited features
3. Extended Plan Review
This is the second premium plan from writecream that costs $69 per month and gives you access to all of the features needed to create content.
Extended and standard plans offer pretty much the same features. The only difference is you get an increased number of what you can generate such as credits and number of words.
It is suitable when you want to generate many blog articles daily.
Who Should go for the Extended Plan?
This plan is great for;
Bloggers who need to create content on a large scale
Affiliate and eCommerce marketers who want to write products reviews
Small business owners
Pros and Cons of the Extended Plan
Pros:
You will get access to all the features in standard plan
You can generate up to 1,500,000 characters per month
Let's you create longer articles
You can generate even more content for your business
Cons:
Extended doesn't offer unlimited features like in unlimited plan
What are you still waiting for?
Grab Huge Discount from Writecream and Save $1,440
Want to save money on this awesome AI writing assistant?
You are in luck right now as you can get writecream lifteime offer on Appsumo which costs only $59.
Yes. Few people know about this but writecream has a lifetime deal which is ongoing right now. It let's you get access to all the features and 400,000 characters per month to generate content.
We've also written a post on the writecream lifetime deal, so take a look if you want more details.
You can claim the lifetime deal using the button box below.
FAQS on Writecream Pricing Plans
Here are some frequently asked questions about writecream and its pricing plans. Have similar questions in mind, then go through as it may be of help.
What is Writecream?
Writecream is a writing software that uses artificial intelligence to generate content.
Is Write cream free?
Yes, writecream has a free plan that gives you access to 40,000 characters per month. This plan is very limited so go through this pricing plans article and upgrade to a paid plan.
How much does Writecream cost?
Writecream new pricing starts from $29 per month. Writecream offers 3 pricing plans which includes: Unlimited at $29 per month, Standard at $49 per month and Extended at $69 per month. Writecream also has a free plan with limited features.
What's the refund policy of the Writecream?
Writecream offers a 30-day money back guarantee. If any of the plans do not please you, then email the support to raise a refund request.
Which is better Jasper or Writecream?
Both Jasper and Writecream offer you pretty much the same thing. From our Writecream vs Jasper comparison we found out that Writecream surpasses Jasper in terms of features.
Is WordHero better than Writecream?
We did a full comparison on writecream vs wordhero and our final verdict is that Writecream is better. Both tools offer quality outputs and features but Writecream is cheaper and offer even more features.
Who owns Writecream?
Krittin Kalra is the founder of Writecream AI writing tool. He is from Delhi, India and you can find more about him on Linkedin
Final Thoughts
What is our final verdict? What pricing plan do we recommend?
It's obvious, the writecream unlimited plan is what you should pick. It's perfect if you're looking to generate unlimited content on a daily basis.
It's the perfect plan but don't you think the lifetime deal is worth a shot too?
Here's our final verdict.
Go for the unlimited plan if you want to generate content on a large scale without limits.
Go for the lifetime deal if you don't have need for a lot of content. It lets you save a lot of money.
What do you think about the Writecream pricing plans? Which one are you going to pick? Have any questions?
Please let us know in the comments section.
Prosper Noah is the brain behind TipsonBlogging. A full-time blogger & SEO expert.  His tips has helped a lot of people start their own blogs, grow it and make money.