Looking for a Writecream vs Jasper comparison in 2023? Can't decide between these two AI copywriting tools for content creation? You've landed in the right place.
It's no more news that AI is transforming the way we create content and copy and the time we take in doing so.
Writecream and Jasper AI are both very powerful AI writing assistants. They let you create content with ease and super fast.
This includes;
Long-form content for blog posts
Product descriptions
Copy for landing pages, Ads, email newsletters, social media and lots more.
The problem?
Which should you go with? Writecream or Jasper?
It's the reason you're here, innit?
We will take the loads off your chest and save you hours of research with this unbiased comparison.
And at the end you should be able to finally decide which one suits your need best.
In this in-depth article we are going to compare these two copywriting tools.
We will cover;
Their key features
Templates and tools they offer
Pricing
Pros and cons
Customer ratings on popular rating platforms and much more.
To make this even more easier for you, we'll also give a final verdict that shows you our clear winner and why.
How about tips on ways to save money on these AI writers at the end of this post?
That's a lot for our readers.
Looks like something you're interested in?
Then without wasting time, let's jump to it right away.
Writecream vs Jasper AI [Unbiased Comparison]: Who is the Winner?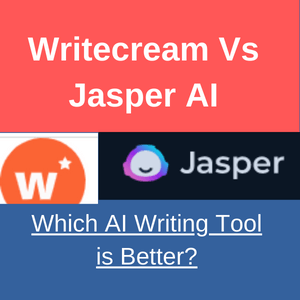 Jasper AI vs Writecream (Overview)
What is Writecream?
Writecream is an AI-powered copywriting tool that writes copy for you.
Its unique strength is in personalized cold emails, YouTube voice-overs and podcasts
You can generate content and copy for blog posts, Google ads, podcasts, product descriptions, and outbound marketing campaigns etc..
With this AI copywriting tool, you can develop a 1,000-word article in 30 seconds. There are also options like Summarize, Rewrite, plagiarism checker and Expand.
Here's how the dashboard looks like along with the tools that you get to create content.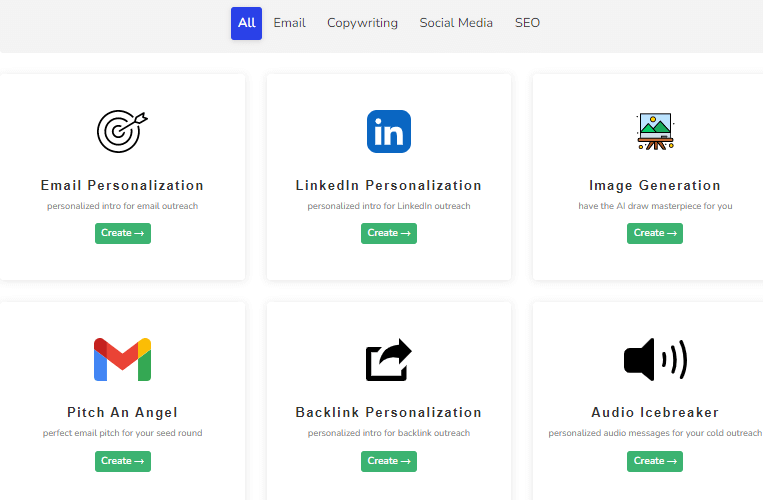 Read: Writecream Review 2023: Is This AI Writing Tool Worth it?
What is Jasper? (Formally Jarvis AI)
Jasper AI is a copywriting tool that can create content 5x faster than an average human copywriter. The tool is powered by an amazing AI technology.
Jasper AI gives you 100% original and SEO content that are accurately written with zero plagiarism. There are also pre-written templates on particular categories.
It can generate informative content, Ad campaigns, articles for niche blogs.
Give Jasper an idea or keyword, it will deliver the desired content in the best format.
Here's how Jasper AI dashboard looks like along with tools and templates;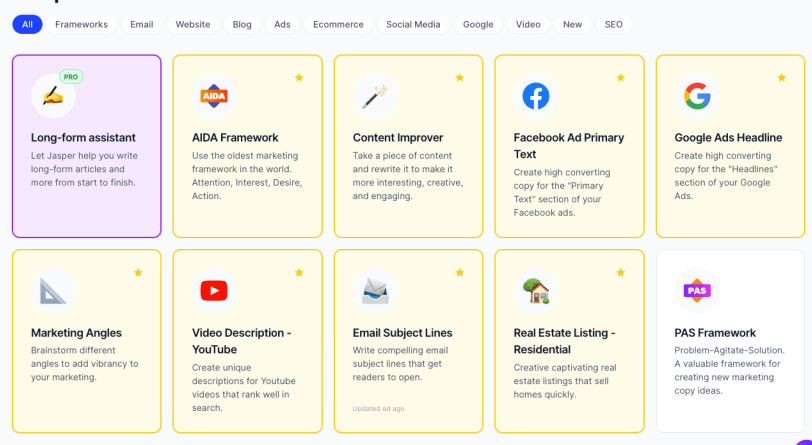 Writecream vs Jasper (Features)
The first thing we will be taking a look at in this comparison are the features both tools offer their users. These tools are all you need to start generating content for your business.
Let's expand on the key features.
Writecream Features
The following are the features Writecream AI content writer provides;
Over 40 writing tools
Ability to write content in over 75 different languages
Write blog posts, ad copies, personalized cold emails, social media copy, YouTube voice-overs, podcasts, e.tc.
Plagiarism checker tool
Longform editor
Create your own AI writing tool
Paraphraser
Chrome extension and mobile app
Quora
Here's short explanation on some of the Writecream's popular writing tools and templates.
1. Generate Blog articles in minutes
It can be time consuming to write a blog post. First, you have to brainstorm an idea, come up with an outline , and finally go into details with the outline. At the same time, you have to make sure what you are writing is both compelling and grammatical free.
But with the Writecream blog articles tool, you can use AI to do all that within minutes. Simply brainstorm the idea, and it will be transformed into a unique, plagiarism-free, article free of grammatically errors.
2. Human voice-overs for YouTube videos & podcasts
With this Writecream AI feature, you can change any blog article into a human-sounding voice-over for a YouTube video or a podcast.
Over 40 voices are available and they come with multi-lingual support.
3. Product descriptions
Do you have a product that you want to generate a description for? The Writecream's product description feature comes with AI-Powered free description generator that makes it easy to come up with a compelling description for any product at all.
In fact, you can transform a product name to an article for a blog, a YouTube video & podcast in a few minutes.
Finally, you can use the human voice tool to transform the blog to a voice over for a YouTube video or even a podcast.
4. Free AI Powered Custom tools
To come up with more ideas for your business, you can let Artificial intelligence work for you by using Writecream free AI powered custom tools.
These tools help you automate most tasks. You can use SEO meta description tool and other Ai tools depending on what you are using it for. You can also make your own tools for your own use.
5. Google & Facebook Ads
With just a click of a button, you can generate ad copies for Google & Facebook in seconds.
All you have to do is enter your business details and a perfect ad copy will be generated for you.
6. Social media content
Do you have an idea for a social media posts but you don't know how to start writing it's content? Writecream social media content feature makes it all easy for you.
With the power of Writecream's Social Media Engine, you can easily generate content or copy from your ideas in seconds.
7. Landing page copy
Just like generating Google & Facebook ads, you can also generate landing page copies in seconds.
Output Example
Let's try to generate a blog intro with Writecream and see what kind of output it gives us.
From your dashboard click on "blog intros"
Then enter a topic you have in mind.
E.g. Top 5 eCommerce tools
We want writecream to write a blog intro for the top 5 ecommerce tools article.
Take a look.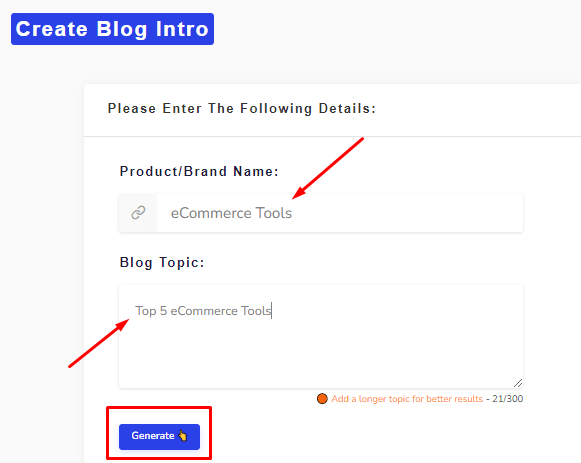 Click on the generate button and let the tool do its work.
Now here's the output Writecream generated in only a few seconds.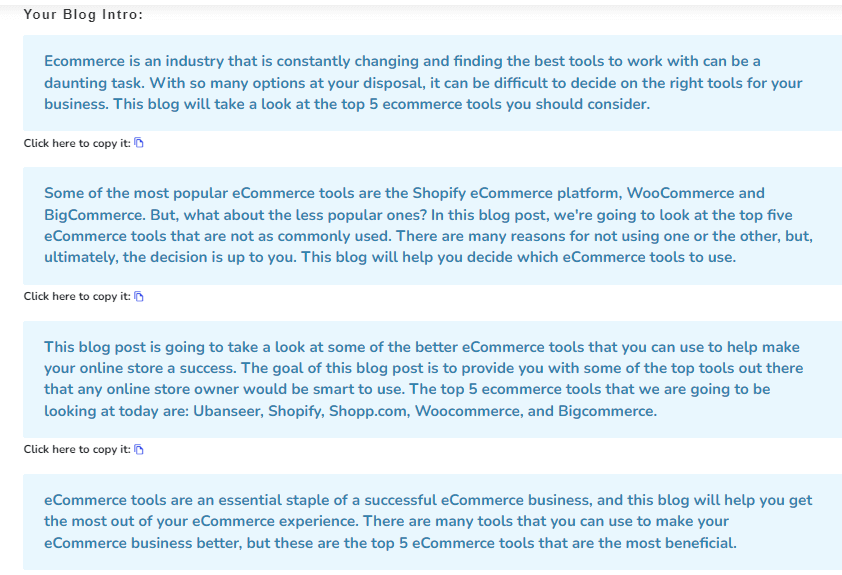 You can go ahead to use any of the output for your content.
Jasper AI Features
These are the features Jasper AI content writer offers.
Create content in 25+ languages
Blog posts, social media content, ad copies, Quora answers and more
100+ copywriting tools and templates
Speech to text
Surfer SEO integration
Grammarly integration
Plagiarism checker
Let's see more details on some of the popular writing tools and templates on Jasper
1. Content Generation
Depending on your plan, Jasper content generation software enables you to generate a certain word count on your niche or topic.
Simply provide a few hints e.g titles and headings. After that, click a button and see what the software will generate. This feature can generate long blog articles or content, and even social media captions.
2. Document Editor
With the Google-Doc-like interface, you can create your document. You can change the text font, add titles, headings, or insert links and pictures.
3. Voice Settings Tone
The voice settings tone feature in Jasper Ai can be used to set a voice tone for your piece or content. However, personal tone descriptors may be required.
4. Sentence Rewriting
If you have a content or copy you want to tweak, Jasper's "rephrase" tool offers you different ways to make the same statement. A "fix grammar" button is also available. There's also a 5th grader" button.
5. Plagiarism Checker
With the Jasper plagiarism checker feature, you can find out if the content you generated has a matching text with any other article on the internet.
6. Grammarly Integration
The Grammarly integration enables you to activate the toolbar over your content you generated with Jasper.
7. Jasper Recipes
With the Jasper Ai recipes, you get many workflows to help you create an outstanding end product. Think of an idea or keyword, enter it into Jasper AI and it turns it into a blog post article. You can as well create your own "recipes" and share it with other users.
8. Content Lookback
This Jasper Ai lookback feature enables you to write new words based on former paragraphs and sentences you know of.
With this feature, newly generated content is unique with no repetitions. Jasper acknowledges 600 characters for the basic plan. If you opt for Boss Mode, you can get 2,000-3,000 characters when you are generating content.
9. SEO Keywords
Jasper SEO keywords feature offers a keyword input tool that adds essential keywords to your content to improve its SEO rankings. Up to three keywords can be inserted, and Jasper ensures they are implemented throughout your content.
10. Voice Commands
The Jasper voice command feature lets you use voice commands to tell Jasper Ai what to do.
Output
How high quality is Jasper's text output?
Let's tell Jasper to write a blog post outline for us.
Our friends at Contentellect asked JasperAI to create an outline on a topic.
"10 benefits of content marketing"
First click on the blog post outline generator.
Enter your topic or title and select voice tone.
Finally click generate content.
Take a look at the output it generated.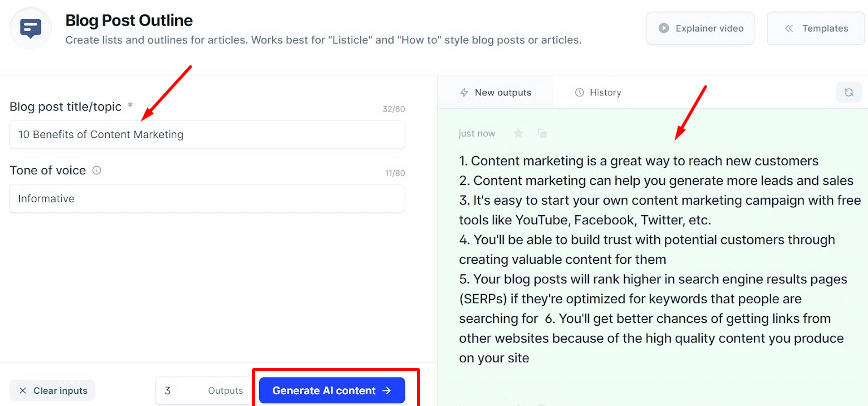 In only a matter seconds, JasperAI has generated a high quality blog post outline.
Writecream vs JasperAI (Pricing)
How much do these Ai writers cost? Which one is more affordable and better? Are there free trials?
Writecream Pricing
Writecream pricing starts from $49 per month for paid subscription. The following are all packages offered by Writecream:
Free
Unlimited
Standard
Extended
Here's detailed break down and what features and limits come with with these plans.
1. Free Plan
Writecream offers a free plan if you're looking to try the tool and generate content for free.
This plan gives you access to the following limits and features:
40 copywriting tools
20 credits per month which equals 40000 characters for creating content
Create content in 75 different languages
20 icebreakers
4 short articles of 1,000 words each
2 long articles of 5,000 words each
4 YouTube voice-overs
You'll also get access to all the benefits below;
Access to all tools and templates
Chat and email support
Newest features
Writing Community
2. Unlimited plan
The unlimited package was introduced not long and is for only a limited time.
It costs $29 per month and you will get access to all the benefits mentioned in the free plan. With this plan you can create unlimited content.
Here's what comes with unlimited plan from Writecream
Words is unlimited
Write unlimited long blog posts
Write unlimited short blog posts
Podcasts is unlimited
YouTube voice-overs is unlimited
In fact, in this plan everything does not have a limit except icebreakers.
3. Standard Plan
The regular pricing of Writecream starts with the standard plan which costs $49 per month. You get access to all the benefits and the following things.
200 icebreakers
20 long blog posts of 5,000 words each
40 short blog posts of 1,000 words each
podcasts is capped at 40
YouTube voice-overs is capped at 40
4. Extended Plan
The last plan from Writecream that gives you increased number in features. It costs $69 per month and you will be able to access the following;
All benefits from writecream
750 icebreakers
75 long blog posts of 5,000 words each
150 short blog posts of 1,000 words each
Podcasts is capped at 150
YouTube voice-overs is capped at 150
The difference from free and standard plan is that you can create more content.
What is the refund policy of Writecream?
There is a 30 day money back guarantee on the plans. If the package doesn't please you, you can request a refund via an email to care@writecream.com. They will refund all your money.
So what are you still waiting for?
Quick note: Writecream offers a lifetime deal and you can get it for only $59 one time. Use the button link below to grab this lifetime offer before it expires.
Wondering if the lifetime offer is worth it or not?
Well, it ranked #1 position in our list of the best AI writer lifetime deals
Jasper AI Pricing
Jasper offers three pricing plans and packages and they include:
Starter
Boss Mode
Business
Let's shed more light on these packages and what features and limits come with them
1. Starter plan
This is the first plan Jasper offers that starts from $29 per month. ($24 per month if you opt-in for yearly subscription) and up to $399+/Mo if you want to generate more content.
$29 per month lets you generate up to 20,000 words while $399 per month gives you more words up to 320,000.
You can only use this plan for short content creation such as tweets and meta descriptions.
It gives you access to the following features and limits.
From 20,000 words per month
Write short content
50+ Copywriting tools and templates
Create content in over 20 languages
5 user logins
Chrome extension
Auto save
Content search
Favorite outputs
Live onboarding calls every Thursday
AI writing community
Training and chat support
If you reach the limit, you can buy bonus pack to get more words.
2. Boss Mode
This is the most popular package from JasperAI used by majority of marketers. It gives you access to create longform-content.
With this plan you can create everything you want. Including full blog posts, stories, ad copies and much more.
Boss mode pricing starts from $59 per month. ($49 per month if you opt-in for yearly subscription) and up to $600+/Mo if you want to generate lots of content.
$59 per month lets you generate up to 50,000 words while $600 per month gives you more words up to 700,000.
If you reach the limit, you can buy bonus pack to get more words.
The boss mode plan from jasper gives you access to everything in the starter plan. You will also get the following added features:
Generate from 50,000 words per month
Access to create longform content for full blog articles
Plagiarism checker
Grammarly integration
Format content in documents
Access to Jasper commands
SEO mode
Jasper recipes
Revision history
3x high priority support
JasperAI certification
3. Business
There is also the Business plan (for businesses). You will have to contact Jasper sales department for the pricing. It's best suited for agencies, teams and companies.
Does Jasper.ai have a refund policy?
There is 5 day money back guarantee. If you are not happy with the tool, you can request a refund within 5 days. Jasper will refund your money without questions.
Quick note: If you pick annual plans you can save 17% on all pricing packages from Jasper.
With this discount you will pay $24/mo instead of $29/mo on starter plan. The Boss mode will start from $49 per month instead of $59.
Want to get started?
Writecream vs Jasper (Pros & Cons)
Are there downsides to these two awesome AI writing assistants against each other? We are going to find out in the pros and cons comparison.
This will help you decide whether to go for Writecream or Jasper AI
Pros of Writecream AI writer:
Offers every single feature offered by Jasper AI
Free forever plan to create content unlike Jasper
Access to ice-breakers, YouTube voice-overs and podcast generators
Best in Linkedin outreach and personalized cold emails
Features stay the same on all plans including the free plan unlike Jasper
Create unlimited content with it's discounted unlimited plan
Choose from 40 AI writing tools and templates
Create content in over 75+ languages
Mobile app to write with ease
Tutorial videos for beginners to learn how to use Writecream
Cons of Writecream AI writer:
There is room for improvement
Pros of Jasper AI content writer:
Access to over 50 AI copywriting tools
Excellent output
Create content in 25 different languages
5-day free trial to test the tool
Live video group calls for users
Access to Grammarly
Super fast support
Jasper community
Cons of Jasper AI content writer:
Jasper offers only a 5-day trial. (Writecream offers a free forever plan renewable every month)
Jasper does not offer icebreakers, voice-overs and podcasts unlike Writecream
Who is our winner? Writecream or Jasper?
Its hard to decide who wins in this tough comparison.
Your best bet would be to give both tools a trial by signing up to their free plans but this will waste your time.
Both tools give you an option to create short and long-form content with high quality output. This is what you're looking for in a good AI content writer.
No doubt, Jasper AI has been in the market for a long time unlike Writecream. Features and pricing wise, Writecream has proven to be a very tough and better competitor.
It gives you access to all the existing JasperAI features and even some extras. Only Writecream offers podcasts, YouTube voice-overs and ice-breakers which makes it unique.
So what's our pick?
None other than: Writecream
Don't miss out on our Writecream Vs Wordhero comparison (It won there too).
Jasper AI vs Writecream: Customer Ratings
Don't take our word for it. What are other customers saying about these AI writing tools?
There are popular platforms where customers go to drop their reviews and ratings. Let's see what customers think about Jasper and Writecream
Writecream on the Trustpilot Platform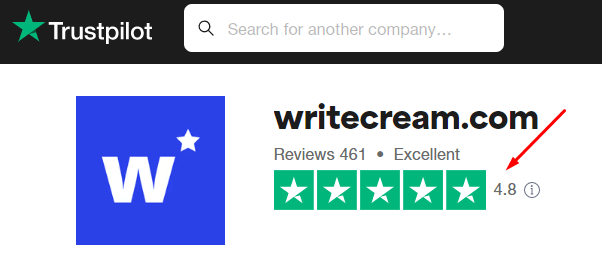 Writecream has a 4.8 out of 5 start ratings on Trustpilot from over 461+ users.
Writecream on the G2 Platform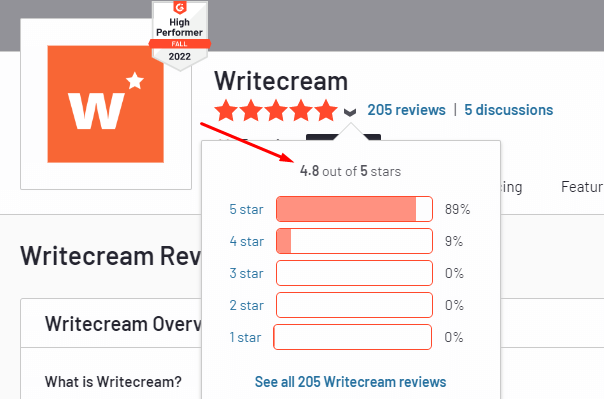 Writecream has a 4.8 out of 5 start ratings on G2 from over 205+ users.
Jasper AI on Trustpilot;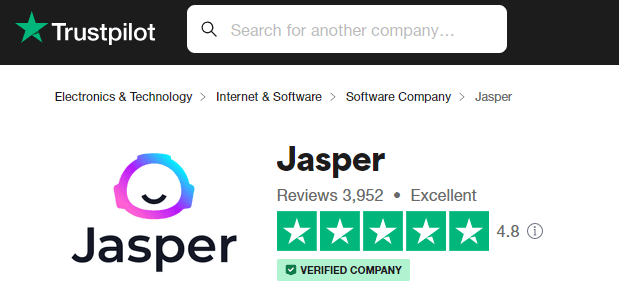 Jasper as seen above has a 4.8 out of 5 start ratings on Trustpilot from over 3,900+ users.
Jasper AI on G2;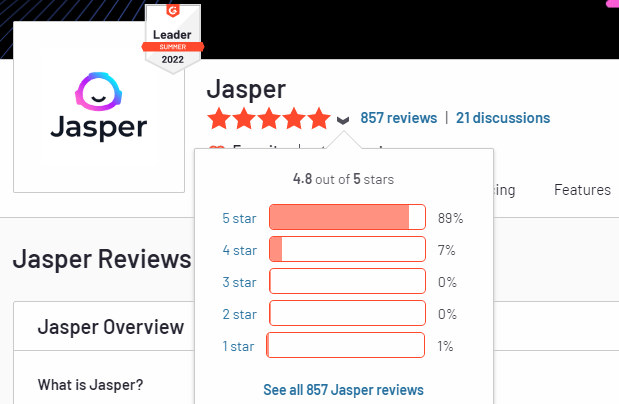 Jasper has a 4.8 out of 5 start ratings on G2 from over 857+ users.
Final Thoughts on JasperAI vs Writecream
Between Writecream and Jasper AI, which one is better for AI Copywriting? What's the best choice?
It all boils down to what you want to use each AI tool for?
When we take a closer look, you want a tool that will help you generate a lot of quality content for your business. This includes detailed blog articles, emails, ad copies and much more.
Both Jasper and Writecream offer you this in their features but you can't use the two.
You need to pick one.
JasperAI is an excellent tool for AI copywriting. Writecream is an affordable competitor that offers you pretty much the same thing. Writecream takes it to the next level with Icebreakers, YouTube voice-overs and podcasts.
What do you think about this Writecream vs Jasper unbiased comparison? Which tool are you going to pick among the two? Please let us know in the comments section if you have any questions.
Prosper Noah is the Brain behind TipsonBlogging. A full-time Blogger & SEO Expert.  His tips has helped a lot of people Start and Manage their own Blogs.