Do you want to take artificial intelligence blog writing to the next level to create high quality unique articles for your blog in a matter of minutes or you want to learn exactly how it works and make the best use of it? you're in the right place at the right time.
Artificial intelligence (AI) is quickly increasing in popularity and market share. As such, it is no surprise that content writing has followed suit. According to Gartner, text, blog and news will account for 71% of AI revenue by 2022. And artificial intelligence is already being used by businesses including Google, Microsoft, Facebook and Twitter to help improve their products and services.
No doubt, blog article writing is hard work, no matter how much you love doing it. There are so many things to consider and juggle, along with the need for consistency that comes from writing every day.
Writing can make us feel creative, but it can also leave us drained and disillusioned. Instead of just becoming more adept at our craft, artificial intelligence can help us do something that we weren't even aware was possible: write consistently without the pressure of having to update the site every single day.
One of the smartest ways to write blog posts easily and faster right now and finally get rid of writers' block is by using artificial intelligence.
In a matter of minutes, you can generate a 1,500 to 2,000+ words blog post that is unique and high quality using Ai .
Sounds cool? then keep reading.
In this post we're going to do two things;
share some tips with you on the best ways to use ai for writing blog posts
We'll also go ahead and recommend powerful ai writing tools for you to get started right away.
Without wasting much time, let's jump in.
Artificial Intelligence Blog Writing Guide: Top 5 Tips for using AI to Write Blog Posts 

1. Have a topic in mind.
Having a topic in mind is key to any blog post. You can write about a specific problem or an idea that you want to share with your audience.
For example, if you're writing about how to use AI for content writing and would like to invite people to join a workshop on the topic, it's best not to be vague and say: "I'll write about how I use AI in my own blog." That isn't specific enough. Instead, you could say, "I run online workshops on using AI for content writing, and I'd love it if you joined one!"
2. Find and read relevant blog posts.
The best way to start using AI to write blog posts is by finding and reading relevant blog posts. This can be done through Google or by using a tool like BuzzSumo.
You can also use the tool's "Find Posts Similar To" feature to find other articles in your niche that you can use as inspiration or guides when writing your own blog post.
Once you have found some relevant blog posts, you should read them as soon as possible. You should also take notes on what makes each post unique and interesting so that you can apply this information when creating your own content.
3. Use the information as a guide to creating new sections.
One of the most common mistakes writers make is to think they know everything, and then write something that is not quite right.
This is why I like artificial intelligence as a tool for writing blog posts. It can help you keep track of what you already know and use it as a guide to creating new sections.
For example, if you have been writing about travel or food, AI can recommend new topics by looking at the content you've already written and suggesting new topics based on those topics.
4. Stick your sections into the AI writing app and use the generated content.
This will ensure that your blog post is unique and doesn't contain any plagiarism or grammatical errors. You can also add images and videos to your blog post if you want to make it more interesting for readers.
The AI writing app will automatically format your content according to the length of each section, which makes it easier for you to read and understand when reading through multiple articles at once.
5. Watch out for errors and be prepared to edit.
Before you start writing, check your spelling and grammar twice. It's easy to fix mistakes after they're made but before they're made, they're expensive — especially if they come back in review or during editing.
You can also use tools like Grammarly which will highlight any potential problems as well as suggest fixes.
So which ai writing assistant is the best generator of high quality and plagiarism-free blog content? Let's take a look at some very good ones below.
Top Ai Writing Tools
We've written a post on sites like shortlyai and in there you can find a list of the top ai writers however, here is brief info on some of the best in the market.
These ai writers leverage openai's  gpt-3 algorithm to generate high quality and unique content that you can use on your blog.
Check them out.
Copy.ai
Our best recommendation on this list is copy ai
Copy.ai is an ai writing tool that helps you write better content, in less time. It provides 100+ tools and templates that you can use + it's not only limited to English, you can create content in over 25+ languages.
It comes with powerful blog tools to help you create content easily and fast such as:
Blog Ideas for generating topic
Blog Intro
Blog Outline
Blog Title
Blog Title – Listicle
Bullet Point to Blog Section
Blog Conclusion
Keyword Generator
etc.
It's currently used by over 1,000,000+ professionals for content creation.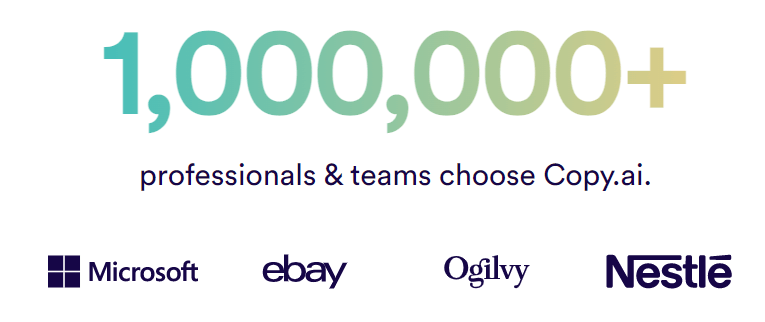 Click here to try copy ai for free.
Here's a copy.ai promo code to help you save money if you fall in love with the tool and decide to upgrade to a paid plan later.
Jasper AI
This is second on the list, and one of the best ai writing assistants in the market right now.
You can use jasper to create long form content and they provide you with a lot of templates to chose from, unlike copy.ai where you have to join pieces of sentences generated together to create your post jasper's longform assistant does this easily.
Jasper is not limited to blog posts, you can also use it to:
write stories
write books
etc..
Rytr
Rytr is another very good ai writing tool. All you need to do is just input some text and it will go ahead and create your blog posts. It's got a built-in SEO analyzer to enable you write seo-optimized articles that rank well on search engines.
Copysmith
Copysmith is a unique ai tool and best if you're into eCommerce. It will generate high converting product page descriptions, ad copies and blog articles for your ecommerce store/blog to help you make more sales.
Closerscopy
Focuses heavily on search engine optimized blog posts. Closerscopy can help you create content in over 128+ languages; use it to write blog posts, stories, sales copies, emails, etc.
FAQS on artificial intelligence blog writing?
These questions are asked by readers looking for tips on using ai to write high quality blog posts faster for their blogs in general.
Should I use AI to write blog posts?
If you are looking to write blog posts fast an ai writer is your best bet. The articles generated are original and readable and you can save a lot of time.
What is artificial intelligence blogs?
Artificial intelligence blogs are blogs you can follow and visit to learn about AI and keep up with the latest trends in the industry. They include blogs such as Open AI, machine learning mastery, AI trends etc.
How do you write an article in artificial intelligence?
It's easy to start writing your articles using ai, you can follow the quick steps below:
Step 0- use the right ai tool such as copy.ai
Find a topic you want to write about
Create an intro, outline and conclusion
Don't forget you are writing for humans
proofread your article
publish
Can an AI write an article?
AI can write a blog post for you. It can research topics and create them in seconds. You don't have to be an expert on everything – just choose a topic and let AI do the rest.
Conclusion
If you want to fill your blog with high quality, original articles in a short period of time without stress you want to leverage artificial intelligence.
Not only do they help you save a lot of time, you'll also be able to thrive in a brand new niche you have little or no knowledge on.
What's your thought on artificial intelligence blog writing? will you give ai writing assistants a try or have questions?
Let us know in the comment section
Prosper Noah is the brain behind TipsonBlogging. A full-time blogger & SEO expert.  His tips has helped a lot of people
start their own blogs
, grow it and make money.