Are you looking for the best lifetime deals platform to save money on your favourite saas tools? Want a good list along with their benefits and features? You're definitely in the right place.
Here's a quick overview;
No doubt, as an entrepreneur or a small business owner; you need software and tools for your business. Fact is you can't do without them unless you don't want your business to keep running.
They are the engines that keep your business on track and make you sales
The problem is most of these tools can cost you thousands of dollars in recurring payments.
Who has a lot of money to waste when you can save huge and actually buy them at a fraction of the real price? Who even has a lot of time to wait till November for a black Friday discount?
What if we tell you that you can get those same tools at a very ridiculous discount price for lifetime subscription? Yes, you don't need to pay monthly or yearly any more.
That is where a lifetime deals platform come in. With lifetime deal sites you can save up to 90% up to 95% on your favorite saas software and tools.
What do you think about buying a software that would normally cost you $1,444+ for a one-time price of only $59?
Example is our post on the best AI writer lifetime deals where Writecream AI writer cost only $59 one-time. The regular price was $1000+.
Huge saving right?
Yes! No more waiting for a discount time and no more recurring payments, only one-time payments. Plus you even pay over 90% lesser!
In this post we'll show you the 5 best lifetime deals platforms that will make your life easier. They come with a lot of useful marketing tools and software you can use for your business.
We will also be giving a detailed review of each platform including their features and benefits, plans, how it works, and more. This should help you decide which is the best lifetime saas deals provider for you
If you don't have a lot of time to read and go through this list, you can go with our top pick below.
We selected our top pick based on the following;
There is user reviews and ratings for each deal to provide transparency and trustworthiness
Timely and huge list of deals and discounts on various software and tools
It is user-friendly and easy to navigate
High priority customer support
Payment system is secure and much more.
Before we go ahead with the list, here's a brief info.
What are Lifetime Deals Platforms?
These are platforms that give you access to those tools you pay recurring payment for at a one-time price. They save you thousands of dollars monthly on payments for tools and software.
Here's how it works;
A company launches a very good product and want customers. To make sales and get reviews, they decide to offer a huge discount in form of a lifetime subscription.
Then they partner with a high traffic and reputable deals platform to make it available to the public.
In the end, you save money, and the company gains a lifelong customer + a potential review and rating. It's a win win.
You'll not only save money but also get access to all your favourite software and tools in one place.
Let's jump to the list of the best software deals platforms.
We'll list this first and then go into more details on each of them so you can understand better.
Quick note:

We get a small compensation when you buy a product via our affiliate link at no extra cost to you.

Thank you for your support.
5 Best Lifetime Deals Platforms to Save Money on Software and Tools in 2022
Appsumo
Dealmirror
Pitchground
Dealify
EarlyShark
Let's go into more details on each of them.
1. Appsumo

When you talk about lifetime deal websites Appsumo is currently the leader.
Appsumo has every product, tool and software in the digital world with huge discount. It started in 2010 with Headquarters located in the U.S.
Since then, it's gone ahead and become the most popular and cheap software deals website.
The platform was featured on TechCrunch, Washington Post, and Lifehacker
One of it's unique benefit is that you can get extra 10% off when you buy a lifetime deal of your favourite software.
And the amazing thing is this;
To be on the safer side, they offer a generous 60-day money back guarantee on all products.
Appsumo constantly gathers deals and discounts from all quality online services and products.
Now you can finally stop overpaying for;
Software
Courses and learning
Templates and much more.
They do not only give you lifetime deals and discounts but you also get access to free trials and other slash prices.
It also has a very easy to use interface. Before buying into a lifetime deal you can see real live existing customer reviews, questions and more. This helps you decide if it's a good deal or not.
Appsumo Features List:
These are the features and benefits you will be getting on Appsumo. All these come together to make it the best lifetime deals platform
Access to lifetime deals on your favorite tools
Great deals on high-quality products at very cheap prices
No questions 60-days money back guarantee
You get extra 10% off on all lifetime deal purchases
Rotating deals: They provide new lifetime deals from different websites, services, and products. New services every three weeks
You also get stringent testing on every tool before selling at all
You get discounts on related web-courses
Timely email notifications on latest lifetime deals
You also get access to important sections such as:
What's hot: This section shows you what product's lifetime deals are currently trending.
Top picks: Appsumo's AI can also recommend a deal it feels you may be interested in
Ending soon: Deals that are ending as soon as possible
Customer favorites and exclusives
New arrivals: As the name sounds
Recently viewed: This section displays all lifetime deals you've viewed
How does Appsumo work?
They go extra length to negotiate with digital product sellers and service providers. They partner with whoever is willing to offer their products at a major discount
They examine those products and services and confirm their validity then distribute out to their audience at a good discount price
Then they sell it to their audience at a ridiculous 50% up to 90% discount at lifetime access to the tools.
So what are you still waiting for?
Click here to Try Appsumo Free
Appsumo Pricing Plans
There is free and Appsumo Plus
Free Plan: With Appsumo free plan you can create a free account or guess account. It's 100% free and you only pay the checkout amount per product you are getting.
But the paid plan is worth more because you will get a lot more discount
Paid Plan:
Appsumo Plus is the paid plan that cost only $99 and you enjoy the full access
You will enjoy 10% off every purchase
72 Extra hours to check if a particular product you are getting is worth it before committing
You also get access to the community of like-minds like you and get more tips to boost your marketing from other like-minds like content creators and entrepreneur
2-Dealmirror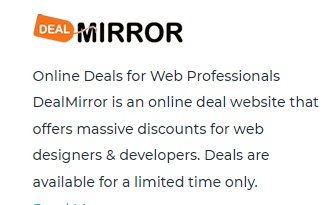 Dealmirror makes it to number two of the top list because they have the best deals, especially when talking about Graphics designer tools, games, movies, content creators, and other businesses.
They have a lot of big companies deals like Microsoft, Corel and also every small businesses software you will need maybe dreamquest or any products you need you will see it at Dreamirror
They always have the lowest prices for all software you can think of and always lifetime access to all of them.
Let's quickly take you through some amazing features of Dreamirror that makes it one of the best lifetime deal sites
Dreamirror Features List
Under $20 Products Section: This section is magical because you will find some awesome deals in this section that will just be under $20 and worth thousands of dollars
Freebies Section: Here you can get any deals in this section for free which mean you pay $0 for getting products in this section. Always try to check this section because companies sometimes give a lot of products out for free
Giveaway section: In this section, you get products in a giveaway
Upcoming deals: You get upcoming deals here you will be set to get them once they drop
Marketplace: Where you see all the awesome deals base on categories
Dreamirror Pricing Plans
They have 4 plans ranging from Essential Plan, Advanced Plan, Expert Plan, and 3 years plan
Essential Plan: You pay $19 per month for this plan and get 12% off,
Get a 5% Early Bird Discount on upcoming deals, Exclusive deals for Prime members, Get early access to new launches, enjoy extended access to all deals and Superior live chat support
Advanced Plan: $49 and it is paid every 6 months. You get everything in Essential but 12% to 30% Off and Free Sendgomail $19 Plan, Free 100+ Cinematic Footage, Free 300 Ready-Made Logo Designs, Free 600 Designed Characters, and Free 42 Designed Backgrounds
Expert Plan: It costs $79 per year. It has everything in Advance Plan but is stable at 30% off
3 Years Plan: This is the grand plan with just $199 you get everything in the Expert plan with Free Stock Saas for $19 Plan, Free Video Funnels Agency for $49, Free Updowntime for $99, and Free VidCentric Plan for $149 for 3 years
3 -Pitchground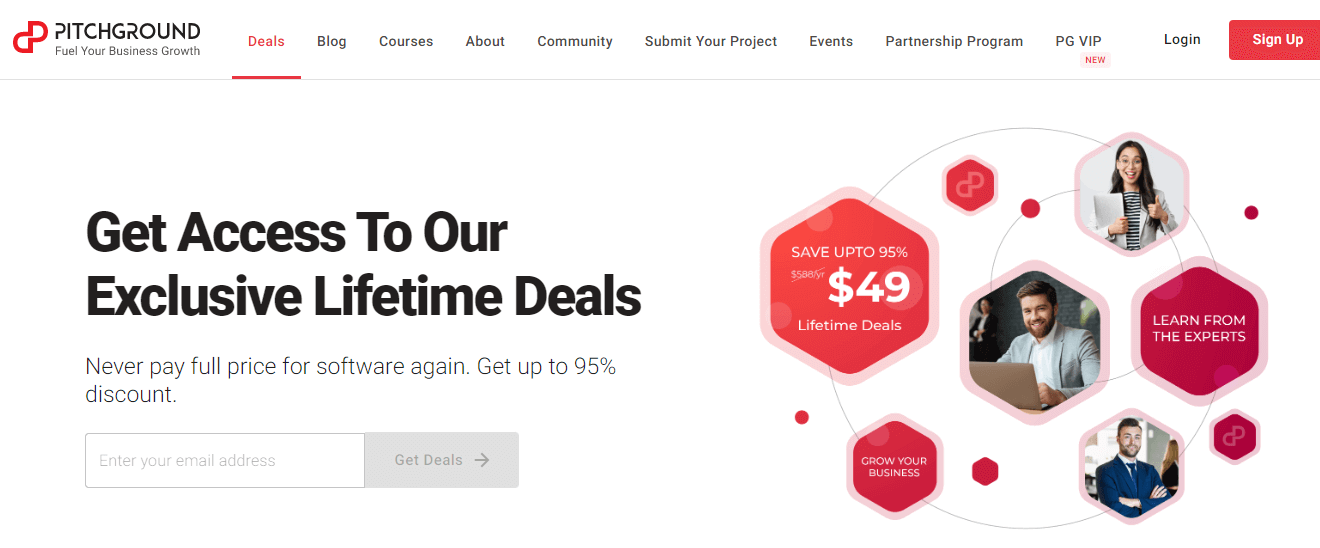 A very good alternative to Appsumo
Pitchground has the most relevant deals, products, and software for all businesses. Just like Dreamirror they also have free deals and they have paid once but all affordable lifetime deals and you will always see similar product deals on your budget.
Pitchground was established in 2018 with aim of bringing founders of courses, entrepreneurs, marketers, and content creators among others together. They offer deals on software, tools, courses and events
Deals on this lifetime deal platform range from $0 to $595 all at lifetime deal
How Does Pitchground work
It is a very easy-to-navigate website, You will just visit Pitchground website and look for products, software, or any tools you are looking for!
Click on the product and on the product page you will see a lot of details about the product and reviews. Then click 'buy now' if you are okay with the product
You can also submit your product' on Pitchgroup by clicking the 'submit your product' button on the website you fill in the form and click next.
Note: You need to take note that you will be asked a lot of things about your product before you can submit it and you really need to be ready because it's just like an exam and they are doing this to make sure they are placing well deal on the platform and from direct owners
Pitchground Features
They have very good lifetime deals and they are also reliable
They have a clear refund policy
Many products are Saas based
They have a very engaging Facebook group
Pitchground Pricing List
PGVIP Plan: Pitchground has only 1 plan which is PGVIP going for $119 per year with this VIP plan you get an extra 10% off all purchase, and you will also be able to Split Pay* and a lot of more features.
We've also written a post on pitchground vs appsumo to help you decide which one is best for software lifetime deals
4- Dealify


Dealify is another lifetime deals platform that is developed for Growth Hackers to offer awesome deals to customers for purchasing high-quality software and other products that are cost high or maybe with recurring payment Dealify makes them cheap a lifetime deal get access to it for life without paying for it again.
It comes with important lifetime deals for entrepreneurs and marketers at whole.
The website is designed by Tom Van Den and was first launched in 2018 it remains the most favorable website for marketers, entrepreneurs, growth hackers, and founders because of its availability of a lot of software and apps at very discounted rates.
So let's see the features.
Dealify Features
You Save up to 95% From lifetime software deals
They have an affiliate program that pays a 20% Affiliate Commission
They also have 30 Days Money Back Guarantee
When talking about growth hackers this is the No. 1 deals platform for growth Hacker
They also provide an opportunity for everyone to run their own deals by submitting their products for free
Affordable & Lifetime Deals
They have Chrome & Firefox Extension to help you save cost and pay less
Dealify Pricing List
Free Plan: You can register on the account for free and just purchase like others on the free account
Paid Plan: Dealify+ Is the yearly Paid version going for $99 yearly with an exclusive offer
5-EarlyShark

Earlyshark was discovered in 2017 they are set to always launch new software and products faster and just from its name earlyshark good number of its user will easily get early access to the software at a discounted price and cheap lifetime deals offer.
No doubt, one of the fastest lifetime deal providers available.
They are fast in dishing out new apps and software on a weekly bases and some software and gadget are updated almost every you need to be checking for hot offers on this website
They have very cheap offers some are lesser than $10
EarlyShark Features
Software deals: You can easily get one of the best lifetime software deals here with a very good discount without creating an account on the platform
Gadgets: In this section, you get high-value gadgets at cheap discounted price
Apps Deal: EarlyShark always be one of the best when talking about getting early access to new software launched at discounted price
EarlyShark Pricing
You can easily browse through the website and get all discount offers without creating any account with the platform
FAQs on the best lifetime deals platform
Here is frequently asked questions by readers who are looking for platforms that offer lifetime deals. We've answered them and hope it helps.
How do lifetime deals work?
Lifetime deals let companies get more customers by offering their tools for a one-time low price. Example is a software that costs $1,000+ per year being sold at only $59. The company gets a long term customer and the customer saves money.
What is lifetime deal software?
Lifetime deal software is a type of software purchasing model where customers pay a one-time fee to access the software for their lifetime, as opposed to a subscription model where customers pay a recurring fee.
Lifetime deal software is often offered by newer software companies looking to generate a customer base and build brand recognition.
Customers can benefit from this purchasing model by paying a lower overall cost for the software and not having to worry about future price increases or subscription renewals.
What is AppSumo used for?
AppSumo is a digital marketplace that offers discounted software, online courses, and digital products to entrepreneurs, small business owners, and freelancers.
The platform features various types of software, including lifetime deal software, which can be purchased for a one-time fee at a discounted price.
AppSumo also provides educational content, such as courses and tutorials, to help customers learn how to use the software and improve their business operations.
How much does lifetime subscription cost?
The cost of a lifetime subscription varies depending on the software or product being offered.
Lifetime subscriptions can range from a few hundred dollars to a few thousand dollars, depending on the value and complexity of the software.
It's important to note that while a lifetime subscription may seem like a great deal, it's important to do your research and evaluate the software's features and functionality to ensure it meets your needs before making a purchase.
Final Thoughts
With the rise of lifetime deals sites you can stop overpaying for software that you use on a regular basis for your business.
There are a lot of these kind of platforms but which one is better? This is why we've done a lot of research to provide you with the best five.
We've also listed their features, benefits and pricing to help you decide what's best for you.
So which lifetime deals platform are you going to pick out of this list? Do you have questions? Let's hear from you in the comments section.
Prosper Noah is the brain behind TipsonBlogging. A full-time blogger & SEO expert.  His tips has helped a lot of people start their own blogs, grow it and make money.