Looking for copy ai premium pricing plan for 2023 as well as features and or benefits to help you get started with this ai writing software? How about a discount to save 40% off?
Well, you've just landed in the right place.
A lot of entrepreneurs these days are grabbing and taking really good advantage of AI copywriting tools like copy ai as it helps you x10 or even 20x faster your content creation.
In a matter of minutes you can create lots of original content for your blog, social media, eCommerce, etc.. which will in turn result in a lot of traffic and sales for your business.
I'm personally using this for content generation, and it helps me create really high quality original articles for my blogs too.
What is Copy AI and what can it do?
Copy ai is an ai writer founded and created in 2020 by Chris Lu and Paul Yacoubian which helps you create content suuuper fast in a matter of minutes.
With the help of artificial intelligence; it leverages OPENAI's GPT-3 algorithm to make all of this happen
and you you don't need to worry about plagiarism because all of the content copy ai generates is 100% original and you can easily proofread, edit, add your own voice and style to the content.
CopyAi is used by Over 1,000,000+ professionals and teams including Microsoft, eBay, Nestle, etc.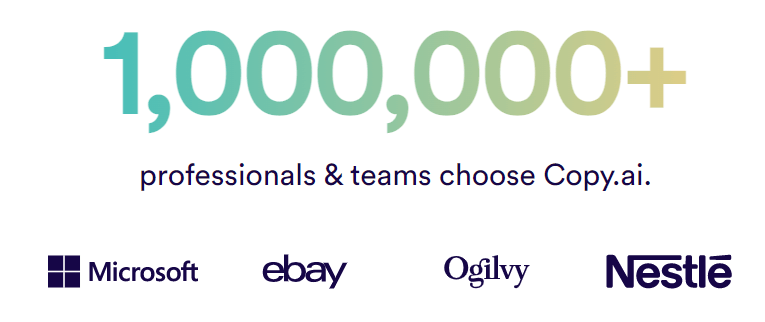 This is how hard people are going for and embracing ai copywriting tools.
No doubt, this is definitely not going to replace creative copywriters.
It only makes creating copy 10x-50x easier and faster.
Creating high quality unique contents is never easy, this is why you have to make use of ai copywriters like Copy AI
In no time you'll discover you've actually generated 10-50+ unique articles for your blog, copies for your social media, adverts, emails, eCommerce, etc..
Here are some really amazing benefits you get with copy AI:
It's not limited to English, you can write content in Over 25+ languages
It helps you break easily into any niche even if you have no knowledge there
Create any type of content including Blog Posts, eCommerce Product Descriptions and reviews, Compelling Ad Copies for your social media marketing campaigns, High converting email copies, Tiktok content and lots more
Create original and high quality articles
Offers a lot of AI tools to help you create great content
Consistency is key for any business success.
If you are struggling with creating good content for your business on a regular basis or you want to improve on it, Copy AI is what you need.
So what is copy ai pricing like? how much does it cost and is there any coupon to save money?
In this post I'll share everything with you and to help you get started easily and save money, I'll even be revealing how you can get 40% off your first year.
I bet you'd love that.
Copy AI Premium Pricing Plan & How to Get 40% Off First Year Purchase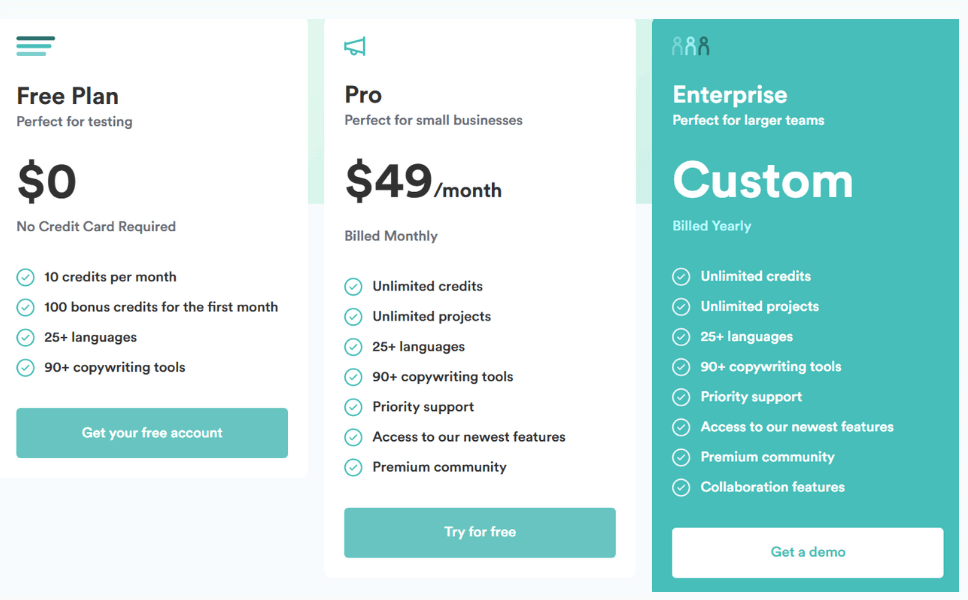 Copy ai offer basically the forever free plan with limited credits and two paid plans which is known as the Pro or premium and custom plan as seen in the image above.
Let me explain this plan in detail and the features and benefits that come with it.
Pro Plan
This is the most popular and what 99% of customers use. It costs $49 per month ($35 per month when billed annually)
With pro plan you get access to everything without limit including Unlimited Credits, unlimited projects, priority support, access to newest features, etc.
Who should go for this?
The copy ai premium also known as pro plan is best for:
Bloggers and website owners who want to create high quality unique articles on a regular basis for their blogs and websites
Freelance writers who make money by offering article writing services on platforms like Upwork, Fiverr, etc.
Social Media Marketers who run ads and want to create great and compelling ad copies
Email marketers who want to write high engaging emails
and pretty much anyone who want create high quality original content easily and fast.
Pros and Cons of Pro plan
Pros:
Fast & Top Notch Support
Access to unlimited credits and
Unlimited projects to create content endlessly
Access to Newest features automatically
Cons:
You may get tired of producing content because everything is unlimited (this of course is a very good thing)
Custom Plan
The second plan copy.ai offers is what is known as the custom plan, this is best for agencies and teams.
So if you're a team with a lot of writers, you can go for this custom plan as it has everything you need.
You'll also get access to all of the copyai features as well as the collaborative features.
Again, this is best for agencies only.
If you're only looking to create some content for your small business, you're better off with pro or premium plan
Plus we have good news for you below;
Save 40% on First Year
Want to save money on Copy ai premium plan?
We got you covered
If you are going for the annual, you would be paying a total of $35 per month x 12 months = $420
However, you can get 40% off if you sign-up through any copy ai partners' Link.
Fortunately, our no-coupon code partner link will save you 40% on your first year purchase.
All you need to do is click on the "activate copy.ai promo code" in the box above or follow the steps below;
Step 1: Visit this special link and create your free trial copy.ai account
Step 2: Upgrade your account within 4 days of signing up and 40% coupon will be applied automatically on your order as seen below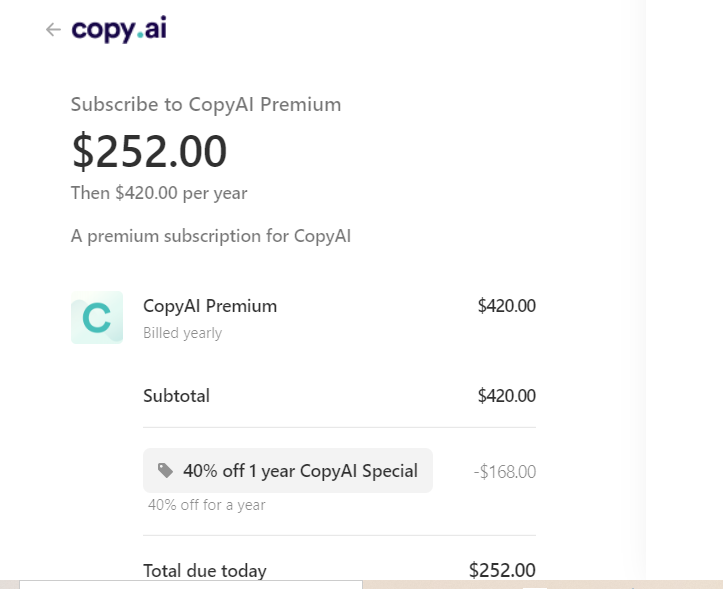 .
This is applicable to the custom plan too.
So what are you still waiting for?
You can also read our Copy.ai promo code post to learn more.
In summary, premium plan unlocks all the powerful features that come with copy AI to help you create really high quality content easily and fast.
Also Read:
FAQS | Copy AI Premium
These here are a few questions readers are asking about the copy AI writing assistant with its pricing.
Is copy AI free or paid?
Copy AI offers a free plan called the copy.ai free forever account so you can use it absolutely free. It also offers a paid plan if you are looking to create a lot of content. The free plan is limited but lets you try the tool for completely free before upgrading to a paid plan.
Is copy AI unlimited?
Copy AI is not unlimited but it offers a plan that let you create lots of content with unlimited projects. This means that you can create unlimited projects but not unlimited content. You will get all of this in the Copy.ai Pro plan.
What is copy AI Pro?
The Copy ai pro plan is the most popular pricing package from Copy.ai. It is best for anyone looking to create original content in large scale. So if you are a blogger or website owner, freelancer, marketer etc.. this is the perfect plan for you to generate content.
How do I cancel my copy AI subscription?
To cancel your copy ai subscription, all you need to do is send an email to cancel@copy.ai. Your subscription will be cancelled.  It is that easy, however, you will be responsible for all subscription fees of your current subscription.
Is copy AI plagiarized?
Content generated by Copy AI is original and free from plagiarism. If you are in doubt, use tools like Grammarly to confirm it's originality.
Is Copy AI free?
Yes, you can use copy ai completely free however you will be very limited to credits and number of projects you can create. This free plan is just for you to test the platform, you won't be able to do much.
Is Copy AI any good?
Copy AI has a lot of tools and templates for you to chose from to create your content fast and it's very easy to use. I have used other AI tools but copy AI is just so simple and straight to the point.
Will AI take over copywriting?
AI is not designed to take over copywriters, it only helps creating copy easier and faster.
How do you use AI for copywriting?
On copy ai:
– Just create a new project, you can choose what you want to create e.g. blog posts
– Enter a few details about what you want to create
– Hit create copy.
That's it, Copy AI content generator will go ahead and create your copy and as well provide you with many options to choose from.
Conclusion on Copy AI Premium
If you think creating content is hard and takes time then you haven't given copy.ai a try yet. It will help you create content in a matter of minutes.
And it's worth your money + you've also seen how to save 40% off your first year subscription.
Still need anything else?
Just go ahead, get the tool and start creating high quality content.
Let me know if you have questions.
Prosper Noah is the brain behind TipsonBlogging. A full-time blogger & SEO expert.  His tips has helped a lot of people start their own blogs, grow it and make money.