Are you on a hunt for Originality.ai free trial? Want to know if they even have anything like that to test their AI detector tool for absolutely free? You're in the right place at the right time.
There's good news and bad news;
The good news:
OriginalityAI rarely state it on their homepage but they have a free trial that gives you free 50 credits. As seen below;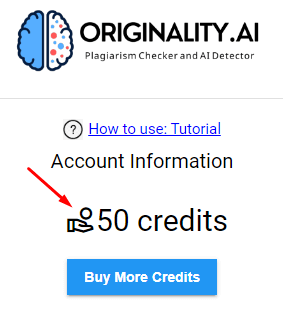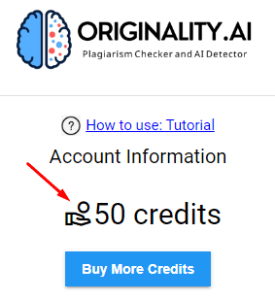 The bad news:
You won't be able to check a lot of content for AI and plagiarism because you get only 50 credits.
However it will help you decide if the tool is worth paying for.
Are you fine with getting free 50 credits for testing purpose? Cool.
So how can you activate the Originality.ai free trial? It's easy.
Install their chrome extension and you automatically get 50 credits to use for AI detection.
Quick note: We get a small commission when you buy OriginalityAI through our affiliate link at no additional cost to you. Thank you for your support!
Click here to try Originality.ai for Free via Chrome extension
Need more details on this free trial account such as it's limits and other stuff? Then keep reading.
In this article we'll expand more on;
How to get free 50 credits for testing Originality.ai step-by-step
Features and benefits of this tool
Pricing and coupon code to save 25% discount when you're ready to buy more credits
We'll also do a live AI content checking with examples to confirm it's accuracy.
Sounds cool?
Without wasting time let's jump to it.
How to Activate Originality.ai Free Trial in 2023
In order to do this you have to download their chrome extension which gives you access to 50 credits.
Follow the below step by step instructions to activate the free trial and start detecting AI generated content immediately.
Step 1: Visit this special link and it will take you directly to the OriginalityAI chrome extension page. It looks something like this image below;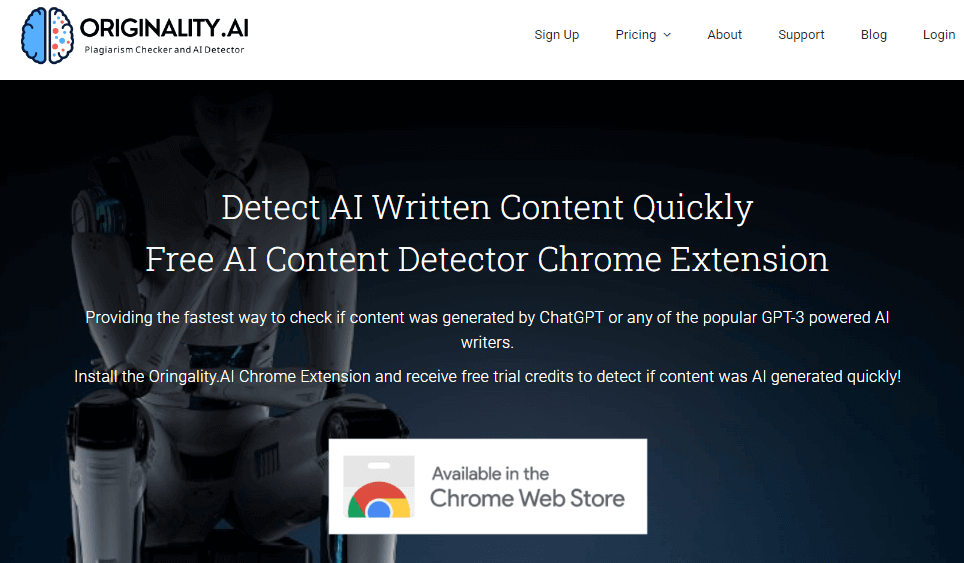 As seen above, they let you get free trial to test if the tool is worth it. If you are happy with the results you get, there is option to buy more credits.
Quick note: When you are ready to buy, ensure you check our Originality.ai coupon code article to get 25% discount on credits.
Step 2: This step is quite obvious. Click on the "Available in the Chrome Web Store" button. This will redirect you to the chrome extension page where you can install it. As seen below: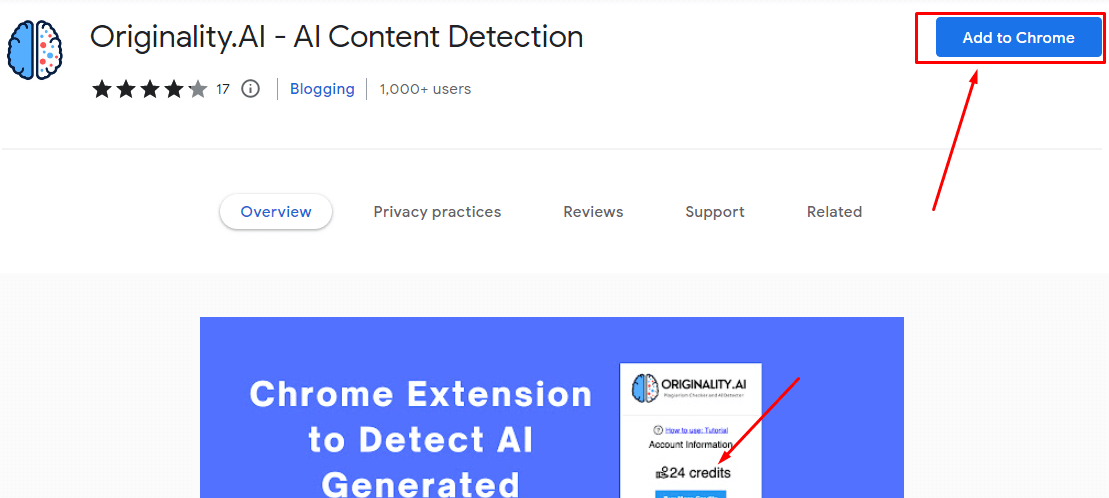 You see the above screenshot? You will get 24 credits they say, but it was actually 50 credits the last time we tried it.
Click on the Add to Chrome button and it should install on your chrome.
Step 3: Click on the Originality.ai logo from your extensions. You should be able to sign up for free account.
Here's how it looks like.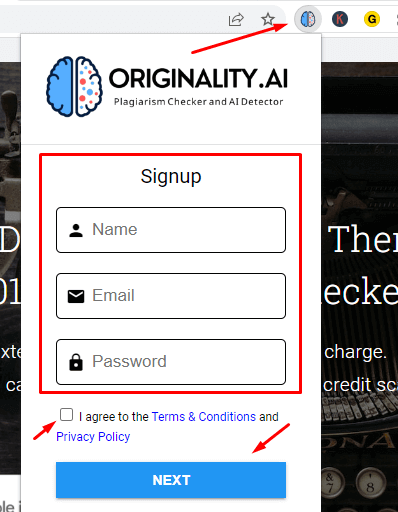 Enter your correct details such as name, email and a password you can remember. Agree to terms and conditions and hit NEXT.
and boooom, you'll instantly get 50 credits.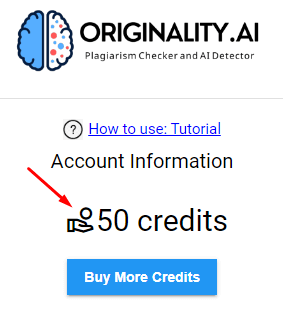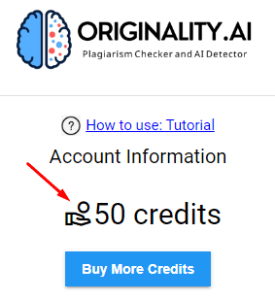 That's it. You've just activated your originality.ai free account.
You can now go ahead to enjoy it.
Wondering how to use the chrome extension?
Here's how;
Highlight a particular page or copy whose content you want to detect for AI and plagiarism
Right click on it
Click "Scan with OriginalityAI checker"
Looks like this.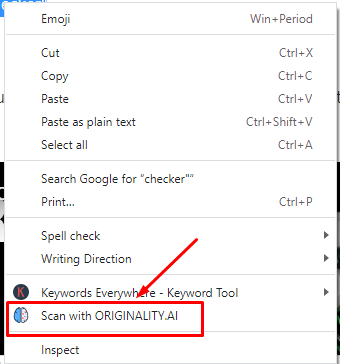 Let's assume you want to check an article in Google Docs for AI, all you have to do is select and right click that content.
Hit scan with Originality and you'll get your results right away.
That's pretty much it.
Let's try to scan an article written by ChatGPT and see the outcome that OriginalityAI gives us.
We'll tell ChatGPT to create a short article on the topic "Top 5 Ways to Lose Weight"
The content ChatGPT generated for us: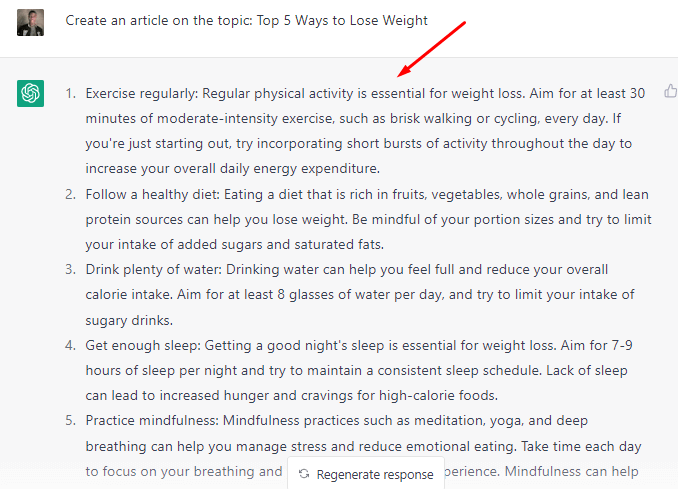 Now we'll highlight everything and scan it.
The result after scanning with Originality.ai: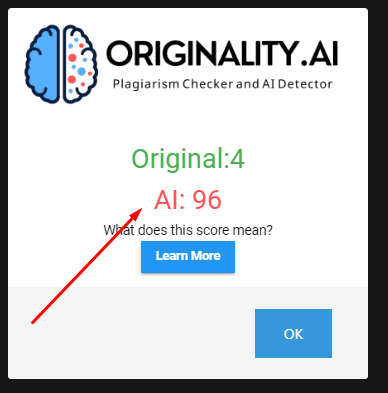 As you can see, AI content detected is 96%
This shows the content was written using an AI tool.
Easy-peasy!
Now let's do another try.
We'll copy a section of this content you're currently reading right now to detect if it's original or AI.
Of course, it's original content but let's see what Originality.ai gives us.
The content we want to scan: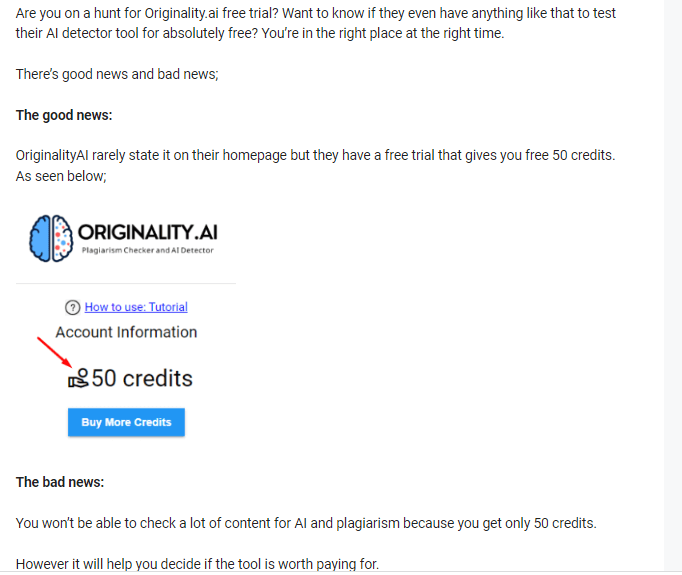 The result from Originality checker after scanning: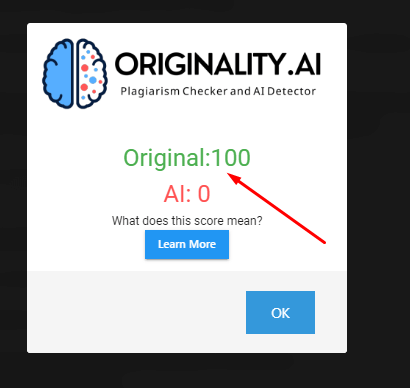 The accuracy is out of this world.
You can also watch this short video tutorial from Originality.ai team. It shows how to use their chrome extension.
So what are you still waiting for? Click the button link below to try Originality.ai free trial 
Limits of the Free Trial Account
Since this is free account there are some things you can't do and they include the following:
You can't check content for plagiarism: This feature shows you if the content was copied. You'll also be able to see the URL of the website that was plagiarized
No full website scanning: You will not be able to scan a full website for AI content and plagiarism. This is a feature that helps if you are looking to scan a website to detect if the content was written using AI writing tools.
You can't add team members
If you want to be able to enjoy all of this, then you have to buy credits and login via the website.
Features of Originality Checker
What features and benefits come with this powerful AI content detector? Let's check and explain everything for you to understand better.
Originality.ai provides 2 important tools for successfully detecting content written by AI writing assistants such as ChatGPT, JasperAI, Writecream, etc.
They include the following;
1. Content Scan
This section allows you to paste content from any place. It also gives you the option to scan only for AI or for Plagiarism.
You can do both but it uses more credits.
To use this is easy.
Copy the content, could be a blog post or an essay, etc.;
Paste in the content scanner box.
Select if you want to scan for AI and Plagiarism or only AI
Hit "Scan now" button.
In seconds, it will return the results.
You'll see a percentage of how much content is AI and original.
If the content was copied, Originality.ai will display the page URL for you too.
2. Full Website Scan
Just as the name sounds, you can scan a whole website for AI and Plagiarism. You can scan up to 1,000 pages on the website.
This one uses a lot of credit.
It helps if you buy websites and want to confirm if the posts were written using an article generator.
The other features include:
Plagiarism checker
The ability to invite team members
Originality.ai Pricing
It has a simple pricing package.
You can buy credits from $20.
1 credit equals $0.01 and is able to scan 100 words
This means you get 2,000 worth of credits if you purchase $20
Want to save money? Then use our coupon code Tipsonblogging and you will get 25% off.
This is only for first credits purchase.
Why Use Originality.ai for AI Content Detection in 2023?
What are the benefits when you actually use Originality AI checker tool?
Here are the top benefits.
1. Produce Original Content
If you are looking to create only original content then it helps to have an AI content detector such as Originality.ai
It not only checks for AI content but also has a plagiarism tool that detects if content was copied or not.
With this you're sure all the content you're publishing is free from plagiarism and written by a human.
2. Save Money
Until now, businesses have been wasting a lot of money hiring writers.
The problem is that most of these writers do not actually deliver what you paid for. They go ahead to use AI writing tools and come up with garbage content that may never rank on Google or get hit by an update later.
In the end you end up only wasting your money.
With OriginalityAI you can now save money and find out if content was written using an AI tool.
When you discover this, you can terminate your contract with that writer and save yourself the stress and future damage.
3. Team function for unlimited content
OriginalityAI comes with a feature that allows you add unlimited team members to help with AI content detection.
Now you can create content on a large scale while you work on other important aspects of your business.
Invite members and they will be able to check content for plagiarism and AI
You definitely save a lot of time.
Conclusion on Originality.ai Free Account
Let's be honest with ourselves. There is nothing absolutely wrong with using AI writing tools for content creation however there should be a limit.
"Everybody wants to create content with AI but no one wants to read them"
AI content writing tools should only serve as assistants not necessarily replace us.
This is why AI content detectors like OriginalityAI are on the rise.
If you want to try the tool for free before committing to a paid plan you've arrived at the right place.
Go ahead, try the tool and if you like it you can purchase some credits.
Are you going to activate the Originality.ai free trial right away? Do you have any questions? Please let us know in the comment section.
Prosper Noah is the brain behind TipsonBlogging. A full-time blogger & SEO expert.  His tips has helped a lot of people start their own blogs, grow it and make money.