Are you searching for an unbiased Pitchground vs Appsumo comparison? Want to know which lifetime deals platform is better for your Saas needs? Then you're in the right place at the right time.
If you're looking to save money on software and tools for your business you need a lifetime deals website.
Pitchground and Appsumo are both wonderful platforms where you can save up to 95% on Saas tools.
The question is which one is better? Which one offers the best liftime deals for your specific needs and budget? Pitchground or Appsumo?
That is exactly what we are going to discuss today.
In this Pitchground vs Appsumo comparison, we are going to cover;
The type of products and services each platform offers
The unique features and benefits of both platforms
Pros and cons
Pricing
Ratings on popular rating platforms like Trustpilot and much more.
As if that is not enough, we are also going to pick our winner as a final verdict. This should help you decide fast which one is a better choice for your needs.
Let's jump to it right away.
Pitchgroud vs Appsumo [Unbiased Comparison]: Who wins?
First we are going to take a look at an overview and the types of products and services that both platforms offer.
Appsumo vs Pitchground (Overview)
What is Appsumo
Founded in 2010.
Appsumo is a platform where you can find lifetime deals of marketing software and tools and you can save up to 99%.  This is great for entrepreneurs and small businesses who want to save money and time.
It offers lifetime deals on the following products and services.
Categories include;
Marketing & sales
Operations
Build it yourself
Media tools
Finance
Development & IT
Here is how Appsumo's deals interface looks like: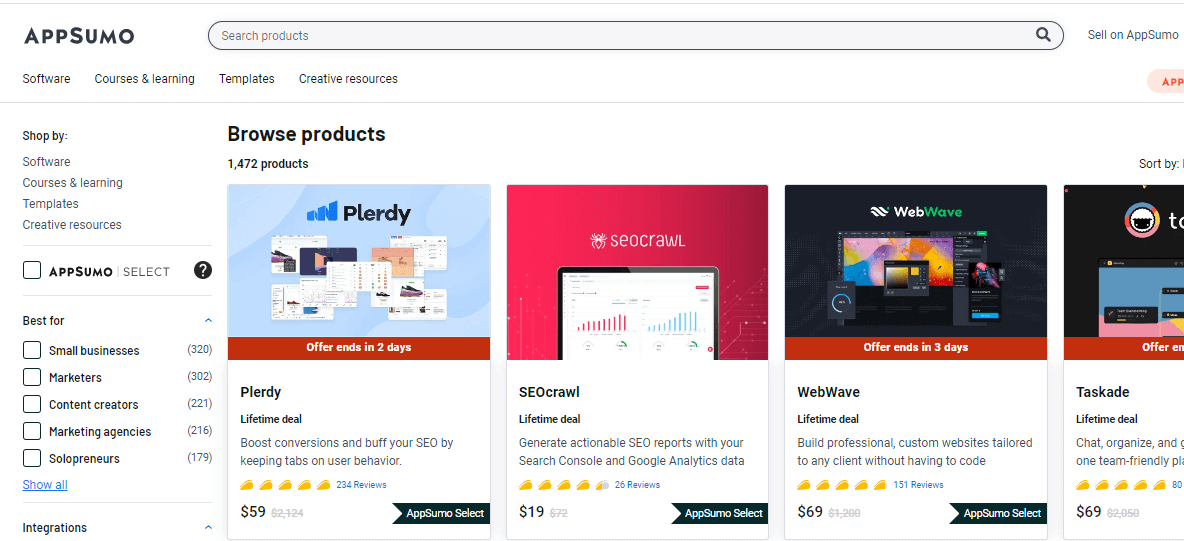 What is Pitchground?
Founded in 2018.
Pitchground is a lifetime deals website like Appsumo where you can save up to 95% of on your favorite Saas tools.
They offers deals on software, tools, events and courses.
Here's how the deals interface of Pitch ground looks like;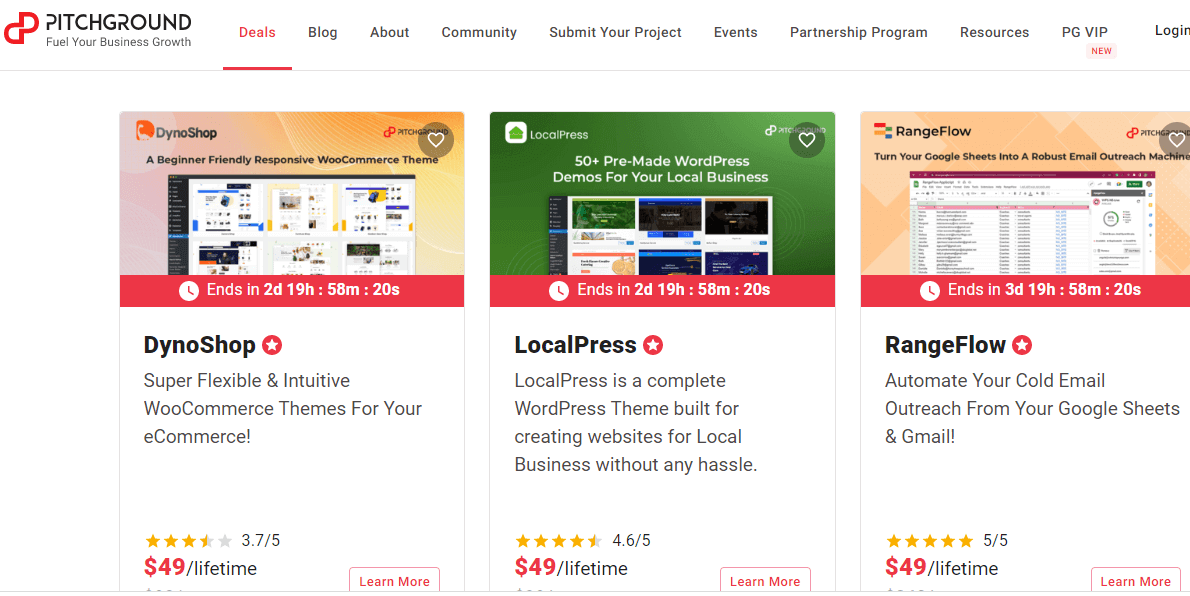 Pitchground vs Appsumo: Features and Benefits
Winner: Appsumo
What benefits and features come with these platforms? which one offers more? let's take a look one after the other.
Pitchground Features & Benefits
Pitchground offers the following features and benefits.
Save up to 95%
Quality and timely lifetime deals
Majority of products are Saas based
Exclusive offers
Clear refund policy
Engaging Facebook community of like minds
24/7 live chat support
Access to resources to make informed buying decisions
Appsumo Features & Benefits
Appsumo offers the following benefits and features.
Save up to 99% on Saas
10% off extra on lifetime deals
New services added every three weeks from different products, services and websites.
Over 4+ deals sections to help you get access to the best software and tools. They include what's hot, new arrivals, spotlight, ending soon, etc.
Customer beta-testing feature. A program for testing a deal for quality before adding to Appsumo
60-day money back guarantee
Email notifications on latest deals and discounts
Appsumo vs Pitchground: Pricing
Winner: Appsumo
Between Pitchground and Appsumo which platform is more affordable? We'll find out in their pricing.
Pitchground Pricing
Pitchground offers a free plan and one paid plan known as PG Vip.
Let's expand on these plans
Free Plan
This is a 100% free membership plan. All you need to do is join the platform and you can buy your favorite saas lifetime deals.
PG Vip
This plan costs $119 per year and it lets you get access to a huge extra 10% on all your purchases. This is perfect if you're looking to save even more money.
Does Pitchground offer refunds?
Pitchground offers a 60 days hassle free money back guarantee on its deals. Request a refund if a product you purchased doesn't meet your demands.
Appsumo Pricing
Appsumo comes with a free forever plan and Appsumo Plus.
Free
On the free plan you get access to all the features and all saas lifetime deals
Plus
Plus plan costs $99 per year and you get access to the following amazing things
Extra 10% on all deals
Access to Appsumo private community for tech-savvy entrepreneur. Here you can connect direclty with like-minds and folks on the Appsumo team. You will also get seasoned advice on improving your business.
Extended 72 hours to decide if a tool is right for you before committing to it. This gives you more time to buy
What is the refund policy on Appsumo?
All the lifetime deals on Appsumo have a 60-days no questions asked money back guarantee. This means you can try the product for 60 days and if you are not happy, you can request a refund.
Pitchground vs Appsumo: Pros and Cons
Are there any drawbacks and advantages against each other? Let's find out in their pros and cons to help you decide which one is better.
Pitchground Pros:
Get up to 95% discount
Relevant Saas deals
24/7 live chat support
Engaging Facebook community
Access to education first approach
60-day money back guarantee
Pitchground Cons:
Products filtering options is limited (Appsumo offers many more)
Paid plan is expensive and gives you access to only extra 10% discount on all deals. Appsumo paid plan offers the same and more for a very affordable price.
Appsumo Pros:
Save up to 99% on Saas
Get extra 10% off your first purchase. No need to subscribe to paid plan for this
Offers a wide range of deals
Powerful filtering options to help you pick the best deal. You can select products by features, category, integrations, best for,  alternative, operating system
Generous and affordable paid plan
More than 4 sections to help you pick the right deal
More than 3 million+ partners
Appsumo Cons:
Who's our Winner? Pitchground or Appsumo?
From the comparison so far, it's pretty much obvious who the winner should be.
We've compared the features and benefits of each platforms, pricing, as well as pros and cons. Even though both tools offer you almost the same thing, one is far better.
There is definitely a clear winner.
Pitchground is a direct Appsumo alternative.
So who are we picking?
None other than: Appsumo
Don't take our word for it. Lets check out what other customers are saying about both tools on Trustpilot
Appsumo vs Pitchground: Customer Reviews and Ratings
Looking for what existing customers have to say about Pitchground and Appsumo? Then check out below.
These are their ratings on the most popular rating platform, Trustpilot
Pitchground on Trustpilot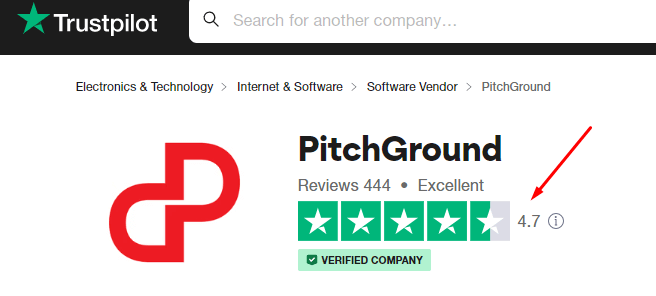 Pitchground has a 4.7 out of 5 star rating on Trustpilot from over 444+ users
Appsumo on Trustpilot;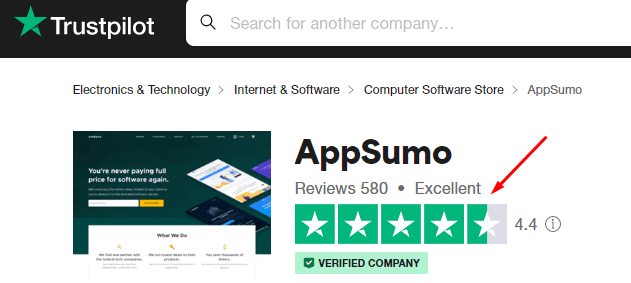 As seen above, Appsumo has a 4.4 out of 5 star rating on Trustpilot from over 580+ users
FAQS on Pitchground and Appsumo
Here are frequently asked questions by readers who are looking to try out lifetime deals. Hope it helps you.
Is AppSumo real?
Yes, Appsumo is a legit lifetime deals platform where you can save up to 99% on your favorite software and tools. It was founded in 2010 and head quarters is the United States.
What is AppSumo used for?
Appsumo posts deals of products and services to help businesses save money and time. It offers a wide of range of products lifetime deals
How long do AppSumo deals last?
Most Appsumo deals last for 2 to 3 weeks while some may last for months. You should grab them as soon as they are live to avoid missing out.
Final Verdict
Pitchground and Appsumo are two legit platforms if you are looking to save money on Saas.
They come with a wide range of deals for you to chose from ranging from productivity to marketing and much more.
Both platforms have their own unique benefits and features and you can save up to 99%.
and what's more?
They are definitely worth it.
We've done a lot of research to provide you with an unbiased Pitchground vs Appsumo comparison. It's up to you to go through and find out which one is best for your business needs.
Which one will you pick? Appsumo or Pitchground? Let's hear your thoughts and questions in the comments section.
Prosper Noah is the Brain behind TipsonBlogging. A full-time Blogger & SEO Expert.  His tips has helped a lot of people Start and Manage their own Blogs.