Are you looking for a tutorial on how to make money with Writesonic AI copywriting tool? Then you've arrived at the right place at the right time.
2023 is the year for new ideas, new businesses and new ventures. This year has been particularly special. Artificial Intelligence and Machine Learning have made people's lives easier since 2022.
AI has made several human endeavours efficient and affordable.
Making money is no different. Earning money is becoming easier due to the availability of new AI tools.
One of the top AI platforms includes the Writesonic AI Writing Tool. Let us talk about what it is and how anyone, yes, we mean anyone, can monetize using the writing solution it offers.
What is Writesonic?

One of the best AI writing platforms in the world and a good Jasper AI alternative. Writesonic is a long form ai writer that helps you create SEO friendly content.
Writesonic is for everyone who wants to create content. This includes marketers, business owners, agencies, and students. The platform offers support for 24 languages besides English.
This means that you can create content in different languages.
Thousands of professional writers also use Writesonic's AI-generated, SEO optimized content.
This is because it helps them;
develop new ideas
saves time
increases productivity and leads to higher revenue.
You can integrate Writesonic into WordPress, Zapier, Surfer SEO, and SEMRush. It also has as a Chrome extension to help you improve your content.
Writesonic helps you improve existing content on Google Docs, Gmail, Twitter, LinkedIn, Facebook, Medium, and virtually anywhere else you write online.
In this article we are going to list top 7 ways you can use to make money with this powerful AI writer.
We'll also explain each of these for you to understand better.
Before then, ensure you have an account with Writesonic.
If you don't have yet, visit the following link.
Let's jump to it it right away.
How to Make Money with Writesonic?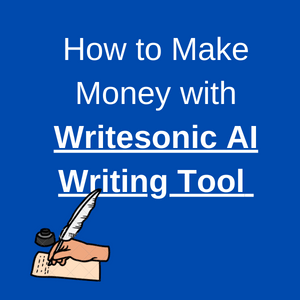 There are several creative fields in which you can use the Writesonic AI writer to earn a good amount for your services. You can provide these services in an internship, job or freelance gig.
Let us look at the top choices for you to earn money with this amazing tool.
1. Become an Affiliate Marketer:
Written content is one of the best ways to become an affiliate marketer. Writesonic will help beginner, intermediate and expert content writers to create content that sells.
Affiliate marketers will get better reach, engagement, click rate, etc., by creating highly readable content. More eyes on your content increase the chances of successful affiliate conversions.
This will ultimately help marketers to increase their affiliate commissions. If you are a student, you can also check out some other ways to earn money online for students.
2. Take a Content Job
For people who are comparatively newer in the industry and do not know the ins and outs of the market, taking up a content job is a great way to earn money with Writesonic
Beginners can take up internships and full-time jobs in content writing, copywriting, proofreading, blog writing, content marketing and much more.
These fields will offer high returns due to huge demand and higher productivity.
3. Start a Content Business
Starting a business in the content industry is an effective next step for people with ample experience in their jobs/internships.
Entrepreneurs can start a sole business and scale up their business by hiring professional content writers who will help them increase their clientele using the Writesonic AI Writer
4. Become an SEO Specialist
Writesonic prides itself on providing high-quality SEO-friendly content in a very small amount of time.
This will allow Writesonic users to become SEO specialists since they can create meta descriptions, titles, headings and content loved by search engines.
They can also provide content analysis, tips and tricks and help businesses and their clients get a better SEO score.
5. Start a Blog
Writers can start their blog on the internet with the help of the Writesonic tool
Since there is high competition in search engines, the importance of SEO-friendly content has become sky-high.
Writesonic will help writers get unique footfall on their website from the first article they publish by creating highly readable and fresh written content.
6. Create Social Media Ads
With more than 100 unique features, Writesonic can help marketing enthusiasts gain clients and experience without wasting time.
Fields like Facebook ads, Google ads, YouTube descriptions, etc., can be explored by marketers to start earning with Writesonic
7. Provide Social Media Content Ideas
Writesonic will help entrepreneurs understand the intricacies and importance of good content.
Some content creators and businesses require creative individuals to provide them with content ideas with the highest potential to go viral. You can look up these jobs on a freelance or fixed-term basis.
Why choose Writesonic over any other AI Writing Tool?
Hundreds of AI writing, proofreading and paraphrasing platforms are available on the internet, but we recommend Writesonic due to its many benefits at the most affordable pricing model.
Pricing
Writesonic provides highly efficient AI services trained on billions of parameters in different price ranges.
A free version allows up to 6,250 words per user, while the paid version starts with a $12 monthly fee for upwards of 45,000 words per user.
If you want to save money, you can use the writesonic promo code to claim a huge 33% off.
Customer Base
Writesonic is trusted by 1,000,000+ marketing teams, agencies and freelancers worldwide.
These users come from top companies like Spotify, Schneider Electric, Meesho, NYU, Vodafone, Marriott, Moodle, Rakuten and many more.
Number of Features:
Writesonic provides 100+ unique features for writers, marketers, bloggers, and entrepreneurs.
These features will be ads generator, article writer, rephrase, sentence expander, idea generator, paraphraser, email generator, content shortener, landing pages, emails and many more.
Highly Trained AI:
Writesonic's AI is trained on billions of parameters (almost 10% of the internet). The software has a deep knowledge of grammar, spelling, and writing styles to generate unique content for its customers.
This helps Writesonic AI Writer create content that is free from plagiarism.
Things to remember before using the Writesonic AI Writing Tool
Right Mindset: AI should be used to support human writing, not completely replace it. Although AI will soon play a bigger role in content creation, humans will always be in the picture. To produce the finest content, AI and humans will need to collaborate. You should only depend a little on automated AI writing. Teaching computers to produce grammatically accurate and meaningful text is one of AI researchers' biggest challenges. Currently, AI systems can only handle one or the other at once.
Natural Voice: Always remember that people prefer reading natural content even when authored by a machine. The ideal scenario is that they don't even realize they are reading AI-generated content. AI can assist humans in producing better content by considering factors like grammar, style, word count, SEO and much more.
Cautious about Spamming: There is no alternative to a human touch regarding content writing. But you can use AI to assist you with laborious tasks. Using AI and human interaction to create content can prevent search engines from categorizing your website as spam.
Readability and Engagement: Online readers are known for skimming content. They want to avoid reading through reams of text to obtain the idea of an article. This is why it's crucial to concentrate on both information and readability. There is always a rise in engagement when you provide your readers with informational yet easy-to-read content. Readers are likelier to stick around when they can understand what they're reading and obtain the information they need.
Personalize your Content: AI has a fixed set of rules which it uses to create content. As an AI content writer, you must first comprehend your brand values to develop a personalized content strategy. What distinguishes your brand? What is your guiding principle? Once you know these things, you can start producing content that appeals to your target market and accurately reflects your brand.
FAQs on how to make money with Writesonic
These are frequently asked questions by readers who are looking to earn money using the Writesonic AI writer. Hope it helps you too
Is Writesonic any good?
Yes, Writesonic is one of the best AI writing tools. It helps you save time and stay productive by generate lots of content in a short time.
What is Writesonic used for?
Writesonic is used for creating high quality SEO-optimized content in a matter of minutes. You can also use it to create marketing copies such as emails, landing pages, product descriptions and titles and much more.
Is Writesonic good for SEO?
Yes, Writesonc has in-built SEO and keyword capabilities to help you rank in search engines.
Who owns Writesonic?
Writesonic is owned by Samanyou Garg. He is an entrepreneur with passionate for solving problems with the use of artificial intelligence. You can find him on Linkedin here.
How do I delete my Writesonic account?
If you are not happy with your Writesonic subscription you can contact the support to cancel your account. You can also learn how to use it to make money in this post.
Is write Sonic worth it?
It is worth every penny. The content generated is original and free from grammatical errors.
Final Thoughts
Writesonic AI Content writer creates new opportunities and makes the old ways more efficient to earn money in this new world. Find the top jobs in our list and decide which field suits you the most. You can start earning a good amount of money in no time.
What do you think about this tutorial on how to make money with Writesonic? Have any questions? Please let us know in the comments section.
Prosper Noah is the Brain behind TipsonBlogging. A full-time Blogger & SEO Expert.  His tips has helped a lot of people Start and Manage their own Blogs.