Are you looking for pabbly connect lifetime deals currently on going in 2023? Want to save huge discount on one of the best automation tools in the market? Then you're in the right post.
You can quickly grab 50% off all plans immediately below; This will give you lifetime access to Pabbly.
Here is a quick overview of the pricing plans and what things come with them
Pabbly Connect Lifetime Deal Plans

$249 (50% Off)

Included: 3000 tasks per month, 10 workflows + Two-Step workflows.

$499 (50% Off)

Included: 6000 tasks per month, 20 workflows + Two-Step workflows.

$699 (50% Off)

Included: 10000 tasks per month, Unlimited workflows + Two-Step workflows.
What is Pabbly Connect?

Pabbly Connect, one of the best alternatives to zapier is a very powerful automation platform that will help you easily connect multiple applications and services that you use on a daily basis together in order to automate repetitive tasks.
So you've got favorite apps and services that you'd want to transfer data in-between? Then Pabbly is your best bet.
It's cloud-based, so no installation required
How Pabbly Connect Works?
An automation software work on a "set it and forget it" kind of thingy. All you need to do is set your actions and triggers while Pabbly takes care of rest.
For example: You can configure pabbly connect to send customer details to Mailchimp or any other email marketing platform when you've made a new sale via Stripe.
Pabbly connect supports multi-step integrations too. This means it can even go ahead and add the customer's email to a crm or via sms for followups.
It all happens automatically with the use of what is called "trigger and action steps"
Here's how it's done in a matter of minutes:
Step 1. Enable Trigger
This is the first thing you need to do, and trigger steps allow you create automated workflows. You will be able to select your favorite applications for configuration
Example of triggers:
When a customer purchases something from stripe
When a form submission happens on pabbly form builder
When a new payment comes on ThriveCart, etc
Step 2: Setup actions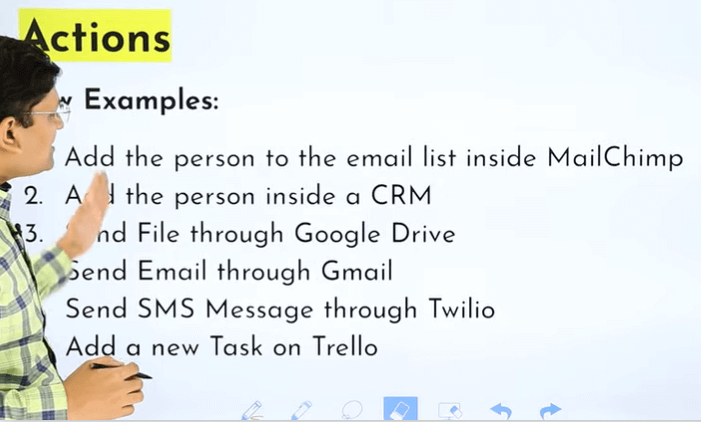 Action allows you to select what kind of data you want to send out to the applications you selected earlier on in #1.
Check the above image for examples of actions.
Step 3: Put the Workflow to work
If everything has been configured to your taste, there is one last thing to get it working.
What is that?
Simple; select your app and finally allow Pabbly connect do it's work.
It will take care of the automation you've set while you work on other important aspects of your business.
Here's a short video on how it works.
You can pretty much automate anything ranging from apps, services and get stuff done faster without manual efforts. They support almost all the popular apps that you use on a daily basis.
This include;
eCommerce apps
CRM
Helpdesk
Web forms collaboration and much more.
It is simple and works with triggers.
When you turn on a particular workflow, the trigger event occurs, immediately your preferred action will be carried out.
What's amazing?
They recently launched a life time deal offer where customers are able to get access to the software for a one time low price instead of having to pay monthly fees.
Literally you are getting 50% off.
This means that if you claim the deal right now, you never have to pay again in the future but you get access to the software for life.
Isn't this awesome?
Deals like this do not come often, and when they do, it's best to grab as soon as possible before expiration.
No one knows how long this is going to last.
or do you?
I bet you don't
Right now, it's still live and you can grab your pabbly subscriptions lifetime deal access instantly.
Click here now to activate the lifetime deal of pabbly connect. (Available for a limited time only)
Want more details about the deal?
In this post am going to show you how to activate this huge discount offer and also share more details on;
how the pabbly connect one time offer works
features
pricing
as well as pros and cons.
How to Activate Pabbly Connect Lifetime Deal in 2023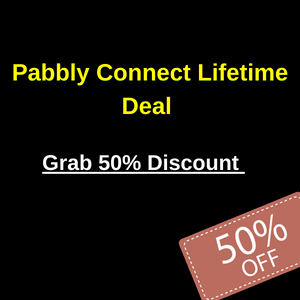 Want to activate this awesome lifetime deal right away? then follow the below instructions step-by-step and in no time you should be done and dusted.
Quick Note: You have to hurry as this offer can be pulled down any time, don't miss out.
Step 1: Visit this special link and it will take you straight to PabblyConnect lifetime access discount page (No need to enter any pabbly connect coupon code, you will be able to grab the offer when you land on the page at the click of a button)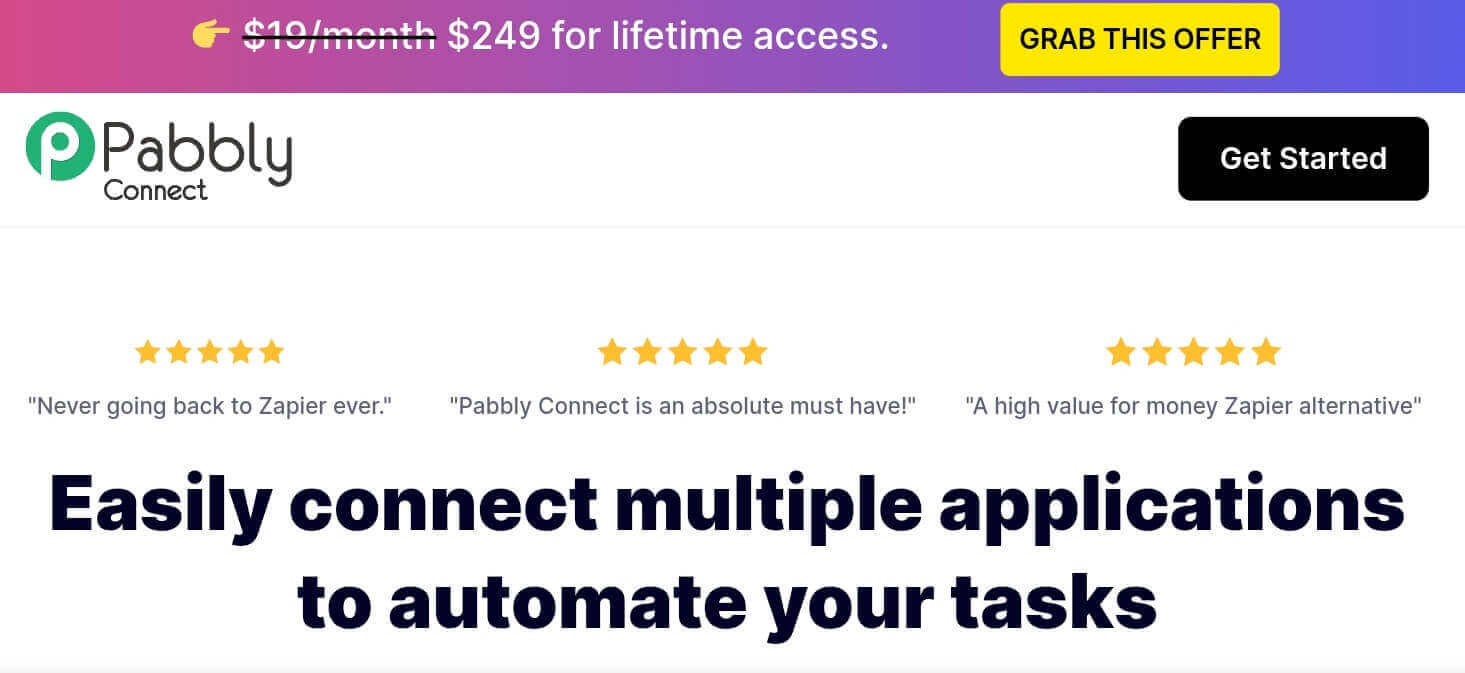 Step 2: What you need to do at this juncture is pretty much obvious. Simply click on the yellow Grab Offer button that you see at the top of the page as seen above.
Step 3: It's time to select the plan you'd like to subscribe to; either starter, pro or ultimate.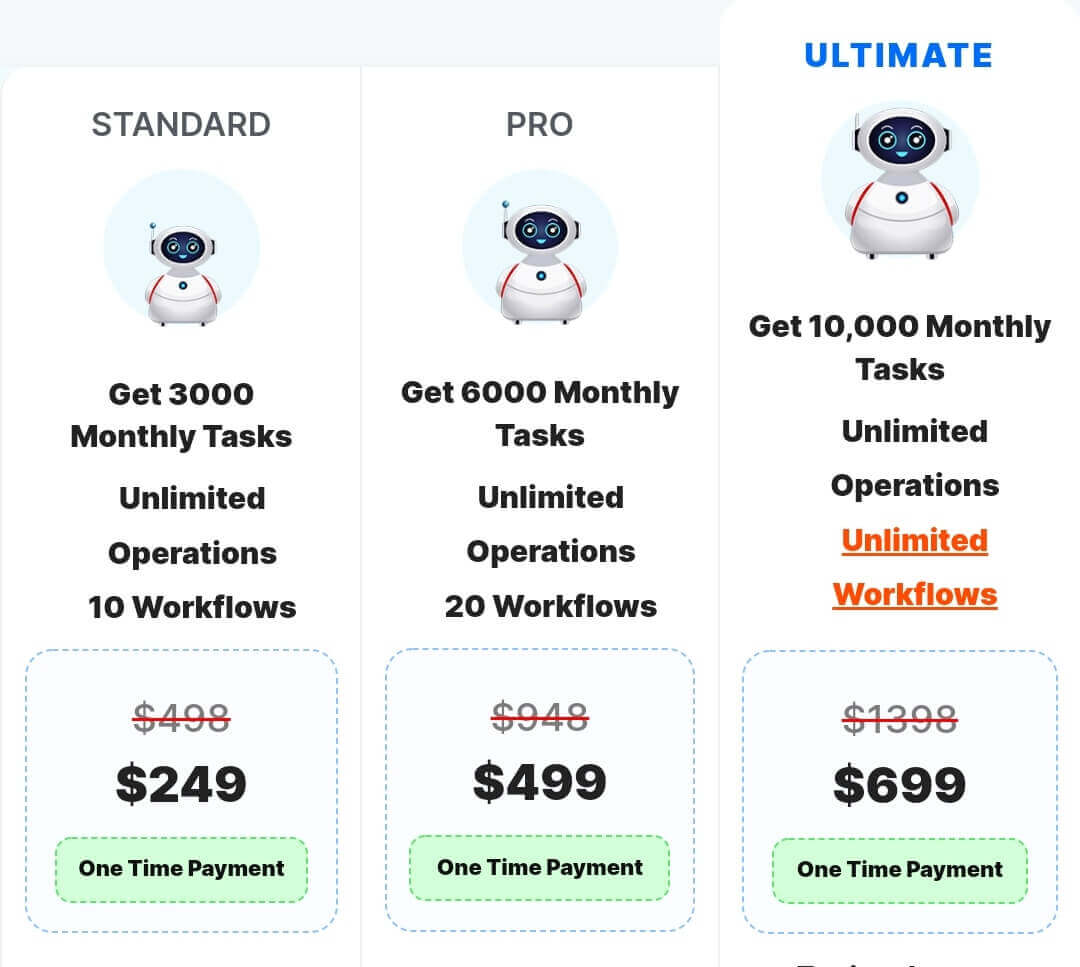 You will also get access to these bonuses for free along with your purchase.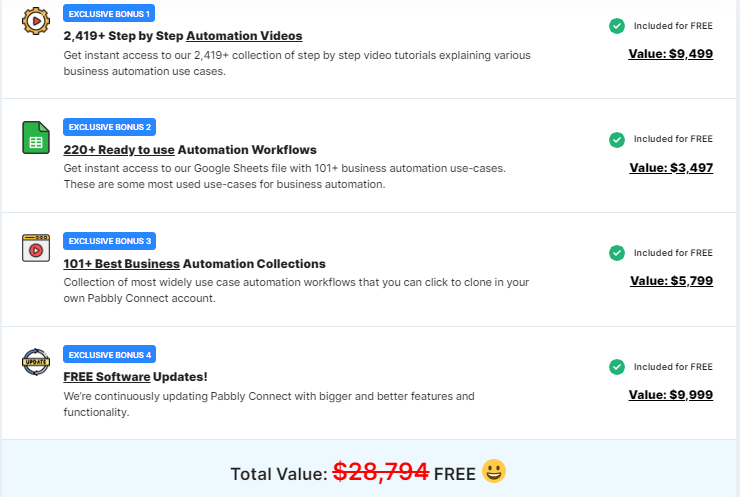 Want to buy pabbly connect right now?
If you're going for standard, you click on the BUY NOW button.
Same process applies to the other pabbly lifetime plans.
When you do that, you'll be taken to checkout page to complete your order.
Step 4: When you click buy now, you'll see a popup checkout page as seen below.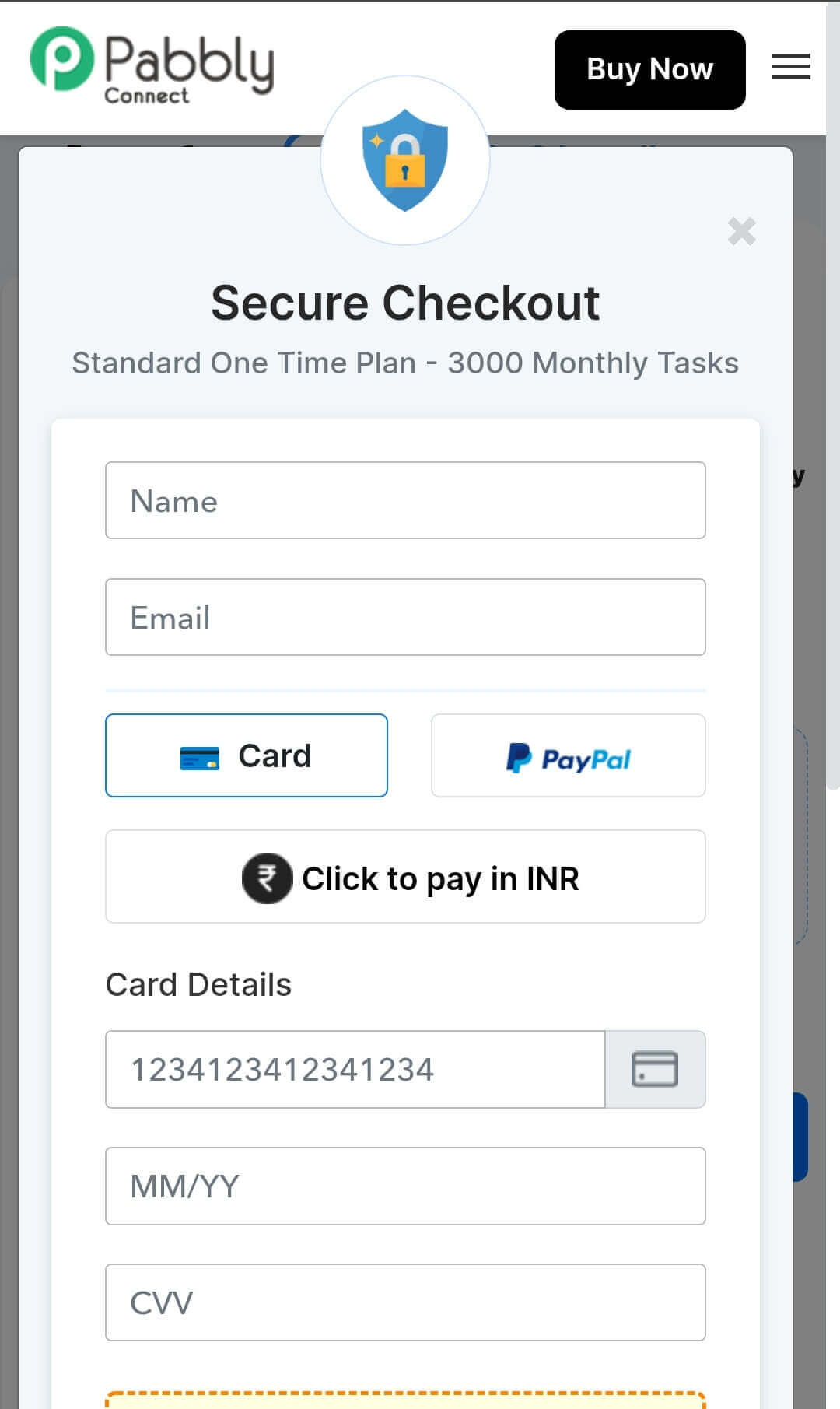 Finally, you can go ahead to pay and get instant access to Pabbly Connect
and that's it, you have successfully activated the lifetime deal of pabbly connect.
What are you waiting for?

Pabbly Connect Features  
This automation software comes with a good number of really cool features that you stand to enjoy and you can see everything below:
Feel free to glance through the list
Access to over 1,000+ app integrations
300+ Spreadsheet Formula
Folder management
Webhook
Text and number customizer
Extract Text by Pattern
Filter
Create fully automated workflows, duplicate and also share
Delay features such as delay steps & schedule workflows
Email parser
Currency formatter
Time & date formatter
Iterator
Json extractor
Number extractor
text formatter
API
URL Encode / Decode
Text parser
Math operations
Data Transformer
Automatic Counters
Phone Number Formatter
Unlimited path routers
With these wonderful features you can now easily create automated workflows, save time and be more effective in your online business.
Want to get started with Pabbly Connect right away? Take good advantage of the Life time deal
So how much does it cost? 
Pabbly Connect Lifetime Plans & Pricing Packages
If you want to claim this deal, there are three plans that you can chose from ranging from standard, pro and ultimate as seen below;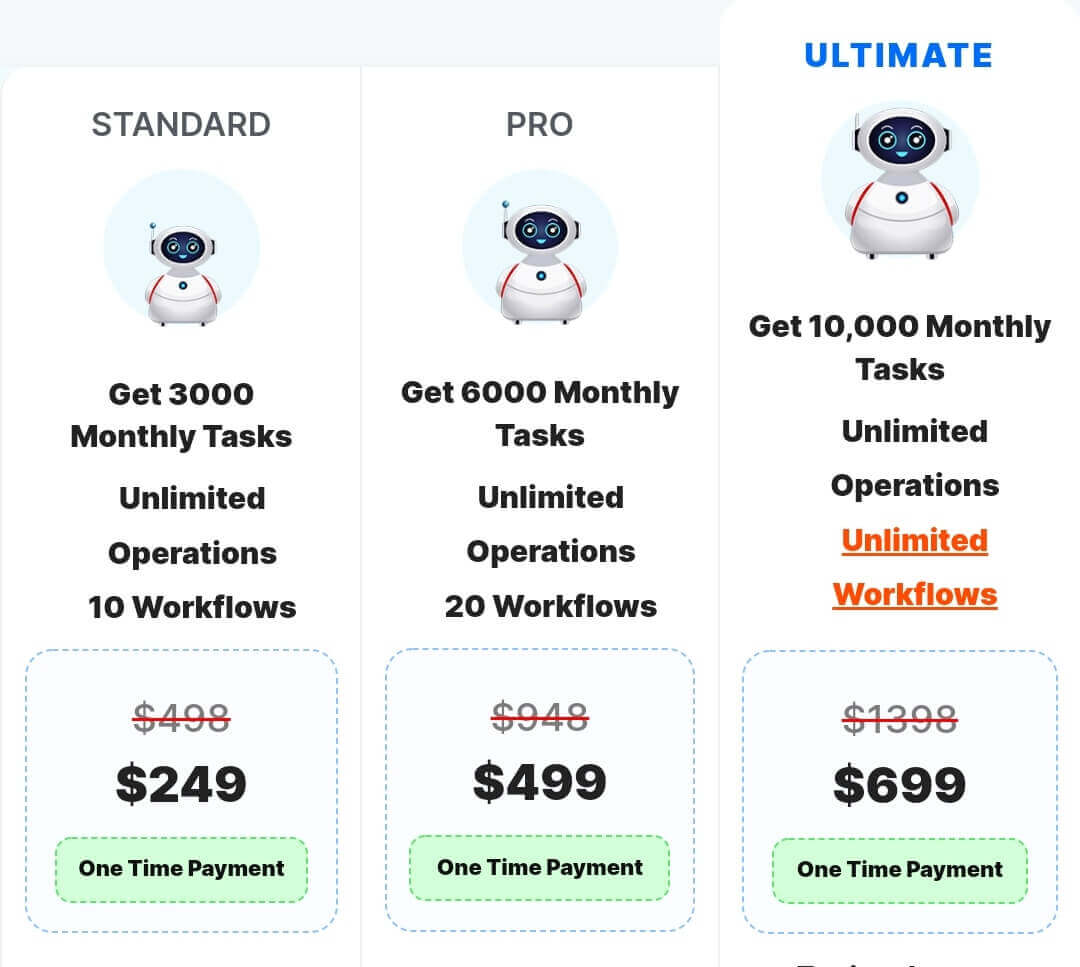 Quick Note:
You can't upgrade the pabbly pricing plan in the future, so be careful when selecting.
The best thing?
There is no restriction
You get 30-day money back guarantee
Priority Support from the pabbly team
Below is complete details on each of this plan as well as the pricing and all the features that come with them.
Standard Plan
This is the standard plan on pabbly connect and it costs $249 one-time for the life time deal while you get access to 3,000 monthly tasks and 10 workflows along with the following features:
Two step workflows
1,000+ App Integrations
Unlimited operations
Data Formatters
Unlimited premium apps
Unlimited Internal Tasks
Instant Webhook
Multi-Step Calls
Unlimited Premium Apps
Free Internal Tasks
Re-execute workflows
Folder Management
Two Factor Authentication (2FA)
Enhanced security
Pro
Pro plan costs $499 one-time price and gives you access to 6,000 monthly tasks along with unlimited operations and 20 work flows.
You'll also get all of the features in Standard
The only change in Pro is 6,000 tasks and 20 Workflows
You also get access to
Two step workflows
Unlimited connections
Ultimate
The pabbly connect ultimate plan is the highest and most popular package on the list.
It costs a one time payment of $699 and gives you instant access to all of the features in pro and standard along with 10,000 monthly tasks and Unlimited Workflows
Plus extra features such as ;
Delaying
Scheduling
Email Parser
Iterator
Unlimited Filters
Unlimited path Routers (for creating advanced workflows)
Unlimited premium apps formatters
Multi step workflows
Unlimited app connections
1 year support license
Extra bonuses worth over $28,794
Access to Community of 12K members
If you grab this deal right now, you are saving a huge 50% discount on all the pabbly connect lifetime plans
We've also written an article on pabbly connect pricing.
What is the Refund Policy?


As seen above, Pabbly offers a 30-days money back guarantee. This means you can try the tool for 30 days and if you don't like it you can email Pabbly team.
Pros and Cons of the Pabbly Connect Lifetime Deal
No doubt, the pabbly lifetime plan deal is very attractive really; for a one time fee you're getting access to one of the best automation tools in the market.
For any good thing, there is always a not-so-good side.
You can check out the good and bad side below
Pros
You pay only once, no more monthly fees or yearly fees
Very affordable lifetime offer
You're getting access to a tool used by over 9,000+ happy customers with testimonials
Great for complete beginners with no technical knowledge
Over 2,000+ video tutorials
Pabbly Connect connects over 1000+ applications and integrations
Folder system for managing all your workflows with ease
Two factor authentication for optimum security of your account
Pabbly customer support service is prompt.
Access to all future updates and future integrations
30 days money back guarantee, a very good refund policy
Generous features (all plans get 100% free unlimited internal tasks)
Task limit is sustainable
Cons
Unlimited workflows is only available in the pabbly connect ultimate plan
With the life time deal, you can't upgrade to other plans in the future
Other 6 extra features such as email parser, delaying, scheduling, ite are not included in the pro and standard
No option to
Pabbly Integrations list
What apps can you integrate with Pabbly?
Pabbly connect supports a wide range of apps that businesses use only a daily basis. Let's check out the list.
1. Social Media
Supports your favorite social media apps which include:
Facebook pages and groups
Instagram
Twitter
YouTube
WhatsApp and Telegram
LinkedIn
2. Webinar Apps
Just let it know your favorite webinar platform and pabbly connect will take care of the rest.
Here are the popular webinar platforms that pabbly connect supports at the moment.
Webinar
Zoom
GoToWebinar
Everwebinar
Webinar Jam
Jet Webinar
3. E-Learning
You teach stuff? want to make students access your products easier and faster? There are a lot of eLearning platforms you can use with Pabbly.
The include popular elearning course platforms such as Teachable and the following:
4. Chatbot Platforms
What about chatbots? You use Chatfuel? well you can connect them to do whatever stuff you want
These chatbot platforms are available on PabblyConnect
Manychat
Chatfuel
Mobile Monkey and more.
5. eCommerce
e-Commerce business is booming and if you want to make more sales, you have to be smart. Make use of a powerful automation tool like Pabbly Connect to increase your sales.
The top ecommerce platforms that you can integrate include:
Woocommerce
Shopify
Amazon
Etsy and more.
6. Email Marketing Tools
You definitely can not leave this one out.
Integrate popular email marketing tools like:
Mailchimp
ActiveCampaign
Convertkit
Moosend and more.
7. Data Management
The data management apps include:
Asana
Clickup
Google Sheets, etc.
Check out other offers: 
Pabbly Connect Faq
Here are frequently asked questions you may have about Pabbly Connect and it's one time offer. So feel free to go through carefully. Hope it helps
How much is Pabbly connect?
Pabbly connect offers monthly plans. Pricing starts at $19 per month for standard. $39 per month for pro plan. $79 per month for ultimate plan. You can read this post on how to grab pabbly connect lifetime deal to avoid monthly fees.
Is Pabbly connect good?
Yes, Pabbly connect is the best and cheapest solution for automation in 2023. It is the best zapier alternative and has a great rating on Capterra. You can automate any external application with it.
Is Pabbly free to use?
Pabbly Connect has a free plan that allows you test the software and see if it is a good fit before committing to a paid plan. The free plan gives you access to 3 smtps
Does Pabbly Connect Work?
Yes, the tool is used by Over 9k+ customers and there are a good number of testimonials which can be found on their page. If customers are happy, then it definitely works.
Pabbly Connect vs Zapier which is better?
Both are very good workflow automation tools but Pabbly Connect is cheaper and offers unlimited workflows unlike Zapier. Overall Zapier is a market leader when it comes to automation but Pabbly offers the same and is way affordable.
You can check the image to see the huge difference. Pabbly Lifetime deal beats Zapier pricing plans hands down when it comes to affordability.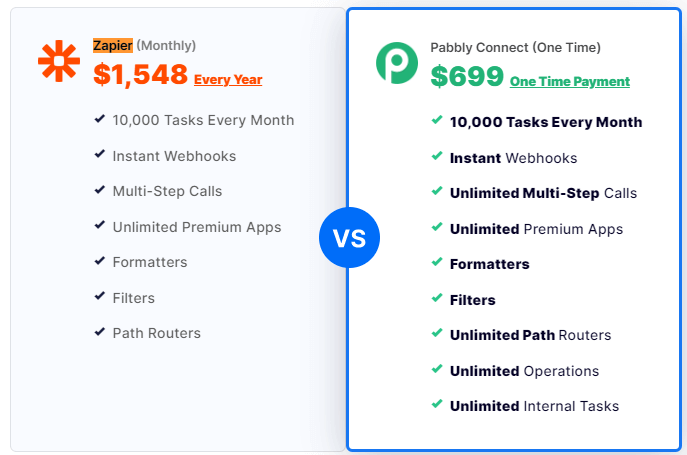 Is the Pabbly Connect Lifetime subscription worth it?
It's worth it 100%, you're getting a huge 50% discount on a very good product such as Pabbly Connect and paying such low price is a steal. It's a very good bargain.
Who can claim the pabbly connect lifetime deal?
This is strictly for new customers only. If you are an existing customer, you can cancel your current plan and sign up for the lifetime deal of pabbly connect. It is only available for a limited time and expires any moment without warning.
What is the best pabbly connect alternative?
Zapier is a very good alternative to pabbly connect. Pabbly is regarded as the best automation tool in the world after Pabbly. The only downside to Zapier is that it is very expensive which makes Pabbly automation tool an excellent alternative.
Is pabbly connect legit?
The answer is yes. Pabbly connect is trusted by more than 9,000+ businesses worldwide. You can give it a try and see how it works for you. If many people are using it, then it's legit.
Are Internal apps also tasks?
The answer is No. Pabbly Connect does not count tasks for internal apps such as Date time formatter, Schedule, Path routers, Email parser, etc.
Conclusion on the Pabbly Lifetime Deal
If you're looking to save money on one of the best automation software out there then this pabbly connect lifetime deal is something you don't want to miss.
Not only are you saving, but also getting access to a tool that works and is used by over 9,000+ customers right now with some good number of testimonials. Plus the refund policy is a huge relief.
All-in-all, you're getting a huge discount and access to something that will help make life and business easier and faster. Imagine replacing manual tasks with workflows that are automated.
No need for manual effort.
We'll say "A great platform for small business owners"
You can go ahead and give pabbly lifetime plan a try before it's pulled down and use it to create workflows for your business.
That brings us to the end of this post. Stay updated as we'll be doing a pabbly vs zapier comparison soon.
Are you going to grab the pabbly connect lifetime deal today to avoid recurring fees? What do you think about Pabbly automation tool? If you have questions let us know in the comments section.
Prosper Noah is the brain behind TipsonBlogging. A full-time blogger & SEO expert.  His tips has helped a lot of people start their own blogs, grow it and make money.