Are you looking to know and compare Writesonic pricing and plans? Want to know if it is worth your money? Which plan is the best? You've arrived at the right place at the right time.
It's no doubt, Writesonic is one of the best AI writing tools out there even compared to ChatGPT because of its broadness and accuracy.
In fact, it won against ChatGPT in our unbiased Writesonic vs ChatGPT comparison article.
Awesome AI writer.
So how much does it cost? Any discount to save money? Which plan should you go for?
In this article, we will walk you through every writesonic plans and pricing and with that, you can decide which one is best for you.
We'll also show you how to grab a quick up to 33% off discount.
Sounds good? Then let's go.
We always urge our readers to take advantage of free trials on AI tools before buying or deciding to commit to a paid plan.
So here it is; get Writesonic trial account with 10,000 free words for test running.
Use the following link.
If you want more details, check our detailed Writesonic free trial article to find out.
What is Writesonic AI?
Writesonic is an AI tool that allows you to generate content of various forms. It uses advanced NLP and Machine learning models to help you generate human-like written content for your business or personal needs.
As an AI, writesonic can be used for quite a lot of content creation purposes ranging from;
Marketing
Blogging
Social Media Marketing
YouTube Scripting
Copywriting
It features most of the powerful and useful use cases that a good AI tool should and these are;
Long form content for blog posts
Social Media Assistant
Copywriting tools
Blog post idea generator
Summarizer
Product description generator
Blog post title generator
Paraphrasing tool
Basically use cases that would help you in creating high quality content and help you to save time and money so you can focus on other aspects of your business.
Want to learn more about Writesonic? Then read our in-depth Writesonic AI Review where you'll everything about this powerful tool.
WriteSonic Pricing 2023: How Much Does it Cost? Worth it?
If you are looking for an AI tool that won't break the bank and still give you want, WriteSonic might be that one tool.
They offer super affordable pricing for their AI tool making it easy for marketers to be able to create content, stay productive and become money and time savvy.
Their plans includes the following;
Free Plan
Unlimited
Business and
Enterprise
Features differ through each of these plans, the higher you aim at, the more features and limits you lift or increase.
Lets review these plans and pricing individually so you can see for yourself which one works best for you.
Writesonic Free Plan

Writesonic Free plan is there if you are just here to try the tool out. It would cost you nothing to get started on this plan as you do not get charged a dime upon sign up.
On this plan, you get everything basic including a certain amount of words per month to create content as you wish.
As you already know, you will get almost all the important features on this plan but they will have rates and limits to how you can use them.
Who should use Writesonic free plan
Well, writesonic free plan is there if you are looking to start content creation with AI but have no prior experience. This can also serve as a free trial period for you to decide if you want to purchase this tool or not.
The Free plan is suitable for:
An absolute beginner in AI Content generation
Bloggers looking to create content for their blogs using artificial intelligence for a start before scaling
Marketers looking to employ the use of AI to promote their products or services.
How much does a free plan cost?
The free plan of Writesonic Costs 0$, you aren't paying for anything. Unless you are looking to upgrade to other tiers when you have exhausted your monthly word limits.
What features come with the Writesonic Free plan?
Features and Benefits that comes with Writesonic free Plan includes the following;
10,000 Words Per month
Chatsonic: ChatGPT-like chatbot
100+ AI Templates
AI Article Writer 4.0
Browser extension
1-Click WordPress Export
Zapier Integration
Landing Pages Generator
Sonic Editor (Google Docs like Editor)
25+ Languages
Ready to give Writesonic a try? What are you still waiting for?
Get started with Writesonic Now! 
Writesonic Unlimited Plan

The Writesonic unlimited plans immediately after the free plan. This is the plan you get to pay for upgrades and get most of the features and benefits writesonic offer as a service.
This plan includes everything from free plans but has higher limits for some features. Also, some new features you didn't get access to use in free plans are included.
However, this unlimited plan has limits to some extent. You are not given some features such as:
Brand Voice
Factual and Personalized Article Writer
(AI Article Writer 5.0; Uses of GPT-4 32K)
API Access
Bulk Processing
For you to get this feature, you'd have to upgrade to the next plan which we are going to discuss shortly.
Who can use the Writsonic Unlimited Plan?
This plan can be suitable for small or medium sized business, bloggers, affiliate marketers, students and freelance writers.
How much does Writesonic Unlimited plan cost?

The WriteSonic Unlimited starts from 16$ per month if you are subscribing for the annual plans. Which is a 30% discount.
This discount is applicable to new users or if you are upgrading from free plan to unlimited for the first time.
But if you are looking to pay a monthly fee, it would cost you 20$ a month to maintain a Writesonic unlimited plan.
What Features come with a WriteSonic Unlimited Plan?
The features and benefits that comes with Writesonic Unlimited Plan includes;
Everything in the free plan
Generate unlimited words monthly
Sonic Editor (Google Docs like Editor)
Complete Article Rewriter
Writesonic Business Plan

This plan is best for businesses and Agencies who generate high volume and high quality content monthly. The business plan has the option to switch from GPT 3 to GPT 4.0 which allows you to generate more accurate content as needed.
Who is a Writesonic Business Plan for?
The Writesonic Business plan is for any agency or business looking to generate large chunks of content on a regular basis.
This allows less double checking for facts since it is enabled to use the most advanced and deep part of AI which only generates factual content.
This plan works best if you are:
An Agency
A Business Owner
Professional blogger and
School professor
What are the Features of a Writesonic business plan?
The features and benefits of writesonic business plan includes;
Everything in unlimited plan
Large number of words
Unlock GPT-4 and GPT-4 32K
Factual and Personalized Article Writer
(AI Article Writer 5.0; Uses GPT-4 32K)
5 Brand Voices
Higher quality image generation + Upscaling feature ($33/month and above)
Writesonic Enterprise

This is the plan where everything goes custom. This plan is basically made for you if your intent is to create a custom AI that will ideally represent your business.
You get your AI trained to understand your business with custom Model Ai training and you control the limitations your enterprise account can have.
Who is the Writesonic Enterprise Plan For?
The writesonic enterprise plan is for larger businesses and enterprises who are looking to add custom features and have the AI trained to understand their businesses.
How much does Writesonic Enterprise Costs?
For this plan, you are required to contact the writesonic sales department to discuss your needs and wants for your business.
What are the Features of Writesonic enterprise?
The features and benefits of writesonic Enterprise includes;
Everything in business plan
SSO/SAML Login
More Words/user/month
More number of users
Custom AI model training
Invoicing options
Dedicated account manager
Training sessions
Premium support
Custom API Development
Save up to 33% on Writesonic
Looking for a writesonic discount?
It's easy, you can save 20% off on the unlimited plan and 33% off on the business plan if you optin for yearly instead of monthly.
As seen below;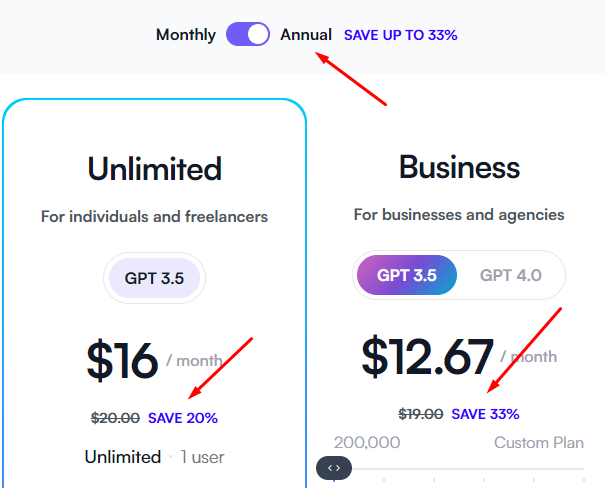 How to cancel Writesonic subscription
Do you wish to discontinue your current billing cycle or you wrongly choose a plan? Well this is how you can cancel writesonic subscription
Login to your account
Click on your profile icon
Choose plans and billing
Then click on "cancel subscription."
This will disable your card or paypal being debited on the next circle.
If you intend to upgrade or subscribe again,you will need to subscribe like you did the first time.
Does Writesonic offer refunds?
At the time of writing this article, there are no free refunds after purchase of a plan on writesonic. So you want to be sure of the plan you are opting for.
The best thing to do is to use the free trial account and see what works for you best.
FAQs on Writesonic Pricing Plans
These questions are some of the most frequently asked questions by users who are looking to try the writesonic AI writing software for the first time . We have answered them for you.
How to Get ChatSonic For Free?
If you are a free user of the Writesonic account, then you are also eligible to use chatsonic. It comes with with the free plan
What Are The Disadvantages of Writesonic?
The disadvantages of using writesonic is when you have limits and the plans get intelligent as the tier goes up.
Limits to words
Lack of knowledge
What is Writesonic used for?
Writesonic is used for creating content for blogs, educational research and social media posts.
Does writesonic cost money?
Yes, it does but only on the paid plans. The average paid plan on writesonic costs 16$ per month and with this plan you can create as much articles or content as possible because you get an unlimited number of words.
How much is the chatsonic plan?
Chatsonic comes with every plan available on writesonic. The free plan gives you a word limit of 10,000 word and other plans range from 33,000 (GP4) to unlimited (GPT 3.5)
What is better than Writesonic?
Other tools that are as good as writesonic are:
Wordhero
Jasper AI
Nichesss
ChatGPT – a free alternative
Is Jasper better than writesonic?
No, when compared, chatsonic goes beyond just being a AI copywriting tool. It's also a personal assistant like real human with diverse features.
Final Thoughts
If you're considering Writesonic AI writer for your writing needs, you're on the right track. This top notch tool offers a range of plans to suit various users, from beginners to large enterprises.
Free Plan is perfect for those just dipping their toes into AI content creation. It's free to start, making it an ideal choice for bloggers, marketers, and beginners in AI content creation.
The Unlimited Plan, starting at just $16 per month for annual subscribers, offers a great value. It's a great choice for small businesses, students, and freelance writers looking for more features and higher word limits.
The Business Plan is designed for businesses and agencies that require large volumes of high-quality content regularly. It unlocks GPT-4 capabilities for more accurate content generation.
For larger enterprises looking for custom solutions, the Enterprise Plan offers tailored AI training and customization to meet your specific business needs.
No matter which plan you choose, the pricing is affordable, making it accessible to a wide range of users.
And remember, always take advantage of the free trial to see if it's the right fit for you.
So what do you think about the Writesonic Pricing plans? Is it affordable? Have any questions? Please let us know in the comments section.
Prosper Noah is the Brain behind TipsonBlogging. A full-time Blogger & SEO Expert.  His tips has helped a lot of people Start and Manage their own Blogs.