Are you looking for sites like shortlyai and probably the best alternatives and competitors to choose from?
No doubt, creating content is a huge challenge, people are looking for good tools that will help speed up content writing on a consistent basis and eliminate writer's block.
This is why artificial intelligence tools are getting a lot of buzz
Now you can write 10x faster your content in a matter of minutes.
and the best part? These ai writing assistants create original content so you don't have to worry about plagiarism
There are a lot of ai copywriting tools and shortlyai is one of them. Although shortly is a very good writing tool, it's definitely not the best.
So in this post we're going to share with you the top 5 shortlyai alternatives as well as their features, pros and cons, pricing, etc..
Just before we get started, what is shortlyai?
About Shortlyai
Shortlyai is a GPT-3 ai writing tool that uses artificial intelligence to automatically create content in different categories such as blog posts/articles, ads, email copies, social media posts and lots more.
It's simple; just pick a template, add a bit of text on what you want to write about and shortly will do the rest of the work while you can edit, add your tone and style and your content is done in minutes and ready to use.
Click here to try Shortlyai for free (No credit card required)
Shortlyai is a great ai writer, however they have been acquired by Jasper ai (another ai writer)
So if you are looking for good alternatives or other websites like shortlyai here is a list of some of the best ai writing assistants you can use.
5 Best Sites Like Shortlyai For AI Content Creation 2022
CopyAi

Jasper Ai

Rytr

Copysmith

Closerscopy
1 – CopyAI
Copyai is one of the best AI copy writing tools used by over 1,000,000+ professionals, content marketers and teams including Microsoft, eBay, Nestle, etc.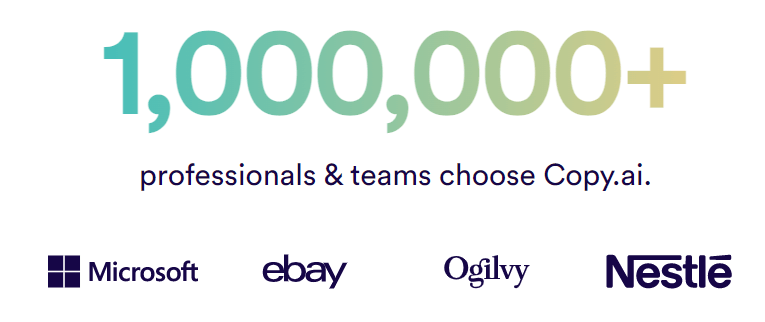 Copy AI has over 100+ tools and templates you can choose from to create your content in minutes + it's not limited to English, you can write in 25+ languages.
You can create content including blog articles, email copies, ad copies, social media posts, e-commerce product descriptions and lots more.
If you are looking for a great alternative to shortlyai we recommend CopyAi
CopyAI is free but also has a premium plan.
If you want to try CopyAI for free, visit the following button link;
Features
Writes content in 25+ languages
Creates 100% original content
Access to over 100+ copywriting tools and templates
Use it to write blog posts, review articles, engaging email copies, compelling ad copies and social media posts, tiktok content e.t.c
Long form content creation
Pros:
Generous free trial: You get renewable credits every month
Content generated by copy AI is high quality and guarantees 0% plagiarism
Easy to use interface dashboard
Very affordable
Use it on any device including your mobile phone
No credit card required to create free trial account
Good support
Straight to the point, just select a tool and it will create content automatically
Cons:
Lots of tools and templates to choose from which can be very intimidating at first (however this is a good thing and you will get used to it as time goes on)
No built-in plagiarism checker but the team promises 100% original content
Pricing:
Cop AI provides you with three pricing plans which can be seen below;
The Free plan: This lets you try the tool and gives access to 10 credits per month, 100 bonus credits for the first month with access to 90+ copywriting tools and 25+ languages
Pro plan costs $35 per month and gives you access to all of the copy.ai features and unlimited credits
Custom or Agency plan depends; but starts at $98 monthly (This is for teams and agencies)
We have written a post on copy AI premium pricing where you can find all the details. If you need a 40% off discount on this tool then check our copy.ai promo code post.
Who should buy it?
If you are looking for sites like shortlyai to make your content writing faster and easier, copy ai is the perfect alternative for you.
Click here to try Copy ai for free ( No credit card required + you also get 40% Off Annual Subscription with this special link)
2. Jasper AI
Jasper is another really good alternative ai writing software with a lot of features. If you want an all in one shortlyai alternative for your content creation then jasper.ai is an option you want to check out.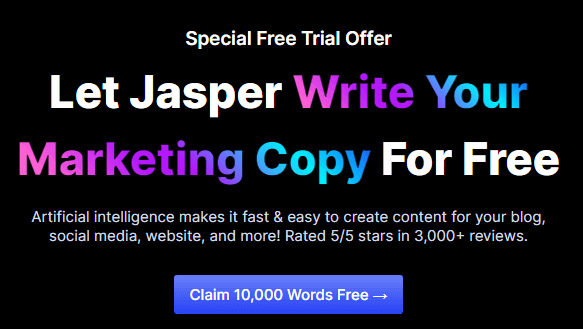 Jasper is a complete AI writing assistant with outstanding features, it makes our second list of best AI writing tools and websites similar to shortly.
If we are to look at all of the unique features jasper ai offers, then no doubt it should be the first on this list, however it's a bit expensive and definitely worth every penny though.
Features
Creates 100% Original Content
Write Stories, Blog Posts and even Books
Grammarly Included (For Spelling errors, mistakes, etc)
Integrates Surferseo (Write SEO Optimized content for ranking on google and finding best keywords to use inside of Jasper)
Write in Over 25+ Languages
Over 100+ Templates and tools to chose from to create high quality content in any niche
Speech To Text tool
And more
Pros:
Dashboard Interface is easy to use and understandable for beginners
You can produce content really fast
Write unlimited articles daily
Create content in any niche and different languages
Rewrites and make existing content better
Contents generated is high quality
Offers a 5 day free trial without credit card to test the software
Software learns your writing tone thereby helping you create better content
Cons:
The software is still developing
Pricing
Jasper offers two pricing plan which includes the following:
Starter Plan: This is for starters and it costs from $29 per month where you get up to 20,000 words limit per month and up to $499/mo for 1 million limit per month.
Boss Mode: The most popular plan , starts at $59 per month an you get access to 50,000 words limit per month and goes up to $3600 per month for 5 million worlds limit/month
If you want to try Jasper, they offer a free trial for 5 days
Who should buy it?
Jasper AI is best for anyone who is looking to write long form content blog posts, novels, stories and even books etc.
Click here to try Jasper for 5 days FREE
3.

Rytr
Rytr is a powerful AI writing and content generator tool that's been getting a lot of buzz lately.
In a matter of minutes you can write blog posts, emails, Facebook ad copies.
It's easy to use; pick one use case, input some text and rytr will go ahead and create original content in minutes.
Features
Writes Unique content
Write and translate in over 30+ languages
Choose from 20+ tone to write content
Write blog posts, social media posts, compelling ad copies, engaging emails, etc
In-built SEO analyzer
WordPress plugin to write content directly easily and fast
Built-in Plagiarism Checker
Pros:
Output is high quality
Lots of wonderful features to choose from
You can organize all your projects in one place
Cons:
Limited payment method (Only card payment if you decide to upgrade)
Pricing
Rytr offers three pricing plan and you can see them below;
Free For Life Plan: As the name suggests, it's free for life and you can upgrade anytime you want however you are limited to 5,000 characters per month
Saver Plan: Costs $9 per month plus you get 2 months free which gives you access to 50,000 characters per month
Unlimited Plan: This goes for $29 per month and obviously you are getting unlimited characters per month + access to all features, a dedicated manager and priority email and chat support.
All of the pricing plans including free plan give you access to 30+ use cases, 30+ languages to create your content, built in plagiarism checker and other features.
You can also get this ai tool for a one-time low price instead of annual or monthly subscription by buying the rytr lifetime deal in AppSumo
Who is this best for?
If you are a small business, blogger, you are into e-commerce, freelance writing etc.. Rytr is a very good and affordable choice.
Click here to Try Rytr for Free
4 . CopySmith Ai
Copysmith is a unique AI writing tool that focuses heavily on eCommerce. It can be used to create content to help your eComm store make sales ranging from ad copies, product page descriptions, blog articles and more.
Try Copysmith 7 days FREE Trial
Features
Plagiarism Checker
Generate unique content
Ad Campaign builder
Already made templates to create ecom content such as product descriptions, Ad Copies, Blog Posts etc.
SEO Optimized Content for higher rankings
API to connect directly to other marketing apps that you use everyday for your eCom business
Chrome extension for ease of content creation
Integrate with WooCommerce, Google Ads, Zapier, Microsoft Word
and more.
Pros:
Easy to use
High Quality content output
Only one line of focus (eCommerce) which makes it one of the best AI writing tools
Choose from lots of templates
Different integrations to make content creation easier and faster
Cons:
There is room for improvement as this is still a new software.
Pricing
Copysmith is available in 3 pricing plan;
Starter (costs you $16 per month if you pay annually) with access to integrations, in-app support, 50 credits/month and 20 plagiarism checks
Professional (costs you $600 per year) and you get access to integrations, in-app support, 400 credits per month and 100 plagiarism checks
Enterprise includes access to all mentioned in start and professional plan + account manager, bulk import and export, unlimited credits and unlimited plagiarism checker (you have to contact to schedule a demo)
Want to give Copysmith a try? They offer a 7 day free trial to test their tool.
Who should buy this?
If you are looking to scale your ecommerce business with AI then copysmith is the perfect one for you.
And it's very affordable as pricing starts at just $16 per month.
Click here to try Copysmith for 7 days FREE (No credit card required)
5. ClosersCopy
ClosersCopy is an ai copywriting tool that takes SEO optimized content to the next level.
With ClosersCopy you can generate long form content in over 128+ languages.
Name it; blog posts, stories, sales copies and more.
Features
Write in over 100+ languages
Over 900+ templates and frameworks to choose from to create content
Built in SEO Analyzer
Longform content creator
Create sales page copies, ad copies, emails, stories, and blog posts
Likeminded Facebook Group
Pros:
Offers a wide range of templates for you to chose from to create content
Write blog posts that will rank high on Google with the help of builtin SEO Analyzer
You can writer and translate in 128 languages (that's a whole lot)
Unlike other AI writing tools ClosersCopy uses its own algorithm and not GPT-3
Provides a lifetime-deal option so you don't have to pay monthly/yearly.
Cons:
It doesn't offer a free trial but gives 14-day money back guarantee
A bit more expensive compared to other ai writing assistants
You can't do much with the lower plan
No plagiarism checker (you have to use other software like Grammarly for final touch)
Pricing
ClosersCopy offer three pricing plans
Power plan: Costs $49.99 per month and you get access to 300 AI runs per month and 50 SEO Audits + 2 Seats
Super Power: Costs $79.99 per month, you will get Unlimited AI writing, unlimited SEO Audit, unlimited updates and 3 seats
Super power squad: Costs you $99.99 per month and you get access to unlimited AI writing, SEO Audits, updates + 5 seats.
If you pay yearly, you can save 30% on the pricing plans.
Power plan lifetime deal costs one time payment of $397
Super Power Costs $497 one time payment
Super power squad Costs $697 one time payment.
Who should buy this?
If you are looking for a unique AI writer that will produce content in different languages and one where you don't have to pay monthly or annual subscription, then ClosersCopy is your best bet.
Right now you can take good advantage of their lifetime deal
FAQs | Sites like Shortlyai
Below are some of the questions a lot of readers have about shortly AI and it's alternatives.
What is similar to ShortlyAI?
Here are some of the best alternatives to shortlyai:
Is there a free version of ShortlyAI?
No, shortlyai does not have a free version however you can try them for free for a few days.
Does ShortlyAI plagiarize?
Ai writing assistants like shortlyai are subject to plagiarism but you can use a third party plagiarism checker like Grammarly before publishing your content.
Conclusion on Sites like Shortlyai
There are hundreds of AI writing tools similar to shortlyai out there, but instead of listing everything here we've chosen only the best 5 for you.
You can go through one after the other, check their unique features, pros and cons and finally decide on which to go for.
That concludes our list of the 5 best sites like shortlyai that you can use to create content easily and fast on a consistent basis
Have any questions? let me know in the comment section.
Prosper Noah is the brain behind TipsonBlogging. A full-time blogger & SEO expert.  His tips has helped a lot of people
start their own blogs
, grow it and make money.