Are you looking to try the omega indexer backlinks indexing tool or you want to know exactly how it works? you're in the right post.
If you're into content marketing then you know that one of the best ways to drive free organic seo traffic to your website from Google is through doing keyword research and most importantly building backlinks.
Backlinks see to it that your content ranks and stay at the top of search engines.
However, there's no use in building backlinks that are not actually indexed on Google.
The problem is most times these links don't index or take forever.
If Google doesn't crawl and index the links, they literally have no impact on your rankings.
This is why it's good to use backlink indexer tools such as omega indexer.
It's job is to force and push these ulrs to index
Want to give it a try?
In this review of omega indexer am going to show you:
how it works
how to use the tool
pros and cons
pricing
etc.
Omega Indexer Review 2023: Is this Backlinks indexer Worth it?
If you're looking for an in-dept review and tutorial then you have definitely come to the right place.
Omega indexer is one of the many seo tools out there that helps to get your backlinks indexed and overall make your seo project a success. It's a great alternative to one hour indexing and other competitors. And because of the huge importance of indexing built backlinks, a lot of marketers and SEOers are going all in for it.
What is Omega Indexer?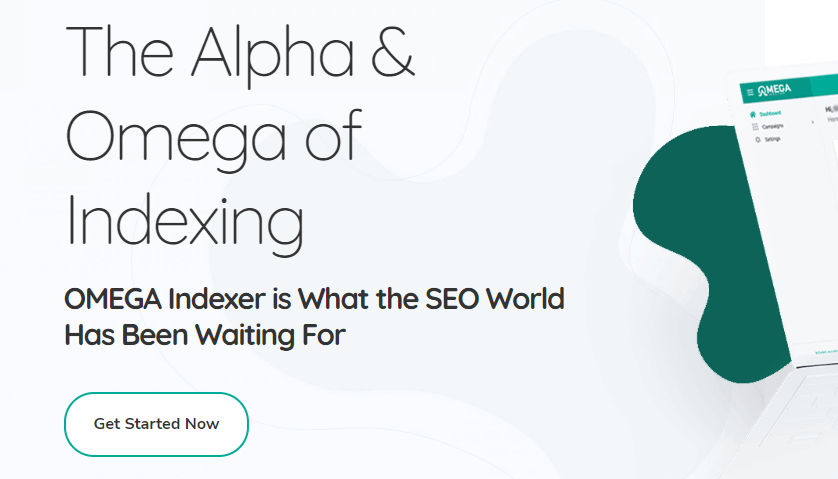 Omega Indexer is a backlinks indexing tool founded in 2020 by a team of developers and has since then been used by a lot of SEOers to help make Google's indexing process faster and easier.
The best part? it's safe.
Is Omega Indexer any good?
Yes, it's used by lots of SEOers & marketers and there are some good number of testimonials from existing customers especially at the speed of indexing and the fact that it forces stubborn links to index.
Above all, there's no monthly subscription; you simply pay as you go where 1 link equals $0.02 at 1 credit per link.
This is super affordable and it works really well.
So what are you still waiting for?
Click here to get started with Omega Indexer
How to Use
It's very easy to use and pretty much straight to the point, all you need to do to get started with the tool is:
Create a new campaign from your Omega dashboard and give it a name
Upload or paste the backlinks' URLs you just built
Index gradually also known as drip feed (select how may days you want the links to be indexed for you)
When you're fine, finally go ahead to start the campaign.
and that's it.
Omega Indexer will go ahead to index the links according to your settings. It's always recommended to gradually index these links so they look natural. This is called rotary indexing or drip feeding.
Let's now talk about how to use this tool in detail so you can get the most out of it.
Create Campaign
The first step to getting your backlinks indexed with omega is to create a campaign.
Login to your dashboard and right from there, you need to click on create new campaign and give it any name you like.
Add Your Backlinks
You have built your links and have it in a notepad file or anywhere, you can paste the URLs or upload that file to omega.
Drip-Feed
This step is very crucial. You don't want to index over 100-1000 URLs in one day as it will look very unnatural to Google.
You have to gradually index the backlinks and this is why there is something called "Drip Feed"
Select how many days you want your campaign finished.
When you're done with all of this, finally start campaign.
In a matter of days your links should get indexed.
Pricing
Omega Indexer is an affordable backlink indexing tool with one pricing structure and it works with link credits.
As seen below is the details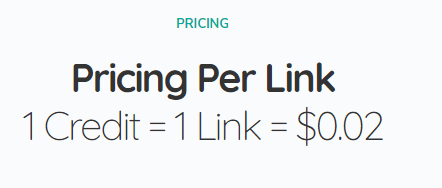 :
1 credit gives you 1 link which equals $0.02 (this means if you're going to index 1,000 backlinks, that is $0.02 * 1000 = $20)
Minimum deposit to your omega account is $20
Unlike other tools, you don't need to pay any monthly or yearly subscription.
It's completely pay as you go.
So what are you waiting for?
What others are saying about Omega
Omega Indexer is used by majority of SEOs including popular SEO forums like BlackhatWorld

Link building experts are seeing tremendous results in indexing as seen below: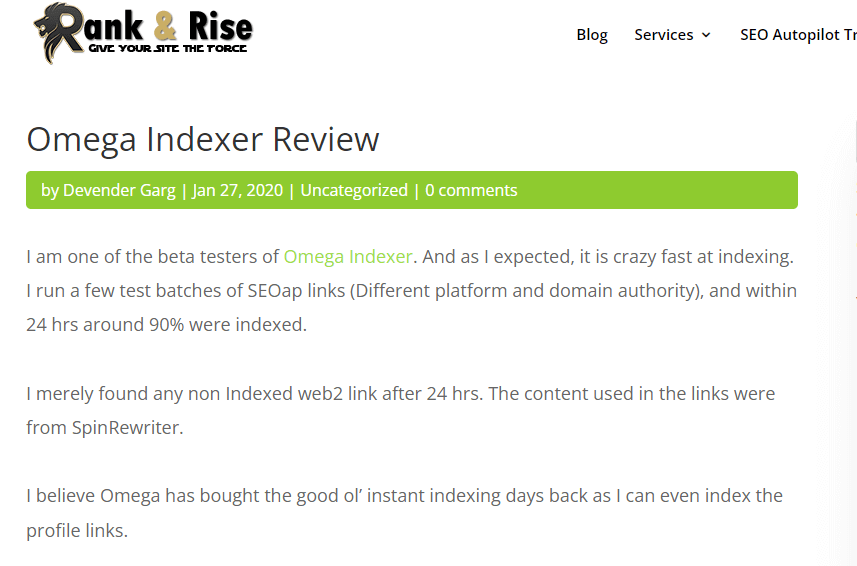 Plus lots of testimonials from clients
If customers are happy then it works, no doubt.
Pros and Cons of Omega Indexer
Pros:
It is a very affordable backlink indexing tool
The dashboard interface is easy to use
The speed at indexing is really fast
Offers drip feed option to index your urls slowly and naturally
It's a web based application
No monthly/yearly subscription
Cons:
There is room for improvement
How to get started with Omega
If you've decided that you want to give this wonderful indexing tool a trial then here is a step by step instruction on how to get started with it.
Step 1: Click here to visit the website and you will be taken straight to the landing page.
Step 2: Immediately you click the above link you'll arrive at the page, and the next thing you need to do is hit the "Get Started" button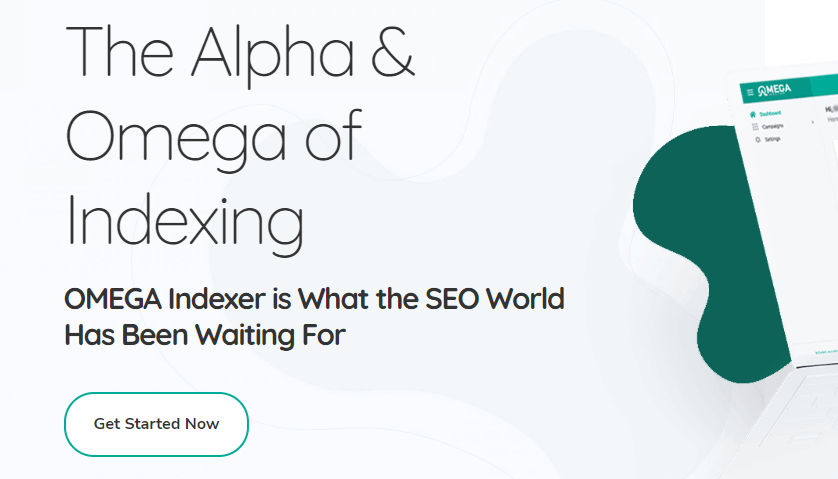 Step 3: Finally, you will be taken to sign up page to enter your details such as email, name etc. in order to complete your registration.
Once that's done you can make a deposit and start your campaign.
Top 2 Omega Indexer Alternatives
Looking for other alternatives to Omega Indexer? Let's check out a short list of other high quality indexing services.
1. One Hour Indexing
One of the best alternatives to Omega is One Hour Indexing service. We've known this one since 2018 and they are one of the best in the SEO industry when it comes to indexing backlinks.
As noted in their name, you can get your links indexed within an hour. This is another excellent indexing tool alot of SEO professionals use to index thousands of links in a short period of time.
They also offer drip feed and some other important features to ensure you don't get penalized by Google.
2. Linklicious
This service is owned by the same company of One Hour Indexing but there is a little difference in their services.
Linklicious ensures and forces crawling of your links by Google and other popular SEO tools such as Ahrefs and Majestic.
This is how it works;
When you build links and submit them to Linklicious, they drip-feed them to the three main crawlers which are Google, Ahrefs and Majestic. These crawlers then adds your links to the appropriate database to be indexed.
It's another very good alternative to Omega Indexer tool.
Other Tools Worth Checking:
FAQS
Below are questions other readers are asking about this backlinks indexer that you may also find helpful.
Does Omega Indexer work?
Yes, Omegaindexer works and tend to be the most effective link indexer tool out of other alternatives. It's not perfect but will do a good job of indexing most links.
How do I use Omega indexer?
Follow the below simple steps:
Create a campaign and give it a name
Paste or upload URLs you want indexed
Drip feed and
Start campaign
How do you check if a backlink is indexed?
You can confirm by copying the exact URL of that backlink and pasting into google. If it shows up then it is indexed. You can also see these backlinks in your google search console as time goes on.
Is there any Live Coupon Code for Omega?
No, at this moment we do not know of any available coupons to help you save money with omegaindexer tool. The service is very affordable if you ask me but we will let you know when there is any omega indexer coupon code available.
Final Thoughts
Building backlinks is one hard and expensive thing to do, indexing them shouldn't be. When Google crawls and index them your website and or clients' websites ranking would definitely shoot up.
Indexing Tools obviously makes your link building projects/journey faster and a complete success by making sure the links get discovered by big G.
This way your efforts won't be in vain.
If you plan to get a good tool that works for indexing your backlinks then I will recommend Omega Indexer.
Not only is it effective but also very affordable.
Hope you loved this review and tutorial. If you have any questions about this tool please drop in the comment section.
Prosper Noah is the brain behind TipsonBlogging. A full-time blogger & SEO expert.  His tips has helped a lot of people start their own blogs, grow it and make money.