Are you looking for a twitter bio generator to help you craft catchy, attractive and professional looking bios for your twitter profile? Then you've come to the right place.
Twitter is a noisy place
It's also where the money is right now.
As a content marketer using twitter to promote your products and services; if you want to stand out from the crowd and make more sales for your business, one thing is for certain;
You need to be unique.
No doubt, to make sales you need targeted followers to follow you, check out your value tweets and offers, click your links and buy whatever stuff you're selling.
Do you need followers? We all do.
But the big question is;
Why should people follow you?
What should they expect after following you?
This is where your twitter bio comes in, it can make or break your content marketing on the twitter platform
I'm sure you already know what a twitter bio is before arriving at this page, however here's a brief info anyways.
What is a Twitter Bio
A twitter bio is that short summary/description that shows below your profile on twitter. This is what potential customers see whenever they visit your profile to determine whether to follow you or not.
Obviously, you have to give them a reason to follow you.
Good twitter bio examples
Your bio should;
Be interesting
Show off some progress you've made
Mention any rewards, revenue, growth numbers, etc.
keep things friendly and informal
Etc.
FACT is;
Not everyone is a copywriter, which is exactly why you need tools that can assist you in generating catchy twitter bios.
The one-stop solution: Ai Copywriting Tools
What are AI Copywriters?
These tools can generate really good original content including blog posts, ad copies, emails, eCommerce product titles and descriptions, etc.
They can also generate interesting and click-getting social media bios in a matter of seconds. Twitter is not an exception.
Just enter enter a few details such as who you are and what you do for a living
The Ai writer will do the rest.
In this post today we're going to share with you some very good ai twitter bio generators to help you create a highly engaging, catchy, attractive and professional looking twitter bio.
Let's jump to the it right away; the list of ai tools that will generate your twitter bio in matter of minutes or less.
5 Best Twitter Bio Generators 2022
Copy.ai
Writesonic
Jasper AI
Rytr
Writecream
Let's now go ahead and explain more how these tools work and how to use them to generate twitter bios
1. Copy AI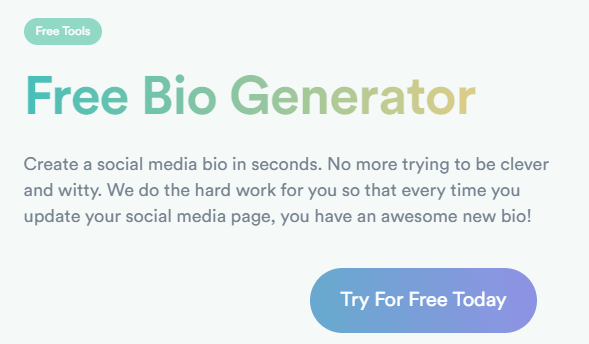 Copy.ai is an Artificial intelligence writing tool that uses GPT-3 to generate original content for businesses such as;
Blog posts
Highly engaging emails
Social media copies
Facebook and Google ads copies
Marketing copies in general
and much more
It's free social media bio generator tool as seen above can be used to generate twitter bios
All you need is a few lines of text about you and what you do.
If you need a detailed guide to write twitter bio using copy.ai, please follow the following steps.
Steps to generate twitter bio with CopyAI
Visit this link and you will be taken to copy.ai website to try the tool for free
Access the free bio generator page or use the club house bio
Enter a few details about you and what you do as instructed by copy.ai
Click on create content
It will go ahead and generate your bio almost instantly.
2. Writesonic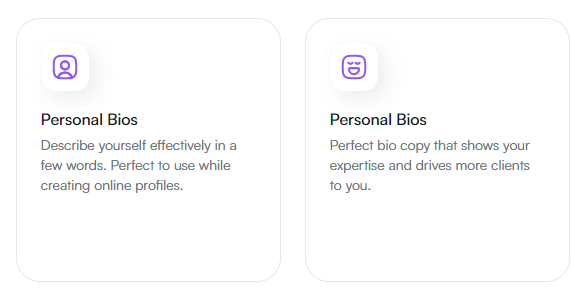 Writesonic is another ai writing tool that can also serve as a twitter bio generator for you
It has what is called "Personal bio" in the list of tools available and you can use this to generate your twitter bio
What you need to generate your bio is just brief introduction about your accomplishments and other relevant information and Writesonic will come up with a compelling and engaging bio in seconds
Want writesonic to write your twitter bio for you?
Follow below steps carefully
Click here to signup for writesonic free trial account
From your dashboard, click on personal bios
Enter the name and personal information
Select tone of voice and choose a language
Click "Generate" button
Writesonic will generate three unique bios for you to chose from and if you don't like what you see, simply hit re-generate button.
3. JasperAI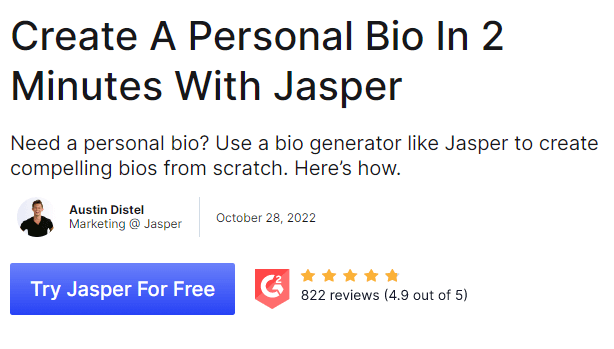 Jasper is currently the #1 Ai Copywriting tool in the world used by hundreds of thousands of marketers and companies to generate high quality content for their businesses.
It is also the most popular right now and what's best?
It has a twitter bio generator that you can use to generate your catchy and professional looking bios for any social media profile.
You can create the perfect personal bio with jasper in 2 minutes.
Follow the steps below to generate your bio using Jasper AI
Visit this special link to try Jasper for 5 days free
From your dashboard, select Personal Bio
Enter personal information
Choose tone of voice to use
Select the language you want your bio created in
Create content
4. Rytr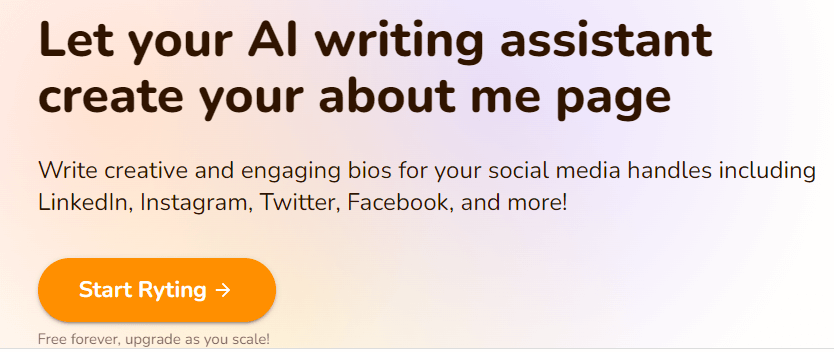 Rytr is an ai writing assistant and one of it's most important tools is the social media bio generator for Linkedin, Instagram, Facebook and Twitter.
With rytr you can generate a creative and engaging bio for your social media profiles and twitter is definitely not an exception.
Follow these steps to create a twitter bio using Rytr
Click here to sign up for Rytr ai free trial (you will be given free credits to use for creating content)
Login to your app, and select Personal Bio
Select tone of voice and language you want
Add a few line of text and keywords
Click Ryte for me
and that's it, your twitter bio will be generated without delay.
5. Writecream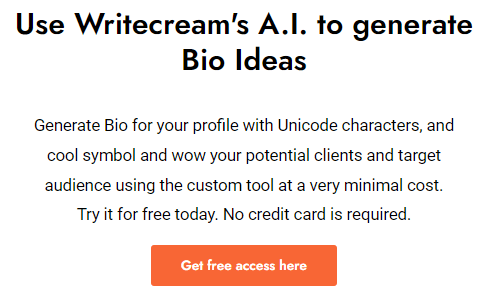 Writecream is a unique ai writing tool as it's currently the only tool that lets you easily create your own AI writing tool right from your dashboard.
Aside using it to create marketing copies, it can also be used to generate catchy bios for social media and this includes twitter.
Note: Writecream does not give you an already made bio, you have to create the bio generator from scratch and it's easy to do.
If you want to use writecream to create your twitter bio follow the below steps carefully.
Go to the writecream's bio generate page and signup for a free account
From your dashboard, click on "Create your own Tool"
Enter name of tool e.g Twitter Bio Generator
Enter description
Add input and output
Create Tool
Here's a detailed video from writecream on creating bio generator
and there you have it.
FAQs on Twitter Bio Generator
Here are frequently asked questions by other readers looking to generate their twitter bios using assistants. Figured you may have these questions in mind too and hope it helps you.
Why is a Twitter bio important?
Your Twitter bio is the most important part of your profile, as it's what people see first and it tells them who you are and what you do and why they should follow you.
This is where you showcase your achievements, rewards, and other relevant information that might help potential customers know what's in for them if they follow you.
How do you make a catchy bio on Twitter?
Your bio should be friendly, funny and informal, interesting, show off some of your accomplishments and progress.
What should I write on Twitter bio?
Your bio should contain some of the following
An Introduction about you or your company
Your blog or website
Achievements or rewards to attract potential prospects.
A quote from a book or author you love
What should you not put in your Twitter bio?
Here are things that shouldn't be in your bio:
Links to other websites you don't own
Do not put in your bio what you're not (e.g If you are not an author, do not say you are)
Final Thoughts
A carefully crafted Twitter bio can help you get your desired results. It doesn't matter what kind of results you are looking for.
You'll be able to get targeted customers if you're promoting your products and services. This is why your bio is very important.
If you're not a copywriter yourself, then you can use a twitter bio generator tool such as copy ai, jasper and others mentioned in this post.
Use them to create eye-catchy, engaging and professional looking bios.
Are you going to try these ai writing tools for your twitter bios? Which do you like? Have any questions? Please let us know in the comments section.
Prosper Noah is the brain behind TipsonBlogging. A full-time blogger & SEO expert.  His tips has helped a lot of people
start their own blogs
, grow it and make money.