Are you looking for the best twitter bio generator to help you craft catchy, attractive and professional looking bios for your twitter profile?
Then you've come to the right place.
Here's a quick overview of the best five generators you can use:
Copy.ai: Use this to create multiple versions of bio you can choose and use on Twitter
Writesonic: Best for Generating company Twitter bios
Jasper AI: Best for generating personal and company bios for social media including Twitter.
Rytr: Best to create bios for any platform including Facebook, Linkedin, Instagram and Twitter
Writecream: Use this to create your own bio generator for twitter or any platform
The FACT is this;
Twitter is a noisy place, no doubt.
If you want to stand out from the crowd and drive more traffic and sales for your business, one thing is for certain;
You need targeted followers.
People who can check out your value tweets and offers, click your links and buy whatever stuff you're selling.
Do you need targeted followers? Want to thrive on twitter? We all do.
But the big question is;
Why should people follow you?
What should they expect after following you?
This is where your twitter bio comes in. it can make or break your marketing on the twitter platform
Pretty sure you already know what a twitter bio is before arriving this page, however here's a brief info anyway.
What is a Twitter Bio
A twitter bio is that short 160 characters summary/description that shows below your profile on twitter.
This is what potential customers see whenever they visit your profile to determine whether to follow you or not.
Obviously, you have to give them a reason to follow you.
Here are some good twitter bio samples
Your bio should;
Be interesting
Show off some progress you've made
Mention any rewards, revenue, growth numbers, etc.
keep things friendly and informal
Etc.
Let's be honest with ourselves;
Writing a twitter bio can be hard.
Not everyone is a copywriter, which is exactly why you may need tools that can assist you in generating catchy, silly or the best twitter bios in general.
or maybe you are looking for a kpop kind of bio? Haha! it doesn't matter.
Whatever your needs may be, you've come to the right place.
The one-stop solution: AI Copywriting Tools
What are AI Copywriters?
These tools can generate really good and original content including blog posts, ad copies, emails, product descriptions and titles, etc.
They can also generate interesting and click-getting social media bios in a matter of seconds.
Twitter is not an exception.
All you have to do is select the bio template and simply enter enter a few details such as who you are and what you do.
Or what your company is about.
The AI writer will take care of the rest.
In this post today we're going to share with you some very good AI twitter bio generators to help you create a highly engaging, catchy, attractive and professional looking twitter bio.
We'll also show you how to use these tools as well as examples of bios we generated with them.
You'll see everything.
Let's jump to the it right away; the list of AI tools you can use to generate your twitter bio in seconds.
5 Best Twitter Bio Generators 2023
Copy.ai
Writesonic

Jasper AI

Rytr
Writecream
Let's now go ahead and explain more how these tools work and how to use them to generate good twitter bios
1. Copy AI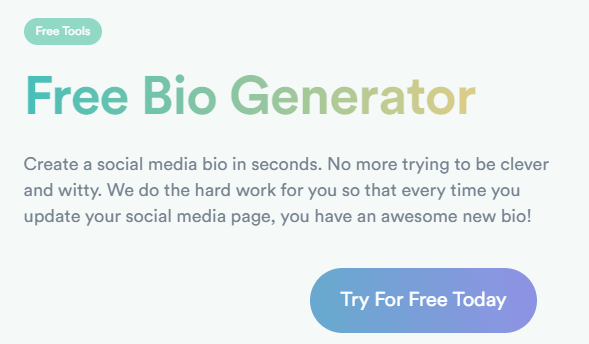 Copy.ai is an Artificial intelligence writing tool that uses GPT-3 to generate original content for businesses such as;
Blog posts
Product descriptions
Emails
Facebook and Google ads
Marketing copies and more
Its free social media about me bio generator tool as seen above can be used to generate creative twitter bios
All you need is a few lines of text about you and what you do.
If you need a detailed guide to write twitter bio using copy.ai, please follow the following steps.
How to generate a twitter bio with CopyAI
Let's try to generate a bio using one of it's templates.
From your CopyAI dashboard, navigate to "Personal Tools" as seen below.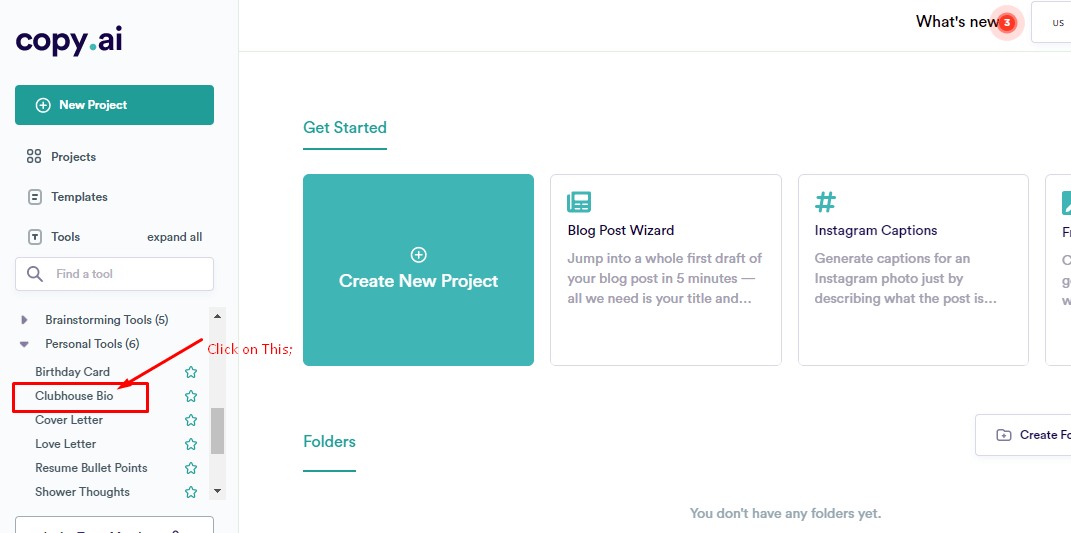 Select "Clubhouse Bio"
Now you have to input a few details about yourself.
Let's assume we want CopyAI to generate a bio for a startup who is into business services and consulting.
We'll simply enter that in the box. As seen below;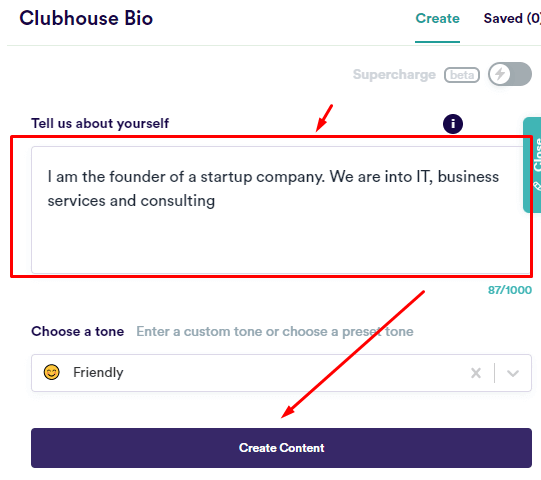 Click on "Generate Content" and Copyai will instantly generate up to 5-8 bios for you to chose from.
Here's the bio Copy.ai generated for us;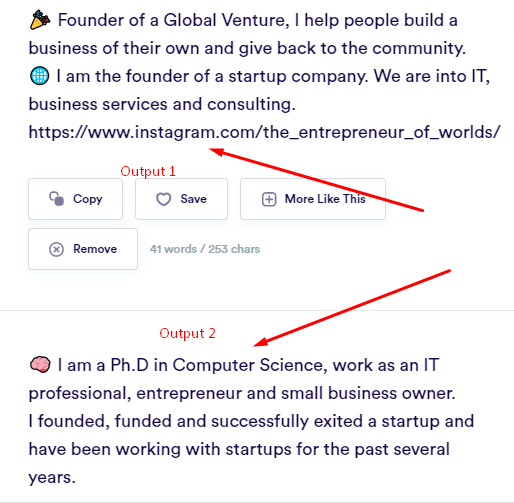 Here's even more;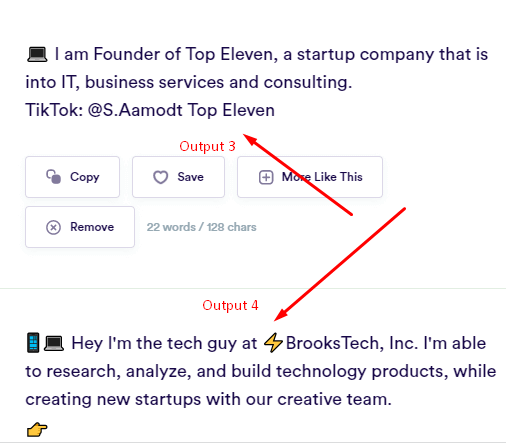 See that?
Here's an even better one;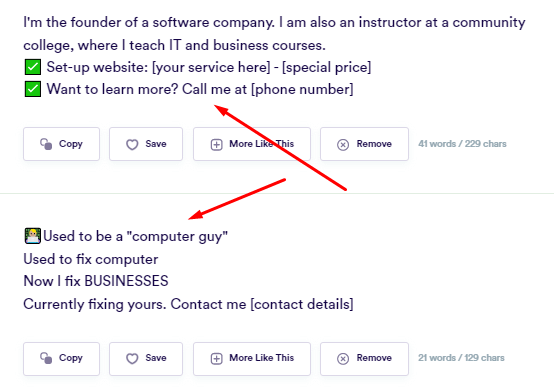 If you're not happy with the outputs, there is option to generate more.
Quick tip: Play around with the tone of voice to get bios that are interesting, professional, persuasive, funny etc.
These are the available tones on Copy.ai you can chose from.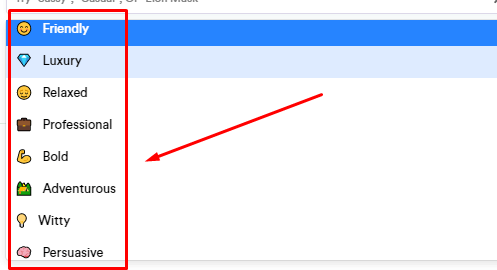 It's that simple and easy to generate any type of social media bio using CopyAI
Want to give it this tool a try? Then use the following button link.
2. Writesonic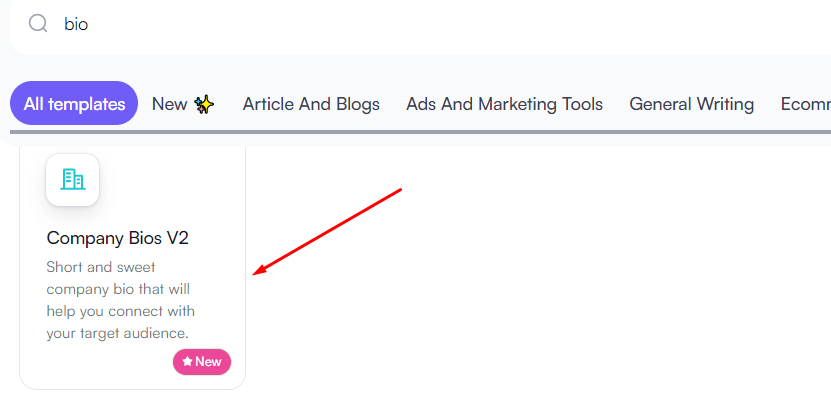 Writesonic is another ai writing tool that can also serve as a twitter bio generator for you.
It has a company bio generator in the list of tools available and you can use this to generate twitter bio for your business.
If you have been looking for how to write a twitter bio for business then your search ends here with Writesonic.
What you need to generate your bio is just brief introduction about your accomplishments and other relevant information and Writesonic's professional bio generator will come up with a compelling and engaging bio in seconds.
How to generate a twitter bio using Writesonic AI Writing Tool
Let's ask Writesonic to create twitter bio for us.
When you're inside of the writesonic dashboard, type "bio" in the search box.
This is what it looks like;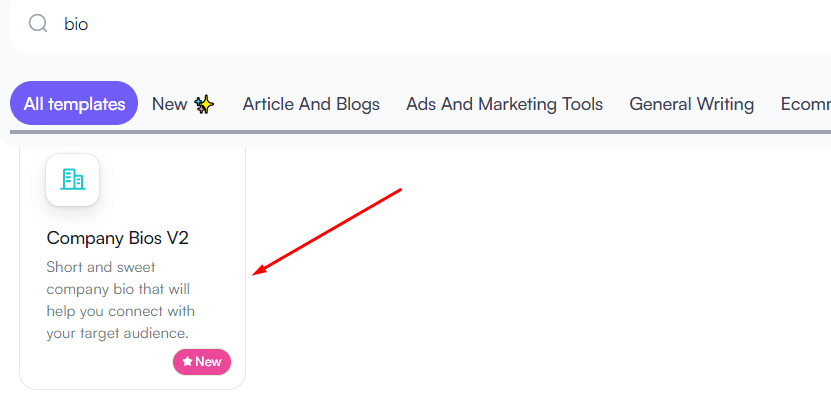 Click on Company Bios V2 and it will take you to a new page.
This is where you need to enter some details about your company such as;
Company name
Company information
Language you want bio written in (You can generate bio in over 24+ languages, not only English)
Also ensure to select what platform you want to use the bio, e.g. Twitter, Instagram, Linkedin, etc.
As seen below;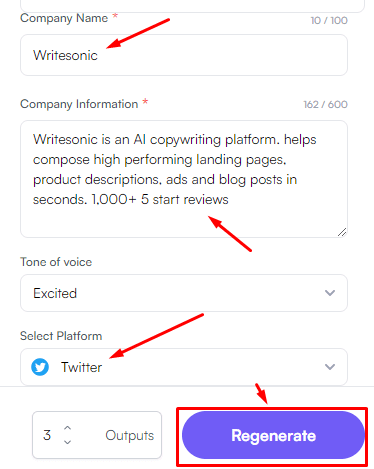 When you've done everything, Click on Generate.
Here's the bios Writesonic generated for us;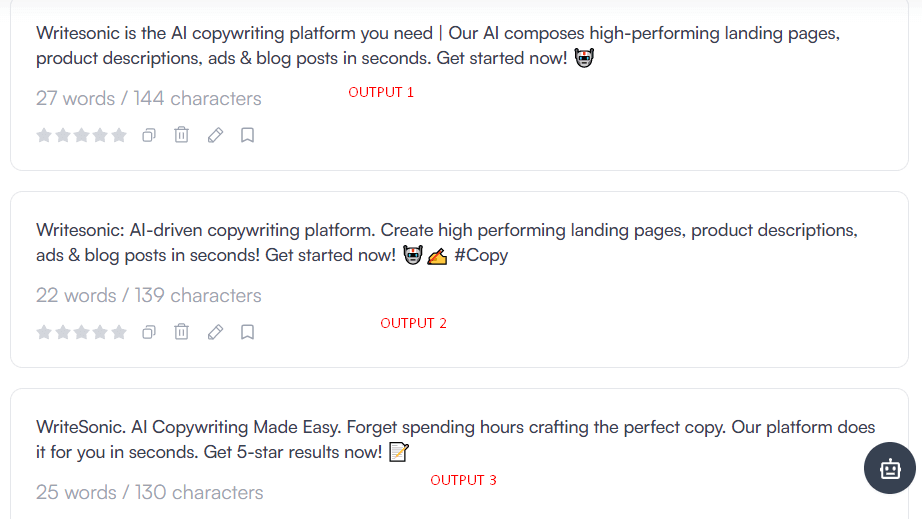 These all look amazing, right?
You can use them straight away on Twitter or tweak a few words.
If you are not happy with the outputs, you can ask Writesonic to generate more.
Important tip: Play with the tone of voice to get what you need.
There are many tones like professional, funny, engaging, etc.
You can see them below;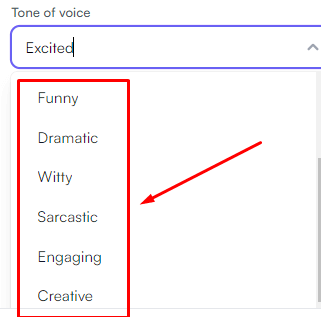 The tone you select determines the kind of output Writesonic gives you.
If you want a funny twitter bio, it'll do it for you.
Want a professional one? Then select professional tone.
Easy-peasy!
Want this powerful AI writer to write your company twitter bios? You can try the Writesonic free trial to test the tool for free today.
Use the following button link.
3. JasperAI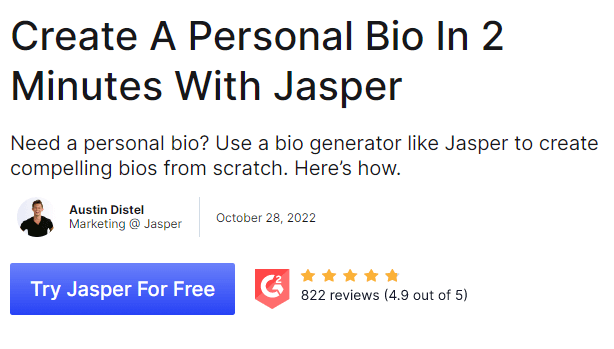 Another powerful tool that can act as a profile bio generator for any social media including Twitter.
Jasper is currently the #1 AI Copywriting tool in the world used by thousands of marketers and businesses to generate high quality content for their businesses.
This includes emails, marketing copy, product descriptions, etc.
It has a twitter bio generator that you can use to generate your catchy and professional looking bios for any social media profile or company.
This means you can also use it to create twitter bios.
It's the perfect personal bio generator tool for you.
Let's show you how to use this tool to generate bios instantly either for yourself or your company.
How to generate a twitter bio using Jasper.ai
It's very easy to do.
From the JasperAI dashboard, just type "BIO" in the search box.
Here's how it looks like.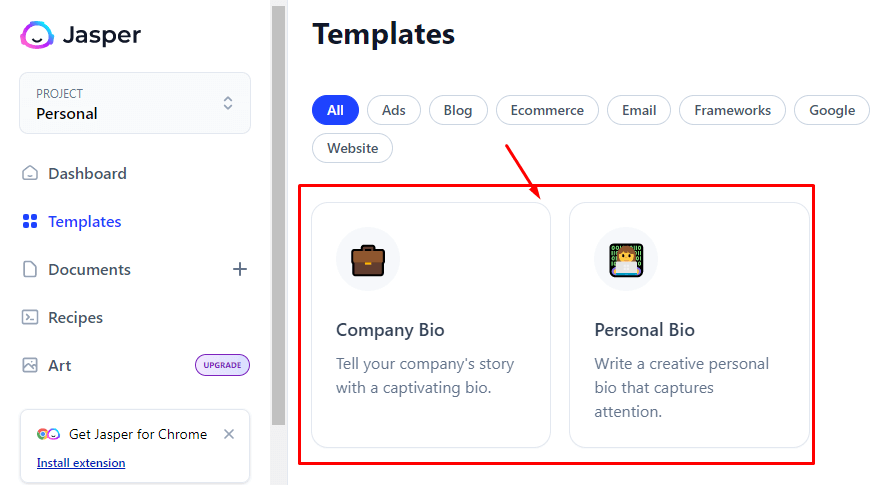 Click on the one you need.
We're going to use the Personal Bio tool.
Simply enter your personal information, select tone of voice and finally hit "Generate"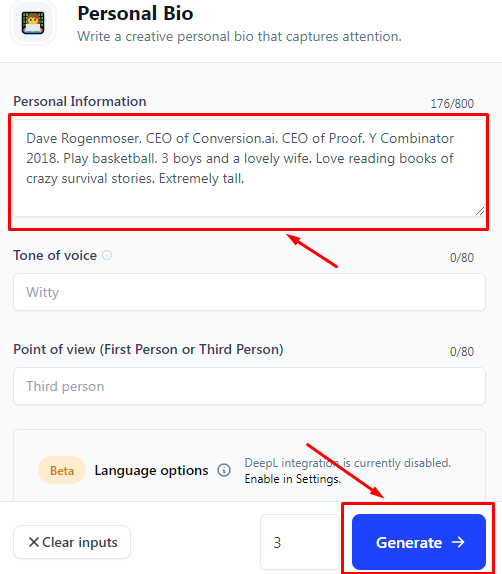 and that's it. Jasper will go ahead to generate 3 bios that you can choose from.
If you want to generate your twitter bio with Jasper.ai, you can get a free trial to try it for free today.
Use the following button link.
4. Rytr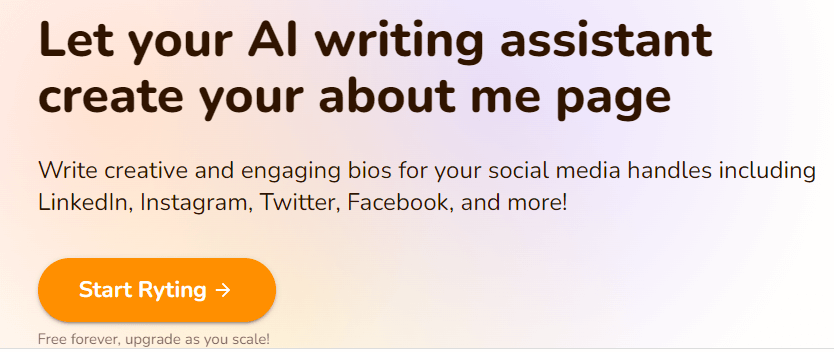 Rytr is an ai writing assistant and one of it's most important tools is the social media bio generator for Linkedin, Instagram, Facebook and Twitter.
With rytr you can generate a creative and engaging bio for your social media profiles and twitter is definitely not an exception.
Rytr has one of the simplest and easiest to use interface.
Let's use it to create a twitter bio.
How to generate a twitter bio using Rytr.me AI Writing Tool
To get started you need a use case
From Rytr dashboard, select "Profile Bio" from the list of use cases.
Here's a screenshot on how that looks;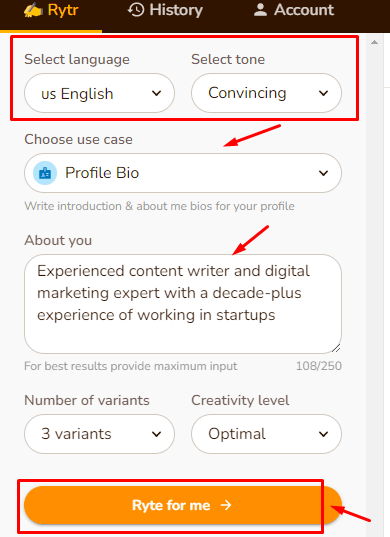 As seen in the image above, to let Rytr generate a twitter bio for you is quite easy.
Select the language you want bio written in (you can write in over 30+ languages
Select tone (Over 20 tones are available to chose from)
Choose Profile Bio use case
Enter information about you
Now click on the "Ryte for me" me button.
Ryte will go ahead and do the rest.
Here's the bios Rytr generated;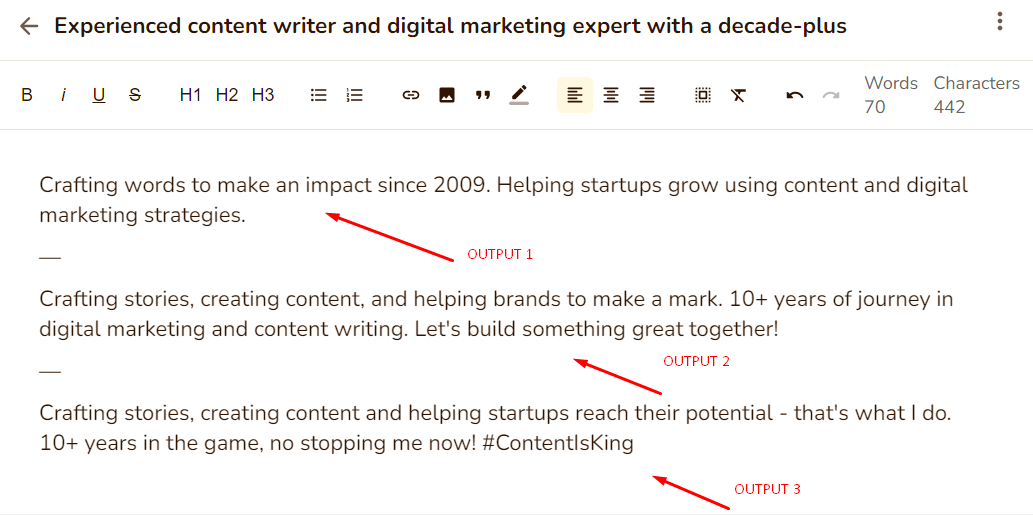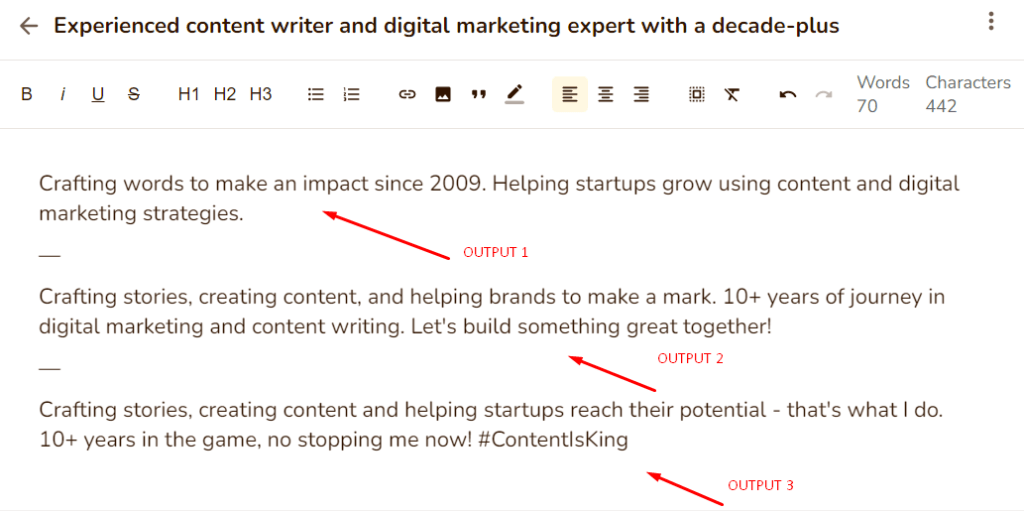 Looks nice?
You can always generate more and don't forget to play with the filters such as tone and creativity level.
With this you can create the perfect twitter bio.
You can use Rytr for free today.
Use the following button link to try Rytr.me AI writing tool.
5. Writecream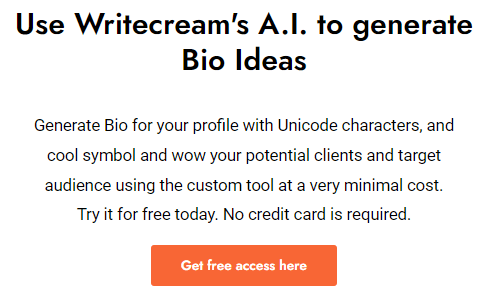 Writecream is a unique AI writing tool as it's currently one of the only tools that lets you easily create your own AI writing tool right from your dashboard. .
Writecream and Jasper are industry leaders in AI content creation.
Aside using it to create marketing copies, it can also be used to generate a catchy twitter bio
Unlike other AI writers, Writecream does not give you an already made bio tool. You have to create the ai bio generator from scratch and it's easy to do.
If you want to use writecream to create a bio for your twitter account follow the below steps carefully.
How to Use Writecream AI Twitter bio generator tool
From your dashboard, scroll down to where you have "Create Your Own Tool"
This is what it looks like;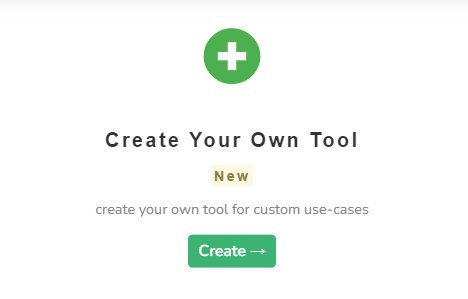 Click on the Create button.
Then follow the following steps;
Enter name of tool e.g AI Twitter bio
Enter description
Add input and output
Create Tool
Here's a detailed video from writecream on creating a bio generator
This can be difficult for beginners, so we advise you stick with using CopyAI or Writesonic to generate your twitter bio.
If you want more details, go through our unbiased Writecream review where you'll find out more about this all-in-one AI writer.
and there you have it. 
FAQs on Twitter Bio Generator
Here are frequently asked questions by other readers looking to generate their twitter bios using assistants. Figured you may have these questions in mind too and hope it helps you.
Why is a Twitter bio important?
Your Twitter bio is the most important part of your profile, as it's what people see first and it tells them who you are and what you do and why they should follow you. 
This is where you showcase your achievements, rewards, and other relevant information that might help potential customers know what's in for them if they follow you. 
How do you make a catchy bio on Twitter?
Your bio should be friendly, funny and informal, interesting or aesthetic and show off some of your accomplishments and progress.  
What should I write on Twitter bio?
Your bio should contain some of the following:
An Introduction about you or your company Your blog or website Achievements or rewards to attract potential prospects. A quote from a book or author you love
What should you not put in your Twitter bio?
You should not have links to other websites you don't own. Do not put in your bio what you're not (e.g If you are not an author, do not say you are) 
Yes, Hashtags work for exposure as it helps you connect with trending things in your niche. It's however recommended to only use relevant hashtags. You don't want to go around using hashtags that are not related to your niche. 
 
How do you attract more followers on Twitter bio?
Show achievements, add location, link to your website or blog
Final Thoughts
A carefully crafted Twitter bio can help you get your desired results. It doesn't matter what kind of results you are looking for.
You'll be able to get targeted customers if you're promoting your products and services. This is why your bio is very important.
If you're not a copywriter yourself, then you can use a twitter bio generator tool such as copy ai, jasper and others mentioned in this post.
Use them to create eye-catchy, engaging and professional looking bios.
Are you going to use any of these AI writing tools to generate your Twitter bio? Which do you like? Have any questions? Please let us know in the comments section.
Prosper Noah is the brain behind TipsonBlogging. A full-time blogger & SEO expert.  His tips has helped a lot of people start their own blogs, grow it and make money.