Are you on a hunt for the best PiPiAds alternative to use for your dropshipping business? Then you've just arrived at the right place at the right time.
No doubt;
PiPiAds is the best TikTok Ad Spy Tool in the market. It comes with all the tools needed to find winning Tiktok dropshipping products, spy on competitors ads and much more.
BUT it is expensive, pricing goes as high as $263 per month
Lots of eCommerce marketers are looking for a very good alternative that won't break the bank. If this is why you're here too, then count yourself lucky.
What you're looking for is an alternative that can at least give you similar tools and features that PiPiAds offer.
In this post we are going to list 4 alternatives to PiPiAds that you can actually use for your eCommerce business.
We are not going to list some random tools but ones we've actually used and carefully researched.
Let's get to it right away.
Just before we get started, here's a brief info about PipiAds
What is PiPiADs?
PipiAds is the best TikTok Ad spy tool currently. You can use it to find winning products, spy on competitors' ads, get viral and trending products and much more.
It comes with more than four powerful tools to help you run a successful eCommerce business.
Click here to try PiPiads Free Trial (No credit card required)
Use the coupon code "TIPSONBLOGGING" for 20% off.
And lo and behold, our list of the best pipiads alternatives in 2023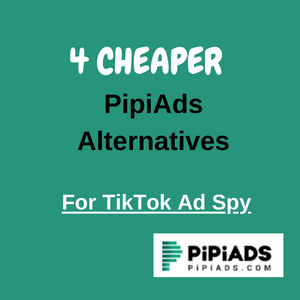 1. Minea's TikTok Spy Tool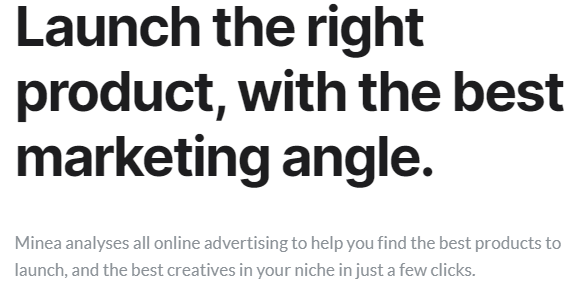 Top of the list is Minea. Undoubtedly one of the best pipiads free alternative
We have been using Minea since last year and can say it is one of the best and cheaper alternatives to PiPiAds.
The main benefit of Minea is that it offers you option to spy on many networks.
Unlike Pipiads which is strictly for TikTok Ad spy, Minea is an all-in-one ad spy tool for product research and competitor analysis.
You can use it for multiple networks such as Facebook and Instagram ads, Pinterest, Snapchat and TikTok.
Here's how the dashboard of Minea looks like;

As you can see above, the interface is clean and easy to understand for beginners.
All you need to do is click on any network you want to spy on and you can see all the videos of the ads, the likes, the Ad itself, copies, and much more.
The one you see above is when we clicked on TikTok.
And here's the top 10 winning products of the day, also in your dashboard.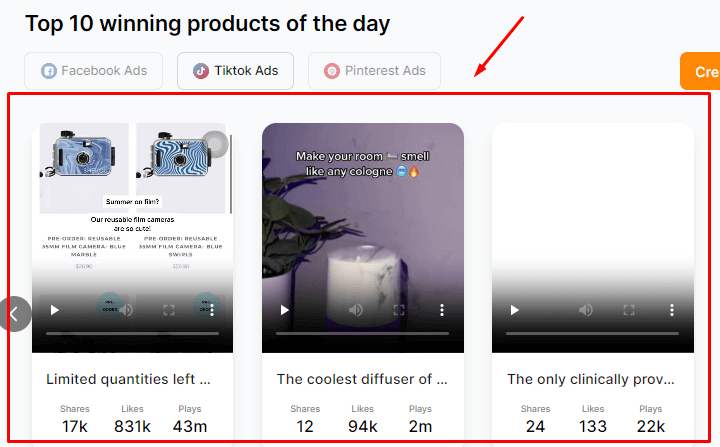 All you have to do is select TikTok from the List and it will display them for you.
Easy, Peasy!
Another amazing benefit is there is also an influencer marketing option if you're looking to use influencers for your promotion.
The "shops" spy tool lets you spy on the best shops in the world so you can find out their entire marketing strategy.
Benefits of Minea's TikTok Ad Spy
Access to all TikTok spying tools
Instant access to 10 Winning products daily
Influencer product placements
An effective filter system
Let's also see the overall features of this Powerful Ad Spy Tool
Minea Features
Minea comes with everything you need for product research and ad spy.
They include the following:
Spy on many social networks ads such as Facebook and Instagram, Pinterest, Snapchat and TikTok
Details of ads and placements
Influencer marketing
Advanced filtering options
Access to chrome extension for ease of use
Shop Analysis
Minea Pricing
Minea spy tool offers a free trial called Lite and two pricing plans, Starter and Premium
Let's expand on these plans and what you get with them
Lite plan
This is the Minea free trial account that lets you try the tool completely free. With this plan you get access to 300 research credits to test it.
If you are happy, you can upgrade to a paid subscription
It is however limited in features. You can not spy on TikTok and Pinterest ads, plus there is no access to shop analysis.
Starter Plan
Minea starter plan costs $49 per month and gives you 10,000 research credits to use.
The features in the starter plan are similar to that of lite.
The difference is the amount of credits
And yes, both do not offer you TikTok and Pinterest Spy.
Premium Plan
Premium is the last and most expensive plan from Minea as it costs $99 per month.
With Premium plan, you get access to all social networks available including TikTok.
You'll also get access to shop analysis and influencer marketing as well as everything needed for a successful product research.
It comes with 100,000 credits.
So if you are looking for a very cheap alternative to PiPiAds, it is the perfect one at only $99 every month.
We've also written a detailed post on Minea pricing so check it out if you want more details.
Also Read: Minea Review 2023: Best Dropshipping Ad Spy Tool, Worth it?
Minea Pros and Cons
So what are the pros and drawbacks of using Minea as an alternative to Pipi ads?
Let's see some pros and cons
Pros:
Very affordable at only $99 per month (PiPiAds charges up to $263 per month)
You can spy on multiple social networks not only TikTok
Influencer marketing option
Cons:
Very limited TikTok spy tools compared to PipiAds
2. BigSpy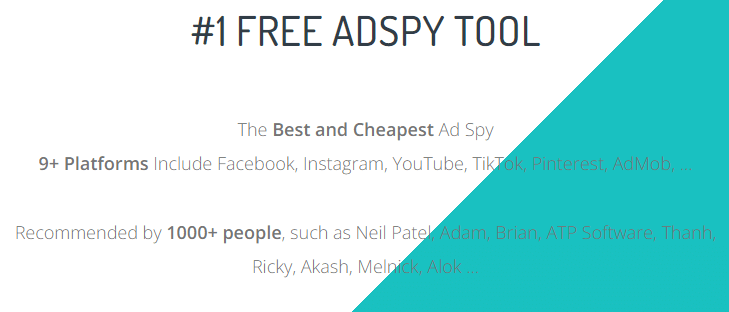 Another tool you want to take a look at is BigSpy.
It's getting a lot of buzz among dropshippers as a very good alternative to Pipiads
We can only hit so much on what we use and it's the reason this is not #1 but 2nd.
It's not a tool we've spent a lot of time on yet but Neil Patel recommends it.
If such a big figure recommends BigSpy, then you definitely want to give it a try.
So what is BigSpy?
BigSpy is an Ad Spy tool that you can use to spy on more than 9 social networks
The networks include:
Facebook
Instagram
YouTube
TikTok
Admob
Pinterest, etc
It has one of the largest databases and is recommended by more than 1,000+ industry leaders.
And what's amazing?
It's actually cheap starting at $9 per month for Ad spy, however TikTok Spy is not included in this pricing plan.
Since you're going to need TikTok Spy along with 9 other social networks, you'll be going with the VIP plan.
It's the most expensive plan from BigSpy which starts from $199 per month (TikTok included). But don't forget, you are literally getting access to spy on almost all the networks.
In summary, we consider this as a very cheap alternative.
What you get with BigSpy TikTok Ad Spy
The following things are included;
TikTok ads ideas
Access to lots of filtering options
Ads and ads details such as videos, landing page, etc.
Self tracking
BigSpy Features
Here are the features and benefits you get with BigSpy as an overall ad spy tool
Spy across many networks such as Facebook, Instagram, Twitter, TikTok, Pinterest, Yahoo etc
Filtering options
Access to featured ads
Top charts
Multiple users
New and trending products
Equipments
Online support and much more.
BigSpy Pricing
This powerful ad spy tool offers three pricing packages as well as a free plan and they are:
Free Plan: Free trial that lets you test the tool for free before committing to a paid plan. They give you 5 search queries every day to use.
Basic Plan: The cheapest plan from BigSpy which costs a measly $9 per month. You get access to 20 queries every day.
As said earlier on, there is actually no TikTok ad spy in this package.
Pro Plan: Pro costs $99 per month and it gives you access to unlimited queries. Again, this plan does not let you spy on TikTok.
VIP Enterprise Plan: This is the most expensive Bigspy plan which starts at around $199 per month. Fortunately TikTok spy is included and it's the best one you want to go for.
BigSpy Pros and Cons
Let's see the pros and cons of this tool compared to pipiads
Pros:
It's a winner when it comes to spying on multiple social networks unlike PiPiAds
Pricing starts at only $9 monthly
Has one of the largest databases
Cons:
Can't compare with pipiads when it comes to quality of tools needed for TikTok Ad Sp
3. Simply Trends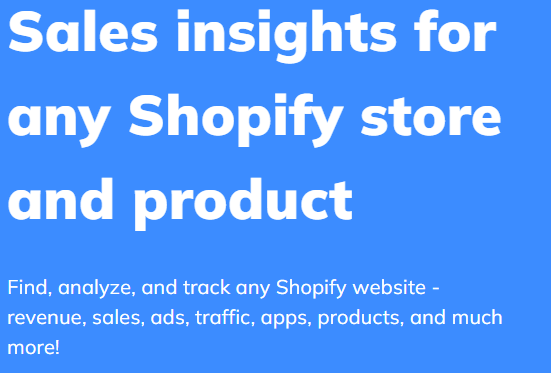 We came across Simply Trend not long ago and it looks like a promising Pipiads alternative you can check out.
Simply trends is known to get you sales insights for your Shopify store and product.
You can use it to find, analyze and spy on shopify websites to get exactly what is working.
You'll be able to see their traffic, sales and revenue and lots more.
It also comes with a TikTok Spy tool.
Simply Trend Features
The below features make Simply trends one of the best Ad spy tools for improving your store sales.
Instant access to winning ads
Spy on Facebook and TikTok ads
Sales tracker to track sales and live orders
Competition finder for finding 2m+ shopify stores, products, similar stores, etc
Supplier finder for finding the best supplier for any product
Simply Trends Pricing
Simply trend has one of the cheapest and best pricing structures.
Plans include free and Pro (monthly or yearly).
Free Plan
Obviously, this is the free trial plan that lets you test their tool before upgrading. It gives you access to some core features you need to get started.
They include access to live orders, limited sales tracking and search and advanced filters.
Pro Plan
The pro plan pricing from Simply Trends starts from $49 per month ($29/mo when paid yearly)
It goes as high as $499 or $299 per month depending on the number of sales tracking stores you select.
You can also buy extra sales tracking stores if you want.
Simply Trends Pros and Cons
Pros:
It's very cheap plus there is pay as you go
Chrome extension to make things easy for you
Focuses strictly on helping your store make sales
Cons:
Just like others, the TikTok spy tool is limited in tools
4. TikTok's Own Ad Library

This one is the official TikTok ads' tool and it is absolutely free. Great for complete beginners who are not ready to spend on an Ad spy tool yet.
You can use it to get ideas and what kind of ads are performing. This is possible because you can search based on industries, dates, CTRs and more.
Pros and Cons
There are definitely benefits and drawbacks to using the TiTok ad library as you'll see below.
Pros:
It is absolutely free forever
Great for beginners as they can get ideas and insights into what' likely working for others
Cons:
Limited filtering options
Limited features
No support
It's something to give a try but I wouldn't rely on this If I were in your shoes.
Final Thoughts on PipiAds Alternative
There are a lot of tools out there to spy on TikTok Ads and find winning products for your eCommerce business and advertising aside PiPiAds.
We've only listed the best alternatives for you.
Obviously, they can't be compared to PiPi Ads but they offer similar tools for TikTok Ads spy.
Glance through the list and you should find one you like.
So which PiPiAds alternative are you going to work with? Do you have questions or suggestions? Then let us know in the comments section.
Prosper Noah is the brain behind TipsonBlogging. A full-time blogger & SEO expert.  His tips has helped a lot of people start their own blogs, grow it and make money.