Are you confused between pipi ads and minea? Looking for a minea vs pipiads comparison to help you decide which Tiktok Adspy tool is better? Then you've landed in the right place at the right time.
Both tools will help you spy on competitors Tiktok ads and find winning products but which is better? which one should you pick?
We are going to compare them shortly.
Its no news that if you want to make the most of your eCommerce business, you need;
Hot selling, winning and trending products
High converting ads
What advertisers are doing in your niche and much more.
It's almost impossible to know all these.
This is where Tiktok ad spy tools such as minea and pipiads come in. They take the loads off your chest and show you exactly what is working on TikTok.
You can see what products are trending, the ads creatives, advertising strategies etc.
Minea and pipiads no doubt are powerful tools for spying on Tiktok ads but you can't invest in both.
You definitely have to choose one.
So which is it? Which one should you go with? It's the reason we've decided to write this detailed article.
If you're curious, we know the ins and outs of these tools. In fact, we've also written a pipiads review and top 5 TikTok ad spy tools for eCommerce marketers.
Here is also a full review on Minea
Check them out if you need more details.
In this minea vs pipiads unbiased comparison we are going to cover;
Features of the two tools
Pricing
Pros and Cons
Etc.
We are also going to show you our winner and why.
Plus we'll also show you how to claim a 20% off discount.
Sounds cool?
Then lets not waste time and jump to it.
Quick note: We get a small commission when you buy a subscription through our affiliate link at no additional cost to you. Thank you for your support!
Are you in a hurry? Want to make a decision? here is a quick summary for you.
---
"For strictly TikTok ad spy, Minea's tool is very limited. May be because it's still brand-new.
You only get access to one dashboard. There you can use filtering options to determine winning products by likes, comments, shares, countries etc.
This is very stressful and nothing is sure.
PipiAds on the other hand is built mainly for TikTok ad spy.
You have all the tools and features needed to successfully spy on competitors ads.
There is also access to about 4 separate tools such as:
Winning Product (for instantly getting access to daily winning products on TikTok)
TT ad search (you can use this to find top performing TikTok ads by a lot of filtering options)
Product search (for finding viral and trending products)
Advertiser (This is used to spy on advertisers' winning ads, audience, budget etc)
The other tool is Etsy (for those who run Etsy store and looking for what product is hot selling on the platform)
Pipiads also has a free plan to test the tool, Minea's free plan does not include TikTok ad spy.
Pipiads is a clear winner and at the moment, no other TikTok ad spy tool comes close."
---
Lets get started with the comparison
Minea vs Pipiads [Unbiased Comparison]: Which Spy Tool is Better for TikTok Advertising?
Minea vs Pipi Ads (Overview)
What is Minea?
Minea is an all-in-one dropshipping tool. You can use it to research winning products and also spy on popular advertising networks. The networks included are Facebook/Instagram, Pinterest, and TikTok.
This is how the Minea dashboard looks like;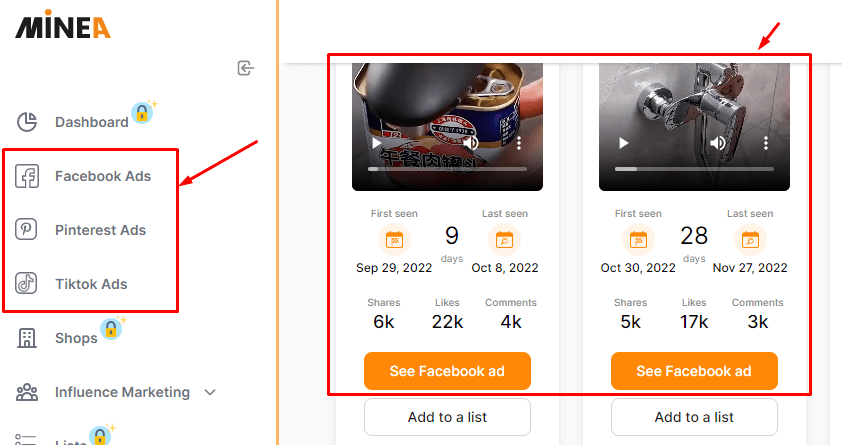 What is Pipi Ads?
Pipiads is an adSpy tool that focuses only on TikTok advertising. It has all the tools you need to get the best out of your TikTok ads. You can use it to;
Find trending, viral and winning products on Tiktok
Discover advertisers' ads, audience and strategies etc.
This is how the Pipiads interface looks like;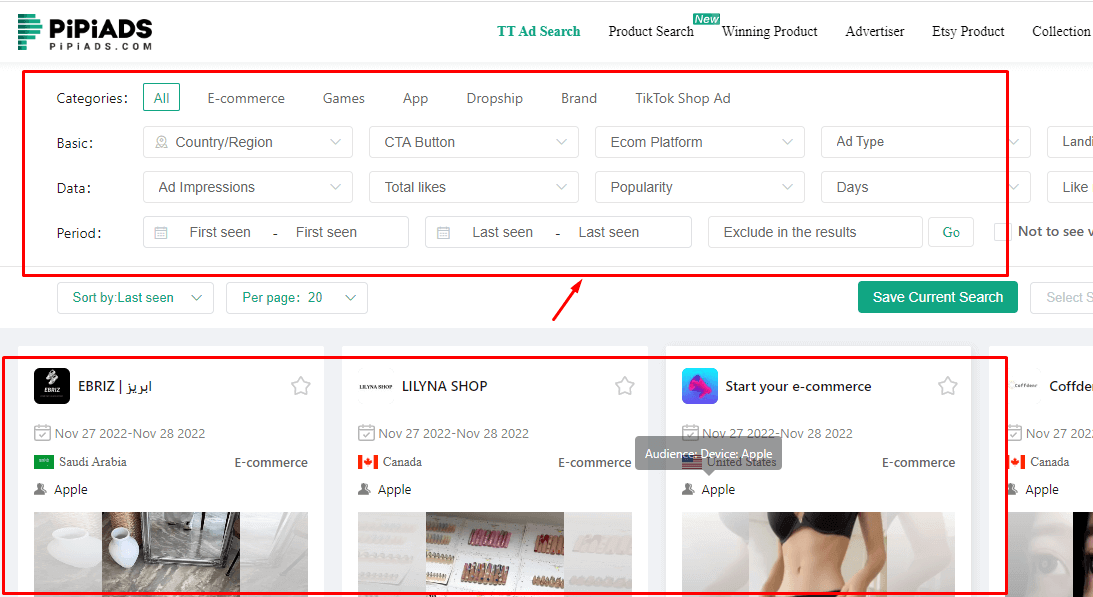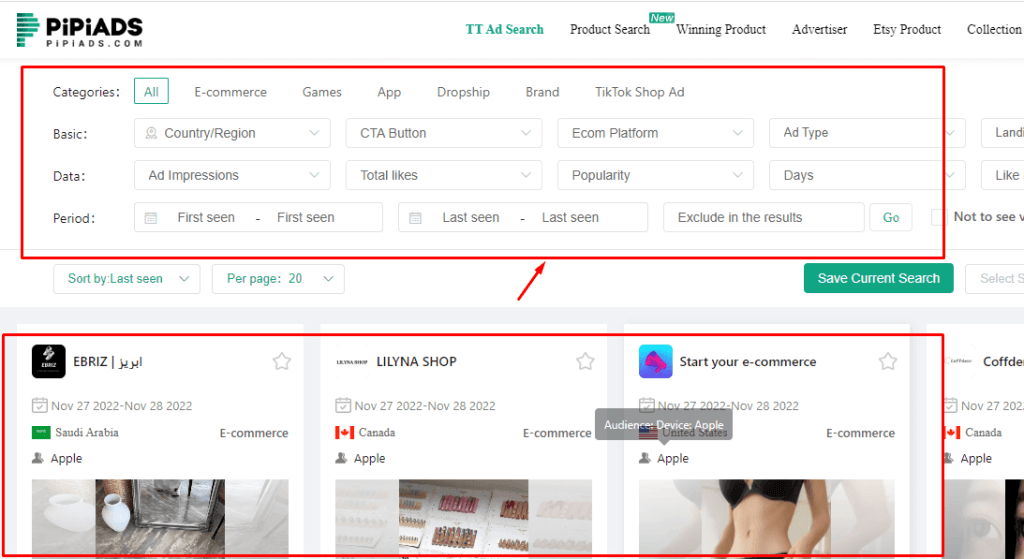 Minea vs Pipiads: Features
What features come with these tools for spying on tiktok ads? Which one offers more? We'll take a look and compare both.
Minea Features
Minea Spy Tool comes with the following features
Discover hundreds of winning products on Facebook, Instagram, Pinterest and TikTok
Find Ads creatives
Influencer marketing placements (for finding influencers)
Access to strategies of the best eCommerce brands
Identify targets by brands
Access to dozens of filters
Ad analysis
Chrome extension
PiPiAds Features
The following features come with PiPiads TikTok ad spy tool
Spy and run ads in many languages
Access to unlimited winning dropshipping products daily
Find viral products
Ad Library to choose from millions of TikTok ad examples
Ad analysis tool (Find competitiors' ads, creatives and audience
Etsy product research
Find ads for popular eCommerce platforms such as Shopify and BigCommerce
Filters
Minea vs PiPiAds: Tools
Both spy tools offer you tools to use to spy on your Tiktok ads competitors and find winning products. Lets take a look at these tools and how they work.
Minea Tiktok Spy Tools
Minea does not have a lot of separate tools. It only has one dashboard where you can use filters to find winning products as seen below;

From this dashboard, you can play with the filters to find what product is winning by;
Countries
eCom type
Language
Shares and likes and much more.
Pipiads Tiktok Spy Tools
Pipiads offer five different tools that you can use for finding winning products and ads. As seen below and they include the following

1. TT Ad Search
TT Ad search tool by Pipiads is what you use to find the top performing ads on Tiktok. You can filter these by impressions, comments, likes, number of days ad has been running, etc.
With this you can see the ads copies, landing pages, videos and more.
2. Product Search
The second tool that you can use to find trending and viral products. You can filter by country, categories and much more.
3. Winning Product
This is the real deal. Winning products is a stand alone section in your PiPiAds dashboard. Here you get instant access to daily winning products.
You can filter by ad impressions, likes, comments etc.
4. Advertiser
Want to see advertisers' winning strategies like target audience, ad budget and more? Advertiser is the perfect tool. There are also a lot of filtering options here.
5. Etsy
Etsy store tool allows you to see products that are high in demand on Etsy.
Pick one of these tools and work with it.
Minea vs PiPiAds: Pricing
How much does these Tiktok Adspy tools costs? Let's take a look at their plans and pricing as well as what features come with them.
Minea Pricing
Minea offers three pricing plans but you can only get Tiktok Ad spy in the premium plan.
Premium Plan
This is the most expensive plan from Minea. It costs 99€ per month (69.33€ per month if you pay yearly) and gives you access to the following things
100,000 research credits
Facebook, Pinterest and TikTok ad spy
Influencer placements
Ad details and placements
Advanced filters
Chrome extension
Does Minea offer a refund?
Minea does not offer any refunds.
If you want to try Minea's TikTok ad spy, use the following button link.
Pipiads Pricing
Pipi ads offers four pricing plans and they include the following
Lets expand on these packages and what features and limits come with each of them.
1. Free Plan
If you're looking to try pipiads Tiktok ads spy tool for free before upgrading to a paid plan this is the one. It costs nothing and gives you access to the following limts/features.
10 searches per day
12 ads per query
0 ads details per day
8 product details per day
5 advertisers per query
5 advertisers details per day
10 winning product
10 categories search per day
10 downloads
1 user
If you need more details about the free plan, we've written a detailed post on pipiads free trial
2. Starter Plan
Starter is the first paid plan from pipiads and it costs $77 per day ($54 per month if you pay yearly). It gives you access to the following things
Unlimited searches per day
200 ads per query
50 ad details per day
50 product details per day
50 advertisers per query
50 advertisers details per day
Unlimited winning product
Unlimited categories search per day
Unlimited downloads
CTA button
Filter by country and eCom platform
1 user
Customer support
3. Vip Plan
VIP is the most popular plan from Pipiads. It costs $155 per month ($128 per month if you pay yearly).
This plan comes with everything in starter plan plus the following things
2,000 ads per query
200 ad details per day
200 product details per day
1,000 advertisers per query
200 advertisers details per day
4. Pro Plan
This is the most expensive pricing package and it costs $263 per month ($181 per month if you pay yearly).
Pro comes with everything in the vip plan plus the following amazing features
5 users
Exclude ads that other advertisers have viewed
Block advertisers
5,000 ads per query
1,000 ad details per day
1,000 product details per day
3,000 advertisers per query
1,000 advertisers details per day
So what are you still waiting for?
Check our full pipiads pricing post if you want more details on the pricing packages.
Does Pipiads offer a refund?
Pipiads does not offer a refund on it's packages but you can get a 3-day trial for $1 on the plans. This will let you test the paid plan to determine it's worth before going for full package.
20% Off Pipiads Discount
Use the pipiads coupon code TIPSONBLOGGING on checkout to claim 20% discount. This applies to all pricing packages.
PipiAds vs Minea: Pros and Cons
What are the advantages and disadvantages of these awesome Tiktok ad spy tools? Let's check their pros and cons and how they compare against each other.
Minea Pros:
Offers spying in many advertising channels such as Facebook, Pinterest, and more. (PipiAds only offers TikTok Spy)
More affordable as TikTok adspy starts from only 99€ per month
Minea Cons:
Very limited spy tools for Tiktok (None)
TikTok ad Spy is not included in free trial plan so you can't use this tool for free
Takes experience to find winning products using filters
PipiAds Pros:
Generous free trial to test the tool
Over 4+ tools for successful Tiktok spying
Winning products at the click of a button
Find trending and viral products
Instant access to advertisers' details, strategies and much more
$1 for 3 days to test the paid package before committing to it.
PipiAds Cons:
Expensive (but definitely worth it)
Who's our pick? Minea or PipiAds?
So who is the winner here?
It's pretty obvious.
Even though both tools offer Tiktok Ad Spy there is a clear winner.
Minea is a good competitor and one of the best PiPiAds alternatives but it lacks important features and the tools you need.
In the other way round PiPiads offer you all the tools for a successful TikTok Ad campaign.
It gives you everything needed to make sales in your eCommerce business.
Our winner, OBVIOUSLY: PipiAds
Final Verdict on Pipi Ads vs Minea
One of the best ways to make decision online is by going through a detailed comparison.
It's why we've done a lot of research and even used these spy tools to help you decide which is better for TikTok. Now you can decide fast and with ease between minea and pipiads
Minea will cost you less but Pipiads offer much value for money.
If you're looking for an all-in-one dropshipping ad spy tool then go for Minea
If what you want is a very powerful TikTok ad spy tool, then Pipi ads is your best choice.
So which one are you going to try among Minea vs Pipiads? Let's hear your thoughts in the comments section.
Prosper Noah is the brain behind TipsonBlogging. A full-time blogger & SEO expert.  His tips has helped a lot of people start their own blogs, grow it and make money.