Looking for an unbiased Nichesss vs Wordhero comparison to help you decide what AI copywriting tool is better for your content needs? Want to know which one offers best value for money? You've just landed in the right resource at the right time.
We're going to cover everything today.
Both tools were among our top 5 picks when we reviewed the best AI copywriting tools that offer a lifetime deal.
Turned out that Writecream made #1, Wordhero made #2 and Nichesss made #3 position competing for the best AI writer lifetime deal in 2023.
Let's face it.
AI writing tools are on the rise, no doubt and it's becoming difficult to chose which one is better for your content needs.
While Wordhero and Nichesss are hands down two powerful AI writers, you have to chose only one.
So which one should you pick? Nichesss or Wordhero?
You'll know today.
In this Nichesss vs Wordhero comparison, we are going to cover:
What both tools are and what they are best for
The features that come with them
Pricing
as well as Pros and Cons
and that's not all.
Just so you know; these tools offer lifetime deals.
We'll also show you how to claim their lifetime deal so you don't have to pay monthly fees.
Who doesn't like saving money? We all do.
To crown it all, we'll give a final verdict and our winner.
Without wasting time, let's get into this huge fight between Wordhero and Nichesss
Nichesss vs Wordhero 2023: The War between AI Copywriting Tools; Who's the real Winner?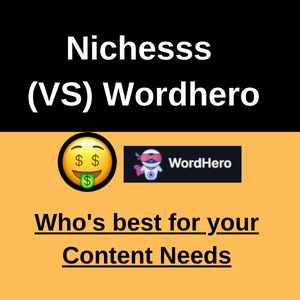 First, we are going to take a look at an overview of what they are and the main things that differentiates them.
This should help you decide which one is best for your content needs.
Overview of Wordhero vs Nichesss
What is Nichesss?
Nichesss is an AI writing assistant that helps you generate quality content for your business.
One of the best AI tool for marketers, marketing agencies and social media managers.
It comes with a whooping 150+ copywriting tools and templates. This makes it one of the best when it comes to creating content for marketing and businesses.
Aside from content writing, it's unique strength is in finding niche business ideas.
This means that it can help you start a business even if you don't have any yet with it's business idea generator.
Here's how it does this;
Gets what you are passionate about
Finds out a group of people/audience you want to make a business for
Problems you or other people experience
and finally it goes ahead to generate ideas of the profitable business you can start.
Then you can use it's over 150+ tools to generate content for your business.
Here is how the dashboard of Nichesss looks like;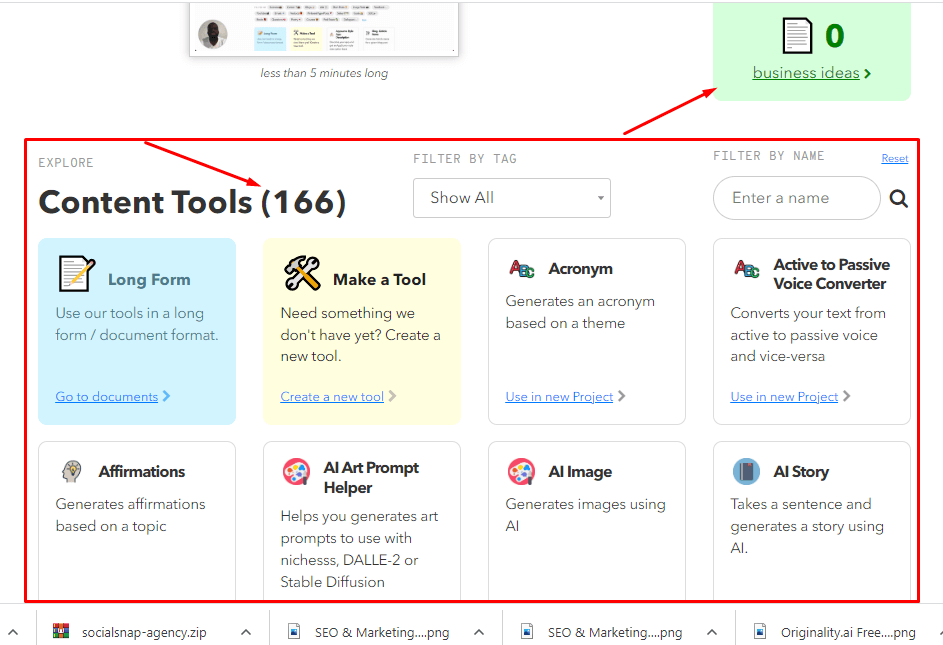 Here are some of things you can write with Nichesss
Long Blog Posts
Product title and descriptions
Newsletters
Twitter Tweets
Instagram captions
Reddit posts
Landing page copies, etc
Just pick any of the tools and you can create unlimited content for your business.
What is Wordhero?
Wordhero is another powerful AI copywriter that generates any type of content for you. It can write in over 108+ languages and is one of the best All-in-one AI content generator.
You can create high quality blog articles, sales copy, marketing ideas, emails and much more in one click.
It's best for small businesses, marketers and copywriters and very good alternative to CopyAI and Jasper.
Here's how the dashboard of Wordhero looks like;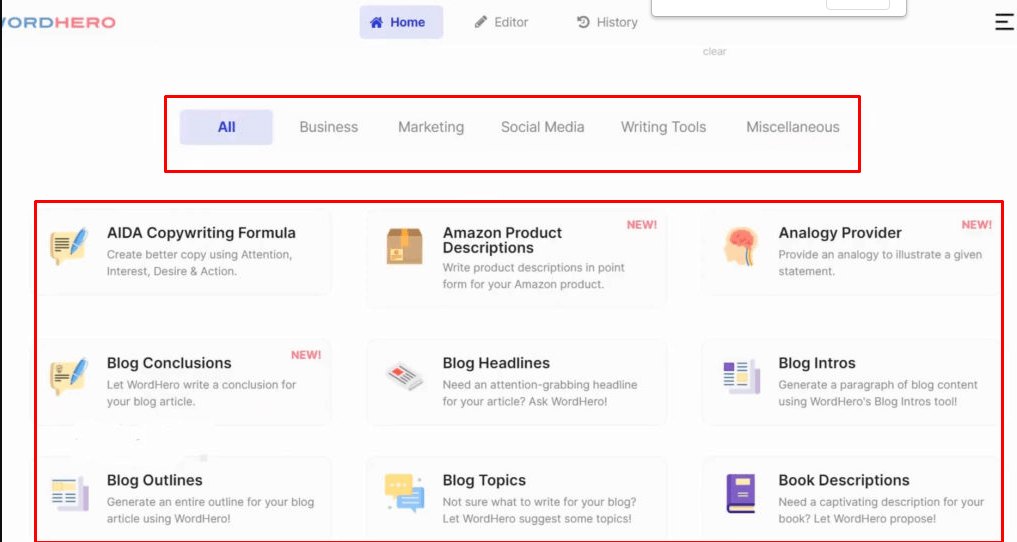 As seen above, you have access to a lot of copywriting tools to create any content (Over 70+).
Here are what you can write with Wordhero AI writer
Sales and marketing emails
Long For content such as blog Posts
Product titles and descriptions
Stories
Captions for social media
Viral marketing and startup ideas and much more.
Nichesss vs Wordhero: Features
So what are the features that come with these artificial intelligence tools? Let's take a look so you can decide what features appeal to you the most. You can use these to determine which is better for the kind of content you want to create.
Nichesss Features
Nichesss comes with the following features and benefits;
Create original content
Access over 150 copywriting tools and templates for content writing
Create content in any language Google translate supports
Create marketing copies in any niche, ad copies, reddit posts, tweets, Instagram captions and more
Niche and Business ideas generator
Image generator (best alternative to stock photos) and much more.
Creates long form content
Wordhero Features
Worhero AI content writer comes with the following features and benefits to allow you create any type of content.
Creates Original content
Write in 100+ languages
Over 70+ AI writing tools and templates
Write anything including blog posts, emails, sales copy, and much more. .
Long form editor
Keyword assistant to add SEO keywords to your articles
Editor mode (to create content 10x faster in a few clicks)
Pricing is locked forever (there is no price change in the future for any plan)
Etc.
Nichesss vs Wordhero: Templates
This is what makes an AI writer complete.
These tools both offer you different templates that you can use to create the type of content you want. All you to do is pick one of the templates and get started.
Let's take a look at the templates Wordhero and Nichesss AI writers offer.
Nichesss Templates
Nichesss comes with over 150 templates and tools for AI content creation. You can see them below;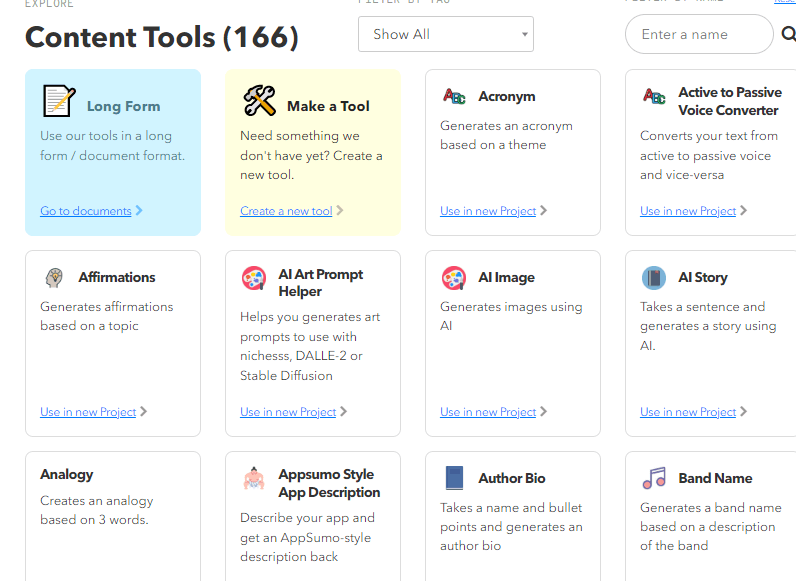 Let's check out some of the popular templates on Nichesss and what they can do:
Content Plan: Use for planning your content
Business Ideas: Just as the name sounds, you can use this to generate business ideas in only a few clicks
Long form Doc: Want to create long blog articles? This is the perfect one for writing an entire blog post.
Others include:
Stories
Reddit posts, etc.
Nichesss Output
So what is the quality of text generated by Nichesss? Let's try to create content using this tool.
We are going to try the blog post outline tool,
We'll ask it to generate a post outline for the topic; "Tips for promoting a business" and lets see what output it brings.
To do this,
Select the blog post outline tool
Name it anything
Now enter the topic of your post in the title box as seen below'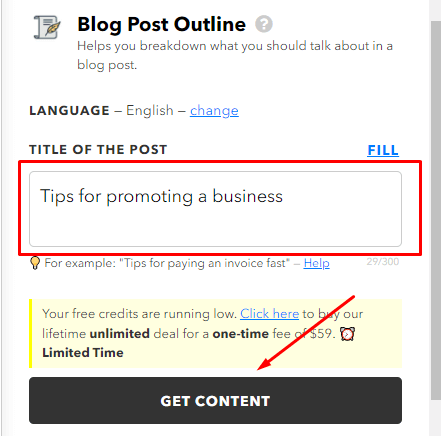 Now take a look at the output we got;
and BOOOOM, just in a matter of seconds, Nichesss has gone ahead and generated the following two outlines;


It's that simple to generate content using Nichess an the text output is high quality as you can see above.
Wordhero Templates
Wordhero comes with wonderful templates and tools for content creation.
Take a look;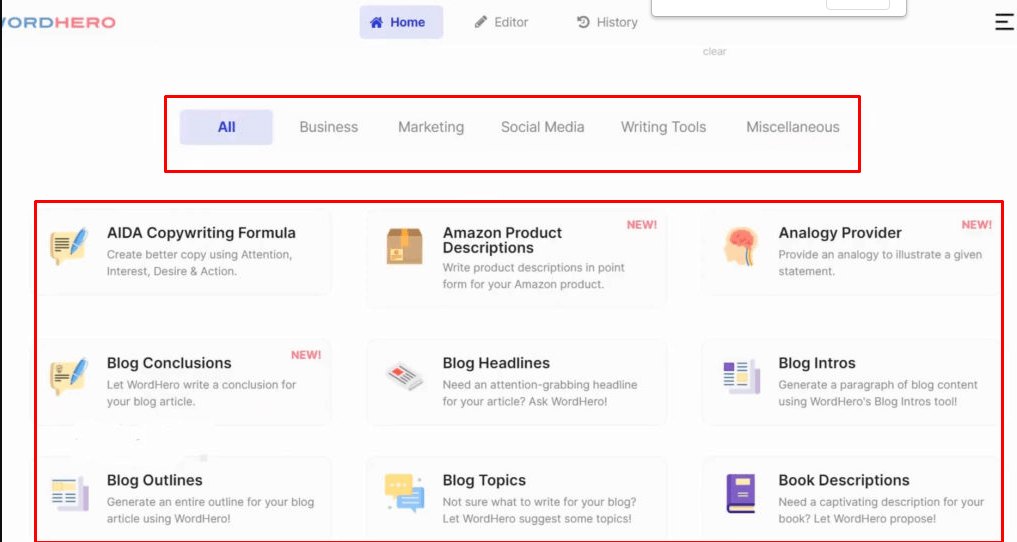 You can create pretty much any kin of content under business, marketing, social media and more.
Some of the it's popular templates include:
Blog outlines and topics: Want to write articles? Use this to generate the topic as well as post outlines
FAQS writer: Generate faqs for your pages
Bio generator: Use this to generate catchy bios for your personal or business use
Quora answers: Best for answering difficult answers on the Quora platform to increase sales
Others include:
Amazon product descriptions
Meta titles and descriptions
Content rewriter, etc.
Wordhero Output
Let's use Wordhero to create something and check the quality of output it generates.
Say we want to use the "Explain it like a professor tool"
We'll tell ask it to write a short description on the topic "Why sleep is important"
Here's the output generated below;

It has gone ahead and generated a high quality text that you can use right away.
What's amazing? It's all original content..
Using the templates is quite easy. All you need to do is select a template of your choice and let Wordhero take care of the rest.
Wordhero vs Nichesss: Pricing
So which one offers more value for money? Wordhero or Nichesss AI? We'll see in their pricing plans and packages to determine which is more affordable.
Let's take a look at the pricing and what comes with the,
Wordhero Pricing
Wordhero offers one of the simplest pricing structure. It comes with only one pricing plan called "Pro".
It allows for monthly and yearly payment.
Pro Monthly costs $49 per month
Pro Yearly costs $348 per year: With the yearly plan you get to pay only $29 per month instead of $49
Both plans give you access to the following things:
Unlimited content creation
Instant access to all 70+ the writing tools
Long form editor (for long blog articles) and keyword assistant (for SEO)
Create content in 108+ languages
High priority support 24/6
Lock in low price for a lifetime (When price changes in the future you won't be affected).
Want to avoid paying monthly fees?
Wordhero offers a lifetime deal that costs only $89 on Appsumo. You can grab this using the following link.
Grab Wordhero Lifetime Deal (Limited Time)
What is the refund policy of Wordhero?
If you are not happy with your purchase, you can request a refund within 14 days. They cover you with a 14-day money back guarantee which is great for testing the AI writer.
Nichesss Pricing
Nichesss comes with a free trial and three paid pricing plans and they include the following.
Let's expand more on these plans and how much they cost plus features that come with each.
1. Nichesss Free Trial: Obviously, this is designed to let you try the tool and see if it's a good fit before committing to a paid plan. This trial plan limited
2. Rookie Plan: This is the lowest pricing package from Nichesss and it costs $19 per month. It gives you access to the following things:
200 short form generation
AI ideas generator
Generate marketing copies
Search over 40,000+ subreddits
Option to make your own reports
3. Intermediate Plan: This plan costs $39 per month and you get access to 500 short form generation plus everything in Rookie plan.
4. Pro Plan: The most expensive plan from Nichesss that gives you access to over Unlimited short form generation along with Long form autowrite feature.
It includes everything in the other plans.
Want to save huge on Nichesss? It's simple.
Nichesss also offers a lifetime deal on Appsumo for only $59.
Does Nichesss offfer refunds?
They do not state on their website that they offer a refund, however there is 60-day money back guarantee on their Lifetime deal on Appsumo. Appsumo ensures all the products listed on their platform have a refund policy.
So we recommend you go through the lifetime deal on Appsumo if you want to purchase their tool instead of official website.
Nichesss vs Wordhero: Pros & Cons
Which one is better? Any drawbacks to using these tools? Let's compare them against each other?
Nichesss Pros:
Focuses strictly on helping you create a profitable business
Generates original content
A whooping 150+ AI copywriting tools. more than Wordhero
Access to video tutorials on how to use the tools to create content
Write in many languages
Free trial is available to test the tool
Nichesss Cons:
No single details on the limits of the free trial plan
Doesn't offer refunds, which might be a huge concern (but there is 60-day refund policy if you get it's lifetime deal on Appsumo)
Wordhero Pros:
Write any type of marketing content
All plans offer you unlimited content creation
You can create long form content in all pans (Nichesss only allows this for its $99/mo plan)
Access to over 70+ writing tools and templates
Write and translate content in over 108 languages (more than Nichesss)
SEO capabilities (Keyword Assistant for creating optimized articles to rank on search engines)
Super fast support
14-day money back guarantee for it's plans and 60-day money back guarantee on Appsumo
Wordhero Cons:
Does not offer a free trial
Who wins this War? Nichesss or Wordhero?
So we've carefully gone through the following:
Features
Pricing
Templates
Pros and Cons and more.
Who do we pick as the winner?
Well, first you have to decide what type of content you want to create.
Both tools offer you a lot of tools for almost any type of content.
If you want a tool that is focused on helping you generate business ideas as well as creating copies for the business, your best bet would be Nichesss
But if what you are looking for is an all in one AI copywriter that can create almost any type of content; marketing included, go for Wordhero.
So who's our winner?
The only thing Nichesss offers more is business ideas generator (which is it's main strength)
Wordhero wins in every other aspect.
Features wise, pricing affordability, support etc. our pick is DEFINITELY: Wordhero
Final words on Wordhero vs Nichesss
If you're looking to create content easily and faster, AI copywriters will come to the rescue.
There are a lot of them in the marketing, so deciding which one is the best pick can be hard.
This is why we came up with this detailed review and comparison to show you exactly what's best for your content needs.
With this, you can easily decide which one to go for.
Nichesss definitely is a good pick for those who are finding it hard to come up with business ideas. It also helps you create marketing copies to promote your business.
On the other hand, wordhero does almost the same thing and offers even more.
Plus it's cheaper along with high priority support.
Both tools offer you high quality content output that is actually useable.
and that concludes our Nichesss vs Wordhero comparison.
Which one would you pick? Have any questions? Please let us know in the comments section.
Prosper Noah is the brain behind TipsonBlogging. A full-time blogger & SEO expert.  His tips has helped a lot of people start their own blogs, grow it and make money.