Are you looking to activate the blurweb lifetime deal in 2023? Want to save money on this powerful app that will help you blur sensitive information on your videos? Then you're definitely in the right place at the right time.
Without wasting a lot of time, You can grab this deal using the button link box below
No doubt, If you're a content or course creator and you do the following
Host live webinars
Create tutorial videos
Make keynote/PowerPoint presentations
or use screen recording on a regular basis
You'll agree with me that blurweb app is definitely one of the best tools out there. It provides an easy way to secure sensitive information on your screen.
and the amazing thing? This powerful app is currently offering a one-time offer for it's tool. So if you're looking to save money with blurweb, this is the best time.
Quick note: Deals like this get sold out in weeks and you may miss out if you don't grab it as soon as possible.
So what are you still waiting for?
Click here to activate the Blurweb lifetime now.
Want to know more about this deal? Then keep reading.
In this article, we're going to show you step-by-step how to activate this huge app discount from blurweb
We'll also go into more details on its key features, pricing, pros and cons and more.
Before then, here's a brief info about blurweb.
What is BlurWeb?
BlurWeb is a simple to use privacy app that enables users to blur text, photos, and other website elements.
It is ideal for hiding sensitive information when screen sharing or recording. And you can do this in only a few clicks eliminating the need for editing.
It's simple.
You draw a rectangle and blur everything behind. Plus you can control the blur intensity.
Why Do You Need BlurWeb?
Here are reasons why you need the Blurweb app;
Protecting sensitive information: You could be filming and want to protect certain sensitive information or you are broadcasting a screen live and don't want your audience to see certain information.
Save time and energy: Your time and effort are already needed for creating presentation slides, creating tutorials, and setting up live webinars. So save yourself the time and energy of editing and blurring text and images one by one and use blurweb to get it done by drawing a single rectangle.
Who is Blurweb App for?
Employees of corporations who must produce keynote and PowerPoint presentations.
Creators of courses or other content who must produce instructional videos.
Anyone who needs to use a live sharing screen or video without disclosing any private or sensitive information, such as webinar presenters.
About Blurweb Appsumo Deal
This deal is live on Appsumo.
Never heard of it? Appsumo is one of the most popular lifetime deal sites. Here you can get lifetime discounts on your favorite software and tool
Appsumo's Lifetime Deal for Blurweb offers all of the features included in their regular pricing plans for a very low price ($19) for a lifetime.
Here are the top highlights of this deal:
Access to Blurweb app for a lifetime.
Use on 3 devices/browsers (+ option to use on more)
Access to future updates
60-day money-back guarantee
For a one-time fee, you can access all of the app's features and upgrades. There are no ongoing costs or ongoing monthly payments.
Let's go ahead and show you step-by-step how to activate this deal.
How to Activate Blurweb Lifetime Deal in 2022
If you're looking for a tutorial, follow these simple steps. You should be up and running in minutes.
Step 1: Visit this special link and you can access the lifetime deal landing page on Appsumo to redeem the offer. You don't need to enter any discount code for this.
The landing page looks something like this: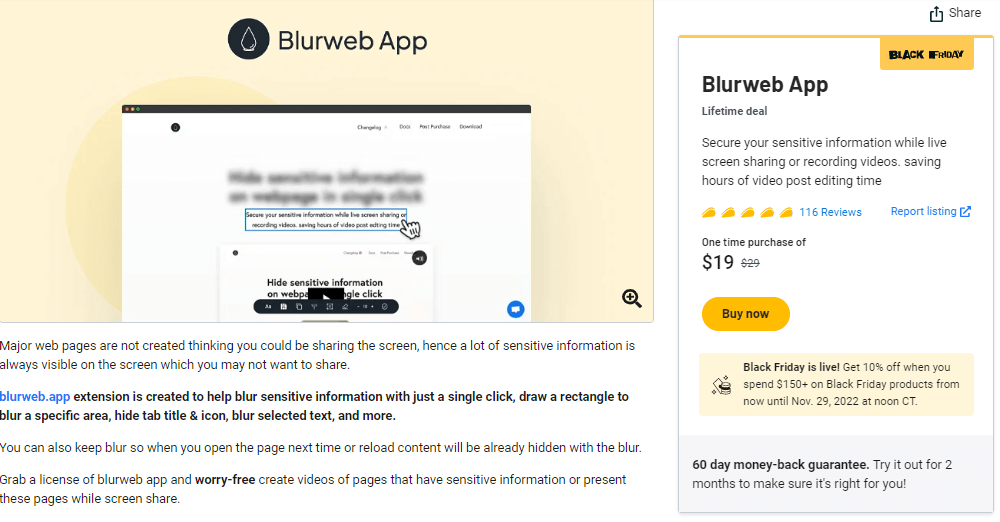 Step 2: Now, to sign up for this lifetime deal, click the "Buy now" button on your right. You'll be in the appsumo cart payment page as seen below.

To complete your payment, click proceed to checkout.
Now you have to register an Appsumo account to get access to your purchase.
Step 3: Go ahead and create an Appsumo account now by providing your accurate information, including your email address and password.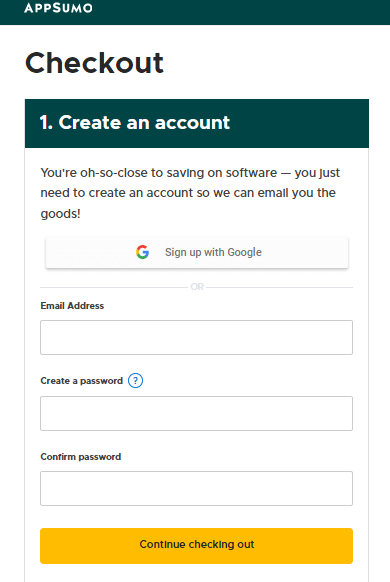 Step 4: Finally, choose a payment method and finish your transaction.
When you are done, you've successfully claimed the appsumo lifetime deal for blurweb at only $19.
It's that easy.
So what are you still waiting for?
Blurweb Features
Blurweb app offers awesome features and you can see them below:
Single Click Blur
Customizable Blur
Switch modes-Element and Selected Text
Large Blur Area
Undo Blur
Control Blur Intensity
Blur Specific Areas
Supports Browsers
Custom Keyboard Shortcut
These features work together to make hiding your sensitive information easy and fast. You can customize the blur, undo and redo and more.
How much does it cost?
Lets see the regular cost of blurweb and compare with its lifetime deal.
Blurweb App Pricing
Currently, the Blurweb app offers three different pricing tiers for its standard services.
It includes the following;
Let's take a look at the cost and packages as well as the things that come with them.
1. Basic – $19/month:
If you only wish to use the blurweb app on a single device and browser, this package is ideal. The basic plan works with up to 1 active browser and includes add-ons for Chrome, Edge, Firefox, and works on Safari, Opera, Brave, Google Meet, Loom, and more.
2. Professional – $47/month:
With the Professional plan, you get three active browsers and priority assistance in addition to everything in the Basic plan.
3. Team – $97/month:
You will get 10 active browsers and priority support, plus everything in the Professional plan.
Blurweb App lifetime offer is now accessible on Appsumo, so there's no need to worry if their regular price is out of your price range. Take advantage of the lifetime deal.
Pros and Cons of Blurweb Appsumo Deal
You are paying only $19 to get instant access to one of the best blur tools in the market. Whereas the regular pricing goes as high as $97 per month.
What exactly is the catch? Are there any disadvantages?
Let's take a look at the pros and cons then
Pros:
You don't have to pay monthly anymore.
Affordable lifetime offer
The 60-day money back guarantee is definitely a relief
One time payment for an excellent blurring tool
You can use on 3 devices and browsers for only $19 (compared to professional plan where you have to pay $47)
Cons:
To use on more than 3 devices/browsers you have to buy additional codes
Also check out other lifetime deals for marketers like yourself:
Final thoughts
Blurweb app is an amazing tool for online educators or content creators who want to impact knowledge while protecting their sensitive information.
With this easy-to-use tool, you can blur selected areas: certain texts, images, and regions, regulate the intensity of the blur, and even undo them right away if necessary. Plus it offers a lifetime deal to help you save more.
Are you going to activate the blurweb lifetime deal? Is it affordable? Have any questions? Please let us know in the comments section.
Prosper Noah is the brain behind TipsonBlogging. A full-time blogger & SEO expert.  His tips has helped a lot of people start their own blogs, grow it and make money.