Are you looking for the best learnworld alternatives in 2023 to help you create, market, and sell digital products like courses?
Maybe you are looking for course creation platforms with unique features, affordable pricing and easy-to-use interface like Learnworlds or something better? Then you are in the right place.
Let's face it.
One of the best ways to create online courses easily is through course creation and elearning platforms such as learnworlds
Learnworld is one very good platform platform for creators however it's not the best.
In this article, we will compile and show you the best learnworlds competitors along with their features, pricing, and pros and cons that will make your pockets and students happy.
Just before then, here is a brief info about learnworlds
About Learnworlds
Learnworlds is an online platform where courses can be created, marketed, and sold. It has amazing features and functionality that make course creation easy.
This platform is best for eLearning and entrepreneurs
Click here to get started with learnworlds for online course creation.
While learnworlds is a very good platform for creating and hosting your online courses, it comes with a few limitations which is definitely why you may be looking for a good alternative.
It's why we decided to come up with this post to show you other platforms like it.
Below are the best alternatives to learnworlds in 2023 that you may want to give a try.
It's carefully selected and you'll see their features, pricing as well as pros and cons
Best 6 Learnworld Alternatives 2023
Podia
Thinkific
LearnDash
Teachable
TalentLMS
Kajabi
1. Podia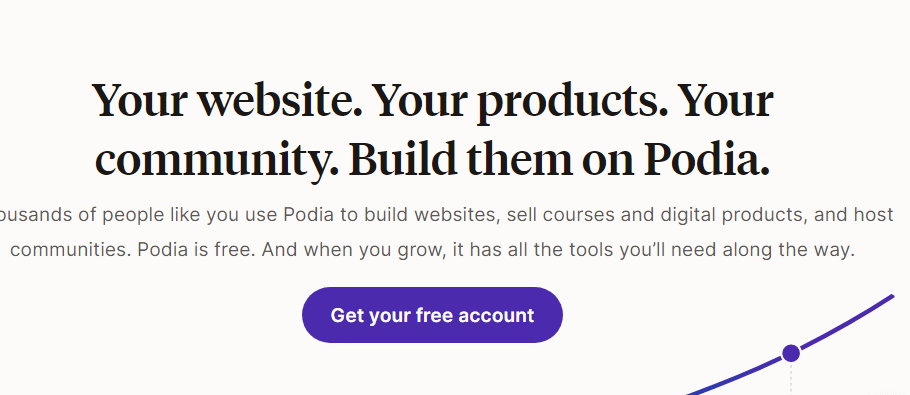 Podia is an online course platform that provides a group of course creation tools that help creators design, market, and sell courses.
This all-in-one online platform is a creator-centric platform with fantastic marketing features like upsell, email coupons, and affiliate programs, among others.
Podia was established by Spencer Fry in 2014. It is a great alternative to Learnworlds.
Some of its tools are e-commerce functionality, a website builder course creation, email marketing, and more.
Features
Podia has a state-of-the-art site editor.
It has digital downloads and online courses.
Podia works perfectly with industry leading third-party apps and services such as stripe, MailChimp, ConvertKit, Aweber, Drip, ActiveCampaign, MailerLite, GetResponse, Paypal, Google Analytics, HotJar, Facebook, Pinterest, Google Ads, Zapier, Sumo, Fomo and Deadline Funnel.
Integrated membership site.
It allows users to sell monthly and annual memberships.
Supports Instant payout with no transaction fees.
The customer support at Podia is top-notch.
Podia will naturally store the replays so that its users can have access to it later.
This platform has a webinar feature.
It allows affiliate marketing campaigns.
Pros:
Easy to navigate with a polished UI/UX.
Decent price list worth its features.
Podia allows its users to sell products like membership, webinars, and courses, among others.
Offers unlimited storage and bandwidth for users to host videos.
Built-in affiliate program that is beneficial. It is only available on the Eathquaker and Shaker plans.
Pre-launch system that enables its users to create buzz about their upcoming course or product.
Built-in quizzes, community, and certificates.
Integrates easily with different analytic tools, payment gateways, and email service providers. Zapier integration is included.
The built-in email marketing in Podia supports campaigns and broadcasts.
Cons:
Email composer does not have personalization fields.
Podia Pricing
Free – $0 monthly
This plan is free and only allows the user access to:
8% fees
Full website
Email marketing
Live chat
Full community
1 download, 1 coaching product
Draft courses and
Draft webinars.
Mover – $33 monthly
This plan costs $33 monthly and has the following features:
No transaction fees
Full website
Email marketing
Live chat
Full community
Unlimited downloads
Unlimited coaching
Unlimited courses.
Shaker – $75 monthly
The shaker plan cost $75 monthly and comes with the following features:
Affiliates
No transaction fees
Full website,
Email marketing
Live chat
Full community
Unlimited downloads
Unlimited coaching
Unlimited courses
and Unlimited webinars.
Earthquaker – $166 monthly
The Eathquaker is the premium plan on Podia and encompasses all the benefits that this platform has to offer.
It has the following features;
No transaction fees
Full website
Email marketing
Live chat
Full community
Unlimited downloads
Unlimited coaching
Unlimited courses
Unlimited webinars
Affiliates
Priority support
Onboarding calls
Monthly creator call.
Who should buy it?
Podia is best for entrepreneurs, marketers, developers, consultants, and creators who want to move their business to the next level.
2. Thinkific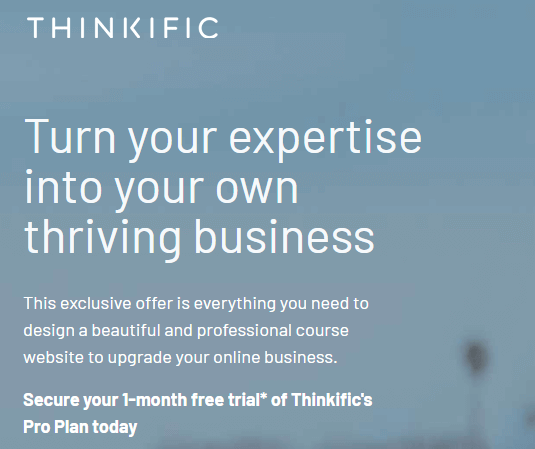 Thinkific is an online course platform and a great Learnworlds alternative. It provides creators with a group of features to help them create, market, and sell courses online.
This membership site and course creation platform has featured like drag-and-drop website builder, email marketing, course creation tool, and more
Features
Thinkific's course creation tools allow users to build a curriculum of their choice.
Its sales and marketing tools enable users to you to design courses that are time-limited and free or paid courses.
It has tailored website designs that can fit any brand.
Thinkific features guarantee a great student experience that makes creator's courses easier to obtain and use.
The teaching tools in the Thinkific platform enable creators to design group, hybrid and independent classes with offline and online methods.
Thinkific has top-notch customer support.
Pros:
Thinkific allows creators to design content instantly.
It supports the hosting of unlimited videos.
Thinkfic has a simple administration interface.
Cons:
It has no chat support.
Thinkific's best features are locked in the expensive plans.
It can be complex to build landing pages on Thinkfic.
Thinkific Pricing
Thinkfic has a free plan but it is limited to a few features. This plan allows creators to design one limited course, and enroll an unlimited number of students. Plus provide student surveys and quizzes. It also allows creators to upload video files, PDFs, and audio files.
This plan is good for any creator starting with a few students.
The Basic plan is a paid plan on Thinkfic. It offers the following features coupons, unlimited courses, enrollment of unlimited students, email marketing, affiliate, Zapier integration and so much more.
The Pro plan is the best for creators who want to get the most out of their courses. This plan has all the benefits of the basic and free plans.
Creators using the Thinkfic Pro Plan can provide completion certificates for students who completed their course and so much more.
Who should buy it?
Thinkfic is best for authors, small businesses, universities, consultants, trainers, big companies, coaches, professional associations, and creatives.
Try Thinkific Free for 30 days
3. LearnDash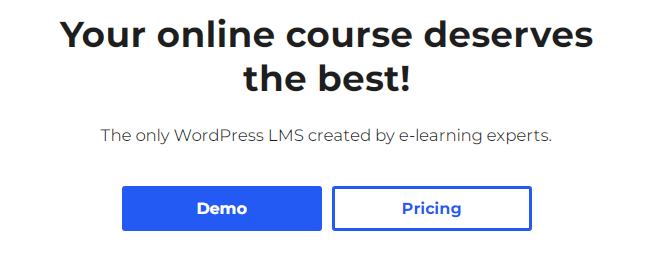 LearnDash is a WordPress LMS plugin that is a great alternative to Learnworlds. It helps to link websites on WordPress to its platform, so creators can offer online learning as part of their website benefit.
LearnDash makes learning available to all and the creation of courses easier.
Features
LearnDash has a drag-and-drop course builder that helps creators design complex courses.
It supports separate topics and lessons.
LearnDash has an option that allows users to skip to the next topic video.
It supports payment integration with PayPal.
LearnDash supports Zapier integration.
Pros:
LearnDash's functionality gives creators control in the majority of areas.
Its Drag-and-drop course builder helps creators easily organize their courses.
The video features in LearnDash enable users to correctly blend videos into their lessons.
It supports diverse languages making it easier for more people to access courses on the platform.
LearnDash allows users to automate diverse functions via Zapier and third-party apps.
Cons:
The deep functionality that LearnDash offers can be a little complex for new users.
Only those with WordPress websites can use this platform.
To enjoy the best payment and membership functionality creators will need to integrate with a third-party plugin(s).
Learndash Pricing
Basic Plan – $199
This plan allows creators to design unlimited courses for an unlimited number of members. It also protects the course content and only those with permission can access it, allows creators to access templates for certificates, quizzes and badges, and much more.
This plan includes all the features offered in the basic plan and much more. Creators are given the ProPanel which lets them monitor the activities of their courses in real-time, among other things. This plan also supports up to 10 different sites.
This plan has the same features available as the Plus plan but it supports up to 25 sites.
Who should buy it?
LearnDash is best for big and small educational institutions, businesses, entrepreneurs, and organizations.
4. Teachable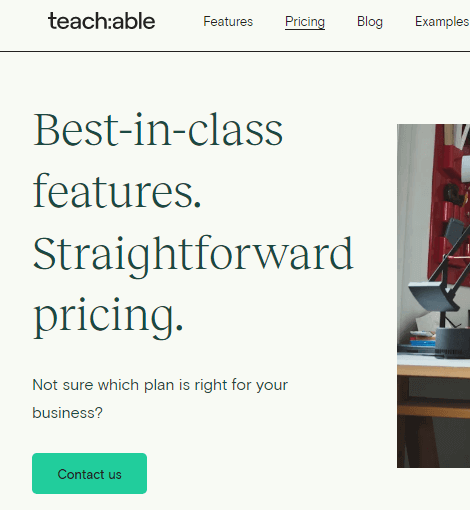 Teachable is an all-in-one online learning management platform that you can use instead of Learnworlds.
It aids creators to create and sell their courses online. It was established by Ankur Nagpal in 2013. Teachable was formally called Fedora.
Features
Teachable supports screen sharing.
It supports Multiple Languages.
Teachable has customizable templates.
It allows creators to import or export data.
Teachable has a Drag & Drop feature that is beneficial to creators.
It supports third Party Integrations.
Pros:
Teachable is easy to manage and set up.
This platform has excellent customer support.
Teachable has a built-in payment system. So, no need for third-party payment systems. Thereby ensuring the security of its users.
It supports diverse content formats (PDFs, images, video, and audio files).
Cons:
It can be expensive.
The site builder on Teachable can be complex to use.
Users have to pay transaction fees unless they buy the most expensive plan.
Teachable does not have enough customization options.
Pricing
This plan doesn't offer much for creators who want to take their business to the next level. Creators have access to basic quizzes, design templates, and product support on this plan.
Creators are required to pay $1 + 10% per transaction on this plan.
Basic plan – $39 per month
This plan offers everything on the free plan and a 5% payment per transaction. Other features available on this plan are creating a members-only community and getting training on course creation.
Pro plan – $119 per month
In this plan, creators are not to pay any transaction fees and any income they receive is theirs. This plan is best if you want to get the most out of course creation. It features affiliate marketing and so much more.
Business plan – $299 per month
This plan is great for large businesses or organizations. Creators don't pay any transaction fees on this plan. They also have access to state-of-the-art theme personalization options, customer user roles, and up to 20 admin-level users, among others.
Who should buy it?
Teachable is best for small and big businesses, creators, bloggers, and entrepreneurs who want to create courses online and sell to their audience.
Try Teachable 30 days Free Trial
5. TalentLMS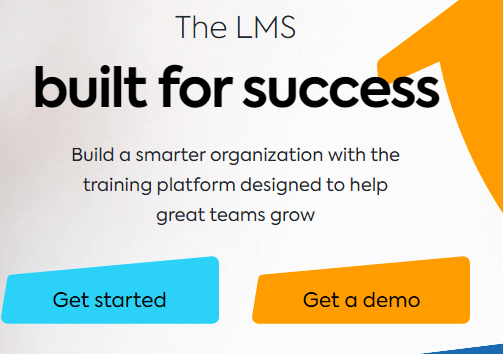 TalentLMS is another great alternative to Learnworlds. It is a fully customizable cloud-based eLearning tool that helps creators easily design and sell courses online.
Features
TalentLMS provides certifications that workers can use to prove their abilities.
It provides administrators with tools to competently build classes.
This platform allows for easy integration with Shopify, Salesforce WordPress, GoToMeeting, and BambooHR.
TalentLMS's system has JavaScript and API integrations.
It supports affiliate marketing.
TalentLMS has a built-in tool that aids users to hold meetings through video calls. It also integrates easily with Zoom and similar services.
Pros:
TalentLMS has a simple and easy-to-use interface.
It has an excellent customer support system.
It offers features that allow creators to easily create, design, and market a course.
Cons:
It can be difficult to customize for users who are not familiar with CSS.
Pricing
Free Plan – $0 monthly
Starter Plan – $69 monthly
Basic Plan – $149 monthly
Plus Plan – $279 monthly
Premium Plan – $459 monthly
Who should buy it?
TalentLMS is best for big and small educational institutions, teachers, and small and big organizations.
6. Kajabi
Kajabi is an online course platform similar to Learnworlds. It provides creators with built-in tools to help them create, market, and sell their courses.
Features
Kajabi allows creators to design digital products like membership sites and online courses.
It supports sales funnels and pages for selling and marketing digital products.
It has an email management system.
It supports online payment.
Pros:
It is easy to use.
Kajabi can be easily integrated with third-party apps and services.
It has drip content and blog features.
An affiliate program is available on Kajabi.
Cons:
Kajabi has no option for corporate sales.
It currently does not accredit courses.
Pricing
Basic plan – $149 monthly
Growth plan – $199 monthly
Pro plan – $399 monthly
Who should buy it?
Kajabi is perfect for small businesses and entrepreneurs.
Should you really invest in eLearning Platforms?
If you want to start your journey as a professional course creator without hassles and you want every necessary feature in place then yes you should invest in a good elearning platform.
Fortunately, the work has been done for you.
The platforms mentioned here have amazing customer support systems, easy-to-use interface, affiliate programs, customize-able templates, third-party apps and services integration, and much more.
Also Read:
FAQS | Learnworld alternatives
Here are a few questions other readers are asking about learnworlds and its competitors. Might be of really good help to you.
Which is better Thinkific or Learnworlds?
Learnworlds is best for large organizations and businesses who want to create a school online while Thinkfic is perfect for individuals or small business owners who want to sell their first online course without trying to understand advanced features.
Final thoughts on the best Learnworld alternatives
Learnworlds is one of the best online course creation platforms in the modern world.
There are hundreds of alternatives but we've carefully selected and listed only the best 6 for you to easily chose from.
These alternatives come with unique features that will make creating, marketing, and sales of digital products easier and faster for you.
If you have any questions, you can let me know in the comment section.
Prosper Noah is the brain behind TipsonBlogging. A full-time blogger & SEO expert.  His tips has helped a lot of people start their own blogs, grow it and make money.