Are you looking for pabbly connect pricing in 2023 and probably want to know how much it costs monthly, yearly, e.t.c along with features? then you're in the right place.
Pabbly Connect is no doubt a great zapier alternative and has proven to be one of the best business automation and integration tools out there with lots of features for you to explore.
Within a few minutes you can connect different applications that you use on a daily basis together and overall make your work easier and faster so you can be more productive.
What is Pabbly and what can it do?
Pabbly Connect is an integration platform and or software created and launched in 2013 by a team of two brothers; Pankaj Agarwal and Neeraj Agarwal which helps you connect services and applications that you use so that you can automate your tasks easily.
The software takes care of everything for you so you don't have to do much work on your part.
Pabbly ltd is trusted and used by over 27,000+ professionals and businesses. This shows how much a business needs an integration crm to automate day-to-day services for it's success.
Obviously this is going to change how effective a business can operate. Managing different applications and services at the same time manually is never an easy task.
This is where an an automation software such as pabbly comes in really handy;
In just a matter of minutes you can connect as many applications/services together and automate your tasks easily and fast.
Below is a glance at some really good features and benefits you get with Pabbly Connect:
Pabbly supports over 800+ integrations so you have a lot of options to choose from
You can automate all your tasks and save 10x time
Create forms to collect leads for your business, verify those leads and send them emails easily
Manage all your billings in one place and dashboard
Lots more
If you're struggling to automate your tasks and improve or skyrocket your sales, Pabbly is exactly what you need.
Get Started with Pabbly Connect
So what is the pricing like, how much does pabbly connect cost?
In this post we're going to share everything with you such as the subscription plans available plus their price and to sweeten everything for you; we are also going to reveal how you can get pabbly connect's huge discount offer in order to help you save some money.
Sounds cool? Keep reading.
Pabbly Connect Pricing Plans & Discount Offer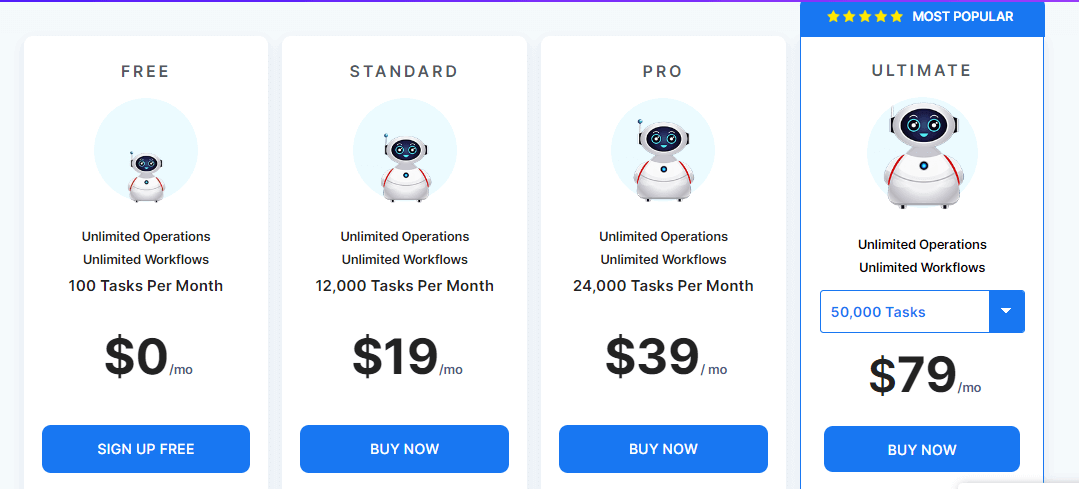 Pabbly connect offers four pricing plans and structure as seen above; the free, standard, pro and ultimate.
I'm going to explain each of them for you in detail along with what features/benefits comes with them so you can decide which is best for you.
Free Plan
This basically allows you to try pabbly and it's free forever but very limited to 100 tasks per month.
Standard Plan
This is the first paid plan on Pabbly and it costs: $19 per month; ($16 per month for 12 months subscription, $15 per month if you're going for 24 months and $14 per month for 36 months subscription)
Standard plan gives you access to all of the features without restrictions and unlimited operations and workflows with 12,000 tasks per month
Who should go for this?
Obviously, every plan for every need. The pabbly connect standard plan is best for those small businesses who are just starting out and would like to automate their tasks.
You can definitely get started with this one, and upgrade later if you like it and would need more as it offers 12,000 tasks per month.
Pro Plan
The second plan on pabbly where you get access to all features and it costs $39 per month ($33 per month for 12 months subscription, $31 per month for 24 months subscription, and $29 per month for 36 months subscription)
Included is 24,000 tasks per month which is double the standard plan.
Who should go for this?
Pro plan is ideal for online businesses that have started making some good waves. If your business is making progress already this plan is perfect for you.
Ultimate Plan
The last and best plan on pabbly connect obviously; it gives you access to all of the features and 50,000 tasks + you have the option to chose more number of tasks you want ranging from 50,000 to 3,200,000 tasks.
Ultimate costs $79 per month however you can get discount if you opt in for yearly, 24 months or 36 months subscription ($67/mo for yearly subscription, $63/mo for 24 months subscription and $59/mo for 36 months subscription)
Who should go for this?
The pabbly ultimate plan is best for:
Fast growing businesses
Agencies
Companies
Influencers
Etc.
If you're one of the above mentioned, then ultimate plan is a perfect fit for you.
Plus we have good news for you. How about paying a one time low price for pabbly?
Save Money with Pabbly Lifetime Discount
Pabbly connect launched a lifetime deal that let's you get access to it's software for a one-time low price.
We have written a post on pabbly connect lifetime deal if you need in-depth details, however below is how it basically works and the pricing along with what's included.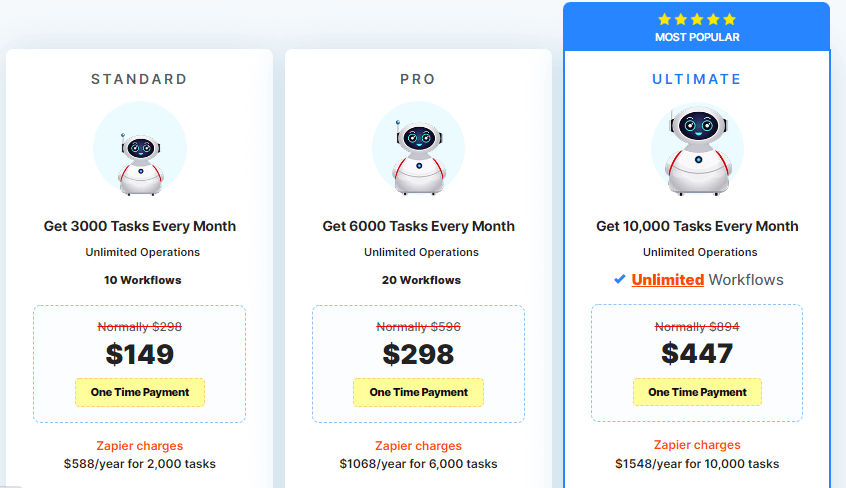 If you claim this lifetime deal, you no longer have to pay recurring fee but enjoy the software for a lifetime and avoid monthly payments.
Want to get started right away?
How to Activate Pabbly Connect Lifetime Deal
Click on this special link and you will be taken to the discount page as seen below;
Click on "grab this offer" button
Select the plan you want (standard, pro or ultimate plan)
Finally click on buy now.
If everything is fine, you've just gotten yourself a lifetime deal of pabbly.
NOTE: Chose the plan carefully as you can't upgrade to another plan later in the future.
What are you waiting for?
🔥 Grab Pabbly Connect Lifetime Deal Now
Also Read:
FAQs of Pabbly Connect Pricing
These are frequently asked questions by readers who are looking to checkout what pricing plans are available on Pabbly to decide which is best for them.
Fortunately, I've answered everything in detail.
Yes, it has a free plan that allows you access to 100 tasks per month. There are no restrictions as well.
Do you want to make more sales and progress in your business? then one of the best ways to do so is by automating your tasks.
To do this, you need a software app like pabbly connect to get things up and running. It's currently one of the best and cheapest tools in the market compared to competitors.
The pricing is definitely affordable, and don't forget to save money using the lifetime deal mentioned in this post.
and that concludes our article on the pabbly connect pricing plan, features and discount for 2023
Let me know if you're going to activate this deal right away and if you have questions, please drop in the comment section.
Prosper Noah is the brain behind TipsonBlogging. A full-time blogger & SEO expert.  His tips has helped a lot of people start their own blogs, grow it and make money.