Artificial Intelligence (AI) is changing the digital landscape and how we perform certain tasks. At first, you'd need to hire a writer for your blog and wait for days for them to deliver your content.
On top of this, you'd also have to pay a hefty amount for all this.
All of this has changed with the advent of AI. Many AI writing tools can write entire articles for you within minutes, and they cost way less than hiring a writer.
Two tools that come very close to replicating exact human writing qualities are Sudowrite and Article Forge. Both of these tools will listen to your command and then write an entire article from scratch in under a minute.
Article Forge and Sudowrite are both trained on large piles of data from the internet, enabling them to write about anything that you ask them. Article Forge is more focused on delivering SEO-optimized content while Sudowrite focuses more on the storytelling aspect of writing.
Stay tuned to this article for an Article Forge vs Sudowrite comparison. We also discuss the pricing and features of these tools in this article.
Article Forge Overview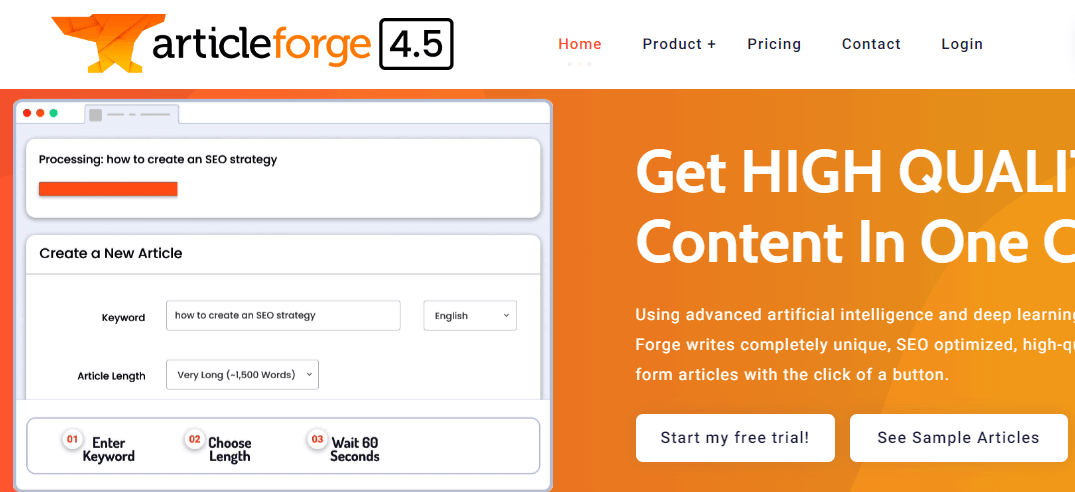 Imagine a human spends years on studying the whole internet, pretty dumb right? A human can't learn everything on the internet, but not an AI tool. Article Forge is fed with most of the internet's data that it studies and adapts its knowledge from. This has made Article Forge a super writer that knows about everything.
The tool has multiple amazing features that make it worth buying. Some of its prominent features include API access which allows integration with external tools. Its other features are SEO-optimized content, human-sounding content, and image insertion.
Article Forge offers multiple pricing plans that you can pay for either monthly or yearly. The yearly plans have a 51% discount offer that you can obtain with the Article Forge coupon. The cheapest Article Forge plan costs only $13 per month. Its second plan is customizable and designed for large companies.
Sudowrite Overview

Sudowrite is a tool focused on story writing and news-like content. It can generate a beautiful fictional story in no time, giving you a head start with that novel you've been delaying for so long. Similarly, Sudowrite can be helpful to many other people if they run a blog or a storytelling website.
Sudowrite is powered by AI to write these incredible stories. However, its extra tools like Rewrite, Describe, Brainstorming, and Character Generator gives it a special place among other AI writing tools. Sudowrite becomes a proper storytelling tool with the help of all these tools.
Sudowrite has many pricing options that are designed for different types of customers. They have a lightweight plan for students and hobbyists and also another plan with insane word limits. The starting price of Sudowrite is only $10 per month if you pay annually. There is a 50% discount on all their plans if you pay yearly.
Article Forge Pricing
As we have briefly discussed above, Article Forge has different pricing plans with two payment options; monthly and yearly. There are two Article Forge pricing plans in total. However, the number of customization options in both of these plans is quite big. You can choose between different word limits for a month and much more.
Both of Article Forge's plans have variable prices but the price of the second plan is not pre-determined. Instead, you'll have to customize the plan and then they will present you with a price.
The following are details of the two pricing plans offered by Article Forge:
Standard Plan
The standard plan of Article Forge is designed for individuals and small companies. It has highly customizable options regarding the word limit. You can get a small plan with only 25K words per month. The highest number of words you can include in this plan is 500K. Some of its key points are listed below:
It has a starting price of only $13 per month
For 25K words, you pay $13 every month
Increase the words to 250K and the monthly price becomes $27
Lastly, you have to pay $57 every month for 500K words in your plan
All of the above prices are for annual payment plans
The last option with 500K words also allows multiple users
The standard plan comes with all the benefits and features of Article Forge like its other plan
Business Plan
Designed for large enterprises, Article Forge's business plan can be customized in a number of ways. It does not have any pre-set pricing and the word limit can be only 500K and above per month. This plan is also for multiple users as they offer an account manager with it as well. Article Forge's business plan does not have a visible discount but you can still use the Article Forge coupon. Its key details are provided in the list below:
Word limit exceeding 500K per month
Customer user accounts for multiple users
Increased article length
API access for all
A dedicated account manager for your plan
Sudowrite Pricing
As we have already discussed the pricing of Sudowrite shortly, you might be aware of their starting price. They offer a total of 3 pricing options that you can choose from. All of their pricing plans include most of their features. Sudowrite has a word limit system for words you can generate with their AI tool every month. This limit is variable based on the plan you choose. The following is a detailed observation of their plans:
Hobby & Student
This plan has a low word limit and is aimed to be bought by students and people who want to use Sudowrite as a hobby. It has a monthly word limit of only 30K words. While you have to pay a $10 price each month for this plan.
Starting price is only $10 (paid annually)
Includes 30K words per month
Short stories
Blog posts and essays
Professional
This is Sudowrite's most popular plan with a decent word limit for a small price. You can buy this plan if you want to write a novel or generate something longer. The following are this plan's characteristics:
It has a monthly price of $25 which you have to pay annually
The word limit is 90K words a month
It is suitable for novels and book writing
Max
The last plan offered by Sudowrite has some insane word limits and incredible features. For $100 a month, (again, paid annually) you get 300K words. Only a true professional can exceed this word limit within a month. Some key points about this plan are the following:
Its monthly price is only $100
You get 300K words every month
The most extreme features of Sudowrite are included
Article Forge vs Sudowrite: Comparison
These two tools have their own different features and both are quite similar but in different fields. The following is a list of different things that we compared between these two AI writing tools:
Article Forge's starting price is only $13 per month in comparison to Sudowrite's $10 a month
The starting plan of Article Forge has 25K words while Sudowrite gives you 30K words in the competing plan
Both of these tools have multiple pricing options
You can pay for both Article Forge and Sudowrite in monthly installments or yearly packages
The yearly payment options on both these tools give you 50% discounts
Article Forge is designed for bloggers who need SEO-based content. While Sudowrite is for publishers, news agencies, and common people wanting to generate stories
Both these tools are powered by Artificial Intelligence
Article Forge's features include plagiarism-free content, better SEO optimization, API access, and image and video insertion in your articles
On the other hand, Sudowrite has features like incredible storytelling, additional tools like Rewriter, and Brainstorm
Article Forge and Sudowrite both can prove to be valuable assets for those who need lots of content and articles
Article Forge vs Sudowrite: Summary
In this article, we went through two of the most powerful AI writing tools, Article Forge and Sudowrite. One is adapted by writing giants The New York Times, Washington Post, and Wired. While the other tool has been a key player in helping blog owners generate tons of articles in a very short time.
Article Forge is the tool that is used by bloggers for SEO-optimized articles, while Sudowrite is used by news and writing companies to generate different stories. Both tools work the same way but provide very different results. Article Forge excels in writing articles that can rank on Google easily. In contrast, Sudowrite can write incredible stories based on fiction that can catch the attention of the reader.
These tools have their own specifications and the pricing of them is not very different. However, it depends on your requirements for you to choose one of these tools. If you are a blogger and need SEO-optimized content, go with Article Forge. On the other hand, if you are a writer, Sudowrite should be your choice.
Prosper Noah is the Brain behind TipsonBlogging. A full-time Blogger & SEO Expert.  His tips has helped a lot of people Start and Manage their own Blogs.