Are you looking to activate the serpstat free trial? Want to try one of the best all-in-one SEO platforms before committing to a paid plan?
Then you've definitely landed in the right place at the right time.
Serpstat offers a 7-day trial plan that lets you test and use every tool in its platform for absolutely free.
Don't want to waste time? then use the following button link to grab your free trial.
Quick note: We get a small commission when you buy Serpstat subscription through our affiliate link at no additional cost to you. Thank you for your support!"
No doubt, there are more than 100s of SEO platforms out there.
The problem is not every tool is worth it, you have to give it a try first before deciding if it's a good fit or not.
Who wants to spend money on something they can't use?
This is where a free trial comes in.
They allow you to test all of the tools included without limits. If you are happy with the platform then you can go ahead to subscribe to a paid plan.
If you want to activate the serpstat free trial, use the following link.
Try Serpstat for 7 days absolutely free.
Need more details about this trial plan from Serpstat? How about a step-by-step tutorial to activate it?
Then let's not waste time and jump to it right away.
Before then, here's a few details on what serpstat is.
Used by top companies such as Shopify, Samsung, etc.
Serpstat is an all-in-one SEO toolkit for website owners to drive more traffic to their websites.
It comes with powerful tools such as keyword research, competitor research, backlink analysis, site audit, etc.
In summary with this tool you can do the following;
Carry out a full website or page audit to fix common issues and increase rankings and traffic
Find unlimited low competition and profitable keywords
Track your website keyword position on Google search engine to see where you need to improve
Do competitor analysis to find out who your top competitors are
Analyze and monitor yours and competitors' backlinks
Find top performing PPC keywords on Adwords and much more.
You also get instant access to over 50+ digital marketing tools to grow your online presence.
Serpstat offers a free trial for 7 days to test its platform. Without restriction, you will get access to everything needed to boost your presence online.
To get started with the free trial, all you need to do is register a free account.
So what are you waiting for?
Without wasting time, let's see the step-by-step guide for you to activate your trial account.
How to Grab SERPstat Free Trial for 7 days in 2023
In a matter of minutes your account should be set up and running. Follow the below step by step tutorial carefully.
Step 1: Visit this special link and it should take you straight to the Serpstat's website homepage where you can sign up for free.
It looks something like the image below.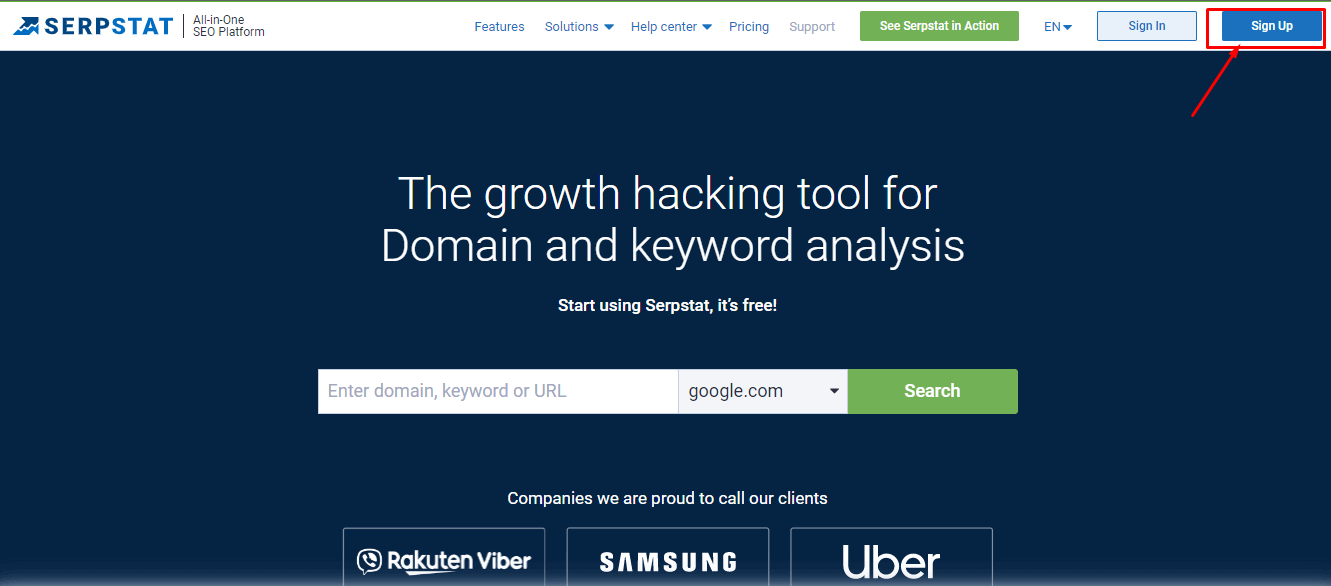 As you can see above, there's an option to enter your domain. There is also a sign up button at the top right.
Step 2: Click on the sign up button or enter your domain and click search
So basically, there are two ways to sign up and both take you to almost the same destination.
The easier one will be to click on the sign up button at the top right.
It will take you to another page.
Step 3: Now you need to register an account.
Simply enter your email address and other details such as password and phone number.
Alternatively, if your gmail is logged in your browser, then use the "sign up with Google"button.
As seen below;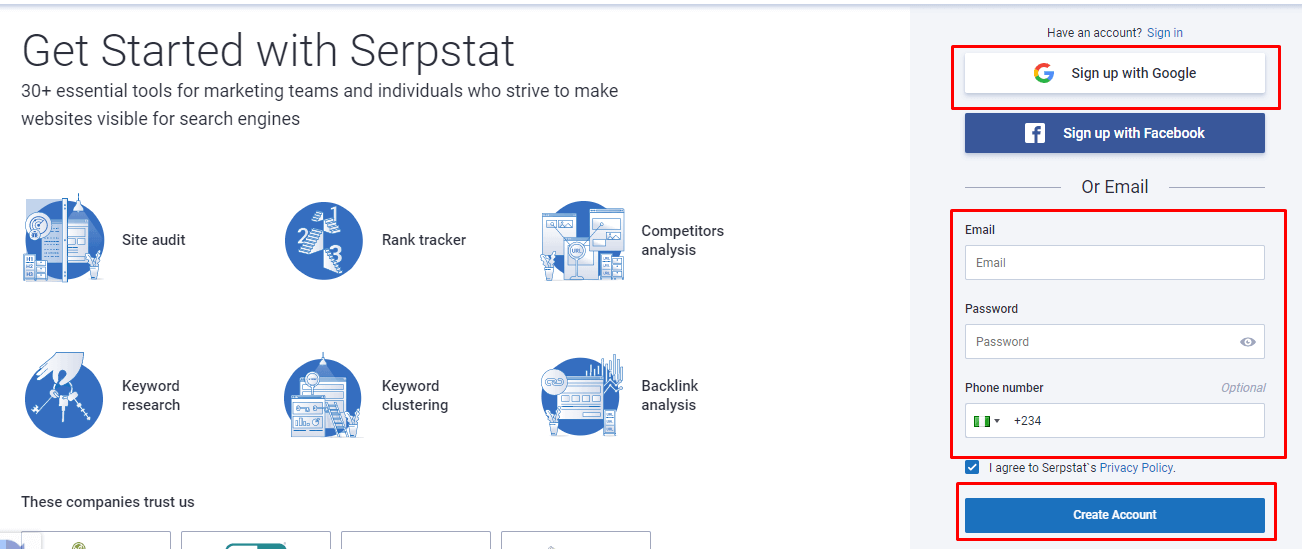 Step 4: Confirm your email.
After registration, Serpstat will send you a confirmation email just like the one below;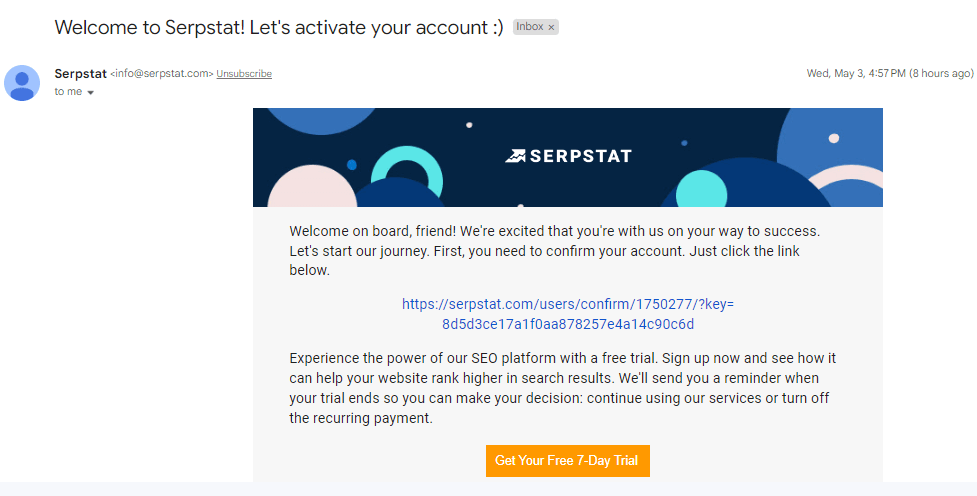 Click on the blue verification link.
It will take you to the serpstat trial activation page.
Step 5: All you have to do in this step is click the "start my 7-day free trial" button.You will see this on the page you land on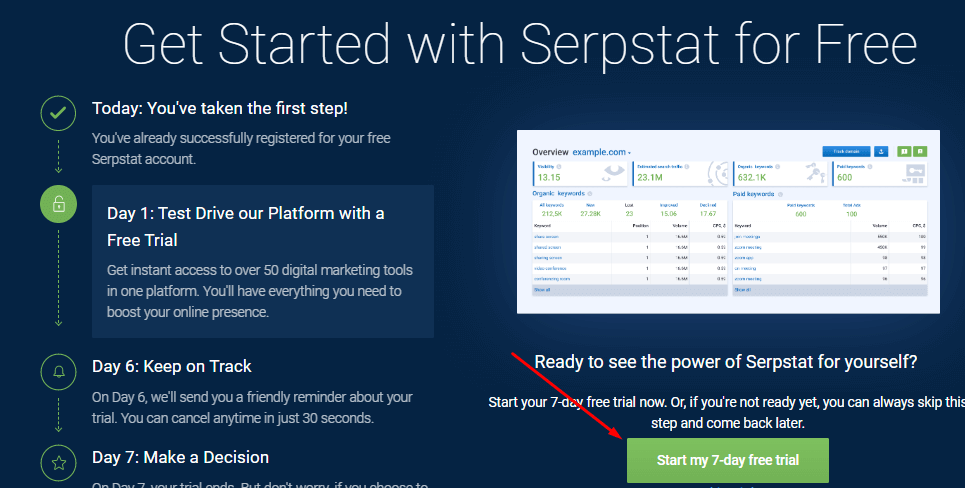 Step 6: Activate your trial
Finally go ahead to enter your payment details and hit start the trial.
You will not be charged a dime until after 7 days.
And that's it.
If everything is successful, you've just activated the free serpstat trial plan for 7 days.
Then you'll be welcomed to your dashboard just like the one you see below.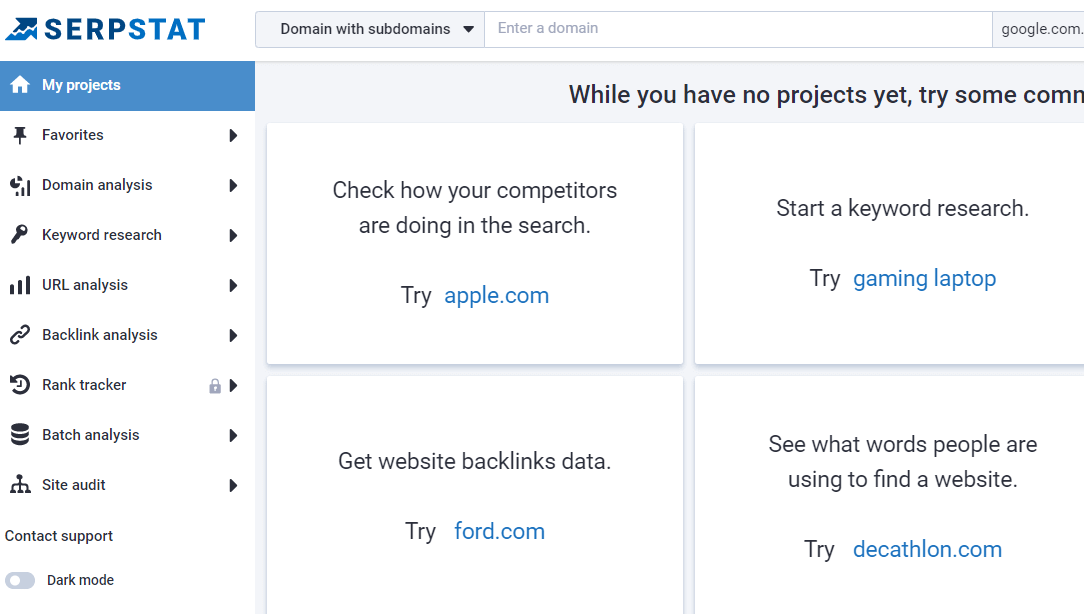 Why Choose Serpstat in 2023 as your SEO Tool
The following features come with Serptat which makes it one of the best SEO platforms out there.
Let's explain each of these features and benefits in full detail so you can understand better.
1. Keyword Research
If you want to get lots of traffic to your website, the foundation is doing keyword research. You have to know exactly what your target audience is typing into search engines like Google, Bing, etc.
Serpstat keyword research feature allows you to find the easiest to rank high search volume keywords.
You can target these keywords on your website to drive traffic and sales.
Below things are included in the keyword research tool:
List of organic keywords
Search volume of keywords
Keyword CPC
Competition of the keyword
keyword difficulty score (to determine how hard it is to rank)
PPC keyword research: This tool allows you to do PPC research. You can see top adwords keywords, competitors, ads examples, landing pages and more.
It looks like this;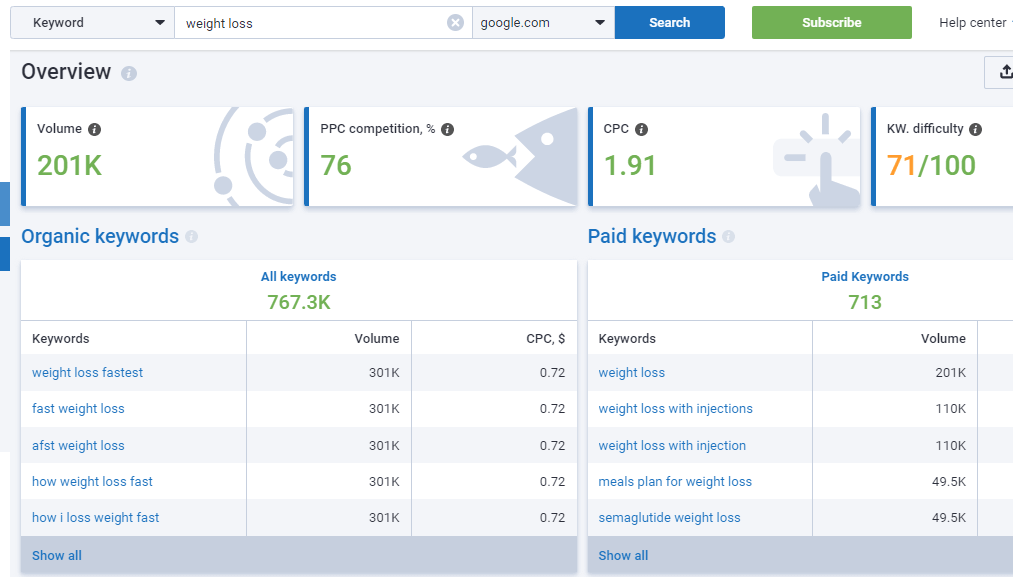 All you need to get stared is simply enter a seed keyword. Serpstat will then provide you with ton of keyword opportunities
You can see the search volume, difficulty, cpc and more
2. Rank Tracker
Rank tracker obviously is just as the name sounds. This particular tool from Serpstat allows you to track all the keywords your website is ranking for.
No doubt, one of the best ways to improve on your current traffic is to push your keywords to the top of Google.
With a rank tracker you can track these keywords' position and see which one has fallen. This will allow you to improve them by building more links, or more optimization
Tracking keywords' position is very important in your website's visibility.
3. Competitors Research
So what exactly are your competitors doing to get more traffic and sales?
The best way to know this is by spying on them and how do you do that?
It's simple.
Competitors research.
This tool can help you find who your top competitors are so you can research them and see what is working in your niche or industry.
If competitor A is doing this and seeing loads of results? Why not model their strategy?
Again, a super important tool from Serpstat.
There's no use in reinventing the wheel. Find out what is working for your competitors and apply the same strategy to improve your website.
With this tool you can do the following:
Find competitors' ranking keywords (Both new and declined)
See estimated search traffic of their websites
4. Backlink Analysis
Backlinks is one of the confirmed Google ranking factors.
You need backlinks to push rankings for some of your keywords so you can get to the top of Google. And stay there for a long, long time..
Truth is you can rank at the top without links but when there is a lot of competition you can't do without them
Backlinks Analysis from Serpstat will help with your link building as they analyze what backlinks are good or bad.
With this tool you can do the following
Analyze the backlinks of any website including yours or competitors'
See how many referring domains
Spot malicious sites that are linking to your website so you can get rid of them
Anchor texts and lots more.
5. Site Audit
One of the top tools from Serpstat that lets you perform a full website audit. A site audit will show where and how you can improve your website rankings.
You will also be able to see what is holding your website back. The site audit tool will take care of this, all you need to do is enter your domain.
The site audit provides the following:
High priority errors: This report basically shows which errors are causing your website lots of harm and you need to fx immediately.
Medium errors: If you want to improve visibility of your website these errors are ones you should attend to.
Low errors: These are not much harmful but fixing can improve your rankings by a little
So what are you still waiting for?
Serpstat Pricing
Serpstat is one of the most affordable SEO toolkits out there and it offers four pricing plans as seen in the image below.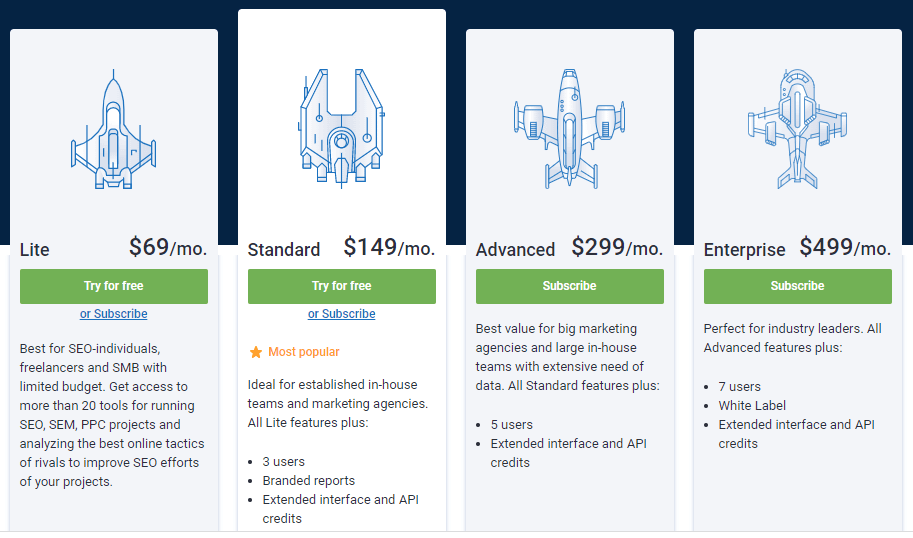 They include the following:
Lite Plan: The Serpstat lite plan costs $69 per month ($55 per month when paid annually)
Standard: Standard plan costs $149 per month ($119 per month when paid annually)
Advanced: This one costs $299 per month ($239/mo when you pay annually)
Enterprise: The last plan from Serpstat that costs $499 per month ($399 per month when you pay annually)
You can choose any of these plans according to your budget and needs.
If you want to save money on any of these plans you can take advantage of the yearly serpstat discount.
You'll save a lot of money if you opt in for yearly instead of monthly.
FAQs | Serpstat Free Trial 2023
Here are some frequently asked questions around the free trial of serpstat. Hope this helps you in case you are curious
What is Serpstat used for?
Serpstat is an SEO toolkit for bloggers, website owners and agencies to drive more traffic and increase their online presence. It comes with a lot of tools needed such as keyword research, rank tracking, backlinks analysis and much more.
How long is the serpstat trial?
The free trial from serpstat lasts for 7 days and then you'll be charged depending on your plan. On this page, you'll learn how to activate the free trial account.
Can you cancel your Serpstat trial?
Yes, if you are not happy with the trial and would like to cancel, just chat with the support team. They will cancel and you'll not be charged.
Final Thoughts on Serpstat Free Trial
If you are looking to take your website traffic to the next level you need all of the tools you can get. And most especially in one dashboard.
Ranging from finding profitable keywords, researching competitors, doing site audit, etc. Serpstat covers you.
And the best thing? They won't force themselves on you.
This is why they are offering a 7-days free trial to allow you to test the tool and decide for yourself if it's a good fit.
No doubt, Serpstat is one of the best SEO toolkits and is used by top companies.
Give it a try and see the amazing changes you can get for your website.
So what do you think about the Serpstat free trial? Are you going to give it a try? Have any questions? Please let us know in the comments section
Prosper Noah is the Brain behind TipsonBlogging. A full-time Blogger & SEO Expert.  His tips has helped a lot of people Start and Manage their own Blogs.