Are you looking for a detailed and unbiased Searchie vs Kajabi comparison? want to know which platform is best for hosting course memberships? You are at the right place at the right time.
Let's face it.
Hosting a membership platform with the interest of improving learning quality and satisfying your students can't be underrated. When you offer your students a superb experience there will be low or no subscription cancellations and a decline in memberships.
That is why in this article we will be reviewing Kajabi and Searchie, their features, how they both work, and much more.
This will help you decide which one works best for you.
So without wasting much time, let's jump to it right away.
Searchie vs Kajabi [Unbiased Comparison]: Which Membership Platform is Better?
First, we are going to take a close look at exactly what each platform is and what it does.
Overview
What is Searchie?
Searchie also known as searchieAI is a platform that allows you to host membership platforms and monetize your content. It is known for its cutting-edge technology which helps to transcribe uploaded videos automatically.
Also, the transcribed content will be used to enhance searchie video search algorithms which enable students to get time-stamped key moments in video content.
Searchie is built to house mainly video content but this video content can be broken down into micro content which you can use for the following:
Podcasts memo
Youtube transcriptions
Podcast Audio
Twitter thread
Website content for SEO so Google can discover your content
What is more? Searchie allows you to use their AI to improve your already existing content which saves you time with brainstorming ideas. You can think of it as a virtual assistant
Here's how the Searchie IO dasboard looks like:

In case you are looking to learn more, we have written a full searchie review for you to check out.
What is Kajabi?
Kajabi is a multi-purpose marketing tool that lets you create products in the form of videos, podcasts, community, or just about any product you want to sell.
With Kajabi, it is easy to create a course outline in minutes and use it for your next membership course.
You will also be able to send out emails to your students or subscribers to inform them or market your new products to them
Here's how the Kajabi dashboard looks like: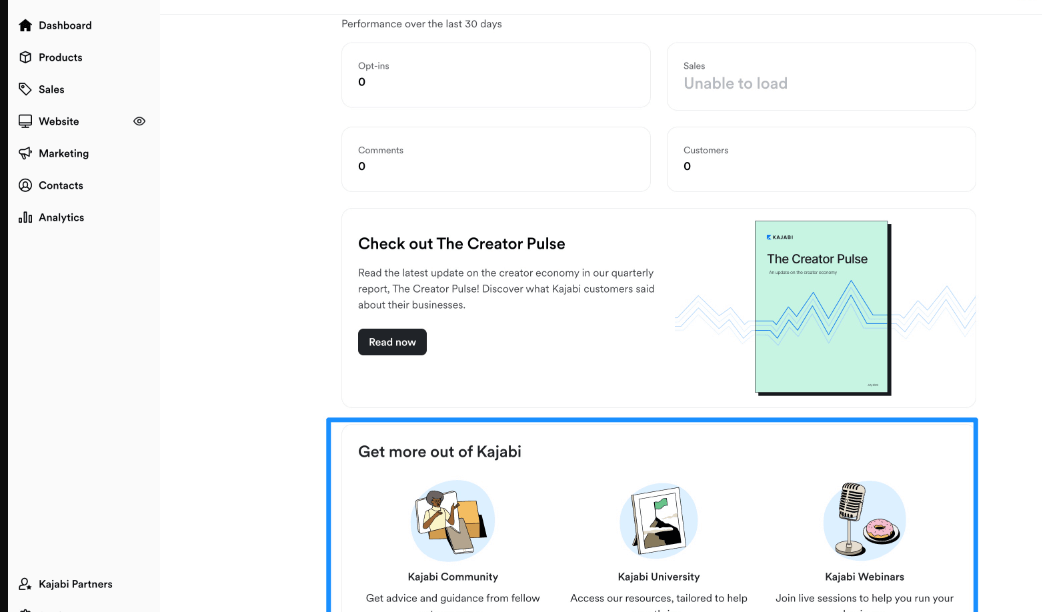 Let us start with the content management system
Searchie and Kajabi Content Management System
It is important to have a content management system that will enable you to create content that will meet the needs of your students. Between searchie and Kajabi, who has the best content management system?
Searchie Content Management System (CMS)
Searchie's CMS, also known as a hub, is a tool that enables you to create and design multiple pages. Depending on your plan, you can create as many pages as you want and keep them private or public.
The CMS is lightweight and easy to use by anyone who has used either Thrive Architect, Elementor, or WP Bakery to design and manage a WordPress website.
This is because the tool has some advanced drag-and-drop elements that are present in at least any of these tools. If you however can't do it yourself, you can hire a professional on Fiverr or Upwork who will help you through the process
You will be able to create high-quality pages that meet your basic needs for a landing page.
Kajabi Content Management System
The Kajabi content management system is versatile and way too basic to use, an absolute beginner would get a quick understanding of how to choose between elements easily.
Just like any other drag-and-drop page builder tool, you'd be able to design and manage your pages with ease or you can hire an experienced designer to help you.
Our Experience with Both CMS
While trying our searchie's CMS, It took us a while to understand the drag-and-drop elements and it was easy with Kajabi.
However, searchie has more options than Kajabi does, for example, you can create a menu and link to other live pages in your hub which we found quite impossible with Kajabi, or maybe not, we just did not get any option for that even with two templates we played around with on Kajabi.
With conversion in mind, why Kajabi doesn't have that menu item can be because they want you to eliminate distracting users to focus on the content alone.
Searchie vs Kajabi: Third-party App Integrations
Can you work with third-party apps on Searchie or Kajabi? Let's take a look.
Searchie Third Party App integration
Searchie allows seamless integrations with other apps that are not present in their suite of inbuilt integrations.
These integrations are basic apps you'd need to improve the content or manage them. Zapier is one of these 15 apps and with Zapier, you can integrate over 3,000 apps to work with searchie.
Apps available within searchie
Searchie wisdom
ConvertKit
Facebook
Google Drive
Drop Box
Wistia
Vimeo Pro
Onedrive
Podcast
Zoom
Widgets
Record (Chrome Extension)
Stripe (Payment)
Zapier
You can install any of these apps with a few clicks and you do not have to write any code for them to work with Searchie
Kajabi Third-Party App Integrations
Kajabi integrates with 12 apps in total to provide an extended usage experience. These apps add extra features to provide a high-quality membership experience for your students.
The app includes tools for email marketing, membership management, sales, conversion, and Tracking/analytics.
Just like searchie, with Zapier, you can also use Kajabi with over 3000 third-party apps to enable extra features that are not available within Kajabi.
Kajabi Integrations includes;
Meta Pixel
Google Analytics
Mailchimp
Zapier
Kajabi vs Searchie: Analytics and Tracking
When it comes to tracking, one of these platforms performs way better than the other and it goes a step ahead of the other one.
Searchie's Analytics Tool
Searchie's analytics tool allows you to track everything you need to know. You can get important metrics to help you manage and improve your content further.
With searchie's Analytics tool, you will be able to
Track Watch time
See which terms your students use the most to locate your content
Know which video gets the most skips
Even more so, you can use google analytics with searchie and have all the key data you need for improvement using the Zapier integration.
Kajabi's Analytics Tool
On the other hand, you get the same website tracking metrics as your website when working with Kajabi.
You'd need to integrate it with Google Analytics for you to get metrics of web visits, time spent on pages but not how long a video has been watched, or which terms are used to locate a video; those are impossible to get with Kajabi.
So, in tracking and analytics, searchie is way ahead of Kajabi and they keep on improving their software.
Searchie vs Kajabi: Funnel and Email Marketing
It is essential to be able to keep tabs on your students or customers needless to upsell them into another course or product. Which of these platforms offers a better system for funnel and email marketing?
Searchie's Funnel and Email Marketing System
Searchie does not have a funnel or email marketing system, to use this feature, you will need to export your audience to a funnel builder or email marketing software like Aweber, Getresponse, and more. The most compatible platform with searchie is ConvertKit and it is easy to use with searchie.
However, there is an option in the hub where you allow exit pop-ups to convert users to subscribe, buy or submit emails for free products.
Kajabi's Funnel and Email Marketing System
Kajabi on the other hand has a funnel builder and email marketing suite where you can build a sequence of emails to be sent out or broadcast to all your students or customers.
What's more? You can launch a new product and share it with your existing list sequentially using the funnel feature which nurtures leads until they are ready to buy the product.
There are pre-built templates available for you to use or you can build your funnel from scratch.
Kajabi also offers pop forms so users can subscribe and you send them newsletters or free gifts or whatever but the idea is to capture leads and convert them within Kajabi
Kajabi vs Searchie: Community Management
Both platforms don't have a way for your users to communicate with one another and that's not a problem because you can use Facebook groups to manage your community.
However, searchie has a feature called Pibi, a community that consists of other creators like you. There you will find people who match your needs and collaborate with them or share ideas that will benefit you both.
Course Assessments of Searchie and Kajabi
Being able to go and test your students after they are done with the course, that's one feature all membership sites should have.
Searchie Course assessment
Searchie doesn't have an inbuilt course assessment feature. To allow your people to take a course assessment, you'd need to use a third-party app. But that doesn't make any sense because they'd still skip and not take it.
What's best is they can go and add that feature as they grow. It will make the platform the GOAT of creating course or membership sites.
Kajabi
Kajabi has the course assessment feature which you can add while building your course pages. It's an element that you can add at the end of a particular lesson. Your students are assessed before advancing to the next lesson or module.
The assessment can come in the form of quizzes and you can set a score for each lesson. This is so that if your students don't get to reach the grade, they don't advance. So it prompts them to take the lessons seriously.
Customer/Student support
How can students reach out to their tutors? This is a very important question that needs a good answer.
Searchie has this option where you can use searchie wisdom to help students get answers to their questions faster, a chat widget you can embed on your course page or Membership website.
Searchie vs Kajabi: Pricing
Each plan and pricing of searchie and Kajabi have their own perks.
The limit for searchie is storage, number hubs and some basic features and the basic plan begins from 29$ per month.
Want more details, we have an article on searchie pricing plans
For kajabi, you will be able to:
Have 3 products and funnels,
To send unlimited emails and
you'd be able to manage 10,000 contacts and 1,000 active
Customers.
Website
An Admin user.
And the basic plan for kajabi starts from 149$ per month.
Kajabi is for creators with a large database of users who are looking to do email marketing and not just memberships.
If you are looking for a platform that will house only your video audio content without the need for sending out emails consistently, searchie is your best bet.
One trick we use for managing emails when using searchie is that all audiences are sent email announcements via sendy. Co.
For every 10,000 emails, we are charged around 6$ to 8$.
Transaction fees and Payment Gateways (Kajabi and Searchie)
Both kajabi and searchie do not charge transaction fees for sales of courses or memberships. However, your payment processor will charge you their service fee which is normal for all payment processors.
Searchie payment gateway
Searchie has only one payment gateway and it's Stripe. It's quite easy to integrate with your products. Stripe is most recommended because you can't lose your money as you'd do with a payment processor like PayPal.
Kajabis payment gateway
PayPal and Stripe are the two options you can use to receive payments from your students or customers.
Who Wins: Searchie or Kajabi?
Before we conclude, it's only fair to say:
There is a big difference between both platforms.
Searchie is focused on creating an experience for users other than just a course or membership hosting platform. For example, when you integrate your searchie account with Facebook and go live to teach something, searchie goes all the way to saving a copy in your account.
So even if you delete the live video or forgot to save it from Facebook, a copy will always be available to use as content.
Another significant difference is that searchie does not do email marketing, but Kajabi does, you can send emails and have custom funnels. However, you will need to use convertKit or a third-party app that integrates with searchie to give you an email marketing experience. Such integration will cost you an extra fee which is not ideal.
These two platforms are unique in their own ways.
Choose a platform based on the experience you are looking to tailor to your students and give you High ROI. You can not go wrong with your decision.
FAQs on Searchie and Kajabi
Here are some frequently asked questions around Kajabi and searchie and hope it helps you.
How does Searchie compare to Kajabi?
Searchie offers more when it comes to a complete all-in-one platform for course creators. Another huge advantage Searchie has is it's HUB and AI integration. It comes with pretty much everything you need for your course membership.
Does searchie work with Kajabi?
Yes, you can use Searchie with Kajabi with the help of it's widget feature. All you have to do is click on the widgets tool and you can add it.
Is Searchie a course platform?
Yes, Searchie is a platform for course content creators. It provides you with all the tools you need to host and market an online course effectively.
Final Verdict on Kajabi vs Searchie
Searchie is a good option if you are looking for a platform that is easy to use, has great analytics, and integrates with many third-party apps.
However, it does not have a built-in funnel or email marketing system, so you will need to use a third-party app for those features.
Kajabi is a good option if you are looking for a platform that has all the features you need to create and sell courses, including a funnel builder, email marketing, and community management.
However, it is not as easy to use as Searchie and does not have as good analytics.
If you are looking for an easy-to-use platform with great analytics, Searchie is the better option.
If you are looking for a platform with all the features you need to create and sell courses, Kajabi is a good option.
Ultimately, the best platform for you will depend on your specific needs and preferences. If you are not sure which platform is right for you,
We recommend trying both Searchie and Kajabi for free to see which one you prefer.
Kajabi has 14 days of free trials which require your credit card and you are charged at the end of the trial period.
While with searchie, there is a 7-day free trial which does not request your credit card and you can pay once you are done testing the product for days.
Try Searchie.io 7-Day Free Trial!
So what do you think about our searchie vs kajabi comparison? Which one are you going to give a try? Have any questions? Please let us know in the comments section.
Prosper Noah is the Brain behind TipsonBlogging. A full-time Blogger & SEO Expert.  His tips has helped a lot of people Start and Manage their own Blogs.