Are you on a hunt for a detailed Searchie review? Want to know if this course & membership site platform is worth it or not? Then you've just arrived at the right place at the right time.
The need to build or own a great membership platform has plunged over the years. Searchie comes as a rescue for creators like you.
In this searchie IO review, we will share our hands-on experience for you to decide whether it is a platform you will be looking to host your next membership videos or not.
We're going to take a look at;
What it is all about
Features and benefits
The pros and cons
and much more.
Without wasting time, let's jump to it right away.
Searchie Review 2023: Is The Searchie io platform worth it?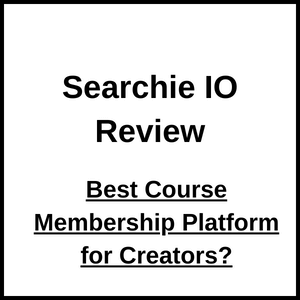 What is Searchie?
Searchie is a membership platform created by master of membership programmes, Stu Maclaren from the Membership Experience. He has built membership business to success over the last 5 years into the business and in the cause he co-founded searchie.
A platform for content creators and entrepreneurs to build and market their digital products (Mainly video content) and have revenues coming in every month.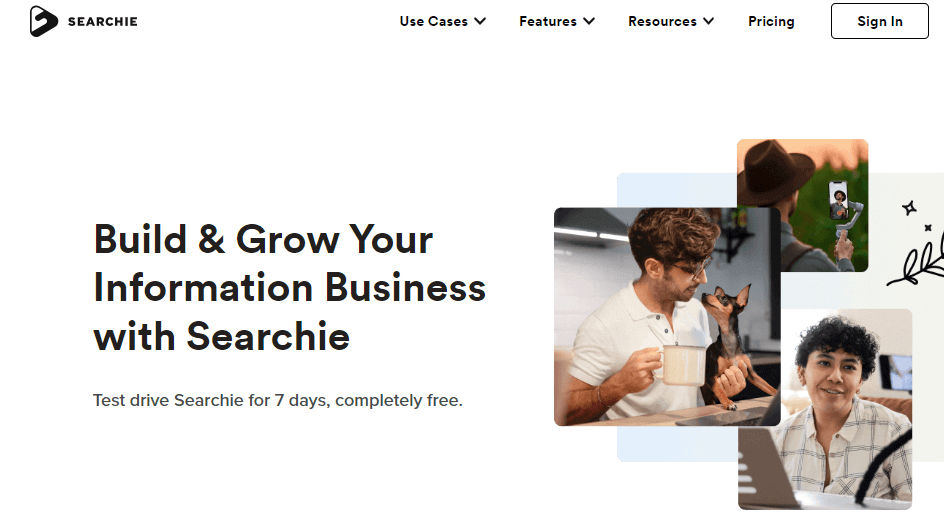 The most notable and powerful aspect of the searchie software is that video content you upload will be transcribed and can be downloaded as SRT format.
Also, this SRT format video transcription can serve as;
YouTube CC
Podcast outline or description
Content for blog posts etc.
Macro content (Twitter threads or IG threads.net)
What's more intriguing? Searchie IO has grown from just being a membership platform tool. Searchie app now has an AI feature called wisdom which is integrated with ChatGPT-4 to help with audience management and content uploads. Even more so, it is now called SearchieAI
These AI features are still in production mode but you can still use them while you are a paid subscriber to any of the searchie plans.
If you want to try Searchie for free, use the following button link.
Why Should You Use Searchie? (3 Main Benefits)
What can searchie do for your customers? You see seachie goes beyond being just being membership platform, there are powerful core uses for searchie which are;
Searchie uses the transcript to give users results based on their search terms. users can search for keywords and get the results exactly where they are mentioned in a video. The main aim is to find answers to your burning questions answered as soon as possible.
Building Membership Websites
No doubt, wordpress is a good CMS to build anything membership websites but you'd have to start building components and features from scratch.
However, Searchie is a more powerful tool to build a stand alone Membership plan and it has major features you can imagine except for a few which we will discuss in the pros and cons section.
Searchie is suitable if you are into any of these as a profession:
YouTuber
Marketer
Transcription service
Coaching
Creating Courses
Memberships
Educationist
Podcaster
Author
Blogging
Public Speaking
HR Support hub
Searchie will be of more help to host all your content to answer any number of audience you aim to satisfy with their powerful video content search feature.
The membership area is called searchie hub and these hubs can either be private or public such that access is limited to only paid members
Also, searchie hubs is a basic front-end drag and drop builder which you can use to create as many pages as possible.
Aside searchie being a membership tool, you can go ahead and have in depth analysis for your videos. You will be able to understand your audience behavior and improve or adjust some key information and get better results.
All Other Features include but not limited to
Searchable Library (search on demand)
Unlimited pages per hub
Rules to automatically add media to a playlist
Automatically import media from multiple sources, like Facebook, Zoom, or Apple Podcasts
Email templates to welcome new members, reset passwords or send a Magic Link
Tracking options with Google and Facebook
Unlimited screen recording & video uploading with the Chrome extension
Custom domain support per hub
Audience management
Ad-Free Audio hosting
Tags to identify which hub & media can be accessed by audience members
Zapier integration with over 3,000 other tools & services
Color and Typography customization
No transaction fee on sales
Automatic Transcripts & Captions
Folders and Playlists for your media
Public or Private access to hubs
Downloadable audio files
An easy to use Hub builder
Excellent customer onboarding
Stripe integration
18 different elements to use when customizing the layout of your Hub pages
Ad-Free Video hosting
Widgets you can embed on other websites to allow searches of your media
Pros and Cons of Using Searchie
Searchie is a powerful tool unlike Kajabi and Teachable but what is that one thing that makes it stand out? Is there something missing? What are the pros and cons of using searchie?
Let's take a look
Searchie Pros
What are the features that make searchie a go-to tool for building membership platforms for your students?
Powerful video content search feature: Searchie allows users to search for keywords within video transcripts, making it easier to find specific information quickly.
Transcription and micro content generation: The ability to transcribe uploaded videos and use them as micro content on various platforms like YouTube, blogs, and podcasts is a valuable feature.
Customizable membership area: Searchie's content management system (CMS) enables the creation of highly customizable membership areas, providing a tailored experience for users.
In-depth video analytics: Users can access detailed analytics to understand their audience's behavior and make improvements based on the insights gained.
Smooth payment system: Searchie integrates with Stripe, facilitating swift and seamless checkouts for monetizing content.
Support for video and audio content: Searchie accommodates both video and audio content, offering flexibility in content creation.
Ad-free video streaming: Searchie provides an ad-free video streaming experience for students, ensuring uninterrupted viewing.
Excellent customer support: Searchie offers responsive customer support, providing assistance whenever needed.
Mobile-friendly user experience: Content created on desktop mode automatically adapts to fit mobile devices, enhancing the user experience.
No transaction fees: Unlike some other platforms, Searchie does not charge transaction fees on sales.
Great customer support who are always there every hour to help you with any needs at all
Searchie Cons
What are the features on searchie that might not be suitable for you or needs improving?
Reliance on other platforms: Some core features may require the use of Zapier web hooks, incurring additional fees. However, the platform is actively working on adding more features to address this limitation.
Lack of built-in assessments or quizzes: Searchie currently does not offer features for students to do and submit assignments for assessment within the platform.
No free plan: While Searchie offers a 7-day trial, there is no free plan available for creators seeking to host content with minimal features.
Searchie Price: How Much Does Searchie Cost?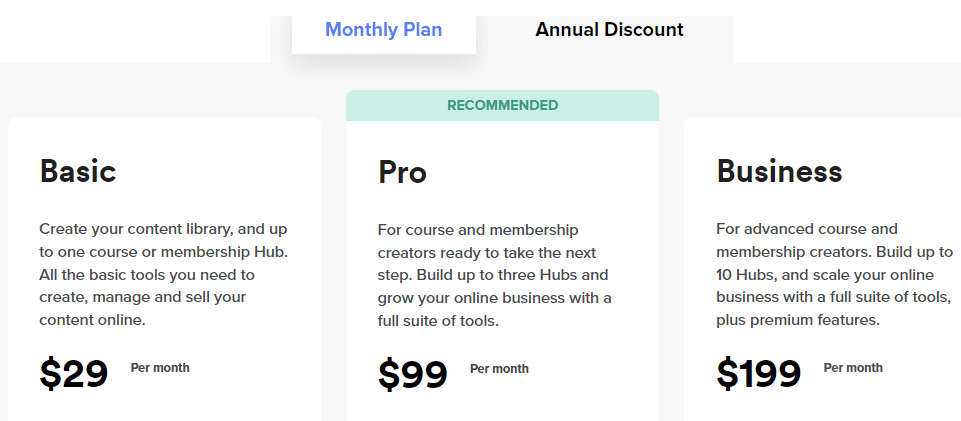 Each plan of searchie has the same features, what differs is just the price and limitation on content uploads, audience size and integrations. You can choose to pay monthly or annually, whichever method works for you.
Searchie Basic Plan Features and Pricing
How much does searchie Basic Plan cost? The basic plan for searchie costs $29 per month.
Key Features
1 Hub
25 Hours of Uploads
Content Library
Embeddable Media Player
Searchie AI™ (Preview)
Searchie Wisdom (Preview)
Content Library
Automatic Transcriptions
Automatic Captions
Basic Integrations
Content Statistics & Activity
Custom Vocabulary
Unlimited Screen Recording
Hubs
Basic Hub Templates
Custom Domain
Audience
Audience Imports & Exports
Searchie Professional Plan Features and Pricing
How much does Searchie's Pro Plan cost? The Searchie Pro Plan costs $99 per month ($83/mo with paid annually).
Key Features
All Basic Features
3 Hubs
250 Hours of Uploads
Community Features
Remove Searchie Branding
Content Library
Content Automations
Downloadable Transcriptions
Premium Integrations
Media File Replace
Hubs
Achievements
Audience Directory
Custom Email Host
Custom Hub Onboarding
Embed Code Elements
Hub Networks
Hub Tracking
Standard Hub Templates
Audience
Advanced Segments
Audience Attributes
Searchie Business Plan Features and Pricing
Searchie Business Plan costs $199 per month ($166/mo when paid annually). It is and suitable if you are looking to host and manage a very large content membership.
Key Features
All Pro Features
10 Hubs
500 Hours of Uploads
Premium Hub Templates
Webhooks
If you are looking to learn more, we've also written a more detailed article on Searchie pricing so you can check it out.
Searchie Reviews and Ratings from Customers
So what do other customers and users of Searchie think about the platform? Let's take a look on top review platforms
On Producthunt;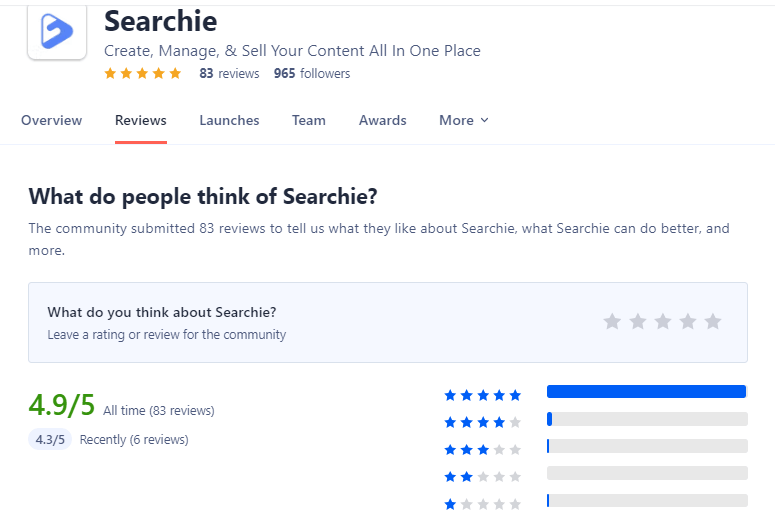 As you can see above, on one of the major review platforms Product hunt, Searchie.io has a 4.5 out of 5 star ratings from over 83 users. (The users are not much because searchie is still a new and very underrated membership site platform)
This is very impressive.
Top 2 Searchie IO Alternatives
Want a list of some alternatives to Searchie? Here are 2 excellent options you can give a try.
1. Podia
Podia is one of the best alternatives to Searchie IO used by thousands of course creators. It comes with features like website builder, affiliate programs, email marketing and lots more.
Some of it's top benefits include the following;
Ability to sell membership, webinars, courses, etc.
Pre-launch system to create buzz around your upcoming products
Integrate with different tools such as Zapier, payment gateways and more.
Built-in email marketing system
Built-in affiliate program feature
Unlimited storage
2. Thinkific
Thinkific provides users with everything they need to create, market and sell their online courses/membership. It includes drag and drop website builder, tools like email marketing and course creation.
You can host unlimited videos plus they provide priority customer support.
FAQs on Searchie IO Review
These are some of the most frequently asked questions around Searchie membership platform and we've answered them for you.
Does Search Offer Free Trial?
Yes, searchie offers a free trial of which you will be billed after 7 days of test driving the tool. The trail does not require a credit card before you can sign up.
Can You Change Searchie Plan?
Yes, you can change seachie plans by either upgrading or downgrading, whichever plan that will suit your current need and financial capabilities.
Does the Searchie Platform Own Your Uploaded content?
No, you have the right to your content and can request they be deleted after discontinuing to use searchie. Read their data privacy management policy for more information.
Does Searchie Charge for Transaction Fees?
No, searchie charges zero fees for payments received. However, platforms used like stripe will charge you their normal fees for every payment received.
Can You Reach Out to Searchie.io for Support?
Yes, you can reach out to searchie for support and they offer free training and a range of tools on their plans.
Can you upgrade upload limits without upgrading plans?
Each plan on searchie has its own upload hours, however if you reach your limit, you can upgrade the limit inside your account.
What is the best Searchie alternative?
There are a lot of membership site platforms like searchie.io and they include:
Final Verdict on Searchie Review
Overall, Searchie appears to be a robust membership platform with valuable features for content creators looking to host and monetize their digital products. Consider your specific needs, budget, and audience size when selecting the appropriate plan.
Aside from the minor features that appear to be stripped out or the ones that may require third party integration before you can use them on seachie.
You can make use of their robust features to enjoy seamless content creation and management especially the part where your videos are searchable using time stamps in the transcriptions as key moments. This helps students to get the answers they need without wasting much of their time.
So what do you think about this Searchie review? Are you going to try the Searchie platform for your business as membership? Have any questions? Please let us know in the comments section.
Prosper Noah is the Brain behind TipsonBlogging. A full-time Blogger & SEO Expert.  His tips has helped a lot of people Start and Manage their own Blogs.