Looking for the searchie pricing plans along with the features? want to know what searchie plan you should chose or which is best for you to start your course membership journey and sell content with ease?
If you answered yes to either of the questions, you're in the right place at the right time.
It's no secret that searchie.io, a great alternative to teachable is currently one of the best all-in-one membership platform for creators to create, host and sell their content.
In just a matter of minutes you can organize all of your content with ease in one place and let members access them.
If you are looking to create content seamlessly and need all of the tools you want, the searchie platform is a perfect fit for you.
But how much does it cost? Is it worth your money?
In this post you're going to learn;
Searchie subscription plans and cost
Features of each of the plans, which to go for?
How to get free trial, and lots more
If you want to try it for free, use the following link:
Try Searchie.io 7-Day Free Trial!
Also if you want to learn more about Searchie, read our detailed Searchie review to find out about this amazing membership site platform.
Let's get started right away and show you what plans are available along with their features. At the end you should find out what plan suits you best.
Searchie Pricing 2023: Plans, Features, Etc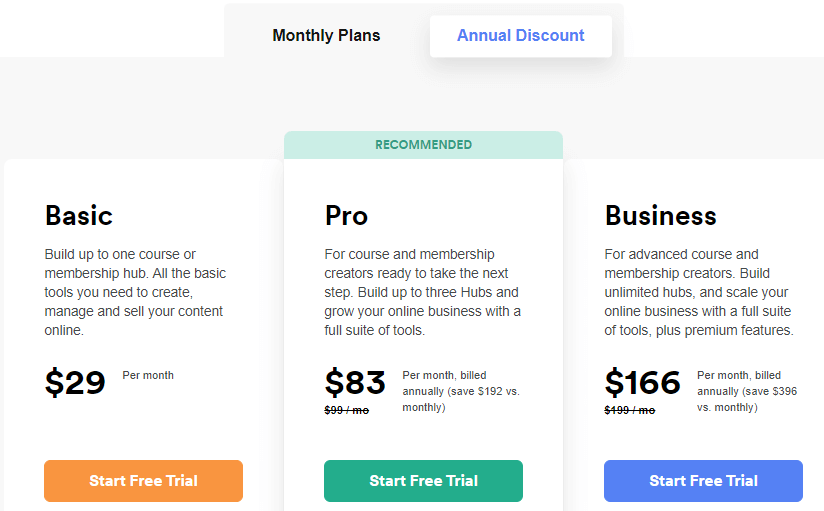 Currently Searchie.io offers 3 pricing plans and they include
We are going to explain each of these plans in detail along with their cost as well as how to save some money on them so you can know which one to pick.
1. Basic Plan
This is the first and cheapest plan on searchie as it only costs $29 per month where you can get started with the searchie platform for creating, managing and selling your content.
Who should go for the Basic Plan?
The basic plan from searchie.io is best suited for new course creators who are looking to create, manage and sell their content. You get access to all the basic tools needed.
What features come with Searchie Basic plan?
Here's a list of the features you get with basic plan
Access to 5hours of uploads every month

Unlimited screen recording
Auto generated transcripts
Editable transcripts
1 hub
1 widget
Embeddable media player and playlists
Pros and Cons of the Basic Plan
Pros:
Very affordable as it starts only at $29 per month
Has most of the tools needed to get started with creating and selling your content as a beginner
Record unlimited courses
Cons:
The basic plan from Searchie is very limited in number of features which makes it only good if you are just starting out.
2. Pro Plan
If you're a professional course creator, the Searchie pro plan is the perfect plan for you.
Pro pricing starts at $99 per month ($83 per month when billed annually) and gives you access to all of the features in basic plan along with other powerful extras to make creating and selling content easier and faster.
Who should go for the Pro Plan?
This plan is a very good fit if you're a growing course content creator and looking for an all-in-one platform with pretty much all of the necessary tools needed to create, organize and promote your courses. Best for professionals.
What features come with Searchie Pro plan?
Here's a list of the features you get with pro plan
Everything in basic plan
15hours of uploads monthly
3 Hubs
3 widgets
Option to remove the Searchie branding
Media automation
Multiple transcription languages
Access to analytics
Downloadable transcripts
Pros and Cons of the Pro Plan
Pros:
Increased number of features for maximum content creation and promotion
You can remove searchie's branding
Analytics feature to help you better understand your members
Cons:
No access to unlimited features just as in business plan (though perfect plan for professionals)
3. Business Plan
No doubt, the best searchie membership plan which costs $199 per month ($166/mo when billed annually) and gives you access to everything you need to grow your online business to it's fullest.
Who should go for the Business Plan?
Just as the name implies, this plan is best for online businesses (advanced course creators) that want to take creating and selling content to the next level as they get access to unlimited features and premium tools to make their business a success.
What features come with Searchie Business plan?
Here's a list of the features you get with business plan
Access to everything in the pro plan
Unlimited uploads
Unlimited hubs
Unlimited features
High priority support
Pros and Cons of the Business Plan
Pros:
Generous features (features in pro included)
There is no limit
Scaling like no other
Cons:
Takes time to get used to as you have to learn to make best use of it (fortunately, step-by-step training and premium support is available)
Save Money On Annual Plans
Need a discount to save money on searchie.io pricing plans?
Then go with the annual plans from searchie as you can save $192 on pro and $396 on the business plan as seen below: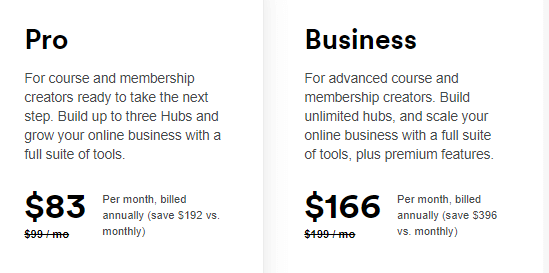 It's simple.
As seen above, all you need to do to save money is pick one of pro or business plan yearly and you get a huge discount.
What are you still waiting for?
Whichever plan you chose, you can downgrade or upgrade anytime.
FAQS | Searchie.io Pricing 2023
A lot of readers have asked these questions about searchie along with it's pricing, we've made sure to answer everything.
What does Searchie cost?
The pricing plans start from $29 per month for basic, $99 per month for pro and $199 per month for business. They all give you access to the features you need to start creating and selling your content.
How does Searchie work?
With Searchie you can create, upload, manage and sell your content to members. It is best for course creators to share their content and make sales.
Does Searchie have an app?
Yes, they have a chrome extension and mobile app that allows you to record your content easily.
Does Searchie have email marketing?
Searchie.io does not directly have an email marketing application however there's an option to segment your users based on a specific hub access then you can export them to your favorite email marketing application. It supports email marketing services such as mailchimp, ActiveCampaign etc.
Does Searchie work with Kajabi?
Yes, Searchie and Kajabi work well together as you can easily add the Searchie's "search widget" feature and also embed your videos. This will make your courses more user-friendly.
Does Searchie have landing pages?
Yes, your searchie.io's Hub home page can also serve as a landing page for serving content to users.
Also Read:
Conclusion on Searchie Pricing Plans
If you're looking for a platform where you can create, upload, manage and sell your content, you should definitely try Searchie. It's one of the best in the market right now.
What's best? Searchie is very affordable as it's pricing starts from only $29 per month with lots of features to make creating and marketing your content easier and faster.
Obviously, it's worth every penny.
So go ahead, grab the software and get started right away. If you have any questions, please drop in the comments section.
Prosper Noah is the brain behind TipsonBlogging. A full-time blogger & SEO expert.  His tips has helped a lot of people start their own blogs, grow it and make money.