Are you on the lookout for a writesonic coupon code to help you save money with one of the best ai copywriting tools in the market currently? You're definitely in the right place and at the right time.
AI copywriting tools make creating high quality content faster and easier. Why waste a lot of time creating content manually when you can use an ai writer and get things done as soon as possible?
This gets even better when you can actually save some money on your favorite ai content writing tool.
In this post today we are going to show you one of the best deals available right now, a live coupon and step-by-step how to claim and activate 33% off your writesonic subscription.
If this sounds like what you're looking for then keep reading.
Don't want to waste much time reading? time is money of course, you can claim this discount immediately using the box link below along with coupon code.
33% off will be applied to your order automatically, if you opt in for the yearly subscription.
How to Activate the Writesonic Coupon Code
It's easy to do this; just follow the below step by step instructions and you should get your code activated in very little or no time.
Step 1: Click on this special link and you will be taken straight to the writesonic's official website landing page as seen below;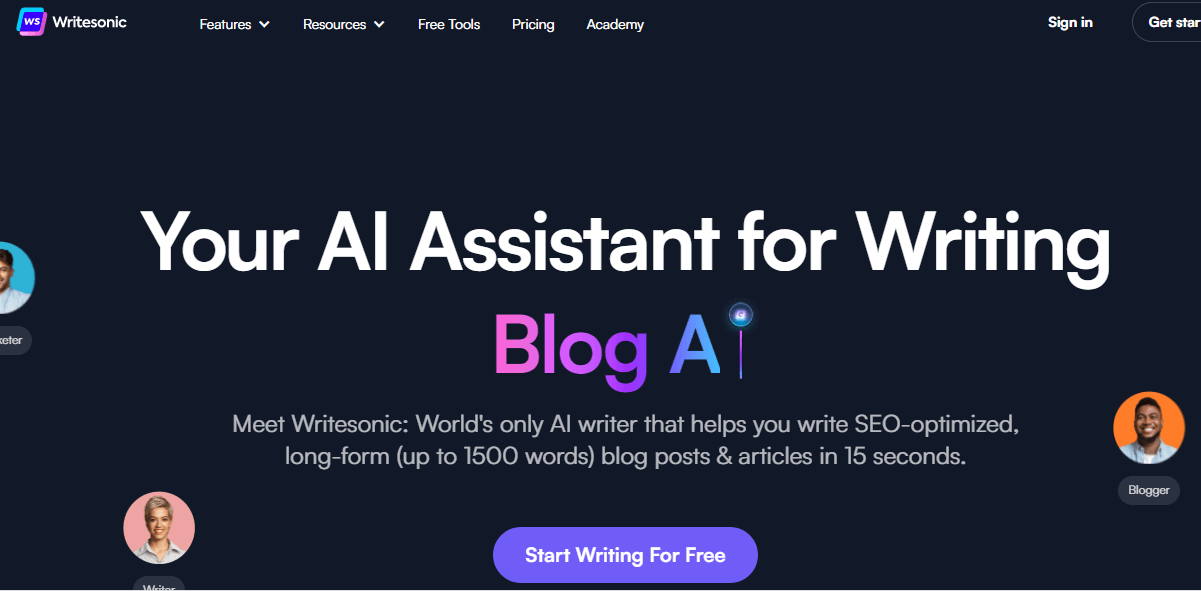 Step 2: In order to get started with activation, you need to sign up for a free trial account first, so go ahead and click on the "Start Writing For Free" button and you will be taken to the registration page.
Step 3: Enter your correct details such as full name, email address and password and hit continue.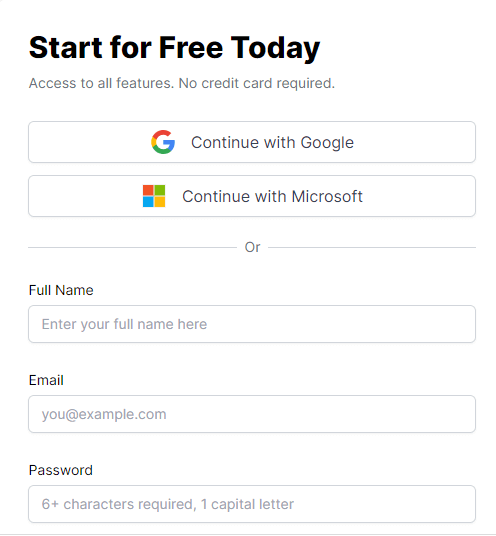 Enter a password you can remember as it will be used to access your account.
Step 4: You will be sent an email to confirm your account; it contains a verification link and looks something similar to the image below.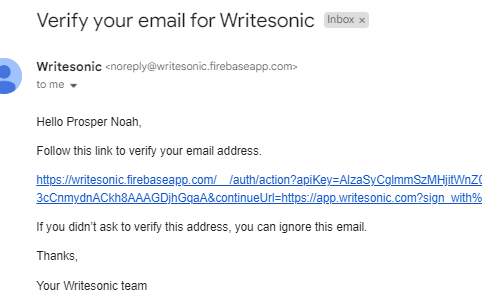 All you have to do is click on the blue link you see in your email and you'll be taken directly to a page for you to click and signin to your writesonic account.
You should be in your dashboard in no time.
Now it's time to activate the 33% off writesonic coupon code
Follow the below steps carefully.
Step 5: Check the lower left and you should see "change quality". Simply click on the "Upgrade Now" button below it and you'll be taken to the writesonic plans page.
All you have to do right now to activate is to pick the annual billing system and 33% discount will be applied to your purchase immediately as seen below.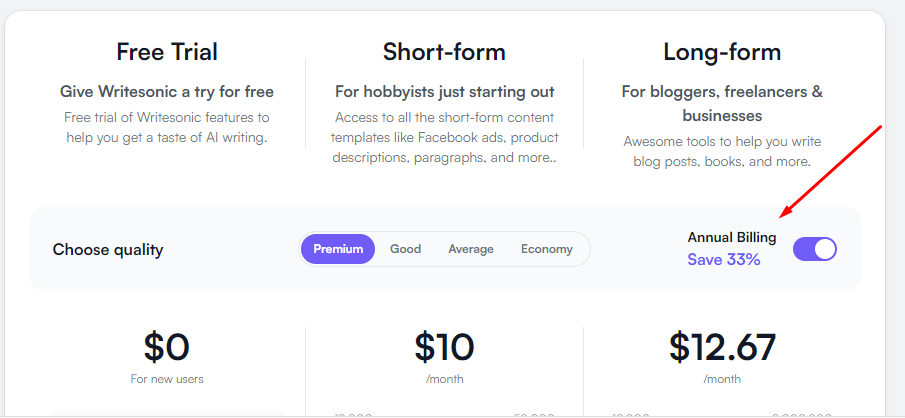 As simple as that, you've just activated the this huge discount
You don't even necessarily need to enter any writesonic coupon code, just select the annual billing and you save 33% instantly.
So what are you still waiting for?
Why You Should Choose Writesonic in 2023?
Writesonic is a very powerful ai copywriting assistant and below are the top benefits that come with using this tool for high quality content creation, which definitely makes it one of the best in the market.
1. Create Content in 24+ Languages
Writesonic gives you an option to write in over 24 different languages. If you want to create content in languages other than english, writesonic is a perfect fit as it lets you write and translate in different languages ranging from French, spanish, italian etc.
2. Conquer Writer's Block
If you are a copywriter, freelancer, blogger, etc. who is struggling to get ideas for your business, with an ai writer such as writesonic you can now finally deal with this issue and create content seamlessly.
You can now create copies easily and faster, get ideas for content creation and so much more.
3. Over 80+ Powerful AI Writing Tools at your Disposal
Writesonic provides you with over 80 tools that you can use for content creation.
They include but not limited to the following:
Articles & Blog Post Tool
This tool consists of sub-tools that make it possible to create high quality articles for your blogs: These sub-tools help you get post topic ideas, blog intros, outlines for your articles, etc.
All of this combined can generate you high quality blog articles in a matter of minutes.
Ecommerce Tool
If you want to create content and make more sales for your eCom store, this is the ai tool you need to create things such as product descriptions, titles, headlines, and more. You can as well use this to create amazon product descriptions.
Marketing Tool
This tool is best for creating ad copies for Facebook, Linkedin, and Google Ads. You can use it to generate ads, ad titles and descriptions to get more clicks and drive traffic to your business website.
If you are into Youtube marketing, writesonic can help you get lots of subscribers with tools such as the:
YouTube description (for creating youtube video descriptions)
YouTube titles (for generating clicks getting titles)
youtube intros
YouTube Ideas
etc.
Website Copy Creation Tool
You can use this to create high converting landing page copies to capture visitors and turn them into customers. Instead of doing this manually, the website copy tool saves you a lot of time.
4. Generate Content Faster in Any Niche
Instead of wasting precious hours creating content, why not employ an AI tool such as writesonic to 10x your content creation while you work on other import things in your business?
The articles generated are high quality, unique and plagiarism-free. You can pretty much create content in any niche, even if you're not familiar with it.
5. Become a better copywriter in general
Writesonic has a wide range of extra tools to help you become very good in copywriting of any kind. Some of these extra tools include
Quora Answers – generate answers to any question on quora
Review Responder
Cold Emails
Email subject lines
Company bios
Personal bios
Keyword extractor for researching keywords
and more
These extra tools will help you create copy in every area
So what are you waiting for? The Writesonic discount offer may expire any moment from now.
How much is writesonic?
Writesonic Pricing 2023: Plans & Cost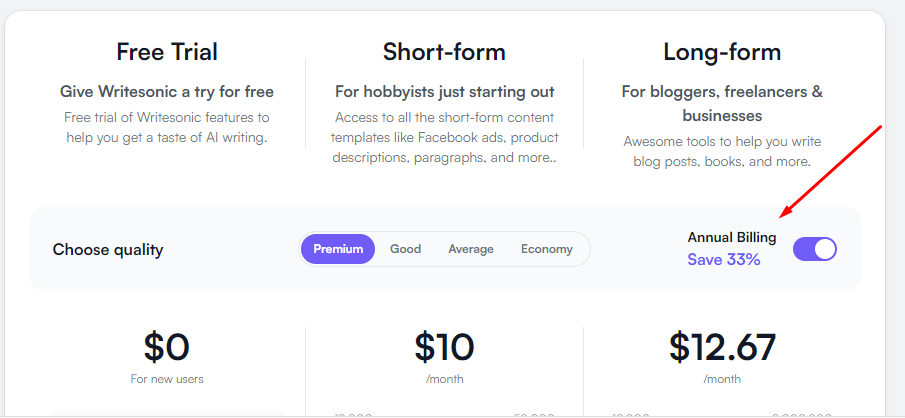 Writesonic offers the following three pricing plans.
Free Trial
Short form
Long form
Let's now go ahead and explain each these pricing plans, cost, and what features come along with them.
Free Trial Plan
The writesonic free trial plan is lets new users test the tool and if they like it they can decide to opt in for paid plan to create more content.
If you want to test how good this ai writer is before upgrading, trial plan is the perfect fit for you as it's great for complete beginners to try writesonic for free.
It costs $0 and gives you access to 2,500 words of premium quality content creation (6,250 for good)
NOTE: Writesonic gives option to switch between premium, good, average and economy, however it's best to stick to premium for the best output.
What features come with Writesonic free trial plan?
Here's list of what you get with free trial plan
Access to 70+ tools and templates
Create content in 24+ different languages
Export content to WordPress using 1 click wordpress export feature
AI article writer
Access to browser extensions
Access to google docs-like editor (sonic editor)
Integrate with Zapier
Short form plan
This is the very first paid plan on writesonic and is best if you won't be needing too much content but something good enough for your business.
Great plan if you plan to write short content such as ad-copies, product descriptions, paragraphs, etc.
How much does Short form plan cost?
Starts at $15 per month ($10/mo discounted price) for a single user and goes as high as $40 per month for 4 users ($26.67/mo discounted price)
The pricing depends on the number of users/seats and quality of words generated.
What features come with Writesonic Short-form plan?
Here's list of what you get with short form plan
Access to 70+ AI Templates
Content creation in over 25 Languages
Landing Page Generator
1-click Export to WordPress
Browser extensions
Integrate with Zapier
Long form plan
This is the best plan on writesonic as it gives you everything you need to create high quality and large number of content easily.
It's great for bloggers, freelancers, agencies, etc who want to create a high number of content for their business ranging from blog posts and articles, stories, etc.
How much does Long form plan cost?
Starts at $19 per month ($13/mo discounted price) for a single user and goes as high as $999 per month for 10 users ($666/mo discounted price)
What features come with Writesonic Long-form plan?
Here's list of what you get with long form plan
You get everything in the short form plan plus extra access to:
Lifetime access to new features and updates
Priority support
AI article writer
Article rewriter
Writesonic's own Google Docs-like editor (Sonic Editor)
Bulk content generator
Don't forget, you can claim a 33% off discount when you pick the annual billing system.
Also Read:
Final Thoughts
Creating lots of high quality content with the use of artificial intelligence is the trend these days as it makes your work easier and 5-10x faster.
Writesonic obviously is one of the best ai writing tools out there and you're in luck for arriving at this post and claiming this huge 33% off discount before it expires.
Go ahead, activate this writesonic coupon code to save money and start creating highly converting copies in no time.
If you have questions, please leave them in the comments section.
Prosper Noah is the brain behind TipsonBlogging. A full-time blogger & SEO expert.  His tips has helped a lot of people
start their own blogs
, grow it and make money.