Are you looking to purchase the rytr lifetime deal and save huge discount on this awesome ai content generator? Then you're in the right place.
No doubt, artificial intelligence is the next big thing in the copywriting industry for those that are smart.
You'll agree with me that writing is tiring and the race to conquering writers block is never easy. In order to solve this problem and make your content writing easier and faster you want to take good advantage of an ai writing tool such as rytr.me
Rytr is a free ai writer that will help in creating your content easily and faster, plus you can generate unique and original 1000-3000+ words worth of copies in a matter of minutes.
It doesn't matter what kind of copies you want to create; blog posts, emails, ads copies, social media marketing copies, etc.
With the rytr ai writing tool lifetime subscription offer you'll be able to save money and get access to the rytr.me ai copywriting tool without paying annually or monthly.
Without wasting much time, you can grab this deal quickly by clicking on the button link below;
Want more details about this deal? then keep reading.
In this post we are going to show you everything you need to know about the Appsumo rytr life time deal and step by step how to activate it right away.
Few key advantages of this lifetime subscription are:
Payment is One-time and you get lifetime access
Access to all future plans' updates
Access to all tools and templates
60 day money-back guarantee
You get access to own account manager & high priority support
Lots more
Let's jump to it.
How to Activate Rytr Lifetime Deal 2023
To activate, follow the below instructions carefully and you should be up and running in no time.
Step 1: Visit this special link and it will take you to the Appsumo page for rytr lifetime subscription where you can claim this offer as seen below;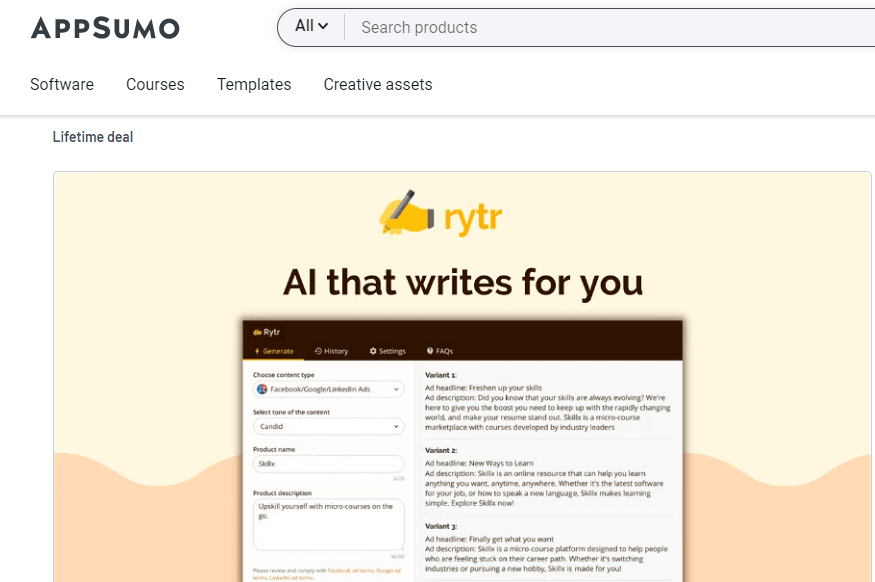 Step 2: Click on the buy now button at the top right of your screen and you'll be taken to sign up page. (No need to enter any rytr coupon code to claim this deal)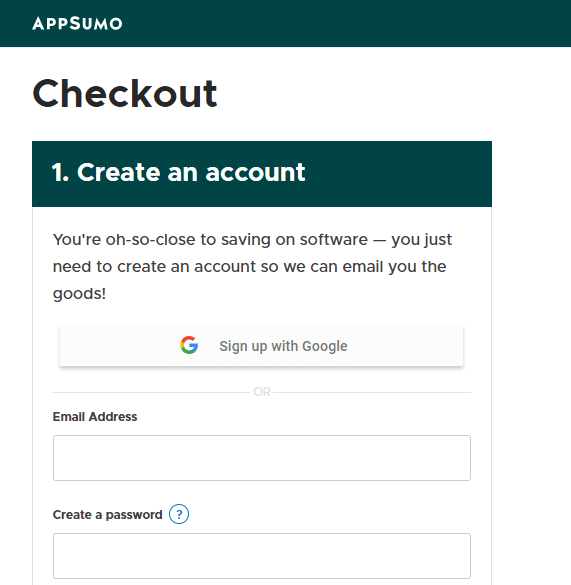 Step 3: Fill the necessary details such as your name, email address, password etc.. to create an appsumo account
Step 4: Finally select a payment method and make your purchase.
and that's pretty much it, straight to the point.
If this is successful, you've just got yourself a rytr ai lifetime deal
What are you still waiting for?
Claim Rytr.me Lifetime Deal Now
Rytr Features
Rytr offer a lot of features which makes it one of the best ai copywriting assistants right now, and you can see some of them below:
Write content and translate in over 30 different languages
Create original high quality blog posts, email marketing copies, ad copies, social media and more
In-built seo analyzer to help you create search engine friendly content
Instant access to premium members' community
WordPress plugin for instant publish directly to your site
Plagiarism checker
Write content using over 20+ available tones
Dedicated account manager
Unlike other ai writers, rytr's unique features will make your content creation easy and superfast, I mean, take a look at the wordpress plugin, plagiarism checker and inbuilt seo analyzer features.
If you're looking to take your content creation to the next level, rytr.me is a very good choice.
Want to quickly get this deal and start writing?
What are you waiting for?
Claim The Lifetime Deal of Rytr
So how much does Rytr cost?
Rytr Pricing
At the time of updating this post, unfortunately the deal was already stopped on Appsumo. Below is the regular pricing for rytr
There is the free plan and the other two plans which are premium as seen below;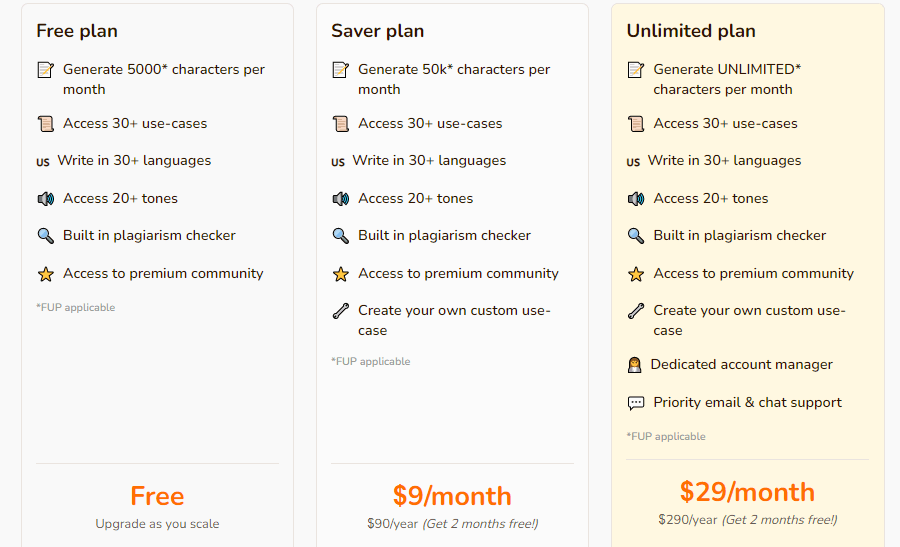 Below is further explanation and details on each of this plan as well as what you are getting with them so you can make your choice if you want to invest in the tool.
Free Plan
Obviously, this trial plan is free forever, you don't have to pay anything. However it's limited and comes with access to:
Generate up to 5,000+ characters every month
30 use cases
with the rytr trial account you can write and translate in 30+ languages
Plagiarism checker to check your content for duplicates and originality
Premium members' community
Saver Plan
This is the first premium plan on the rytr.me platform which costs $9 per month, gives you access to some good number of benefits and features, and they include all features on the free plan plus:
Access to 50,000+ characters per month
Access to over 30+ use cases + option to create your own custom use cases
Just like the free plan, you also get to write in 20+ tones, 30+ languages, built-in plagiarism checker and more
The main change here is the fact that you'll be able to generate up to 50k+ characters.
Note: If you opt in for yearly, you can get 2 months free of charge, so you only pay $90 per year instead of $108
Unlimited Plan
The rytr unlimited plan costs $29 per month and gives you access to all of the features in free and saver plan + unique-access to:
Unlimited characters per month
Option to create own custom use-case
Dedicated account manager (just for you)
High priority support
What's best? you can get 2 months free if you subscribe annually. With this, you save some money as well and there is no limit to amount of content you want to create.
Pros and Cons of the Rytr Lifetime Deal
An ai writer that costs around $290 yearly but offered for a one-time affordable price sounds like a steal, is there any drawback?
Let's see.
Pros
One-time payment is ideal (No need to pay monthly or yearly anymore)
Instant access to all of the features you need + future plan updates
You can generate up to 50,000+ characters
60 day money-back guarantee to try, test and see how good the tool is
Priority email support
Access to premium & members-only community of likeminds
Dedicated account manager
Cons
Deal is not stackable
There is no unlimited characters in this lifetime deal
Take a look at other deals & coupons:
FAQs of Rytr.me Lifetime Deal
Readers who are looking to buy the lifetime subscription of rytr ai writer have asked these questions. I've answered everything and hope it helps.
When is the rytr discount code expiring on Appsumo?
The Rytr team does not disclose this so nobody knows, it could expire today or tomorrow or few hours from now. This is why you should grab the offer while its still active.
Does rytr offer a free trial?
Yes, there is a free forever plan that gives you access to up to 5,000 characters per month for generating content using rytr along with some good features.
Which is the best alternative to rytr.me
If you're looking for an ai writer like rytr, your best bet is copy.ai and you can check our copy ai premium post to see how it works and how much it costs.
Is the rytr lifetime subscription offer available to existing customers?
No, the lifetime deal is strictly for new customers only.
Final Thoughts
Activating this one time price offer from rytr could be the best investment you'll be making in copywriting for 2023. You're literally getting access to one of the best ai writing tools in the industry for a one time cheap price.
It's definitely worth it and if you put the tool to use, obviously you can create as much as content as you want + make your work easier and faster.
Looking at the affordable price, awesome features and benefits, etc. It's a complete steal.
This is one of the best ai writer lifetime deal out there in AppSumo.
What are you waiting for? go ahead and give this a try while it's still active because once it's pulled down, you have to subscribe at the regular pricing structure.
and that's it for this post on activating the rytr lifetime deal in 2023
Are you going to claim this huge Rytr lifetime discount? If you have questions, feel free to leave them in the comment section.
Prosper Noah is the brain behind TipsonBlogging. A full-time blogger & SEO expert.  His tips has helped a lot of people start their own blogs, grow it and make money.