It's been a while I updated you on this blog, over 4 months right?
Well, I've been focusing on a lot of things, and blogging can be a very good business where you can just set and forget and make money forever if you do what is right.
NOTE: This isn't going to be a super long post, I'd just go straight to the point and show you what works, if you're serious, if your blog is not making you money, then follow the instructions and implement.
So how do you actually make money from your blog?
Hold on first.
Before you even think of making money, make sure your blog is one that can be monetized in different ways easily.
YES, there are some blogs that are meant to be monetized ONLY using Google AdSense e.g. Music Blogs, Entertainment blogs, News Blogs etc..
and Google AdSense requires a lot of traffic,
EVEN though you can monetize such sites with sponsored posts too, it's very rare to get sponsored posts request these days unless your blog is pulling millions of traffic.
and it's not easy to pull in millions of traffic except you have thousands of dollars to spend on Facebook Ads also known as Paid traffic.
So, first make sure your blog can be monetized in various ways.
As seen below;
Can you sell products on the blog? e.g. by selling your own eBooks, Video Training, etc…
Can you promote other people's products on your blog e.g. by recommending other peoples products and earning commission also known as affiliate marketing.
Can you render services to visitors e.g. Helping them setup stuffs. My blog allows me to setup blogs for others and the likes.. got it?
If you can sell your own products on the blog and can also recommend other people's products and earn commission, and also render services to your visitors then it's a good niche.
Niches like that include:
Make Money Online: You can sell eBooks or video training that allows people make money online, you can as well promote other people's products that help your visitors make money, and you can render services to your visitors e.g. helping them setup their websites, designing their funnels, etc.
Health: You can sell health eBooks, you can recommend other health related products, and so on…
Self Development.
Etc.. (There are a lot, I can't mention everything here)
Just make sure it can be monetized easily.
Again make sure;
you can sell your own products inform of eBooks, video training etc
you can promote other people's products
you can render services.
PERIOD.
Now that you are sure your niche is going to make you money, let's get started on next step.
1. Get Traffic & Convert that Traffic to a Potential Customer.
Oh my God.
One thing is knowing how to get traffic.
and another thing is actually knowing how to convert that traffic to potential customers.
In other words; Some do not know how to get traffic and those who get the traffic, allow it waste (they do not know how to turn that traffic into money)
Now Firstly, I will show you how to get good traffic to your blog (for those who do not know how to get traffic)
Secondly I will show you how to convert that traffic to money, to customer.
Getting Traffic.
I have a way I drive traffic to my blog and its 100% free traffic.
I'm not a fan of paid traffic because I've mastered free traffic and it works so well for me.
So if you like to follow my steps and do what I do that gets me results, then follow me.
Driving Traffic with SEO.
Now, one big mistake people make when writing posts on their blog is…"they write at random"
They just write any article that comes to their head.
Oh my God, that's so WROOOOOONG.
You can't just write whatever comes to your mind or head.
You have to write on what people actually want, on what people are searching for in your niche.
If you write what comes to your mind, your visitors may never get to know about it.
So what should you do?
STOP writing what you think people are searching.
START writing on what people are ACTUALLY searching for.
So how is this done?
Through Keywords.
If you are in the make money online niche, you should write your articles based on what your visitors are searching for on Google.
For example: If you're in the make money online niche, you can go to google right now and type "Make Money Online"
then scroll till the last end and you'll see something like below;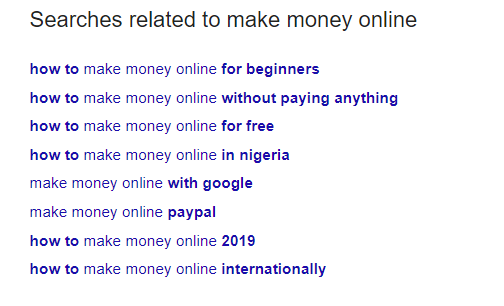 Those are some of the things your visitors are searching for and if you write on them, you'll get traffic.
HOLD On!
and for example, let's say your blog has to do with health niche in Nigeria you could go to google and type something like "lose weight Nigeria" then scroll down, you'll see something like below;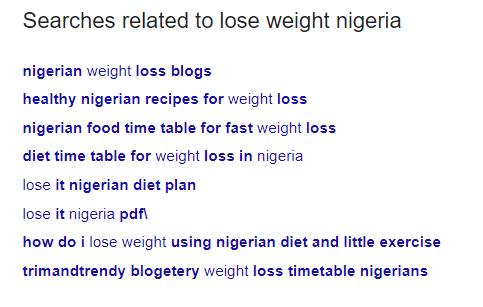 Are you seeing all those? my God.
Those are exactly what your visitors are searching for on Google.
Damn!
These are Ideas of topics you should write on.
In fact, with all those keywords above, you would never be faced with "Nothing to write" also known as writers block.
Sincerely, I personally never lack topics to write on.
and this is it.
Once you write on those keywords, you can start getting traffic to your blog.
BUT there's a problem.
You can't just pick those keywords and write on them, because you may never rank on Google page one.
That's why I have my best selling course on SEO that will teach you everything A-Z on how to pick the right easy to rank keywords and the right way to write articles, where to place the keyword in your article so you can start ranking and getting traffic from Google like I always do on all my blogs.
If you're interested in the course, here is link to go get it.
Now let's continue.
Let's assume you now know how to get traffic, so traffic problem is SOLVED.
The next thing is how to convert your traffic to money.
Big Mistake #1.
The most annoying mistake ever you'll make on your blog is allowing your traffic waste.
A lot of people who are not making money from their blog are guilty of this.
So what is it?
NOT Building Your Email List.
Yep that's it.
You're going to get a lot of traffic.
Lots of people are going to visit your blog and the ONLY, I repeat the ONLY way to convert them to potential customers is to join your email list.
If you don't do this, you are never going to make consistent income from your blog.
That's TRUTH!
A lot of people are going to come to your blog and may never come back again. The only option you have is to get their email.
Why?
Once they are in your email list, they are yours forever, so you can;
Send them latest Blog posts (This is traffic on demand, whenever you need traffic, just make a new post and email it to your list and they will all come to read)
Market your products (Remember, you are going to be creating products to sell, your list is where you are going to be selling any new product you create because they trust you already)
You can recommend other people's products to them any time and make money whenever you want
You can render services to them anytime you want and make money.
The list is endless.
If you are not converting the traffic on your blog, you are not building any business at all.
You're simple wasting time blogging.
That's COLD, Hard TRUTH.
and the faster you accept it, the better for you.
Right now, I hardly make blog posts
But since am getting traffic from Google all for free everyday, I no longer borther myself because as the traffic is coming, they are joining my email list, and once they are in my list, they're mine forever.
I can decide to create a new product today and email to them and make sales almost instantly.
I wish I started building my list earlier.
That's one secret you should know.
Once traffic is coming to your blog, start giving them an option to join your mailing list, that's where your customer base is.
I've always explained this.
and I will repeat again;
If you are not building your list, you're wasting your time blogging.
If Google decides to hit your blog today and you lose all of your traffic what would you do?
Start from square one or afresh?
Start a brand new blog?
But if you're building your list and anything happens to your blog suddenly, you won't face problems because your audience are in your list already.
and lets take for example you have a list of over 15,000 subscribers all from your blog.
That's huge money for you whenever you want to promote anything.
That's how I do my stuffs.
Right now, I earn around $1000-$3000 from one of my blogs' email list. I could promote a product right now and make money within 24 hours from those subscribers.
Here's basically how I do it;
I created an eBook on how to make money and decided to offer it for free on my blog and whoever wants the eBook will have to enter their email to join my list. (yours could be an ebook on how to lose weight, or how to do something important in your niche, etc) it depends on the niche you're into. Just create an offer something for free, this is called Lead Magnet
As the traffic is coming to my posts from Google, I display a popup of the eBook, then they enter their email and get added to my list automatically
Then I send them a first email delivering the ebook I promised
Second email welcomes them officially to my list and a few emails to build some relationship
I promote later on If I got some thing maybe my new product, or I could promote other people's products or I could send them to my new blog posts
That's it.
I'll make a video for you on how to set the Email Stuff on your blog EXACTLY the way I did mine.
Am going to do that in the next post, am a bit tired right now.
NOTE: I may add the video to this post too, If you're in my list I'll notify you once it's been added.
Did you enjoy this post? You have questions? Just let me know.
Prosper Noah is the brain behind TipsonBlogging. A full-time blogger & SEO expert.  His tips has helped a lot of people
start their own blogs
, grow it and make money.