How I Rank Blogs on Google and Make 6 figures Monthly

Want to learn how I personally rank my Blogs on Google and Make 6 figures Monthly from Blogging?
You're in the right place.
If you have never ranked on the #1 Page of Google before it means you are not getting any Organic Traffic.
But you want to discover 1 Little Secret that can pull enough Google traffic to your blog, then this is the most Important page you're going to visit this Year. –
If you read this short post till the end you will discover:
One; a silly mistake you're making right now; without even knowing it that is PLAINLY telling Google not to send any traffic to you.
Two; a totally little known trick you can use to make Google send you traffic on every post you publish, even if you publish the article TODAY
And to prove to you how powerful this is, I'm going to tell you a little story;
Few Weeks ago, I took the same thing you're about to discover, showed it a friend of mine; Raphael (The guy to my left in the picture below)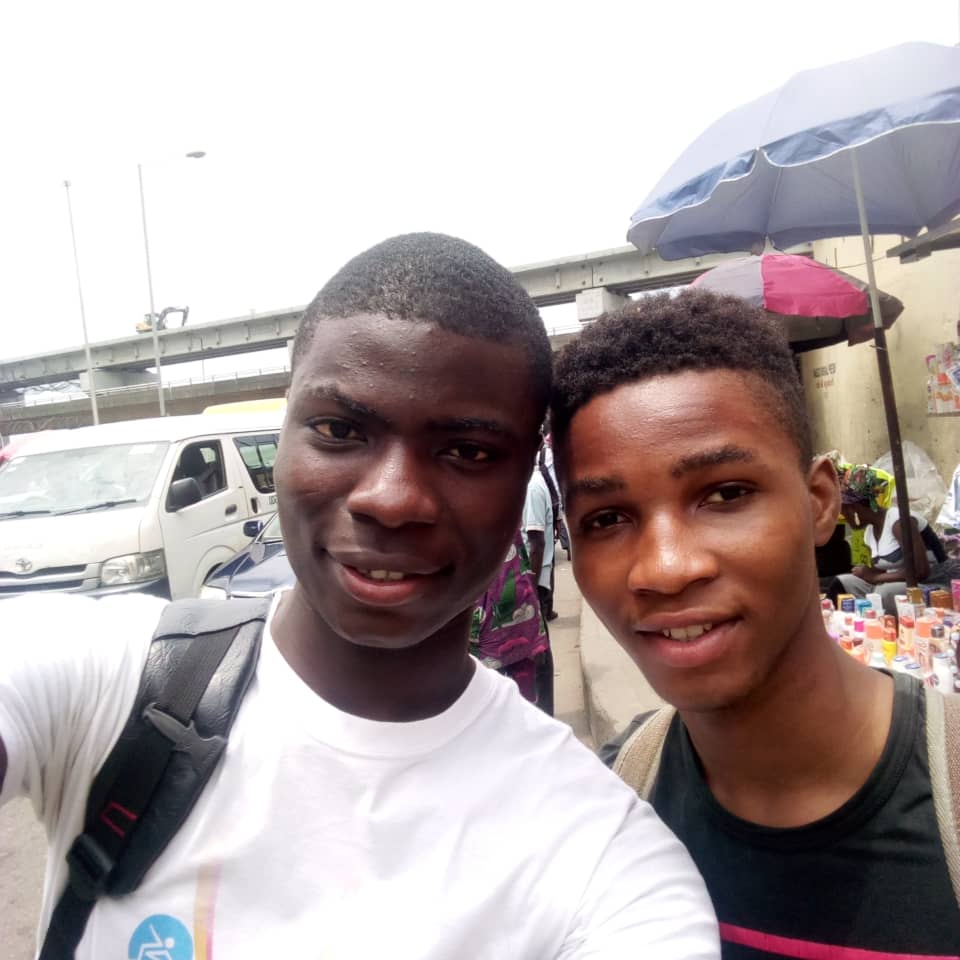 And in just under few days, he used the technique and BOOM started pulling Organic (Google Traffic), real human traffic via SEO. See Screenshot below;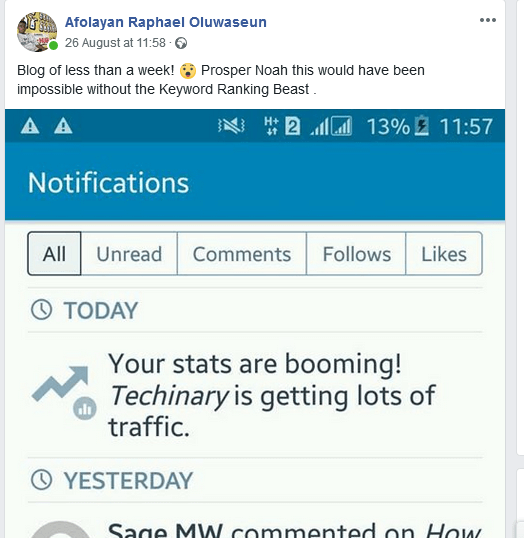 And in a few seconds, I will show you exactly how to pull it off.

But before I get into all that, it's only fair to know who I am, especially if you are new to this page.
I am Prosper Noah, and I own this great SEO Blog Tipsonblogging.com  where you are reading right now.
The very first time I started my blog back then in 2015 , I had little to no traffic…Infact I knew nothing about driving traffic via SEO/Rankings…
No matter what I did, I never got any traffic from Google.
I was exactly at this point you are right now. Angry. Frustrated. Looking for traffic Upandan in Facebook Groups. Planning to Quit Blogging.
Here is where it gets really bad;
Since I had no google traffic , obviously my AdSense showed the usual $0.01 earnings for days…. Even Weeks…
Oh my beautiful adsense ads beautifying the layout of my awesome blog.. 😂😂😂
I would thought to myself" but people are showing/uploading $1000 monthly Adsense screenshots and all that.
Mine remained at $0.01 for a long time…
It didn't stop at that;
I barely received any sponsored posts emails ..
When I don't even appear on Google Search to get some traffic , how would clients pay me to advertise or submit sponsored posts?
I had no good rankings locally on Alexa anyways….. So I definitely shouldn't expect any thing like that from advertisers..
I could see other blogs Alexa rank decreasing while mine kept on increasing like village people yaff done meeting for my head 😂😂
Honestly I felt like quitting blogging and you won't believe it…
I actually posted many of those "I want to quit blogging stuffs "on my Facebook timeline back then in 2016….
Then one day, almost by mistake I discovered one thing that completely changed everything for me…
In a few seconds I will tell you everything about it.
But first, the amazing thing about this little ONE SECRET I will tell you about in a bit, is this. It works…
In just 30 days using this stuff I pulled in massive organic traffic from Google that resulted in 6 Figures in earnings….
I took these same stuff, showed about 3 people and they applied it step by step and started ranking and driving massive traffic from Google and banking as well….
Here is a screenshot of my earnings;
Google AdSense – $243.83 (N86,000)

Affiliate Programs Promoted on the Blog – $820+ (

N288,000)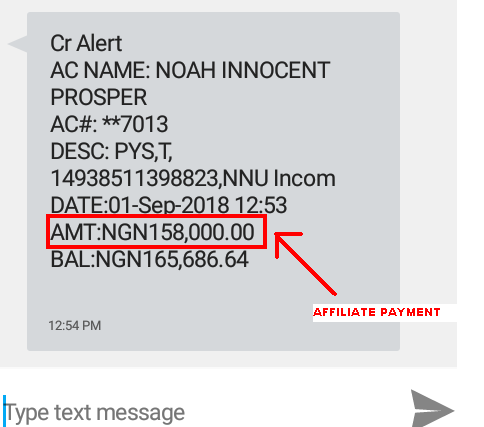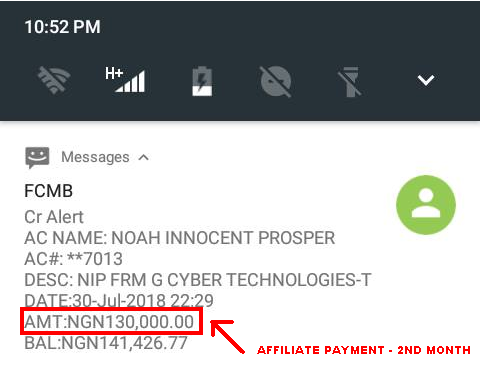 Here is that of my 3 friends testimony after applying this Secret…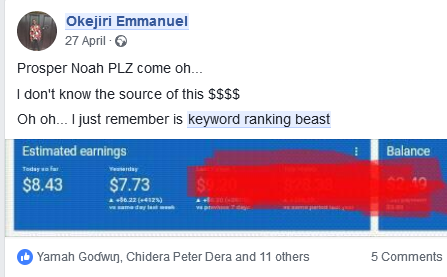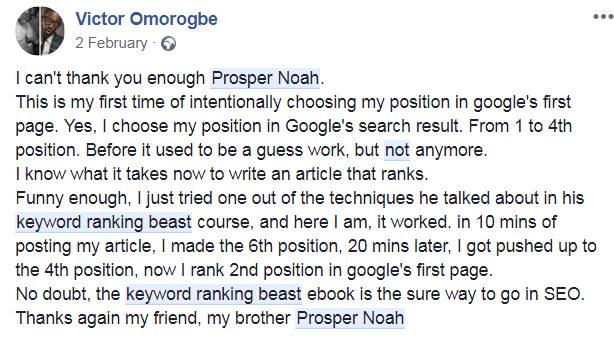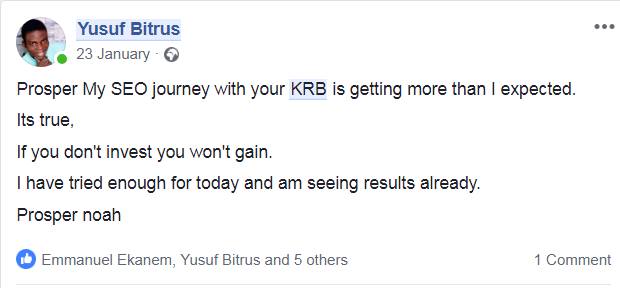 And now it's your turn; I want to show you exactly how I pulled this off and exactly how you can pull it off yourself. ..
Forget about Backlinks – They don't guarantee Rankings
Don't be deceived by Backlinks….
I believe that backlinks is the main reason why you are not ranking right now. It's so alarming how people try to trick and brainwash you into believing that all you need in order to rank on Google page 1 is back links.
Backlinks is not a MUST to rank on Google Page #1… though it may be needed in the long run:
Don't let anyone deceive you;
When I started my blog prospernoah.com back then in October 2017 I had 0 backlinks to the domain it self.
Let's say this domain is at the default DA1 PA1 and still yet I ranked almost all my articles on the Page 1 of Google within 1-2 Months.
0 back links, 0 shares etc….
Below is a Screenshot of 2 Live Articles all ranking #1 for their Keywords… In Month 1 without any backlink…
Glo Affiliate Progam – Ranked #1 Position with 0 Backlinks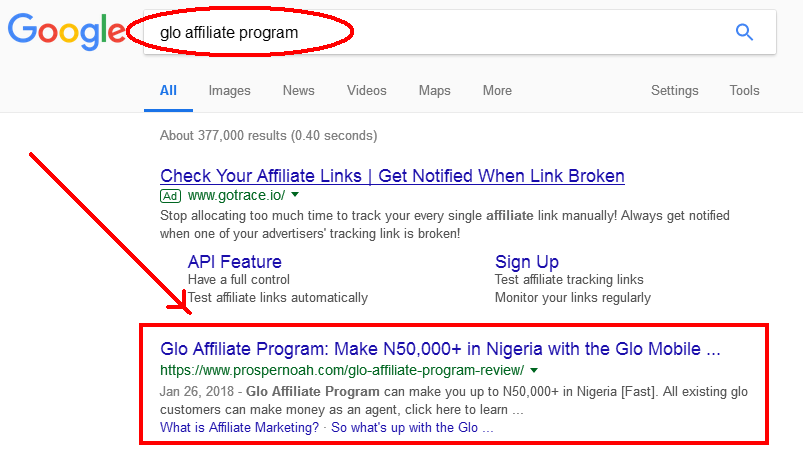 Freelance writing jobs in Nigeria – 0 Backlinks, Ranked within 1 Month

2 friends who used this same Little Secret rank on the Page 1 of Google for their desired Keywords without BACKLINKS as well…most are even new blogs and domains.
See the screenshots below;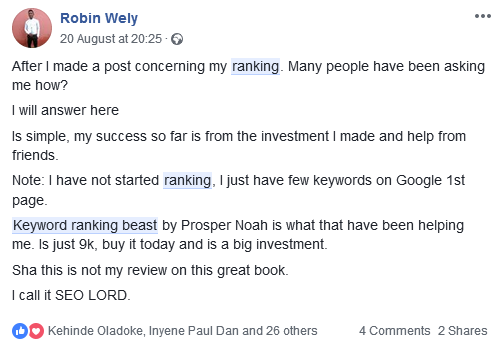 Below is a guest Post I wrote for Justasklia.com that ranked #1 in two weeks later and started driving massive SEO traffic..
A Post on my Friend Julia's blog – 0 Backlinks, Ranked Page #1 within Few Weeks

No Backlinks to that Post as of when written though she shared to Facebook…
And that's it.
Do you want to have these kind of results?
I have something for you that will give you exactly this kind of results in 1-3 Months.
Just with the use of a few instructions, you can start bringing in traffic from Google that are ready to make you money through Google AdSense, Affiliate Programs you promote, Self product sales etc…
This ONE Secret will show you basically everything it takes ranging from;
The exact keyword you are suppose to target on your blog niche (Any Niche) and where to fetch those keywords from (They will be keywords that your competition don't even know about;  so that means you can rank for them almost immediately.
The One Powerful TEMPLATE to write your blog post and where to Insert or use the Keywords you want to rank for (Many People write at Random and because of that, their articles get lost in CyberSpace forever) Avoid that silly mistake at all cost.
What to do and make Google Index that Article within 5 Minutes and maximum 24 hours.
and many more.
And No, I won't show you this Secret for Free.
If you don't like it, go and hit your head on the wall.
But if you will like to learn how to get keywords that are easy to rank, write your post easily and have it rank on the Page one of Google without struggling for backlinks, doing aggressive sharing to Facebook groups and pages.. etc then get the Keyword Ranking Beast Course now.
Introducing the Keyword Ranking Beast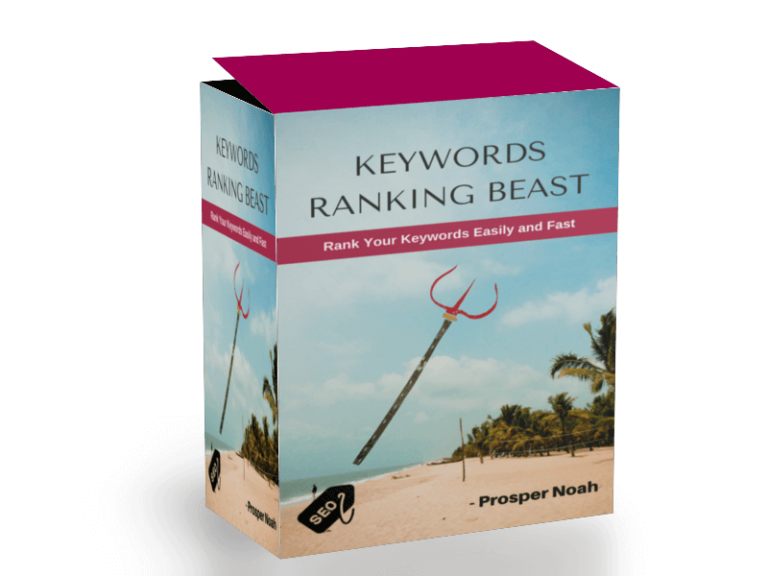 This course "KEYWORD RANKING BEAST" is my all-time best invention and SECRET for Beginners to rank their blogs on Google.
==> Suitable for Blogger and WordPress Blogs <==
In a few Seconds you're going to get my One and Only, Tested Ranking Course that when followed Correctly, will make you create and rank any blog on your own easily and fast.
And at the end of it all you should have little or no problems getting that so much desired SEO traffic even if you are a beginner, have Zero Knowledge on SEO.
But there's a Warning;
This isn't going to be some magical spell you cast and google start sending you traffic immediately. There's never any magic when it comes to writing and ranking on Google like the others.
If you want super quick results like some plug and play system then sorry to say; you'd have to go check elsewhere.
In this course/training you'd only get what works and if you take action, there will be lots of positive results for sure.
But if you are the type that hates taking action, this easy-to-implement system will never, I repeat; will never  work for you.
Either you recognize I know my onions (Because I own this SEO blog) and can see the massive value in this, or you can't.
There are no refunds on this;
Either you're in or you're out.
It's worked for 100's of serious guys who took action, helped them start ranking and making money via SEO, real quick.
This System is for you If;
You are ready to  take action
You can invest a one time payment of $47 to see massive positive result using the course step by step
Hurry – Claim Promo Price! going to $97 In Few Days!
My Bonus you won't Find Elsewhere Online
You're also getting your hands for FREE on my $100 Per Day  with SEO PDF (7+ Free Powerful Ranking Strategies).
This bonus contains some of my Case Studies and Whitehat Tips and Tricks you can copy and Paste to get FREE Traffic that will make you money on autopilot.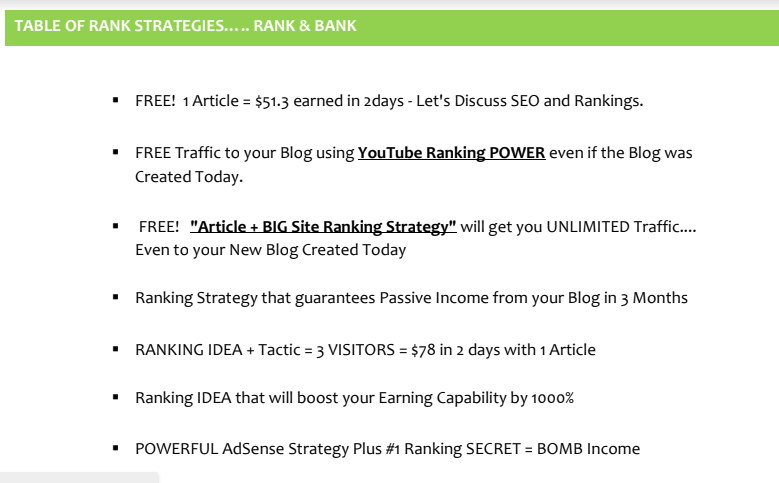 Hurry – Claim Promo Price! going to $97 In Few Days!
In 4 days time, the promo price jumps from $47 to $97.
WARNING

:

For your own good!!!
Don't buy this course from anyone else.
If you do, you won't be added to the support group where I attend to customers' problems, share some Premium Logins, Tools, Review each member's blogs etc.
and most importantly, you won't be added to the dashboard where the course will be updated from time to time.
Just in case of any updates, if you are not in that dashboard, you won't get the update, it means you're on your own.
You will miss out big time.
Below is the support group: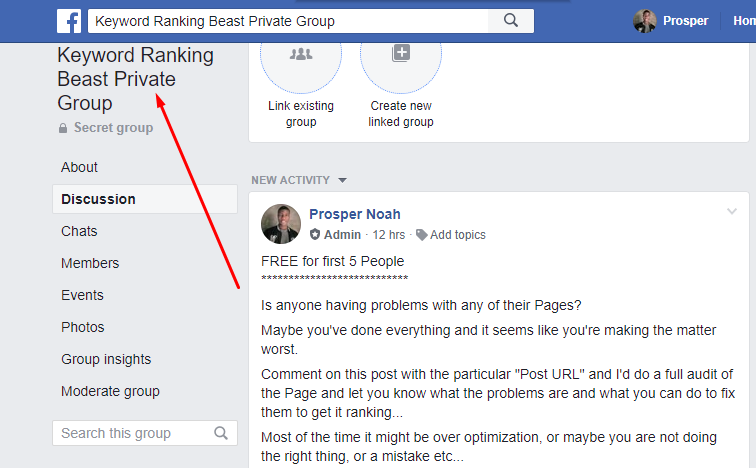 If you like go and search it on Facebook to join, you can't even see it because it's a secret group for buyers only.
Invest only $47 Today and see how you Rank and Bank, going  from $0-6 Figures Monthly Blogging
There are no up sells
No Need to spend extra money on Paid SEO tool or whatever
Hurry – Claim Promo Price! going to $97 In Few Days!

I'd see you on the Inside.