What is Instagram Travel Blogger Tool?
Before we jump on how to become famous travel blogger first we really need to know about what is Instagram travel blogger tool. Basically, this is the Instagram bot that will help you to grow on Instagram and become famous on Instagram. Instagram travel blogger tool is especially for travel bloggers which is developed by likegrowers that is knows as one of best Instagram auto Liker. Instagram travel blogger tool can help you to grow on Instagram very quickly through safe organic interaction.
How to Use Instagram Travel Blogger Tool: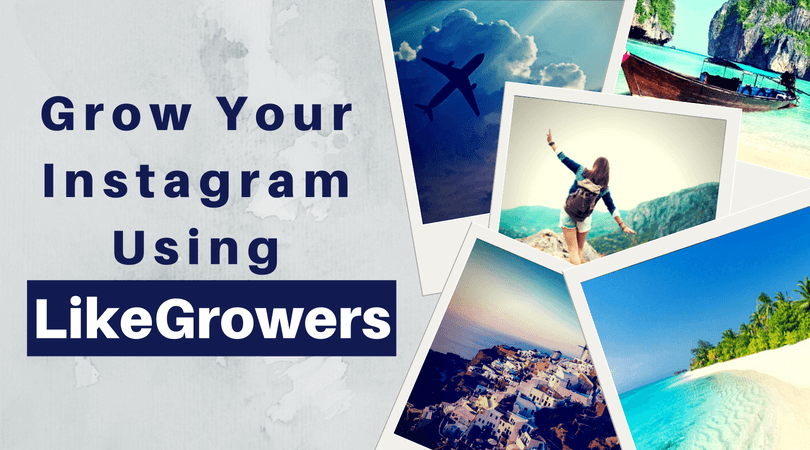 This tool is really amazing and also simple and easy to use. This tool will help you with different ways to grow your account. So I am going to share with you all of the ways that are available on Instagram Travel blogger tool.
Grow by Tags
Grow By Location
Grow by Newsfeed
Grow By Profiles
Grow by Tags: 
The very first option that is available on this tool which is growing your Instagram account by using tags. Because relevant and branded Tags are the best way to grow your profile Very quickly.  What you have to do is choose tags that are relevant to your niche. For example, if you are a travel blogger then you should use tags like that, #TravelBlogger #TravelLove #TravelWorld. After selecting these tags now what this tool will do is tool automatically like all the photos that will appear on these tags.
Grow by Location:
The next option that Likegrowers provide is growing your account using location. If you want to target your local audience or any specific audience then this tool is best for you to target your audience no matter wherever they are located. All you have to do is a select city that you want to target then what this tool will do for you is automatically like all the photos that are Geo-Targeted within that location.
Grow by Profiles:
If you want to target your competitors then this option is best for you to target your competitor followers. How this option work for you is search profile that you want to target then this tool will like their follower photos automatically.
Liking by the Newsfeed:  
It is very important to stay connected with users and peoples that you are following to show them that you are active so they will stay active with you. If you are famous on Instagram with a huge amount of followers then it's very hard to stay connected with all of them. But now you don't have to worry about that because likegrowers tool will help you automatically like images from your newsfeed.
 Tips to become famous Instagram Travel Blogger:
Here are few more tips that can help you to become Instagram famous travel blogger very quickly.
Select A Niche:
Before you start your travel blogger first thing you must need to do is select a niche. It is very important to stay focus on one niche. So choose branded and beautiful name for your blog as well as for your all social media accounts.
Don't be afraid to promote yourself:
Becoming a famous travel blogger is not very easy. When you start your travel blogging career then make sure not too afraid to spend money and promote yourself. Different peoples use different ways to promote their self. Don't be crazy when spending money only spend money to complete your needs and also spend money to promote yourself.
"If you don't promote yourself then who will?"
Building an Audience is Key:
Building an audience is one of the hardest things but that is the key to become famous. No matter how big or small audience you have the thing matter is how your audience is active with you. You may already see some peoples who have a large number of followers but they are not getting a good amount of reach just because they are not active with their audience. While some peoples have a very small audience but they are getting good engagements and positive feedback. So always build the good audience and make good relation with your audience and the most important thing is to stay connected with your audience they will be active with you.
Content is King:
You may already hear about "Content is king" that is correct, a good content is always king. Always create a content what peoples love and make them happy. As a travel blogger always create high-quality content because search engines love high-quality Content and your content and blog will rank better on search engines as well as social media. Always write relevant and informative content for your blog so peoples can get some information from you and learn something new. This is the best way to engage peoples and you will get returning visitors and they will become your blog readers and your followers.
Do something Interesting:
Please, just today just want to read about from travel bloggers and their experiences about travel. For example, if someone is thinking about to travel to Australia so he might read some travel bloggers experience who already visited Australia. Besides this, people also love to read about your experiences with places, Challenges, Your reviews, your thoughts and of course travel expensive.
Always be helpful and provide all the information about travel so peoples can get all the information about what they are looking for. Do something unique and something interesting to attract more readers and more followers so you will get more love and more engagements from your audience.
Increase Your Presence on Social Media:
One of the best ways to become a famous travel blogger and learn something from other is to join travel communities on Social media. Join Travel communities help others and get support and pieces of advice from others.
Social media is an important part of your travel career. Becoming famous on social media is very important if you want to earn your living from blogging. Share your travel images and videos on social media to increase your followers and get more engagement.
Thank you so much for taking the time to read my article If you like my article you can support me by giving this article a bunch of shares. I'd love to hear your thoughts about Instagram Makeup Artist tool. Let me know in the comments below.
Author Bio:
This article is written by Ammad Ali Who is a Pro Blogger and Digital Marketer from Pakistan.
Social Media:
Prosper Noah is the brain behind TipsonBlogging. A full-time blogger & SEO expert.  His tips has helped a lot of people
start their own blogs
, grow it and make money.