If you really want to make money promoting seo affiliate programs, then one of the best you can promote is the semrush's own affiliate program.
Did you notice Berush in the title of this post?
Haha, yea. That's like a funnel to SEMrush (Affiliate Marketplace for semrush).
It's where you get all of the tools you need to promote semrush.
Right on this post am going to show you why this program is the best you can promote and as well super duper tips on how to apply and make money.
You are going to Learn:
Brief introduction to affiliate marketing
What SEMrush is all about
How to Join the Semrush affiliate program known as Berush
Who Can Join?
Awesome Strategies to Promote SEmrush and Make 40% recurring commission
Getting Paid
Terms and Conditions
Conclusion
Before we start, let me give you a brief overview of affiliate marketing.
What is Affiliate Marketing?
The concept behind affiliate marketing is very simple.
 A vendor creates his or her product
He/she needs enough sales and so
Needs you to help promote the products
In return, you earn some agreed commission ranging from 10, 50, 75% etc.
I've written alot on Affiliate Marketing, so if you want to learn all about it, then check my affiliate marketing category.
Now that you have a brief overview, let's get to the reason for this post. "How to Signup and make money with the semrush affiliate program berush".
About SEMrush
I don't think the word semrush is new to you in any way as I've shared many articles on semrush; below is one of them;
SEMrush is an all in one Search engine marketing tool and one of my best when it comes to keyword research.
It'd do a lot of good to recommend such awesome tool to your readers or audience.
You may be asking, so Prosper  how do i make money with Semrush?
The SEMrush Affiliate Program

SEMrush has an affiliate program that gives you the opportunity to make passive income.
This program earns you recurring commission (This is what I call passive income) because all you need here is refer and be rest assured.
You actually earn 40% from whoever you refer to semrush. Whenever they renew their subscription Monthly, you get paid.
Who can promote SEMrush?
There's no niche that would not be allowed to promote Semrush but there's always a Niche that would do better, have more sales than the other which is those blogs who are solely into Blogging, SEO, Content Marketing etc.
Why would those on the Blogging Niche do better?  This is because they talk more on how to start a blog and make it successful which definitely requires readers purchasing good SEO tools for keyword research.
Got the idea?
Other Niche can as well succeed in Promoting SEMrush by creating a guide to seo. This could be a page or post on the blog, but should be kept where readers can get to see it easily!
How can you Promote Semrush?

You know what?
In affiliate marketing, there's always many ways to promote products and make good money for yourself.
Such as making use of;
Email Marketing
SEO
PPC
Etc.
But there's a problem;
Not all of the programs accept all of the above.
That's why you need to read this post till the end.
As I share with you what ways work with Berush and what ways do not work Plus Badass Strategies to make money with Semrush.
Just before then, let me show you how to register or signup with the semrush affiiate program.
How to Apply for SEmrush Affiliate Program?
It's free to apply.
Follow the below steps to apply easily and fast.
Step 1: Visit the Berush website and hit the Join now button
Step 2: Fill in your correct details
You will get a Registration Successful notice, so you need to check your email for activation link.
Ste 3: Instant Approval. Unlike other affiliate programs, you don't need approval, it's instant with berush.
Using the Semrush Affiliate Program to earn Money Easily
1. Review Articles
While there are many ways to promote semrush, one best ways is through Review articles.
Write an article on semrush review featuring what semrush is all about and how your readers can benefit from the tool.
2. How to Blog Posts
The best type of posts that do well on search engines are posts that actually solve people's problem. These are known as how-to blog posts.
You can Write tutorials on;
How to do keyword research with semrush
Best SEO tools for internet marketers
SEO ranking strategies
Etc…
These posts will do well and probably make you some commissions.
3. List Posts
Ever heard of posts like "List of Best SEO tools" or 10 Best Keyword Research tools 2018?
These are list posts and they tend to do greatly as well.
When writing list posts, make sure you add semrush to the beginning of the list for more exposure
I have found How-to posts to perform best and coverts very well.
4. Recommend in Newsletters
If you build email list from your blog, you can recommend semrush to them and you'd probably get some signups as well.
5. Banners/Widgets
Berush offers you two promo materials Banner/Widget as seen below.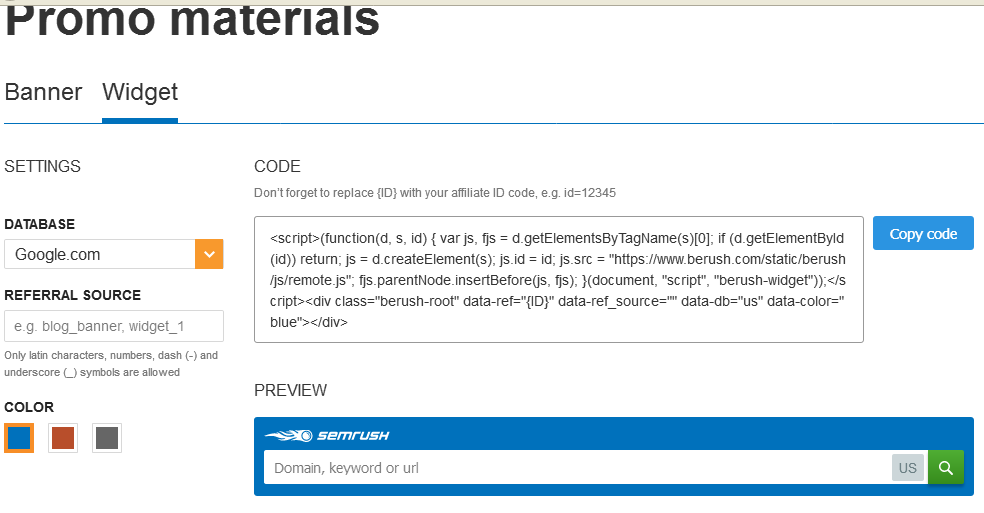 You can insert banners or widgets on your blog sidebar or page so visitors can see and probably click.
I highly suggest you use the Ad Inserter WordPress plugin to display this automatically wherever you want for more exposure.
6. Make YouTube Tutorial Videos on SEO
Take advantage of YouTube.
You can make awesome videos tutoring users on how to do seo for high google rankings, recommend SEMrush and put up affiliate link in the description.
7. Internet Marketing/SEO Forums.
Heard about Warriorforum? WickedFire? Blackhatforums? Checkout best internet marketing forums on bloggerjet.
These are high end forums for internet marketers.Write articles about SEMrush and you could get some good signups.
Now that you know how to make money with semrush, you need to maintain a good standing with them so you can always get paid.
Just before I share the affiliate terms and condition, checkout how to get paid below.
Getting Paid your Earnings from Berush
There's no point in promoting an affiliate program if you don't know what ways to get paid.
Berush Pays twice every month 10th and 25th days of each month. See More here
Payment Method:
PayPal: $50 threshold
Wire Transfer: $1000 threshold
Below are terms and condition you must abide with so you don't get your affiliate account terminated.
SEMrush Affiliate Terms and Conditions
You need to either read rules or get banned.
According to semrush, below are few rules you keep as a semrush affiliate.
Do not refer yourself. This is known as fraud and when caught, you will not be paid
As an affiiate, you may not share your Commission received through BeRush Affiliate Program, with End Users.
You can not use and mention in any way: (i) SEMrush and BeRush brand name as a keyword in your advertising campaigns across all search engines, including any misspellings in the brand name; (ii) Use SEMrush or BeRush brand name in the domain name of Your website, including any misspellings of the brand name.
To get the full info on the terms and conditions, visit the page here.
More Awesome affiliate programs:
Hopefully, the semrush affiliate program can earn you passive income easily and if done the right way through Berush.
Let me know what you think about this awesome offer from the SEMrush team.
Prosper Noah is the brain behind TipsonBlogging. A full-time blogger & SEO expert.  His tips has helped a lot of people
start their own blogs
, grow it and make money.